Anna Evans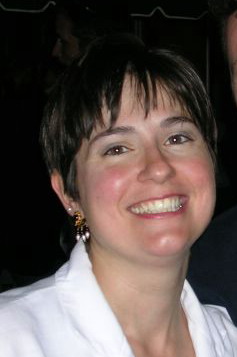 Anna Evans was born in England in 1968 and tried several careers including Chemical Engineering, Marketing and Design before her daughters, now aged 9 and 11, were born. She came to the United States with her family in 2000 when her husband was transferred here and they have now been granted permanent residency.

She is a former President of the Burlington County Poets in New Jersey, and a founder member of the Quick And Dirty Poets. She has been featured at many readings including Modern Metrics in New York, the Café Improv in Princeton, the Walt Whitman Center in Camden and for the Delaware Valley Poets in Princeton. Her poems have appeared in numerous print journals including the Harvard Review, the Atlanta Review, Rattle and Measure, as well as e-zines such as Apple Valley Review. She won Byline Magazine's Poetry Award in 2004, and in 2005 the Jeanette Gottlieb Prize for Poetry. In 2005 she won all three Poetry prizes awarded at the Philadelphia Writers Conference, and the Writer's Digest Award for Best Rhyming Poem. She has been nominated five times for a Pushcart Prize, and in 2005 and 2007 was a finalist in the Howard Nemerov Sonnet Award. She has taught Children's Poetry Workshops for the Burlington County Library summer program, and gained her MFA in Creative Writing from Bennington College. She is Editor of The Raintown Review and Editor of the formal poetry e-zine The Barefoot Muse. Her chapbooks Swimming and Selected Sonnets are available from Maverick Duck Press.

Anna describes her vision for The Raintown Review upon taking the helm as Editor-in-Chief in an article beneath her poems.



Garden State Harvest

The vegetable stand's navy and yellow striped awning,
like a disoriented wasp, already sluggishly yawning
toward honeyed dreams of bedding into the eaves for winter,
heaves into view at the south entrance to our development—
poor relation of the fields and meadows that used to checker
acres now burgeoning with clapboard mansions and decks.
And even though I long for the schoolhouse peace of fall,
I hate the arrival of the tomatoes, racked like poolroom balls,
improbably by the highway. When the table is cleared of corn
and squash, rolled back into the one remaining barn,
not only is summer over, but also the fragile belief
that this is countryside still. Suburbia is a thief
and a murderer—ask the field mice, the butterflies. Ask me
if I wanted a finished basement, a hot tub, an SUV.
I grew up in an English village. I could hike into the woods
where the old oaks gloried over clearings worthy of gods,
and the single track cobblestone bridge over the River Trent
was the road to all adventure. August: sense of loss I can't
shake. I won't buy the corn, even if I know it's fresher
than ShopRite's. I won't admire these scanty crops like treasure,
the sunset over houses, the clouds so blushingly pretty,
the orange dome in the night sky, a beacon over the city.



Published by the

Harvard Review





Worker

An ant, you stagger across the crazy paving,
bearing enormous crumbs back to the hill;
then do not eat or sleep, but keep on striving,
mindful of abstract quotas you must fill—
quotas you set yourself. It works until
one day you see this is no way of living
the lives you read about—this is surviving.

You bury yourself in bottles or needles or pills,
whatever numbs your senses to the thieving
locusts who leave you nothing worth the leaving.
Every cent you earn goes toward the bill
that rises monthly. All roads turn uphill.

Somewhere you aren't, the beautiful people dive in
tourmaline seas, and no one looks tired or ill.



Published by

Salamander

, Summer 2008



The Supplicant

Today I know the way a beggar feels
the second just before the door is closed
with firm regrets against his mute appeals.
A notch is added to the lintel post
which keeps the well-fed gentry from the poor.
He glimpses firelight and ruddy faces
and then there's nothing but the hardwood door
instructing him to mind how low his place is.

Meanwhile those faces turn back to their game
or supper; one may shake his shining head
over the nerve: how could a man so lame
intrude his needs upon the better bred?
I have no right to ask for alms; you choose
to give me none. The rain soaks through my shoes.



Published by

The Lyric





Something is Missing, a Villanette

The morning after. Her dry eyes are shot.
She throws up twice before she takes a shower.
Then memories. She did something, forgot

the act. She sifts the fragments: there are not
enough of them. She's missing half an hour
this morning after. Feels like she was shot.

Dry heave. If she could bring to mind the what,
the who, the why – these facts possess the power.
She pours some juice. She did something, forgot

that gin goes to her head. And now the sour
morning after. Some dry toast. A shot
was bought for her, she thinks. She had a lot
of drinks paid for. She searches the dark room
of memory. What was it? And with whom?



Published by

The

Raintown Review

, Summer 2008



Before She Was Famous

He loved the brown-eyed girl who sang next door
the year he turned sixteen, the girl whose shape
in hand-me-down Levis promised far more
than mini-skirts revealed, the one whose nape
beneath cropped hair incited him to touch
like all forbidden things, and whose deep laugh
was shameless as a farmhand's but held such
innocence it cut his knees in half.

He trembled in her sight and didn't dare
ask her to the movies or the prom.
But now this Talk Show has her on the air
saying in the small town she came from
she wasn't popular enough to date.
He plays her songs till two a.m., sleeps late.



Published by the

Atlanta Review

, Winter 2008



Crash

Accident weather: sheet rain, relentless spray
thrown up from tires, the road a slippery gray
in which car headlights shimmer like fish scales,
while drowning houses blink through damp green veils.

And I take care now; I take so much care
to feed the wheel through fingers, prayer by prayer
for all the travelers cased in treacherous metal,
sweating the wet commute with foot to pedal,

because a month ago in strobe light sun
on a road scrubbed clean and dried, I killed someone,
though I was not, no, I was not to blame.
He did not see me turning left. He came

hurtling up on his black sclerite bike.
Perhaps he screamed before I felt the strike
of his helmet on the rear door of the van.
I do not know. I heard nothing. The man

and bike slid, unredeemable, to the ground.
Then the bright crowd gathered, mouths in round
o's of melodrama. The police said he
was riding too fast. It wasn't me. Not me.

I saw his body, whole as if asleep
upon the asphalt, bike a yard sale heap.
So little blood! Death in a sky blue cloak,
arriving like the punch line of a joke

I didn't quite get.
Now, in the wind and rain,
with that comic, Death, stalking the wings again,
it won't be my fault. (It wasn't.) These days I drive
with so much care, the man would have to live.



Published by

Rattle

, Winter 2008





Not a Fairy Tale

For weeks I've tossed my words to you, like coins
into a disused shaft, and listened for splashes.
Who knows if water pools there, or what bones
and trash jut out to catch and hold my wishes?

Nothing comes back. The walls are slick with lime;
I have no weighted rope to plumb the depths.
And if you were below, frog prince, to climb
those sides, I'd likely bludgeon you to death

with my too silent phone. No princess, I
hunker in jeans beside my computer screen.
You ignore emails and you don't reply
to cartoons from the New Yorker magazine.

We cannot blame a spell for this: I'm strange
and you're a liar. Neither of us can change.



Published by

The Raintown Review

, Summer 2008



Mistress Bradstreet Imagines a Shipwreck

Used to clams and acorns I make no fuss,
beset by storms and wolves, mid-August thirst.
My restless hands have labored heavier. The fleas
as we crossed the Atlantic ocean plagued us worse.

Firelit in rustling night I scratch my verses
on bark scraps. Seated Indian style, strangely free,
I keep hearing Mercy call for me at first,
unnerved by so much leisure time for me.

As we construct our shelter a modern poet
courts me with his words, not with crude hands.
In a dream he touches me, a sin I know
as pure: the rebel within's no Puritan.
Apart, we still visit in visions—my blazing affair
with a far off Boston, a foreign voice in the air.



Published by

Measure





Gothic

The coffin which guards breathing Madeleine
darkens the vault behind the iron door.
He should have filled the fissure, drained the tarn,

or torched the House of Usher, watched it burn,
better than its cellars beckoning for
the coffin which guards breathing Madeleine.

He should have gone with her to Lake Lucerne,
and buttered croissants on that healing shore
while workers filled the fissure, drained the tarn.

The windows hungered, eyes of a malign
yet sultry woman, for his flesh, and more—
the coffin which guards breathing Madeleine.

But men possessed can't think beyond the line
of the obsession's silhouette, the jaw.
He should have filled the fissure, drained the tarn,

not offered up his sister, living shrine,
sealing the family plot for ever more
with the coffin which guards breathing Madeleine.
He should have filled the fissure, drained the tarn.



Published by the

Schuykill Valley Journal

, Fall 2008



In Too Deep

The year I learned to lie, then gave up lying,
I mastered underwater swimming -- deep
beneath the white-capped waves. I dreamed of dying;
the ocean filled my nostrils in my sleep.
Daily, I plunged further, forced to hold
my mouth clamped oyster-tight. Half-fish, half-girl,
I dove through murky waters, bore the cold
and broke the surface faultless as a pearl.

But I had brought two men to fish one sea.
Their nets closed in, and each time I went down
I feared the webbing would entangle me
with all my secrets; I was set to drown
until I saw your lighthouse on the strand,
struck out for shore, and found you -- my dry land.

Originally appeared in The Raintown Review Summer 2005



Backwards Through Wet Grass
for Anthony Hecht

This Jersey fall, the unrelenting rain
has turned the front yards wild, their long, green hair
to otters' root-slick pelts. Today, again
I step out into gray, breathe loamy air
and catch a scent of home, a British field
I camped in once -- a weekend trip to study
frogs. By day we kept our bodies sealed
in waterproofs, our feet twice-socked in muddy
boots. At night we hid in tents, played games
of "Crazy Eights" beneath the pitter-pat
of rain, now drumming our roll call of names,
now scrabbling on the canvas like a rat.
We were fourteen -- all hormones -- huddled damp
and close, a nest of rabbits, screened from sight
by tent flaps, while our teachers' hipflask camp
was pitched a hundred yards away. One night,
alone with me, Rob Murphy raised his hand
and touched my cheek. I shivered like a doe
for her first buck. He twined a loosened strand
of my dark hair around his thumb. I know
I twisted with it. He removed my glasses --
no one had ever done that -- and he said
that I was pretty. Afterwards, in classes
I would stare at the back of his blond head
and dream of nameless acts. He nearly kissed
me, but our friends returned. The moment drained
away like runnels in the evening mist,
and came to nothing. Here, now it has rained
so much, that field, that clumsy, gentle boy
come back to me, and I remember this:
the thrumming rain, the unexpected joy
I knew at fourteen, for his almost-kiss.

Won Writer's Digest Best Rhyming Poem 2005
Published in the Winners' Anthology



The Lal-Jomi

Love, before the children thinned your hair
and thickened me, remember where we'd eat,
the nights the Cambridge Arms had rung out their
last orders? How you'd wink: you want to share
a curry? and we'd stagger down the street
to our old Indian restaurant, right there

beyond the dry cleaners and just before
the place you bought me roses, among all
those shops (the kind where opening the door
would ring a bell). How, once a week or more,
the Lal-Jomi would call us and we'd fall
through its wide entrance arched like old Lahore?

The waiter, whom we counted as a friend,
would lead us to a curtained booth and smile.
(Our grins implied his shift was near its end;
we tipped well and we didn't need to spend
long with the menu). First we'd split a pile
of fiery pappadoms; he would unbend

and put the dips and chutneys out for free,
with wine if we were still inclined to drink.
You'd ask for Shikh Kebab, Tikka for me.
(We fed each other bits in privacy).
We'd order so much food back then! I think
we never ate it all. Can't you still see

the plate warmers which groaned with meat and rice,
hear the sitar music that would play,
or taste the coriander, pungent spice
burning on our tongues like the advice
we swapped in drunken voices? Yet next day
we would say nothing more than: it was nice.

Oh love, remember when the meal was done
how we would press the hot towels to our faces,
suck oranges, spit out the pips for fun,
and split, so keen for bed we'd almost run?
These days we dine in ritzy four star places
but love, you know I really miss that one.

Originally appeared in Exit 13 Issue 12



The Child From Two Doors Down

The child is back, come scuttling down the path
between her part-time home and our back door.
Her hair's a scarecrow snarl; she needs a bath --
how can they let her out alone? She's four,
although she acts fourteen; designer names
emboss her jeans and jacket. Shoes untied,
she kicks the grass and will not join the games
my children play. Instead she slinks inside
to trail me round the kitchen as I cook;
she takes in any unexpected crumbs
of love, but still throws me this hungry look.
I did not bear this child. Each time she comes
her mouth gapes wider; she's the starving guest
I dare not feed, poor cuckoo in my nest.

Originally appeared in The Evansville Review Volume XV



Risqué Business

The comment about bodies wasn't meant
flirtatiously, and yet it served to lighten
the room the way a shaft of sun will brighten
a gloomy day. Consider the intent,
half-formed, by the first person to invent
a workplace innuendo: it should heighten
team rapport, and at the same time tighten
the grip we have on words we might repent.

For words are hard to hold; we let them fall
and in the act of falling they convert
into the words the listeners want to hear
and offer back in earnest. We have all
allowed ourselves to be embroiled, got hurt;
there's no joke someone hasn't found sincere.

Originally appeared in Sunken Lines e-zine #2



Tangled Relationships

My aunt drops kisses on my cousin's head;
she sets her book aside as though his chatter
charmed her, gently tucks him into bed.
She always says that dirty clothes don't matter
as long as he's not hurt -- he needn't fear
she'll spank him. My Mom says she's got no spine
and spoils the boy, who'll no doubt turn out queer;
but I've played ball with him and he seems fine.

In shorts, my aunt's lean legs could be a girl's.
I loitered by her door one day and spied
her singing as she lathered the tight curls
that wet my dreams. Yet, if my parents died
and she adopted me, I would be done
with thoughts like those, and glad to be her son.

Originally appeared in The Edge City Review #19

She is editor of the formal poetry e-zine The Barefoot Muse and the formal poetry journal The Raintown Review.



Anna Evans describes her vision for

The Raintown Review

upon taking the helm as Editor-in-Chief in 2008:

I have a long history with The Raintown Review. Back in 2003, when I first began looking for markets for my work, the journal came to my attention as one of a handful that looked favorably upon formal/metrical poetry, and I duly mailed off a submission. Editor Patrick Kanouse's response was a few lines of ink on a form rejection. Encouraged, I sent off another batch of poems, and waited anxiously for some months. Eventually, in January 2004, a personally written note arrived from Patrick, apologizing for holding them for so long when he had ultimately decided to pass, and inviting me to send more. That third submission led to my first appearance in Raintown, a sonnet called "In Too Deep" in Summer 2005. My co-contributors included Jared Carter, Thomas S. Kerrigan and Michael R. Burch.

Then Central Avenue Press, run by Poetry Angel John Oelfke, acquired the journal. Oelfke decided to change from a stapled chapbook-style format into a larger perfect bound volume. Meanwhile, Patrick Kanouse gave the reins back to Harvey Stanbrough, the original Editor, who was also good enough to publish a sonnet of mine: "The Intimacy of Hand to Hand Combat" in Spring 2006. When Harvey decided to retire, John Oelfke invited Joseph Salemi to guest edit one issue, followed by Tom Kerrigan to take a yearlong stint as Editor, producing two issues. Tom solicited poems from me in the fall of 2007 for his first issue, along with a review piece on a couple of books by Joe Kennedy. Given my page count in the issue, and my professional friendship with Tom, it seemed only natural for me to take over the job of proof reading, a chore for which my erstwhile career as a junior brand manager in fast-moving consumer goods had prepared me well. Tom insisted on giving me the title of Associate Editor, and as we moved forward with his second issue, I found myself willingly taking on more of the workload. When Tom confirmed his intention to retire after his year's tenure, John Oelfke invited me to take over as Editor-in-Chief, and in turn I deputized Quincy R. Lehr as Associate Editor.

So, from slush pile also-ran to Editor in five years: an American success story which would be "rags to riches" if, of course, there were any riches to be had in poetry—The Raintown Review, like any other small-press journal, barely breaks even on printing costs. Nevertheless, my intimate association with the journal in all its incarnations gives me what I hope is a special insight into the values for which the journal has always stood, and fires my enthusiasm to make it into one of the print journals in which today's formal/metrical poets want to be seen.

Those values begin with the lessons I absorbed from Patrick Kanouse: that courtesy, promptness and fairness are the way to run a journal to which poets want to submit. (I remember, going back again to my early fumbling attempts at achieving publication, how I felt when a well-known online journal responded to the emailed submission, over which I had agonized, with the terse reply: "No.") I guarantee all poets who follow the submission guidelines (email poems to oelfkej@aol.com) that their submissions will be read in a timely manner, that they will be treated with respect, and that equal consideration will be given to submissions from unknown poets as to those from published "names." (Where would I be, had Patrick and others thrown MY poems out simply because I had no publishing history?)

The Raintown Review will continue to have a strong bias toward formal/metrical poetry, in part because there is no shortage of journals that turn up their noses at it, and in part because as an editor and a poet I am a firm believer in craft. However, we will never turn down an excellent poem simply because it does not adhere sufficiently to metrical rules, for then we would be guilty of applying stereotypes similar to the ones that are often applied to formal poems.

Note: this will continue to be a key difference in the way I edit my online journal, the Barefoot Muse, which ONLY accepts poems with a recognizable allegiance to meter or form. As befits an online journal Barefoot Muse also has a laxer attitude toward sex and swear words, and lies politically well to the left of center.

I want to see Raintown become a more international journal, and we have several factors in our favor regarding this. Firstly, we prefer email submissions, so postage and the dreaded IRC are no barrier to poets from overseas. Secondly, both Quincy R. Lehr and myself have strong links with Europe, and we plan to encourage European poets to submit their work. Poets from the other continents are, it should go without saying, also welcome.

Finally, I want to see Raintown gain a reputation as the most egalitarian of journals: we are NOT a clique. We do not care whether or not you have an MFA (For the record: I do, Quincy doesn't.) We encourage minorities of all kinds to submit, although their work will not get preferential treatment because of any misguided political correctness. Our poetic elders will not get a free pass for their venerable age, nor will younger poets be excused errors because of their inexperience. Quite simply, we want to publish the best-crafted, freshest poetry we can, and if it comes from unknown poets in the slush-pile, so be it. Who knows? Maybe in five years time one of them will be writing a piece exactly like this.