William F. Carlson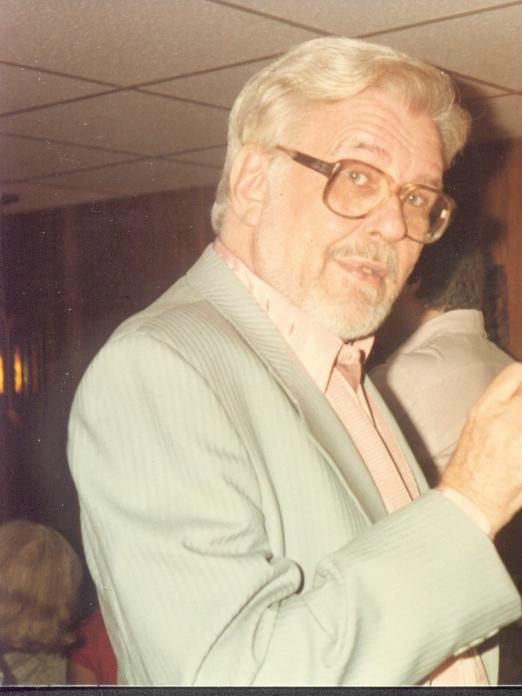 William F. Carlson is a poet, former editor of Hellas, a Journal of Poetry and the Humanities, and has contributed work to The Home Reporter and Sunset News in Brooklyn. His novel No Souvenirs to Remind Me was published by Grist Publications in 1995. Born and raised in New York City, Carlson served in the US Army from 1940 to 1945. After the war he was a student at Hunter, and then at the New School for Social Research, where he took courses on fiction and non-fiction writing. At present, Carlson lives in the Besonhurst section of Brooklyn, where he is webmaster of www.iambsandtrochees.com.



The Sadistic Muse

I wonder why she always comes to me
At night, the very time I need some sleep.
She doesn't say a word, just smiles and stares,
Aware that I will call her for repairs
To lines and metaphors that do not work.
She'll fix my rhymes and iambs too, then smirk
And say, "I don't know why I come to you.
You never learn. It looks more like Haiku."
I really think her job is to torment;
She screams, "It's not just content and invent,"
And constantly "The language is the thing,"
In manner curt and no doubt meant to sting.
And then she'll leave and I will say, "Thank God";
Convinced that she's related to de Sade.



Muse, Get A Lawyer

I wonder why the Muse abandoned me
While all the woman poets whom I know
Insist she caters to their every need.

I always thought she had integrity,
Would do no more for Mary than for Joe.
I can't believe the Muse abandoned me.

Where are the paragons who are PC?
I have a case, the evidence to show
She caters to the other sex's needs

While paying no attention to my plea
For help. Is there some place for me to go
Where they'll believe the Muse abandoned me?

Will Molly Yard and Gloria agree
To demonstrate with all the girls in tow
Until she caters to my every need?

She has to pay for her mendacity.
I'll sue the witch and make a lot of dough.
I'll teach her that she can't abandon me
While catering the other sex's needs.



Resurrection

Bar by bar, brick by brick he built the cell.
The mortar used was made of mundane things.
No place to hear the muse or nightingales.
No way to see the brightness of a star.
There'd be no music from Apollo's lyre,
Nor could the goddess Venus find this place.
His battered heart would be protected here
Against imposters wearing masks of truth.
There'd be no sun, no constellation's light.
And passion would replace this thing called love.
Narcissus was the one he'd follow now.
And so he'd live—the jailor of his soul.

But once the heart has been possessed by Truth
And woke one morning to the muse's call;
Has heard the music from Apollo's lyre,
And known the warmth of Venus's embrace,
It will not languish in a darkened cell,
Content to hear no songs from nightingales.
It knows that pain is part of sacrifice
And sacrifice is what the gods demand.
Once paid they'll come to smash these earthly things
And free the fettered soul to fly again.



Sic Transit

I feel the breath of winter on my neck
And see the trees undressed prepared for sleep.
I watch a starling in frustration peck
The barren earth in search of worm or seed,
Then spread its wings to fly above it all
And circle—free to find a kinder place.
But I must stay and weather winter's pall
With only dreams of spring and fruitful Mays.
Would I had wings to soar beyond this cold
Landscape, where life lies dormant in the ground,
To friendlier domains where I might hold
A rose again and hear earth's birthing sound.
But I cannot escape this gravity
That grips my soul. There are no wings for me.



D-Day

Dedicated to the 16th Infantry Med. Det., 1st Division

They had a job to do that day in June
A half a century ago; those men,
Those heroes in a world aflame, who soon
Would pay whatever cost was asked of them.
They knew the price at ten—the price at noon,
Each would be paid and they'd move out again
Until at last that never-ending day
Would say, "Enough. There is no more to pay."

The ships moved closer to the shore ahead
And on the decks the card games dealt with fear.
Crosses were kissed, the Chaplains' prayers were said,
Last letters sent, with their cargoes of tears.
The time had come for orders to be read
And each man knew his fight with death was near.
They had a job to do that would be done,
Though no one knew who'd see the next day's sun.

They heard the scream of shells and then the thunder
As they waded through the waves their rifles high.
They saw their buddies falling, going under,
But could not stop—to stop would be to die.
They had a job to do and would not blunder.
"To the beach, keep moving", was their battle cry.
And on that day the cost was paid by all;
By those who fell and those who scaled the wall.