The HyperTexts

The Best Songs Ever: the Greatest Songs of All Time

Who wrote the best songs ever written

―

the greatest songs of all time? If you're a lyric nut like me, you may want to check out my page on The Greatest Rock Lyrics of All Time because it considers songs strictly as poems, on the merits of their words alone. This page considers songs as comprehensive works of art. When words and music are considered together, some songs rise in my rankings while others drop. Please keep in mind that both lists are the result of my personal taste in music, and my strong preference for killer lyrics. I realize that o

ther fan

s' choices will be different; the purpose of my list is simply to say, like Buffalo Springfield, "Here's what I think, for what it's worth ..."

I have included snippets of trivia here and there, answering questions such as:

(1) Which famous songwriter pledged to be faithful to his wife in his biggest hit, only to record a song written by his mistress that became his other greatest hit?
(2) What song was investigated by the FBI for offensive/subversive lyrics but forced the investigators to give up because no one could understand what the hell was being said?
(3) What song was a worldwide ecumenical movement, starting out as a pagan folk tune, then becoming a Christian children's hymn, only to end u

p

a hit for America's most famous Muslim singer?
(4) What song by the Rolling Stones was inspired by the surrealist French poet Charles Baudelaire?
(5) How did the great medieval poet Geoffrey Chaucer influence Procol Harum's eerie masterpiece "A Whiter Shade of Pale"?
(6) What line from a sermon by the poet John Donne spurred the bitter refutation of a young monkish troubadour?
(7) Which American rock group took its name from a line of poetry by the mystical English poet William Blake?
(8) What does Led Zeppelin's "Stairway to Heaven" have in common with Saint Peter's second sermon after Pentecost?
(9) Which famously cheesy songwriter claimed to "write the songs that make the whole world sing" but didn't actually write the song in which he made the ultimate cheesy claim?
(10) How did thinking about his own death inspire eleven minutes of a famous pianist's fury? And perhaps make his sunglasses fog up?

compiled by Michael R. Burch

I will now count down my top 25 songs of all time, then reveal my "honorable mentions" while spilling the beans on my trivia questions ...

#25

—

Sympathy for the Devil (tie)

by Mick Jagger and Keith Richards; performed by the Rolling Stones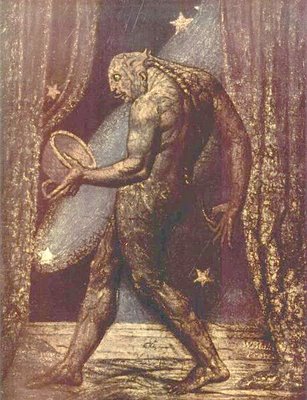 I shouted out,
"Who killed the Kennedys?"
When after all
It was you and me

"Sympathy for the Devil," according to Mick Jagger, was inspired by the work of a French symbolist poet, Charles Baudelaire. (This answers trivia question number 4.) The image above is by the English poet/artist William Blake. Other songs by the Rolling Stones include "Angie," "Beast of Burden," "Wild Horses," "You Can't Always Get What You Want," "Satisfaction," "Paint It Black," "Miss You," "Fool to Cry," "Start Me Up," "Gimme Shelter," "As Tears Go By," "Brown Sugar" and "I'm Just Waiting on a Friend."

#25 — Love Reign O'er Me (tie)

by Pete Townsend; performed by The Who

Only love
can bring the rain
that makes you yearn to the sky ...

"Love Reign O'er Me" is the ultimate all-out rock anthem, belted out to rock god perfection by Roger Daltrey. The song was covered by Pearl Jam and furnished the title of the movie "Reign O'er Me." For the definitive cover, check out Bettye LaVette's version on YouTube. Still, I imagine that the young, brash Roger Daltrey owns this one for all time. Other songs by the Who include "Who Are You," "Eminence Front," "My Generation," "Baba O'Reilly," "Won't Get Fooled Again" "Pinball Wizard" "Behind Blue Eyes," "Magic Bus," "The Seeker" and "You Better You Bet."

#24

—

Funeral for a Friend/Love Lies Bleeding (tie)

music by Elton John; lyrics by Bernie Taupin; performed by Elton John

This eleven-minute track was too long to be released as a single but it received quite a bit of radio air play (one critic suggested that it allowed DJs time for extended "potty breaks"). Elton John wrote the music while thinking furiously about what he wanted played at his own funeral. (This answers trivia question number ten.) The song is full of furious, bombastic chords, but they all seem to work remarkably well with the angry lyrics. Other songs by Elton John include "Tiny Dancer," "Levon," "Daniel," "Rocket Man," "Sacrifice," "Candle in the Wind," "Your Song," "Border Song," "Goodbye Yellow Brick Road," "Don't Let the Sun Go Down on Me," "Philadelphia Freedom," "Honky Cat," "Bennie and the Jets" and "Crocodile Rock."

#24

—

Go Rest High on that Mountain (tie)

by Vince Gill

I am not normally a country music fan, but this song, a modern hymn, is wonderfully moving and exquisitely sung by Vince Gill, a former lead singer of Pure Prairie League. Gill wrote the song originally for Keith Whitley, a fellow country music singer who died in 1989, but didn't finish it until after the death of his brother Bob in 1993. Ricky Skaggs and Patty Loveless sang the background vocals on a song that is sure to be an enduring classic. Other songs by Vince Gill include "When I Call Your Name," "I Still Believe," "Pocket Full of Gold," "Never Knew Lonely" and "Whenever You Come Around."

#24

—

Because The Night (tie)

by Bruce Springsteen and Patti Smith; performed by the Patti Smith Group

"Because the Night" is one of the songs (if not the song) that made Patti Smith the "godmother of punk." The song was originally written by Bruce Springsteen, but wasn't recorded because he wasn't happy with it. Patti Smith altered the song, which became her biggest hit and has been called one of the best songs of all time by some critics. Springsteen continued to perform the song with his original lyrics, but it is Patti Smith's version that became one of the iconic songs of the punk era. Other songs by Patti Smith include "Gloria," "Hey Joe" and "People Have the Power."

#23

—

Fever

and

Blue Moon

(early Sun recordings)



performed by Elvis Presley

Elvis Presley was like the little girl who had a little curl right in the middle of her forehead: sometimes he was very, very good, and sometimes he was horrid (i.e., the ultimate cheesy/bombastic Vegas lounge singer, although his voice was always pure gold). If you haven't heard the young Elvis Presley sing "Fever" and "Blue Moon," hie thee quickly over to YouTube to check out the really, really good, hip, cool Elvis. Other songs by Elvis Presley include "That's Alright Mama," "Heartbreak Hotel," "Hound Dog," "Jailhouse Rock," "An American Trilogy," "If I Can Dream," "Suspicious Minds," "Peace in the Valley," "How Great Thou Art," "Burning Love" and "In the Ghetto."

#22

—

Mad World

by Roland Orzabal; as performed by Adam Lambert (originally performed by Tears for Fears)

If any contemporary male singer can rival the young Elvis Presley, it may be Adam Lambert. His cover of "Mad World" by Tears for Fears is scary-good. Brian May of Queen said that Lambert is the only male singer who can hit those crazy high notes that Freddy Mercury was famous for. But "Mad World" is more of a sad lament, beautifully and tenderly sung by an amazing vocalist.

#21

—

Taxi

by Harry Chapin

Oh, I've got something inside me
To drive a princess blind ...
There's a wild-man wizard
He's hiding in me, illuminating my mind

Harry Chapin's "Taxi" is a ghost story in which both ghosts are still partially alive. I once saw Chapin in concert, and he was a wonderful storyteller: both in his songs and in his interactions with the audience. Other songs by Harry Chapin include "Cat's in the Cradle," "The Dance Band on the Titanic," "The Mayor of Candor Lied" and "W.O.L.D."

#20

—

Leah

and

Crying (tie)

by Roy Orbison; performed by Roy Orbison

I'll place the pearls
around the only girl
for me:
Leah

Some songs have haunting lyrics, but Roy Orbison has a haunting, almost otherworldly voice. I'm not sure if this is a great song in its own right (it's about a pearl diver who drowns, only to wake up and realize he was having a nightmare), but Orbison's voice makes the performance utterly magical. "Crying" is another absolute masterpiece

―

covered ably by K. D. Lang and Don McLean, among others

―

but no one can duplicate Orbison's unique voice and delivery. Other songs by Roy Orbison include "Pretty Woman," "Only the Lonely," "In Dreams," "It's Over," "Running Scared," "Blue Bayou," "You Got It," "Sweet Dreams Baby" and "I Drove All Night."

#20

—

Candle in the Wind (tie)

music by Elton John; lyrics by Bernie Taupin; performed by Elton John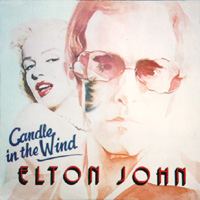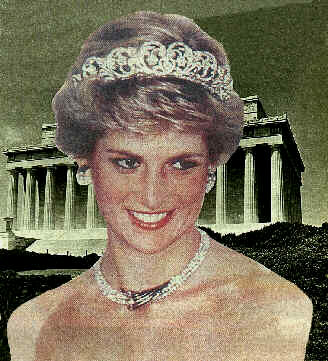 Goodbye Norma Jean
Though I never knew you at all
You had the grace to hold yourself
While those around you crawled

Bernie Taupin's evocative lyrics to "Candle in the Wind" tell a haunting story about an enchanting artist: Marilyn Monroe (the former Norma Jean Baker). The music was written and the song was originally performed by Elton John. The song not only causes us to empathize with Marilyn Monroe, but also with the young boy who felt such empathy for her. Bernie Taupin later wrote new lyrics for the song, honoring England's fairest Rose, Princess Diana, after her tragic death in an automobile accident. Other songs by Elton John include "Tiny Dancer," "Levon," "Daniel," "Rocket Man," "Sacrifice," "Your Song," "Border Song," "Goodbye Yellow Brick Road," "Don't Let the Sun Go Down on Me," "Philadelphia Freedom," "Honky Cat," "Bennie and the Jets" and "Crocodile Rock."

#19

—

Imagine

by John Lennon

Imagine there's no Heaven
It's easy if you try
No hell below us
Above us only sky ...

While I'm not a hard-core Beatles fan (preferring the Stones, Led Zeppelin, Queen and several other groups), I have long admired John Lennon's "Imagine" and its vision of a world where there is finally a true "brotherhood of man." His dreamy vision of a Utopian world has inspired the anti-war, pro-peace movement for decades and is one of the most influential pieces of anti-religion writing on record, perhaps making Lennon the English equivalent of Mark Twain (a fierce American critic of Christianity with its ludicrous hell, bloody atonement and judgmental God). Other songs by John Lennon include "Give Peace a Chance," "Happy Xmas (War is Over)," "Woman," "Mother," "Instant Karma," "Watching the Wheels," "Jealous Guy," and all his hits with the Beatles (below).

#18

—

Eleanor Rigby

by John Lennon and Paul McCartney; performed by the Beatles

Eleanor Rigby
Died in the church and was buried along with her name
Nobody came
Father McKenzie
Wiping the dirt from his hands as he walks from the grave
No one was saved

"Eleanor Rigby" is yet another haunting ghost story. In this ghost story, the ghosts were both dead while they were still alive, then one of the ghosts (Father McKenzie) buried the other ghost (Eleanor Rigby). This song contains powerful, moving commentary on the inadequacy of love and religion to make some people happy. Other songs by the Beatles include "A Day in the Life," "Hey Jude," "Yesterday," "Let It Be," "Twist and Shout," "Penny Lane," "Come Together," "Something" and "Here Comes the Sun."

#17

—

House of the Rising Sun

writer unknown; performed by the Animals

There is a house in New Orleans
They call the Rising Sun
And it's been the ruin of many a poor boy
And God I know I'm one ...

"House of the Rising Sun" is an American folk ballad whose authorship remains unknown. The best-known version of the song was performed by a British "invasion" group, the Animals. (Hey, what were they doing, stealing our best songs?) Like many other songs on this page, it tells a haunting, compelling story. Other songs by the Animals include "Don't Let Me Be Misunderstood," "We've Got to Get Out of this Place," "To Love Somebody," "It's My Life," "Don't Bring Me Down," "When I Was Young," "I Put a Spell on You" and "Boom Boom."

#16

—

Born to Run

by Bruce Springsteen; performed by Bruce Springsteen and the E Street Band

Every day we sweat it out in the streets of a runaway American dream
At night we ride through mansions of glory in suicide machines
Sprung from cages out on highway 9
Chrome wheeled, fuel injected and steppin' out over the line
Baby this town rips the bones from your back
It's a death trap, it's a suicide rap
We gotta get out while we're young
`Cause tramps like us, baby we were born to run

"Born to Run" is a rip-roaring anthem perhaps inspired to some degree by badass actors like James Dean, Marlon Brando and Dennis Hopper. What happens when machismo-dripping young men straddle Harleys? A song like "Born to Run" seems almost inevitable. A fundamental line may be: "And the boys try to look so hard." There's quite a discrepancy between the lyrics of songwriters like John Lennon and Paul Simon, and those of "the Boss" above. Other songs by Bruce Springsteen include "Thunder Road," "Jungleland," "Rosalita," "Tenth Avenue Freeze-Out," "Badlands," "Fire," "Born in the USA," "Glory Days" and "Dancing in the Dark."

#15

—

Blowin' in the Wind

by Bob Dylan

How many roads must a man walk down
Before you call him a man?
Yes, 'n' how many seas must a white dove sail
Before she sleeps in the sand?
Yes 'n' how many times must the cannonballs fly
Before they're forever banned?
The answer, my friend, is blowin' in the wind,
The answer is blowin' in the wind.

"Blowin' in the Wind," like John Lennon's "Imagine," is a highly influential song that may still be transforming human hearts and minds. How many other singers and songwriters have been influenced by these songs, and how many people have they influenced in turn? Bob Zimmerman took his last name from the first name of the great Welsh poet Dylan Thomas, becoming Bob Dylan. His "Like a Rolling Stone" was voted the number one song of all time by Rolling Stone magazine, an interesting synchronicity. Other songs by Bob Dylan include "Lay Lady Lay," "The Times They Are A-Changin'," "A Hard Rain's A-Gonna Fall," "It Ain't Me Babe," "All Along the Watchtower," "Tangled Up in Blue," "Just Like a Woman," "Mr. Tambourine Man" and "Knockin' on Heaven's Door."

#14

—

A Change Is Gonna Come

by Sam Cooke

It's been too hard living
but I'm afraid to die
'Cause I don't know what's up there
beyond the sky ...

"A Change Is Gonna Come" was written after Sam Cooke heard and was moved by Bob Dylan's "Blowin' in the Wind." Cooke's song became an anthem for the American Civil Rights Movement. Other songs by Sam Cooke include "Chain Gang," "Cupid," "You Send Me," "Wonderful World" and "Bring it on Home."

#13

—

Comfortably Numb

by Roger Waters and David Gilmour; performed by Pink Floyd

When I was a child I had a fever;
my hand felt just like two balloons ....
I have become
comfortably numb.

If Pink Floyd has ever produced a bad song, I haven't heard it. This was the last song written by Roger Waters and David Gilmour, and perhaps remains their greatest, but they have had so many wonderful collaborations that it's hard to say. Other songs by Pink Floyd include "Wishing You Were Here," "Time," "Echoes," "Hey You," "The Great Gig in the Sky," "Learning to Fly," "Shine On You Crazy Diamond," "The Wall," "Money" and "Dark Side of the Moon."

#12

—

A Whiter Shade of Pale

by Matthew Fisher, Gary Brooker and Keith Reid; performed by Procol Harum

And so it was that later,
As the miller told his tale,
That her face, at first just ghostly,
Turned a whiter shade of pale.

"A Whiter Shade of Pale" has been the most-played song at venues in the United Kingdom over the last 75 years, and justly so. It's a song that tells a haunting if somewhat surrealistic tale. The song is based on a party at which Keith Reid heard the phrase "a whiter shade of pale" ... the rest, as they say, is history. The phrase "as the miller told his tale" probably refers to the Miller's Tale of the poet Geoffrey Chaucer's "Canterbury Tales." The Miller's Tale was about a man's attempt to seduce a young woman, so we may perhaps deduce that the woman who blanched at the party turned "a whiter shade of pale" because she was being propositioned. (This answers trivia question number five.) Other songs by Procol Harum include "Conquistador" and "A Salty Dog."

#11

—

Piece of My Heart

by James Ragovoy and Bert Berns; performed by Janis Joplin and Big Brother and the Holding Company

Didn't I make you feel
like you were the only man?
An' didn't I give you nearly everything
that a woman possibly can?

Rolling Stone nominated "Piece of My Heart" as the 344th greatest song of the modern era, which only illustrates the dark, murky depths to which music "experts" are capable of sinking. This may be the greatest all-out rock/blues performance by a female singer, or by any rock/blues singer, male or female. Other songs by Janis Joplin include "Summertime," "Mercedes Benz," "Maybe," "Kozmic Blues," "Ball and Chain," "Cry Baby" and "Me and Bobby McGee."

#10

—

Knockin' on Heaven's Door (tie)

by Bob Dylan; performed by Dylan, Eric Clapton, Bob Marley, The Grateful Dead, Guns 'n' Roses, U2 and many other artists

A great song became one of the greatest ever when Guns 'n' Roses covered it in 1987. The song was originally written and performed by Bob Dylan for the movie "Pat Garret & Billy the Kid." (There must be something magical about the song because even Dylan sounded remarkably good when he sang it.) "Knockin' on Heaven's Door" was later covered in reggae versions by Eric Clapton and Bob Marley. It must surely be the only song to have been recorded by the Boss, Boy George, The Grateful Dead, The Sisters of Mercy, Warren Zevon, Ladysmith Black Mambazo and Dolly Parton! Other songs by Bob Dylan include "Lay Lady Lay," "The Times They Are A-Changin'," "A Hard Rain's A-Gonna Fall," "It Ain't Me Babe," "All Along the Watchtower," "Tangled Up in Blue," "Just Like a Woman," "Mr. Tambourine Man" and "Blowin' in the Wind."

#10

—

Who Wants to Live Forever (tie)

by Brian May; performed by Queen

There's no time for us
There's no place for us ...
Who wants to live forever?

Ponce de Leon sought the legendary of fountain of youth; Brian May, Freddy Mercury and Queen turn the tables on would-be traffickers in immortality by asking in one of rock's grandest anthems: "Who Wants to Live Forever"? Other songs by Queen include "The Show Must Go On," "Bohemian Rhapsody," "Crazy Little Thing Called Love," "Somebody to Love," "Killer Queen," "We are the Champions" and "We Will Rock You."

#10

— Angie (tie)



by Mick Jagger and Keith Richards; performed by the Rolling Stones

The Rolling Stones have a number of great songs that easily could have made this list, including "Wild Horses," "Beast of Burden," "Miss You," "(I Can't Get No) Satisfaction," "Gimme Shelter" and "Paint It, Black." But "Angie" is my favorite song of theirs, a haunting song of love and loss.

#9

—

Bohemian Rhapsody

by Freddy Mercury; performed by Queen

Is this the real life?
Is this just fantasy?
Caught in a landslide,
no escape from reality ...

Queen's "Bohemian Rhapsody" is a madcap romp through an operatic, bombastic but gloriously energetic and frenetic lollapalooza of Rock, fronted by one of the greatest showmen of all time, Freddy Mercury. Other songs by Queen include "The Show Must Go On," "Who Wants to Live Forever," "Crazy Little Thing Called Love," "Somebody to Love," "Killer Queen," "We are the Champions" and "We Will Rock You."

#8

—

Layla

by Eric Clapton; performed by Derek and the Dominoes

Layla, you got me on my knees;
Layla, you got me singing darlin' please ...

"Layla" was written by Eric Clapton as a song of unrequited love for his friend George Harrison's wife, Pattie Boyd ... talk about a lovers' triangle! At least this one was immortalized, as Pattie Boyd has been called the inspiration for "Layla," "Something," "Wonderful Tonight" and other songs by Harrison and Clapton. Both the original and the unplugged versions of "Layla" are utterly stellar. Other songs by Eric Clapton include his hits with Cream

―such as "White Room" and "Sunshine of Your Love"―and his solo work such as "Cocaine," "Change the World," "Wonderful Tonight," "I Shot the Sherriff" and the song he wrote to the son he lost, "Tears in Heaven."



#7

—

Nothing Compares 2 U

by Prince; performed by Sinead O'Connor

"Nothing Compares 2 U" is a wonderfully tender, poignant song, sung exquisitely by Sinead O'Connor. The tear she shed in her video was real, and unscripted. She had shaved her head when she started singing because she wanted to be known for her music, not her looks (but she looked better without hair than most women with flowing manes). When the head of her record label heard the song the first time, he cried. When O'Connor heard that he had cried, she asked: "Was it that bad?" No, silly, it was that magnificent! Other songs written and performed by Prince include "When Doves Cry," "Purple Rain," "Raspberry Beret," "Kiss" and "Little Red Corvette."

#6

—

The Freshmen (tie)

by Brian Vander Ark; performed by The Verve Pipe

I can't be held responsible
'cause she was touching her face
I won't be held responsible
she fell in love in the first place ...
For the life of me, I cannot remember
what made us think that we were wise and we'd never compromise
for the life of me, I cannot believe we'd ever die for these sins
we were merely freshmen

When the Verve Pipe released "The Freshmen" there were debates on the Internet about what they meant by lines like "stop a baby's breath and a shoe full of rice." While "stop a baby's breath" might refer to an abortion, "shoe full of rice" might refer to a wedding, in which case "baby's breath" might be a sprig of flowers. Song lyrics, like all forms of poetry, are open to interpretation. What is certain about this song is that it will rip your heart out, if you have one.

#6

—

Without You (tie)

by Harry Nilsson; performed by Harry Nilsson

"Without You" is a wonderfully touching song performed magically by a great singer with an ethereal voice, Harry Nilsson. Paul McCartney, who knows a thing or two about songwriting, called it the greatest rock song ever written. When John Lennon and Paul McCartney held a press conference in 1968 to announce the formation of Apple Corps, John was asked to name his favorite American artist. He replied, "Nilsson." Paul was then asked to name his favorite American group. He also replied, "Nilsson."

#5

—

Hallelujah

by Leonard Cohen; performed by Cohen and many other artists (my favorite performers of the song include Alexandra Burke and K. D. Lang)

Now I've heard there was a secret chord
That David played, and it pleased the Lord
But you don't really care for music, do ya?
It goes like this: the fourth, the fifth
The minor fall, the major lift,
The baffled king composing Hallelujah
Hallelujah, Hallelujah
Hallelujah, Hallelujah

Leonard Cohen is a poet's poet, and a songwriter's songwriter. "Hallelujah" is his masterpiece. Other tour de force performances by Cohen include "Tower of Song," "I'm Your Man," "Everybody Knows" and "Suzanne."

#4

—

Unchained Melody

music by Alex North; lyrics by Hy Zaret; performed by the Righteous Brothers (vocals by Bobby Hatfield)

Oh, my love, my darling
I've hungered for your touch
a long lonely time
and time goes by so slowly
and time can do so much
are you still mine?
I need your love
I need your love
God speed your love to me

"Unchained Melody" is one of the most popular songs of all time, having been recorded by many different artists in various languages. If you haven't heard the version recorded by the Righteous Brothers, please be sure to browse over to YouTube and check out Bobby Hatfield's stunning, soaring vocals. His version remains the all-time best. Another great song by the group is "You've Lost that Lovin' Feelin'."

#3

—

Bridge Over Troubled Water

by Paul Simon; performed by Simon & Garfunkel (vocals by Art Garfunkel)

When you're down and out
When you're on the street
When evening falls so hard
I will comfort you ...

"Bridge Over Troubled Water" is an enduring classic. Paul Simon wrote the song specifically for Art Garfunkel, shortly before the breakup of Simon & Garfunkel. Garfunkel's vocals make the original recording one of the best of all time; the song has also been performed by many other singers, including Elvis Presley, Aretha Franklin, Roy Orbison, Johnny Cash, Josh Groban and Charlotte Church. But no one to date has matched Garfunkel's angelic vocals. Other songs by Simon and Garfunkel include "The Sound of Silence," "The Boxer," "El Condor Pasa," "America," "Scarborough Fair/Canticle," "Homeward Bound," "I Am a Rock," "She Loves Me Like a Rock" and "Mrs. Robinson." (BTW, trivia question number six is answered here and will be explained in the honorable mentions.)

#2

—

Stairway to Heaven

music by Jimmy Page; lyrics by Robert Plant; performed by Led Zeppelin




And as we wind on down the road
Our shadows taller than our soul
There walks a lady we all know
Who shines white light and wants to show
How everything still turns to gold
And if you listen very hard
The truth will come to you at last
When all are one and one is all
To be a rock and not to roll ...
And she's buying a stairway to heaven

Led Zeppelin's "Stairway to Heaven" is an unusual song, to say the least. It was originally written as an acoustic folk song, but soon became one of the best-known rock songs of all time. It was an eight-minute-long album track that was never released as a single, and yet it became one of the most-played songs on radio stations around the world, thanks largely to listener requests. Comments by band members make it seem the lyrics were written rather mystically, apparently via some form of "automatic writing." (Poets like William Butler Yeats have also claimed that poems came to them from "out of blue nothing," as if conveyed by extraterrestrial spirits. The ancient Greeks even created goddesses, the Muses, to explain the otherworldly inspiration of poets.) Wherever the lyrics of "Stairway to Heaven" originated, they certainly tell a compelling story about a very mysterious woman. While the song was written in Wales and has a decidedly Celtic "feel," it also alludes the Bible. Jacob, who became the patriarch and namesake of Israel, saw angels descending from and ascending into heaven on some sort of stairway. Also, there are a number of verses in the Bible which speak of God becoming "all in all" at the end of time: that idea seems to be echoed in the song's closing lines: "And if you listen very hard / The truth will come to you at last / When all are one and one is all." In Saint Peter's second sermon after Pentecost he spoke of "the restitution of all things to God" which had been spoken of "by all the holy prophets since the world began." (This answers trivia question number eight.) The image above is William Blake's "Jacob's Ladder." Other songs by Led Zeppelin include "Black Dog," "Whole Lotta Love," "Kashmir," "The Immigrant Song" and "Dazed and Confused."

Now here, without further ado, is my number one song of all time ... named, in an interesting synchronicity, "One."

#1

—

One

by Bono (Paul Hewson), The Edge (David Evans), Adam Clayton and Larry Mullen Jr.; performed by U2

Have you come here for forgiveness?
Have you come to raise the dead?
Have you come here to play Jesus
To the lepers in your head?

"One" was written and recorded in Berlin, on the eve of the reunification of Germany. At the time U2 was experiencing internal disharmony: the song has been credited with helping keep the band together. The Edge came up with the music first; Bono said his lyrics "just fell out of the sky, a gift." The entire song was composed in about 15 minutes. Other songs by U2 include "Sunday Bloody Sunday," "Where the Streets Have No Name," "Pride (In the Name of Love)," "With or Without You" and "I Still Haven't Found What I'm Looking For."

Now here are my "high honorable mentions" ...

Riders on the Storm

by Robbie Krieger, John Densmore, Jim Morrison and Ray Manzarek; performed by the Doors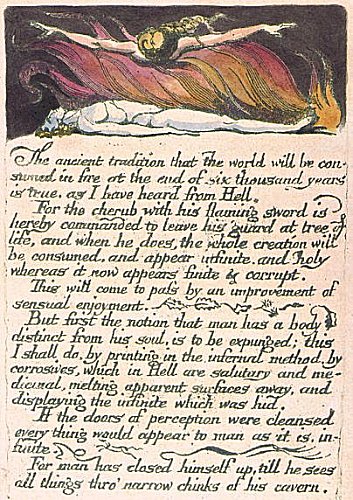 There's a killer on the road
His brain is squirmin' like a toad
... Riders on the storm

"Riders on the Storm" is one of the darkest songs of all time. It was the last song recorded by the Doors before Jim Morrison died. The band took its name from William Blake's "Doors of Perception" [see the second image above]. (This answers trivia question number seven.)

Vincent

by Don McLean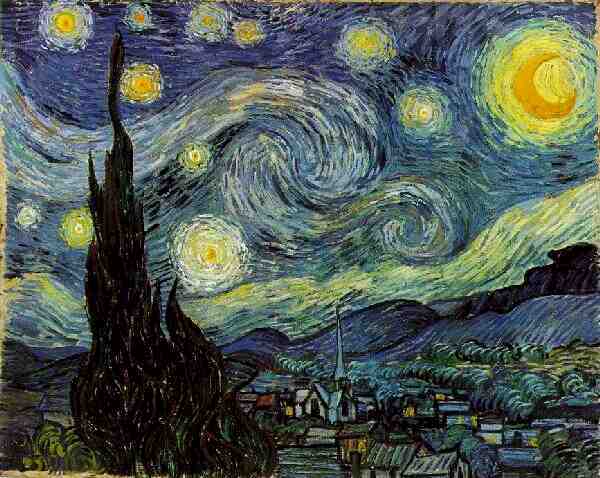 Vincent Van Gogh's "Starry Starry Night"

Starry, starry night
Paint your palette blue and gray
Look out on a summer's day
With eyes that know the darkness in my soul

Don McLean's "Vincent" got my vote as the best rock poem of all time, based strictly on lyrics, because it tells a moving story and also carries us somewhere "beyond" by making us feel a strong kinship with the troubled Dutch painter, Vincent Van Gogh. The best poems and songs create a sort of spiritual "communion" between writer, subject and audience ...

Morning Has Broken

Gaelic folk tune; lyrics by Eleanor Farjeon; performed by Cat Stevens

Morning has broken,
like the first morning
Blackbird has spoken,
like the first bird

"Morning Has Broken" has a most interesting genesis. It was originally a Gaelic folk tune. The lyrics of a Christian children's hymn were penned for it in 1931, by Eleanor Farjeon. The Christian hymn then became a hit for Cat Stevens, America's most famous Muslim singer/songwriter! (This answers trivia question number three.)

I Am a Rock

by Paul Simon; performed by Simon & Garfunkel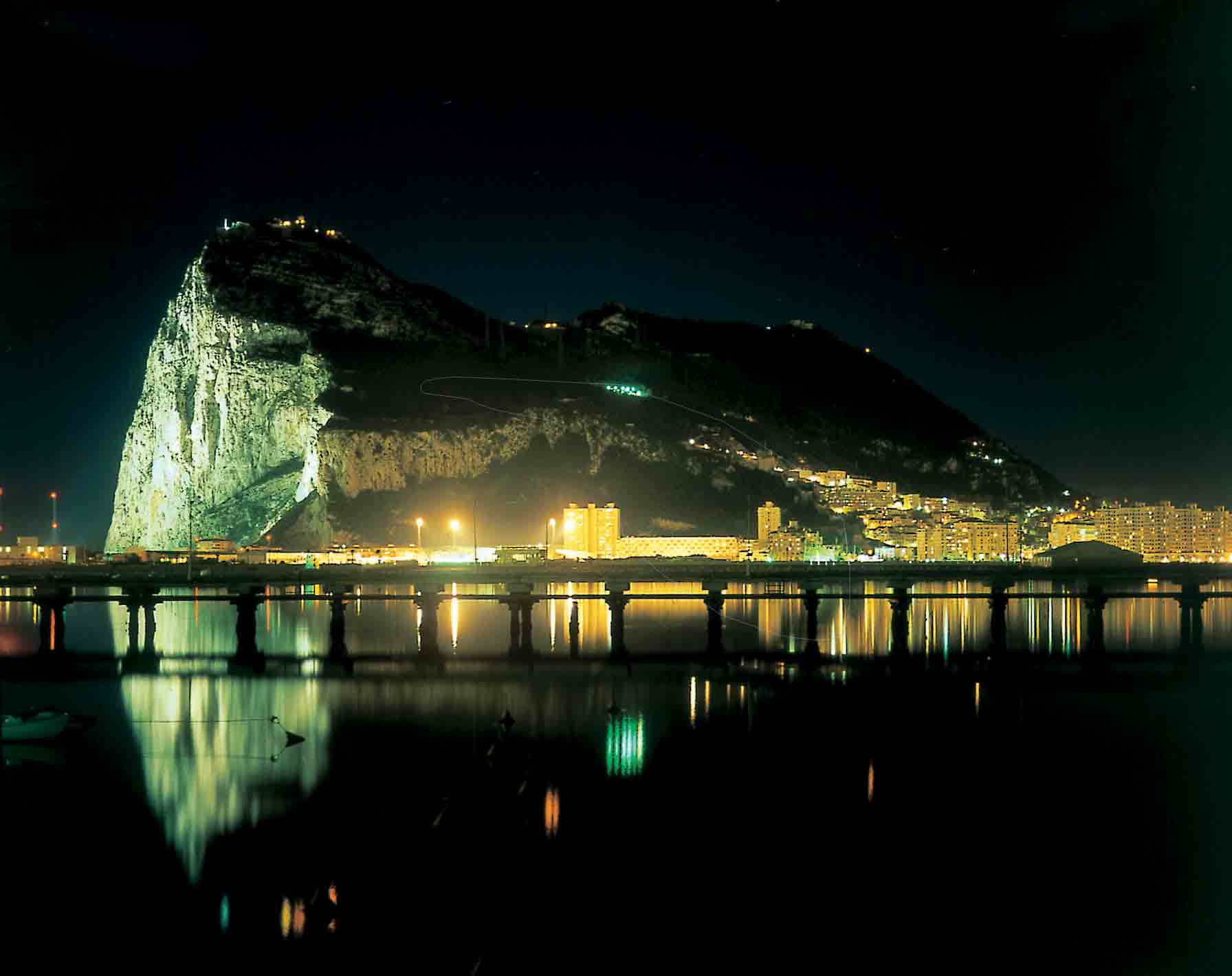 A winter's day
In a deep and dark December;
I am alone,
Gazing from my window to the streets below
On a freshly fallen silent shroud of snow.
I am a rock,
I am an island.

"I Am a Rock" seems to be the refutation of a sermon preached by John Donne, who happened to be one of England's greatest poets. In his sermon Donne proclaimed that "no man is an island." The young, introspective singer/songwriter Paul Simon begged to differ. (This answers trivia question number six.) The photograph above is of the world's most famous rock island, Gibraltar, at night ...

(Sittin' on) The Dock of the Bay

by Otis Redding and Steve Cropper; performed by Otis Redding

I left my home in Georgia
Headed for the 'Frisco bay
'Cause I've had nothing to live for
And look like nothin's gonna come my way ...

"(Sittin' on) The Dock of the Bay" was recorded by Otis Redding on December 7, 1967, just three days before he died in a plane crash outside Madison, Wisconsin. Redding also wrote "Respect," which was immortalized by Aretha Franklin.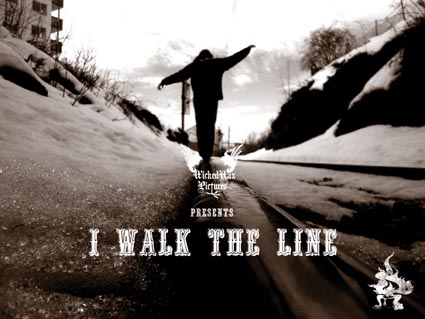 I Walk the Line

by Johnny Cash

I find it very, very easy to be true
I find myself alone when each day is through
Yes, I'll admit that I'm a fool for you
Because you're mine, I walk the line

Johnny Cash wrote "I Walk the Line" in 1956, when he was newly married, and presumably faithful. Years later he recorded "Ring of Fire," a song about the torrid love affair that caused him to leave his wife for June Carter. June Carter wrote "Ring of Fire" with Merle Kilgore. Johnny Cash had a dream in which he was singing the song with mariachi horns in the background, which was how it was recorded. (This answers trivia question number one.)

For What It's Worth

by Stephen Stills; performed by Buffalo Springfield

What a field-day for the heat
A thousand people in the street
Singing songs and carrying signs
Mostly say, "Hooray for our side!"
It's time we stop, hey, what's that sound
Everybody look what's going down

"For What It's Worth" is one of the best-known protest songs of all time. Ironically, it's not about war, but violence between club-goers and police on the Sunset Strip, where Stephen Stills used to perform.

Beds Are Burning

by Robert Hirst, Peter Garrett and James Moginie; performed by Midnight Oil

The time has come
A fact's a fact
It belongs to them
Let's give it back

"Beds Are Burning" is a protest song of another sort: a rousing cry for the land stolen from Australian aborigines to be returned to its rightful owners.

After the Gold Rush

by Neil Young

I was lying in a burned-out basement
With the full moon in my eyes.
I was hoping for replacement
When the sun burst through the sky.

"After the Gold Rush" seems to be a song based on a dream-vision. From what I understand, Neil Young claims not to understand the song himself, so I won't try to interpret it, other than to say I hope we don't have to depend on UFOs to rescue us from an ecological catastrophe or nuclear war.

The Logical Song

by Roger Hodgson; performed by Supertramp

When I was young,
it seemed that life was so wonderful,
a miracle;
it was beautiful,
magical ...

"The Logical Song" is a song full of mad rhymes about life's lack of reason. It's an almost-perfect song of one man's alienation from the rules of society and perhaps the "natural world" as well.

Paint It, Black

by Mick Jagger and Keith Richards; performed by Rolling Stones

I see the girls walk by
dressed in their summer clothes;
I have to turn my head
until my darkness goes ...

"Paint It, Black" was the first number one song in the US and UK charts to feature a sitar. The song has been said to have been written from the perspective of man mourning a lover who died.

Walking on Broken Glass

by Annie Lennox

This is a great song by one of the greatest female singer-songwriters. Lennox has been named "The Greatest White Soul Singer Alive" by VH1 and one of The 100 Greatest Singers of All Time by Rolling Stone. She has also earned the distinction of being the "most successful female British artist in UK music history." Including her work within Eurythmics, Lennox is one of the world's best-selling music artists, having sold over 80 million records worldwide.

She's Gone

by Daryl Hall and John Oates; performed by Hall and Oates

Up in the morning, look in the mirror ...
I'm as worn as the toothbrush hanging in her stand ...
My face ain't lookin' any younger ...
Now I can see love's taken her toll on me ...
She's gone ...

This is one of the best songs about love, loss, disappointment and aging alone. The song was written after Hall had divorced his wife and Oates had been stood up by a New Year's date.

Lay Down (Candles in the Rain)

by Melanie

"Lay Down (Candles in the Rain)" by Melanie Safka (of "Brand New Key" fame) is one of the great rock/blues/folk anthems. She wrote it after performing at Woodstock and seeing people light candles as songs they liked were performed.

Love And Affection

by Joan Armatrading

This is an absolutely wonderful song that deserves far more attention than it gets today. If you haven't heard it, please be sure to check it out on YouTube.

White Flag, Thank You and Here with Me

by Dido

Well I will go down with this ship
and I won't put my hands up and surrender;
there will be no white flag above me door
I'm in love, and always will be.

It hardly seems fair that a singer like Dido is allowed to have two immaculate songs like "White Flag" and "Thank You" in a single career. And "Here with Me" completes a neat hat trick. The three songs are so good (and Dido's atmospheric voice is so wonderfully good singing them) that I've decided to settle for a three-way tie.

White Room and Sunshine of Your Love by Cream
Kashmir, Black Dog and a number of other great songs by Led Zeppelin
Tutti Frutti, Long Tall Sally, Lucille, Rip It Up

and

Good Golly Miss Molly by Little Richard
What'd I Say, Georgia on My Mind, Ruby, Unchain My Heart and Hit the Road Jack by Ray Charles
Like a Rolling Stone, Don't Think Twice (It's All Right)

and

The Times They Are A-Changin' by Bob Dylan
All Along the Watchtower and Purple Haze by The Jimi Hendrix Experience
Johnny B. Goode, Maybellene, My Ding-a-Ling and Roll Over Beethoven by Chuck Berry
Mercy, Mercy Me and What's Going On by Marvin Gaye
Lately, Overjoyed and Superstition by Stevie Wonder
The End and Light My Fire by Jim Morrison and the Doors
Sweet Child O' Mine and Patience by Guns 'n Roses
Thunder Road

and

Jungleland by Bruce Springsteen and the E Street Band
Fortunate Son, Have You Ever Seen the Rain, Who'll Stop the Rain

and

Someday Never Comes by Creedence Clearwater Revival
The Weight

and

The Night They Drove Ole Dixie Down by The Band
Heart of Glass

and

Call Me by Blondie
Smells Like Teen Spirit by Nirvana
Respect

and

Spanish Harlem

by Aretha Franklin


God Only Knows

and

Good Vibrations by the Beach Boys
A Day in the Life, Yesterday, Hey Jude, I Want to Hold Your Hand, In My Life, Help! and Let it Be by the Beatles
Like a Virgin, Material Girl, Vogue, Papa Don't Preach and Like a Prayer by Madonna
Man in the Mirror, Smooth Criminal, Beat It

and

Billie Jean by Michael Jackson
Loose Yourself and Stan by Eminem
London Calling by The Clash
Dream On by Aerosmith
Tired of Being Alone and Let's Stay Together by Al Green
Nights in White Satin by the Moody Blues
Love Hurts by Nazareth
River Deep, Mountain High by Ike and Tina Turner
Private Dancer by Tina Turner
Roxanne by Sting and the Police
The First Time Ever I Saw Your Face by Roberta Flack, especially as performed by Josh Krajcik
Jailhouse Rock, Hound Dog, Heartbreak Hotel, It's Now or Never

and

Are You Lonesome Tonight by Elvis Presley
How Can You Mend a Broken Heart, Words, Tragedy and Night Fever by the Bee Gees
Shadow Dancing by Andy Gibb
I Want To Know What Love Is by Foreigner
In Your Eyes and Solsbury Hill by Peter Gabriel
Somebody to Love

,

The Show Must Go On

and

Crazy Little Thing Called Love by Queen
Your Song, Don't Let the Sun Go Down on Me, Sacrifice, Levon

and

Tiny Dancer by Elton John
Piano Man, Only the Good Die Young, Captain Jack, Shameless

and

Until the Night by Billy Joel
All by Myself

by Eric Carmen, also as performed by Celine Dion


Everybody Hurts and Losing My Religion by R.E.M.
Come on Eileen by Dexy's Midnight Runners
Tainted Love by Soft Cell
I'm Not in Love by 10CC
Pride (In the Name of Love) and I Still Haven't Found What I'm Looking For by U2
Rave On and That'll Be the Day by Buddy Holly
No Woman, No Cry and Redemption Song by Bob Marley and the Wailers
Bat out of Hell by Meatloaf
Holding Back the Years and If You Don't Know Me by Now by Simply Red
Heroes

and

Space Oddity by David Bowie
Hotel California and Desperado by The Eagles
Tracks of My Tears by Smokey Robinson and the Miracles
Whole Lotta Shakin' Goin' On and All Shook Up by Jerry Lee Lewis
True by Spandau Ballet
Livin' on a Prayer and Runaway by Bon Jovi
Take on Me by A-ha
When a Man Loves a Woman by Percy Sledge
The Air that I Breathe by the Hollies
Maggie May by Rod Stewart
Faith by George Michael
American Pie and Vincent by Don McLean
Red Red Wine by Neal Diamond, especially as performed by UB40
Stand By Me by Ben E. King
Apologize by Timbaland
Somebody that I Used to Know by Goyte
Someone Like You and Rolling in the Deep by Adele
Unbreak My Heart by Toni Braxton
Bette Davis Eyes by Kim Carnes
Smooth Operator by Sade
Total Eclipse of the Heart by Bonnie Tyler
Dust in the Wind by Kansas
More than a Feeling by Boston
Kathy's Song and America by Simon and Garfunkel
Bo Diddley by Bo Diddley
Louie, Louie by The Kingsmen was investigated by the FBI for offensive lyrics, but they had to give up because no one could understand the words! (This answers trivia question number two.)
Mandy

by Barry Manilow is a good song, but please give us a break because Manilow did not write his biggest hit, the cheesy

I Write the Songs!

(This answers trivia question number nine.)



Related pages: The Best Singers of All Time, The Best Singer-Songwriters, Famous Drinking Songs

The HyperTexts