United States and studied Electrical Engineering at the University of Illinois (MSEE 1952). Worked for Bell Telephone Laboratories, The Rand Corporation, and Bellcomm. Founded own software company; retired 1991. Starting in 2001, Isaac works as a volunteer with the Photo Archives and the Center for Advanced Holocaust Studies (CAHS) of the U.S. Holocaust Memorial Museum.



A letter from Simon & Cecile Jeruchim:

My wife and I were shocked and terribly saddened to read the news that Brian Coleman had recently died.

We are "Hidden Children", survivors of the Holocaust and Brian had contacted us a few years ago after reading our stories in a book titled "Hidden to Survive" by Maxine Rosenberg. Ever since we had been in contact with him and finally had the great pleasure of meeting Brian last summer when he came to New York.

Brian was an extraordinary, one of a kind teenager, who would have been destined to achieve great things in his life. Even though he died too soon, he had already accomplished a great deal in his short life. Beyond Brian's interest in the lives of Holocaust survivors, through our frequent emails with him, we discovered that Brian was unusually mature for his age, sensitive and also quite humorous. For instance, he had a love and hate relationship with his old car, which kept breaking down, and Brian regaled us with funny stories about it that kept us in stitches. He also enjoyed practicing writing in French to us, since French is our native language, and we appreciated the fact that he wanted to please us. As an author myself, I recognized that Brian was already a gifted writer and I encouraged him to take advantage of his talent.

My wife, Cecile and I will miss him very much.

Sincerely,
Simon & Cecile Jeruchim


How it all started, in Brian Coleman's own words:

This is the school paper which explains how Brian's interest in the Holocaust started. As he says, "It all started in the 7th grade." The full essay appears below the image of Brian's untitled essay.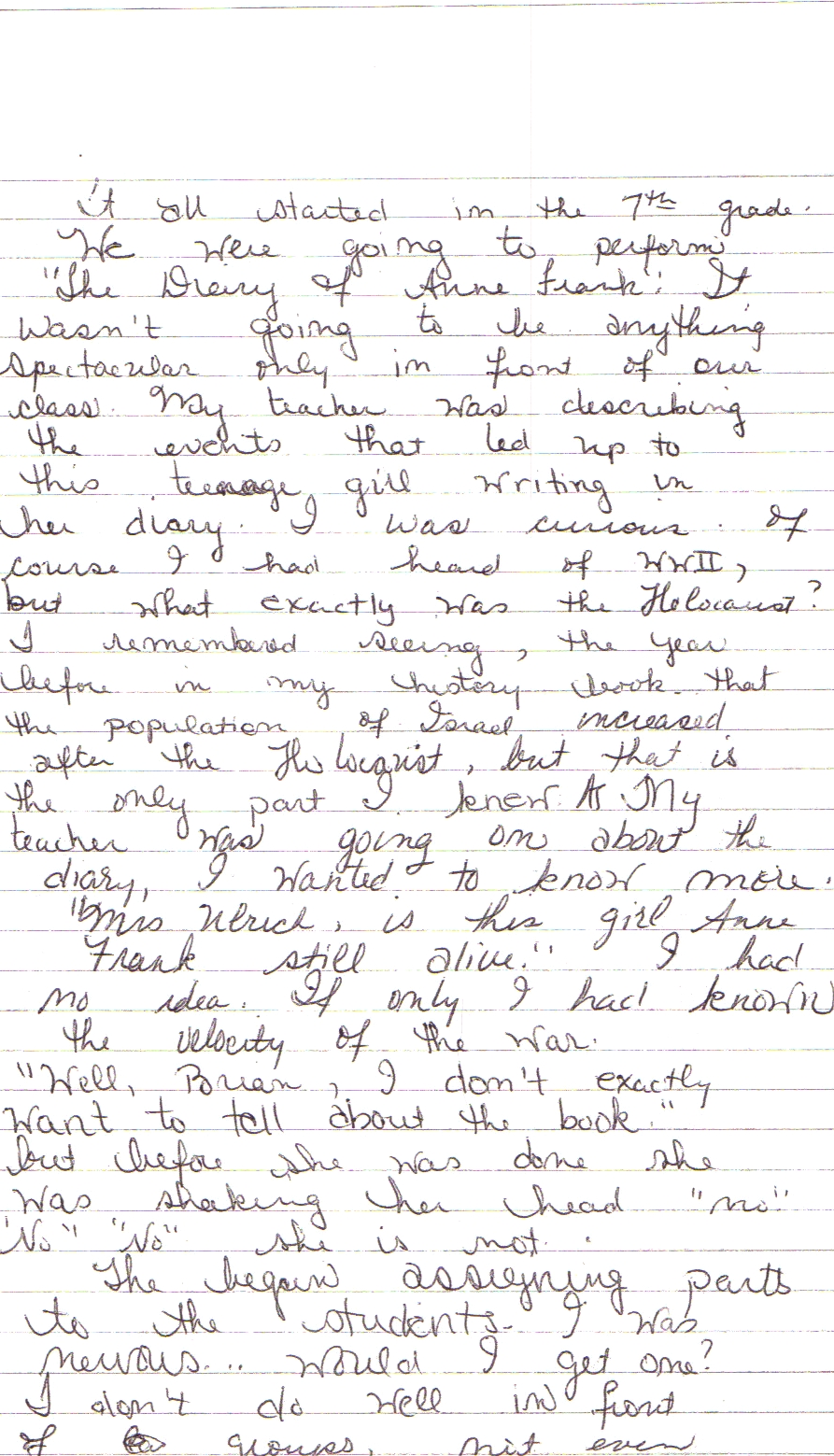 An Untitled Essay by Brian Coleman

It all started in the 7th grade. We were going to perform "The Diary of Anne Frank." It wasn't going to be anything spectacular, only in front of our class. My teacher was describing the events that led up to this teenage girl writing in her diary. I was curious. Of course, I had heard of WWII, but what exactly was the Holocaust? I remembered seeing the year before in my history book that the population of Israel increased after the Holocaust, but that is the only part I know. As my teacher was going on about the diary, I wanted to know more.

"Mrs. Ulrich, is this girl Anne Frank still alive?" I had no idea. If only I had known the velocity of the war!

"Well, Brian, I don't exactly want to tell about the book." But before she was done she was shaking her head, "No." "No." "No she is not."

They began assigning parts to the students. I was nervous…Would I get one? I don't do well in front of classes, not even my class, who had gone to elementary school with me. I was given the part of Otto Frank. We started the play. Over the course of the next four weeks, we performed just in front of our 4th hour English class. However, our class was taking too long, so after a few weeks and being nowhere close to the end, we skipped a few sections to the end. The play was over. What next? We were told to pick groups and each group was to do a posterboard presentation speech in front of the class.

I already knew I wanted: "Holocaust Survivors." However, when we got into groups, I was outvoted and the topic was the total opposite: "Nazi Leaders." We made a few trips to the school library during our English class. During one of those visits, I found the book "Tell Him We Remember." I was going through the book to see if it had the info I was seeking. I noticed it had stories of different people on the sides of the pages. I flipped from page to page reading about each person. Twenty in all. Some only a year or two older than me, some younger. I remember reading each story and thinking "I hope they all lived." However, the reality of how bad this hell was sank in when I read "gassed in Auschwitz" or "Treblinka." How could this happen sixty years ago? How! At that time my dad's parents would have been 13 and 14!! Would they have survived? And my mom's parents weren't born until '42 and '43. They surely would have never come back.

I wondered if the people in the book who had survived were still alive. Wouldn't it be something to be able to speak to them? One was only a few months older than my grandma. Surely she would still be alive. But how would I find her now? I decided to look on Google. I searched Google, but the only thing that came up over and over again was about a woman who had won awards for books, who by chance was also born in Hungary. I felt like I would get nowhere; surely this young girl, who by now would be an old lady in her 70's, would be married and I only had her maiden name. It had been worth a shot. Every once in awhile, I would Google the names of the people in my books. Usually nothing came up but a link to Amazon to buy books.


I decided to give up. Besides, even if I found someone, would I really have the courage to contact them? Probably not. So I began to read more on the subject. "Night" was also among my favorites. However, "Tell Them We Remember" was my favorite as it had sparked my interest. I kept checking it out of the library. My aunt eventually said, "They should just give you the book after checking it out so many times."


So 7th grade ended and 8th grade started and ended and 9th grade started and ended. Not much had gone on during those two years except me getting books on the Holocaust for birthday and Christmas gifts.


During the summer after my freshman year of high school, I was at the store. I was looking through the movie sections and, by a mere chance, found "Escape from Sobibor." What were the odds? I had known about the death camps, but was there really a successful escape from the Germans? I bought the movie for a dollar and watched it over and over and over again. This story was incredible. Not only did fifty people survive the war, but one was a Dutch woman who didn't even speak Polish!!


At the end of the movie there was a list of the survivors alive in 1987, when the movie was made. The movie was older than I. How many would be alive 17 years later? How old would they be by now? The youngest one must be 80 and the oldest one? 90? 95? How in the world would I be able to find one? Google. So I printed off the list of known survivors and began to Google. A lot of results came up for "Esther Terner-Raab." How active she was! I finally saw something that may help. Vineland, NJ is where she lives. I knew there was a telephone directory on the internet, but let me tell you how na´ve I was. I figured everyone will be in the phonebook and I never knew that at that time many people are only under the husband's name or just the first initial. So when "Esther Terner-Raab came up with no results in Vineland, NJ, I was disappointed. However, I was determined. Maybe if I tried "Esther Terner." Nothing. "Esther Raab."—nothing! Okay I was giving up, but one more try, so I tried "Raab, Vineland, NJ." One match found "I. Raab."


It must be her, I thought. Ok, so now I have an address for one. I knew if I wanted to ask questions, writing a letter would be the only way.


What do I write in the letter? What if she doesn't write me back? Or worse, what happens if I write the wrong person? How embarrassing!! But my mind came to reality. I knew at age 15, if I did not write the letter now, I would not have a chance in ten years. So I decided to write the letter. I will confess, it was not written very well.


Dear Mrs. Raab, After watching the movie "Escape from Sobibor," I was wondering if I could ask you a few questions.
I mailed it June 17, 2004. A few days later, I mailed a second letter to Selma Engel—the Dutch woman who escaped Sobibor. I was anxious for the responses. I checked the mail every day—sometimes twice.


In the meantime, I began to go through my books and look to see if I could write to anyone else. I found a few people in the books I had and began to write to them. I was really scared no one would write me back. I figured, "I will just go until school starts, then I will quit writing." I was hoping for at least one response. It finally came: a letter from Selma Engel.


I opened it carefully. I read it and thought something was strange. It said, "Thank you for your letter…Selma & Chaim."


I was confused. I knew her husband had passed away. How could they both have signed the letter?


I realized the letter was copied and disappointment began to set in…However, I had a letter from a Holocaust survivor!! I was on cloud nine for a long time. I showed it to everyone. Well almost. Everyone in my family. No one else knew. Not long after, two more responses and a returned letter!? How could that be, weren't the phone directories always accurate? Now how would I find this person?


School started for my sophomore year. However, I was not wanting to give up the letter writing. I figured I would go on for a little longer. I used to sit in my math class and watch the clock anxiously waiting for the dismissal bell, every day after school wanting to go home as soon as possible to check the mail. I was always wondering, trying to guess who I would hear from. I knew not everyone would write back. I received another returned letter that had been mailed back in a manila envelope. I used that envelope to store all my responses in. Eventually they would no longer fit and I decided a shoe box would work. I had 19 responses, so a shoe box was more than big enough.
One day I received a letter that stated the person would rather talk on the phone than respond to a letter—I couldn't believe it. I was more nervous than anything!! I finally called on Labor Day, my day off from school. She said she would call back the next day after I got back from school. I told her at I would be back. At exactly the phone rang. I knew it was her and I was excited yet extremely nervous.

[The essay appears above as I received it, except for a few minor changes in punctuation and corrections of what seemed to be typographic errors.—Mike Burch.]


An essay by Brian Coleman on what he learned about the Holocaust:
Survivors of the Holocaust in America
by Brian Coleman
11/22/2005

When war-torn Europe was finally liberated by the Russians, British, and the Americans, three million Jewish people had been displaced. After six years of surviving the Nazis, the survivors of the Holocaust would struggle with the scars for the rest of their lives. Rebuilding their lives was not easy and some 92,000 chose to do so in America. They raised families, prospered in their work, and ever since stepping foot on American soil, they have cherished what they had long awaited for, their freedom.
Irene Frank, who had survived a ghetto and two concentration camps, eventually immigrated to America and recalls, "I only had five dollars in my pocket" (Landau 41).
Mrs. Frank was not alone, as many people had almost nothing when they came to America. A select few, such as the late Judy Schoenfeld Schabes, were really lucky and were able to get a few items back. She later recalled in David Adler's "We Remember The Holocaust", "Just before we went to Auschwitz, my father gave to some very fine Christian neighbors, our furs, jewelry, silverware and money. After the war, these people saw me and gave it all back." (93)
Rebuilding their lives in a foreign country was not easy for any of the survivors and many had called on relatives who had fled to America before the war, for immigration papers and a place to stay when they got here, but the survivors were very eager to come independent. Once here they had to tackle a new language, find work, and care for their families. Life in America was not only hard upon arrival, but for some life did not become easy for many years. In a phone conversation with Harry Tabrys, he described how for him and his wife, Feige, the first twenty years were hard.
When the survivors arrived in America, they soon realized many people, including their relatives, wanted to hear nothing of the Holocaust. The survivors stuck together when they arrived in the land of opportunity, thus many sections of New York became largely Jewish, and as Helen Epstein writes in "Children of the Holocaust", "Some, like the survivors who swelled the populations of Williamsburg, Crown Heights, Flatbush, and Boro Park in Brooklyn, New York, formed strong survivor communities where several of their children grew up thinking that 'everyone's parents had been in concentration camps'" (97). Not only was New York City a major settlement for survivors, but also Los Angeles, Miami, Skokie, and countless other cities across America.
Many started their own businesses, which soon prospered. Fred and Tamara Wildauer had a successful clothing store in Minneapolis, after working long hours six days a week, in a grocery store in St. Louis. Stephen Weinberg's sons now run the business that he started in New York, and the list could go on. Although once in America, not all survivors were as lucky as others. In "Children of the Holocaust", Helen Epstein describes her father's struggles, "My father moved from job to job. He worked as a shipping clerk, a salesman, a bookkeeper." (52)
Eventually life became good for the survivors in America. Freida Greenspan, who had planned on immigrating to Israel, stayed in America because she and her husband had established themselves here. The survivors wanted to forget their past and lead normal American lives, raising their families. In Adler's "We Remember the Holocaust", Clara Feldman states, "The happiest years since 1933 were the years I was raising my children" (99).
Even while raising their families, the emotional scars were too much for some to handle. Many survivors that were tattooed in Auschwitz, were asked, "Why did you write your telephone number on your arm?" Some chose to simply get the number that had been branded on them in Auschwitz removed, as did Frida Herskovits, who settled in Brooklyn after arriving in America. Other such as Zelik Sander, Oscar Fellner, and Dorothy Rosenthal, still bear the number put on their arms some sixty years ago.
As a result of the Holocaust many survivors were very fearful. Esther Peterseil described to David Adler, "Since Auschwitz, I have never taken a shower, only baths." Sam Goldstein refuses to stand in lines as it reminds him too much of his days spent in the camps. Judy Schoenfeld Schabes was reminded of her time in Auschwitz every time she smelled the smell of a barbecue (Adler 99). Florence Wiener's mother was a very worried person after the war. Florence recalls, "When I was sixteen, I was going to the beach with friends. My mother said she would follow me. She said she would sit far away on a bench and watch. No one would even know she was there. My mother often said, 'You should never have to know why I feel the way I do'" (Adler 100).
As the years passed and the survivors grew older, many still did not talk much about their war experiences. Some might make a quick reference to their families, who were murdered in the Holocaust, time they spent in a concentration camp, or something that occurred after the war. Telling their stories was simply too hard for many and they were never planning to talk about it. It was not until recently, when Holocaust deniers were becoming very outspoken claiming that six million Jewish people were never murdered and that there were never any gas chambers. This was simply too much for some survivors to hear and they were now determined to tell the world that it did happen and that they were the witnesses. This was the case for Bella Tovey, who not only wants to tell that it happened, but also wants to preserve the memory of her parents and siblings who were murdered in Auschwitz.
Most survivors are now retired and they are enjoying the remaining years of their lives doing volunteer work in their communities and many, such as Carol Lipson, have left the colder climates, for places like Florida. They are spending time with their now grown children and playing with their grandchildren and even great grandchildren.
Watching their children succeed has been the best thing that has happened for them. Lilly Salcman's daughter now works for the New York Times, Simon and Cecile Jeruchim's daughter is now a successful business woman, and Alex Lebenstein's son is a successful realtor in New York. Not only have their children become successful, but also their grandchildren, such as Ben Kamm's grandson, who is in the musical group The Calling. The descendants of the survivors continue to grow and expand and continue to make the survivors proud of their achievements.
As the number of survivors begins to rapidly decrease, their children feel that they need to help tell the stories, not only of their parents, but also of the family members that they never knew. Their children push them to write their memoirs, record an audiotape of their experience and give interviews or presentations at high schools and universities. The survivors, such as Frida Herskovits, have spoken numerous times to audiences that numbered well over two hundred people. Some survivors have even given testimony to Steven Spielberg's Shoah foundation, The United States Holocaust Museum, and some are filling out forms for their murdered relatives at the Yad Vashem museum in Israel.
As the aging survivors continue to tell their stories, they are racing against time to get their messages across. They are growing frailer and illness and Alzheimer's is becoming more frequent. They tell their stories for remembrance of their relatives, not so one will feel pity for them. Each time a survivor remembers the events of sixty years ago, it takes them back to a time when they had their families, what they would give up anything today to have. Remembering these events brings tears to their eyes, even the survivors who have seemed to cope the most. While the number of survivors gradually gets smaller and smaller, they want only one thing, for the world to remember.



Brian Coleman kept in touch with his friends among the Holocaust survivors, and during the first two weeks of June 2007, managed to meet around 50 survivors in New York and New Jersey:







Excerpts from a letter by Frank P. Moses:
Brian was truly a very wonderful person and now I am sorry that I did not keep more in touch with him. On his trip to South Florida, I had the pleasure in meeting his grandfather who came with him. He too was a great person.

Friendliest regards,
Frank P. Moses



A letter from Debora Biron:

I can not begin to describe the sorrow and shock I felt when I learned about the untimely death of Brian. The first time I heard from Brian was in December 2006. Brian wrote me that he read the book "Hidden to Survive" by Maxine Rosenberg . My name is in the book. Brian wanted to come to New York and organize a lunch for as many people in the book that could attend. I was happy to help him do that.

Brian worked very hard to make it happen . The lunch on June 8th 2007 was a great success, very emotional as everyone there met for the first time and had their stories to tell. Brian was the STAR.

My husband and I spend another day with Brian in Manhattan; he loved New York.

Brian was amazing; his interest in the holocaust survivors was beyond belief. Brian was a young man with integrity, sensitivity, a sense of humor and a great big heart. Brian will certainly leave a great void in my life and in anyone that has ever met him. We will miss him.

With deep sadness,
Debora Biron



A series of letters between Brian Coleman and Henny M. Simon:



Hi Mrs. Simon,

I know it has been some time since we last corresponded. I wrote you a letter maybe a little over a year ago and we talked on the phone. I wanted to tell you that I was in New York last month and was at the Heritage Museum and was I surprised to see the ring and your name by it! I was thinking "wow, i have been in touch with Mrs. Simon."

I hope you are well. Yours, Brian



The South Bronx in 1950 was the home of a large and thriving community, predominantly Jewish. In the 1950s the Bronx offered synagogues, mikvas, kosher bakeries, and kosher butchers—all the comforts one would expect from an observant Orthodox Jewish community.
The baby boom of the postwar years happily resulted in many new young parents. As a matter of course, the South Bronx had its own baby equipment store, Sickser's. Sickser's was located on the corner of Westchester and Fox, and specialized in "everything for the baby" as its slogan ran.
The inventory began with cribs, baby carriages, playpens, high chairs, changing tables, and toys. It went way beyond these to everything a baby could want or need. Mr. Sickser, assisted by his son-in-law Lou Kirshner, ran a profitable business out of the needs of the rapidly expanding child population.
The language of the store was primarily Yiddish, but Sickser's was a place where not only Jewish families but also many non-Jewish ones could acquire the necessary for their newly arrived bundles of joy.
Business was particularly busy one spring day, so much so that Mr. Sickser and his son-in-law could not handle the unexpected throng of customers. Desperate for help, Mr. Sickser ran out of the store and stopped the first youth he spotted on the street. "Young man," he panted, "how would you like to make a little extra money? I need some help in the store. You want to work a little?"
The tall, lanky black boy flashed a toothy smile back. "Yes, sir, I'd like some work."
"Well then, let's get started."
The boy followed his new employer into the store. Mr. Sickser was immediately impressed with the boy's good manners and demeanor.
As the days went by and he came again and again to lend his help, Mr. Sickser and Lou both became increasingly impressed with the youth's diligence, punctuality, and readiness to learn. Eventually Mr. Sickser made him a regular employee at the store. It was gratifying to find an employee with an almost soldier-like willingness to perform even the most menial of tasks, and to perform them well.
From the age of thirteen until his sophomore year in college, this young man put in from twelve to fifteen hours a week, at 50 to 75 cents an hour. Mostly, he performed general labor: assembling merchandise, unloading trucks and preparing items for shipments. He seemed, in his quiet way, to appreciate not only the steady employment but also the friendly atmosphere Mr. Sickser's store offered.
Mr. Sickser and Lou learned in time about their helper's Jamaican origins, and he in turn picked up a good deal of Yiddish.
In time the young man was able to converse fairly well with his employers, and more importantly, with a number of the Jewish customers whose English was not fluent. At the age of seventeen, the young man, while still working part-time at Sickser's, began his first semester at City College of New York. He fit in just fine with his, for the most part Jewish classmates, hardly surprising, considering that he already knew their ways and their language.
But the heavy studying in the engineering and later geology courses he chose proved quite challenging. The young man would later recall that Sickser's offered the one stable point in his life those days.
In 1993, in his position as the Chairman of the Joint Chiefs of Staff—two years after he guided the American victory over Iraq in the Gulf War, General Colin Powell visited the Holy Land. Upon meeting Israel's Prime Minister Yitzhak Shamir in Jerusalem, he greeted the Israeli with the word "Men kent reden Yiddish" (We can speak Yiddish).
As Shamir, stunned, tried to pull himself together, the current Secretary of State continued chatting in his second-favorite language. Colin Powell never forgot his early days working at Sickser's.

Have a wonderful day.
Brian




Hi Brian,

I liked the article about Collin Powell. Thank you. On May 31, I also was in New York at the Museum of Jewish Heritage. I went with the Colchester Middle School class where I had just spoken a week before the trip. It was the first time that I got to that museum. Too bad we did not meet there.

Keep up your interest in the Holocaust because we survivors will not be around too many years anymore.

I am glad I was still home when your email came because tomorrow I am leaving for a 2 week vacation to Alaska.

Have a wonderful summer.
yours

Henny M. Simon




Hello Brian,

You are a remarkable young man. Nice pictures. [There are a number of pictures of Brian with Holocaust survivors toward the bottom of this page.] How do you know all those survivors? It is good to know that there is somebody who is going to carry on our stories. We won't be around many more years. Thank you.

Henny M. Simon



If you love yiddish and sephardic songs, this site is special. Please make sure your speakers are on. Hope you enjoy. (Especially sixteen tons in yiddish.)

SHALOMANIA!

www.shalomania.com





Brian's letter of January 28, 2007, to Yala Korwin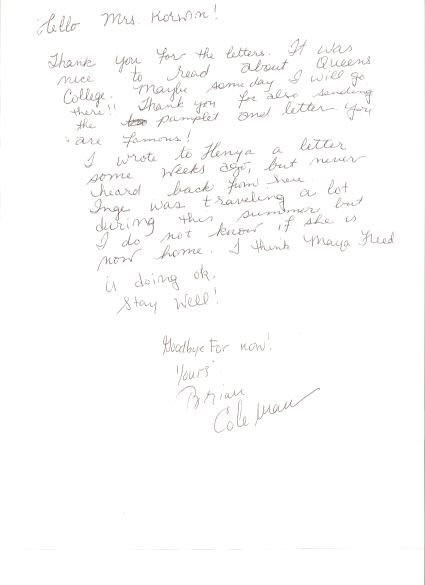 Rare two dollar bill (recto) given to Yala Korwin by Brian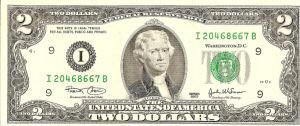 Rare two dollar bill (verso) given to Yala Korwin by Brian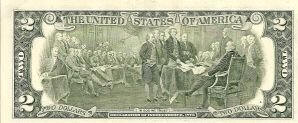 Brian with Yala Korwin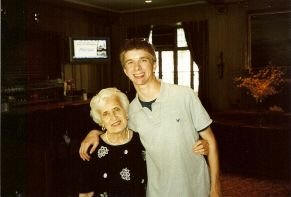 Brian with the poet Israel Halpern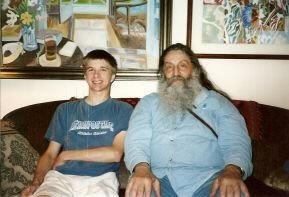 Brian with Holocaust Survivors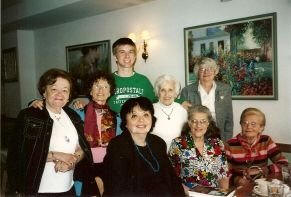 Brian reading a book at Yala Korwin's residence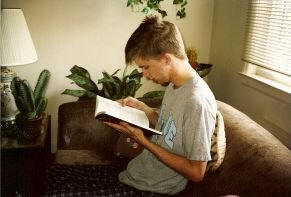 Brian with an unidentified Rabbi and friend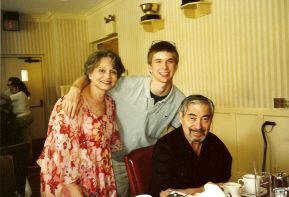 Brian sitting with Yala Korwin at her residence: two Angels of Light!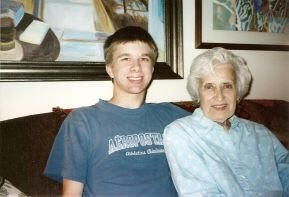 Brian at a reunion of Holocaust child-survivors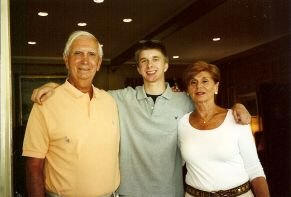 Brian with Bella Rubin (center), her sister (right) and friend (left)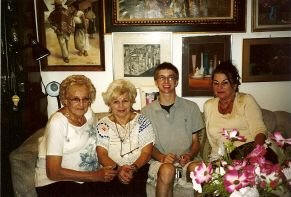 Brian at the Museum of Modern Art (MOMA) standing by Matisse sculptures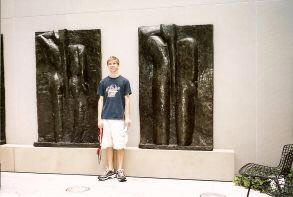 Brian at the Museum of Modern Art (MOMA) standing by a Picasso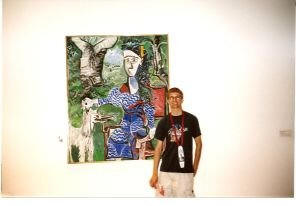 Brian at the Museum of Modern Art (MOMA) standing by a Warhol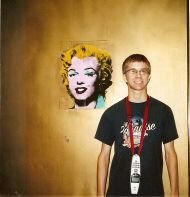 Brian thinking by a Rodin sculpture of Balzac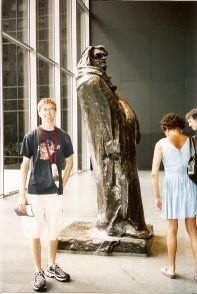 Brian at the office of Yala Korwin's late husband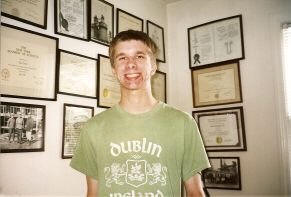 Back: Frank Stiffel, a survivor of Auschwitz who escaped from Treblinka, his wife Ione, Brian, Henya Gliklich, and Inge Auerbacher. Front: Aurora, Frank's and Ione's daughter, and Yala Korwin.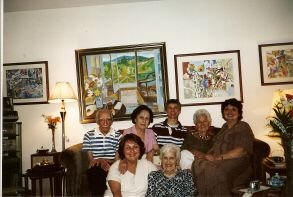 Brian viewing Manhattan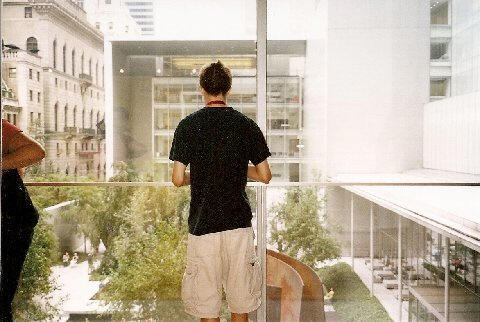 Brian with Yala Korwin's friends Gary and Rosalie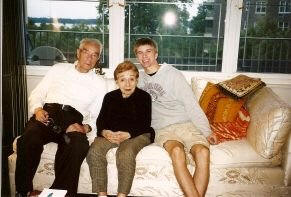 Brian with a Holocaust Survivor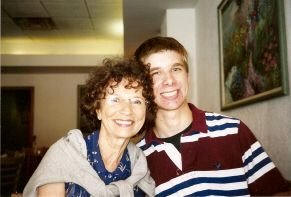 The following is an email from Brian to Yala Korwin:

I met Inge Auerbacher when I was in New York this past June.

Brian

Passing It On: Holocaust survivor shares story at school
by Kassia Micek, Courier staff, 11/07/2007


Scientist, author and Holocaust survivor Inge Auerbacher describes her experiences as a child in Nazi concentration camp to sixth-grade students Tuesday at Montgomery Middle School. Staff photo by Brad Meyer.

MONTGOMERY—The yellow star Inge Auerbacher wore as a Jewish child in Nazi Germany is now a symbol of what she has overcome.

As one of the 13 survivors from the 1,200 men, women and children in her transport taken to Terezin concentration camp in Czechoslovakia, Auerbacher now tells her story across America, Canada and Germany. Auerbacher shared her story Tuesday with Montgomery Middle School students as exclusive pictures were displayed behind her. "I feel I have a mission to keep the memory alive of those who were killed," said Auerbacher, now of Jamica Queens, N.Y. "My hope, my wish and my prayer is for every child to grow up in peace without hunger or prejudice."

Born in Nazi Germany on Dec. 31, 1934 in a small village in southwest Germany, Auerbacher vividly remembers the "Night of Broken Glass," when the Holocaust began. "I was 4 years old, but I remember it clearly," she told the students. "Glass was all over the floor."

All the windows in her family's home were broken out and her grandfather, who had gone to the synagogue for morning prayer, was arrested and taken to Dachau concentration camp, as was her father, Auerbacher said. "It didn't matter he was wounded from World War I and a proud German," she said about her father receiving the Iron Cross.

After the men were released, the family narrowly escaped a transport to the concentration camp in 1940, but in August 1942 weren't as lucky. Auerbacher already had her yellow star that branded her to "show everyone you're a Jew," she said.

The youngest in a transport of 1,200, Auerbacher received her number—13-408. The group was herded on trains to Terezin concentration camp in Czechoslovakia, she said. In the disabled/veteran section with her parents, Auerbacher lived in the camp for three years before the Soviet Army liberated it on May 8, 1945. "I never prayed so hard for God to save me," she said about that day.

Of the 1,200 Jews taken to Terezin, 13 survived, including Auerbacher and her parents, representing only 1 percent of all the people transported. "A miracle—a mother, father and child, a family intact," she said about her family. To demonstrate this reality, two of the 200 students gathered for Auerbacher's speech stood up. The others gasped, realizing how lucky Auerbacher was.

"I felt bad for the Jews who were in the Holocaust, because many of them died," said sixth-grader Adam Anderson, 11.

The one item that survived those "years of terror" was Auerbacher's doll, Marlene, which she donated to the U.S. Holocaust Memorial Museum.

The estimated number of Jewish deaths during the Holocaust is usually given between 5.1 and 6 million victims, according to the U.S. Holocaust Memorial Museum.

Auerbacher tells her story in three books, including "I am a Star—Child of the Holocaust."

To learn more about Auerbacher, visit

www.ingeauerbacher.com

.

In Closing:

Sometimes there are people who appear like shooting stars, as if to give the world hope – Einstein, Gandhi, Martin Luther King Jr., Elvis Presley, Princess Diana, Marilyn Monroe. I have comforted myself with the thought that Brian was such an angel – a messenger of hope. Even his name is interesting. "Brian" means "Strong." "Kyle" means "Omen" or "Belief." "Coleman" is Germanic for "Dove" or "Dark like a Dove." Although Brian was fair-skinned on the outside, it seems his heart strongly believed in those who fell like dark doves beneath the bootheels of the Nazis. Was Brian an angel? I am quite sure he was: if not a Heavenly Angel, then surely a Human Angel. Brian set a stellar example for the world, and now it's up to us to follow his lead and see our work bear the fruit of his spirit: love, compassion, peace and tolerance. As the picture below attests, Brian was a leader from a young age. He led his class in a pledge, with his eyes on the stars and a hand held over his heart.—Michael R. Burch, Editor, The HyperTexts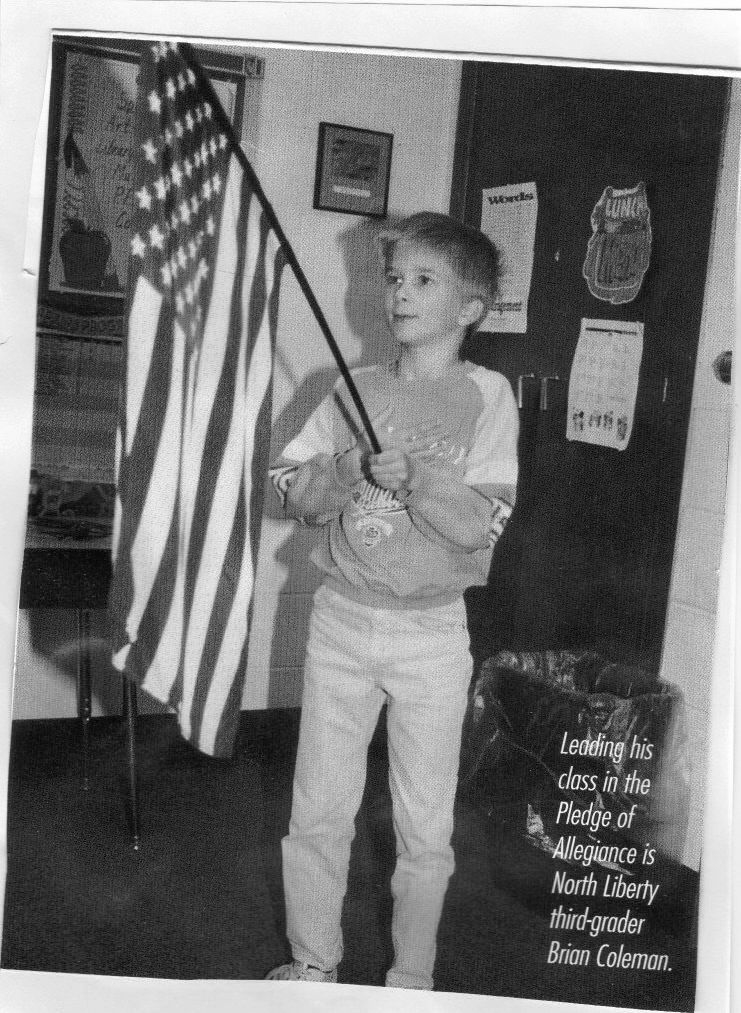 A series of emails between Brian Coleman and Judith Bihaly regarding their meeting in June 2007:



From: Judith Bihaly
Date: April 20, 2007 4:22:01 PM EDT

Dear Brian, I guarantee you will be safely back in Long Island before dark, unless of course you change your mind and want to stay for some Lincoln Center evening event. Daylight is almost as long as in Indiana, but the city is alive and bright at all hours. By the way, New York has been rated the safest big city in the U.S., 24 hours a day, and I always feel safe. Transportation into Manhattan is easy from almost anywhere, though I am not familiar with Jericho, L.I. I will want to talk with your hosts when you get here in order to arrange for the easiest commute for you, and I hope you will give me contact information when you get here. I have written June 5 on my calendar.
I am excited to finally meet you.
Fondly, Judith Bihaly


On Apr 20, 2007, at 10:21 AM, brianc115@aol.com wrote:
I think that that may be able to work. How late in the summer does NY have daylight? In Indiana in the summer it is still light at 9:30 and 10. If it stays light out longer there too that would help. I am uncertain if I would want to be out in the dark. I think that that day may work.



-----Original Message-----
Sent: Thu, 19 Apr 2007 7:28 PM
Subject:
How is Tuesday, June 5?
On Apr 19, 2007, at 12:11 PM, brianc115@aol.com wrote:

Hi Mrs. Bihaly,

That sounds great! Yes, let's pick a date as soon as we can because I think the longer we wait it will be very tricky to plan something. Maybe one of the days during the first week?? June 1-June7. I don't think June 1,2, or 7 are good but I think that the others will work! I hope we can get something arranged!! looking Forward!!

Brian



-----Original Message-----
From: Judith Bihaly
To: brianc115@aol.com
Sent: Thu, 19 Apr 2007 12:11 AM
Subject:

Dear Brian,

At last! It will be a thrill to meet you. I know you will want to see quite a number of your friends in this area, and my time is flexible during much of your visit. It is still off in the future, but are you already scheduling your meetings? If you wish, let me know and we can pick a date and time. Otherwise, there is plenty time. While here, you may want to take in some of the sights in Manhattan, and I would love to show you around Lincoln Center. On a weekday afternoon even a visit to a rehearsal of the New York City Ballet, which has its spring season from the last week of April through June, may be possible.

Take care.

Fondly,
Judith Bihaly



On Apr 18, 2007, at 10:30 AM, brianc115@aol.com wrote:

Mrs. Bihaly,

How are you doing? I hope that all is well. I wanted to tell you I will be visiting NY this June (1-15). The first week in Jericho Long Island and the second in Flushing Queens. I was hoping that if you are not busy we will be able to plan a time and be able to meet.

Yours,
Brian



From: Judith Bihaly
Date: April 22, 2007 8:36:18 PM EDT
To: BrianC115@aol.com
Subject:

Dear Brian,

The 6th could work, but it would help to know which very soon, as I will need to reserve the rehearsal date. Here is how it works: Supporters of the New York City Ballet have the privilege to attend a number of rehearsals and to bring one guest. We have to request in advance the dates -- Tuesdays through Fridays -- on which we want to come. Then, on the morning of the rehearsal, we find out which two-hour segment between 12 and 4 PM is set aside for us for that day. I certainly don't want to cause any trouble for Mrs. Rubin, and if she can't pin down the date I could ask the office at the NYC Ballet Guild to be flexible. By the way, Thursday the 7th and Friday the 8th are also open for me, if they are still open (for sure) for you. I am looking forward to meeting you and sharing with you some of my world in Manhattan, but not to cause any awkwardness. So, feel free to choose.

Fondly,
Judith Bihaly



On Apr 22, 2007, at 7:25 PM, BrianC115@aol.com wrote:

Mrs. Bihaly,

If the 5th is not a good day would the 6th be ok? Mrs. Rubin (whom I am staying with on LI) is going to plan a meeting with her French group on one of those two days. She is not sure which one will work out. Although I do not know at what time so Tuesday may still work out.

Yours,
Brian



From: Judith Bihaly
Date: April 24, 2007 8:11:07 PM EDT
To: brianc115@aol.com
Subject:

Great news, Brian! Thanks. Judith Bihaly



On Apr 23, 2007, at 10:48 AM, brianc115@aol.com wrote:

Mrs. Bihaly,

Yes Tuesday would be a great day, luckily everything has worked out so far. So I look forward to seeing you there.

Yours,
Brian



From: Judith Bihaly
Date: May 9, 2007 7:56:34 PM EDT
To: brianc115@aol.com
Subject:

Dear Brian, Please send me a link to the train schedules. I don't know where Fair Haven is, but if I can find it on Google Map and get a link to the train schedule, I will be able to suggest a meeting place -- probably one of the following: Grand Central Station, Penn Station, Port Authority, or even Columbus Circle (which is actually in the Lincoln Center area). Fondly, Judith Bihaly


<![if !supportLineBreakNewLine]>
<![endif]>From: Judith Bihaly
Date: May 13, 2007 5:41:09 PM EDT
To: BrianC115@aol.com
Subject: Meeting plans

Good!


<![if !supportLineBreakNewLine]>
<![endif]>On May 12, 2007, at 10:13 PM, BrianC115@aol.com wrote:

Hi Mrs. Bihaly,

Thank you for your detailed letter. I think I will try and meet you early in Hoboken if that is still ok. I will work it out with Mrs. Feldman in Fair Haven, who I think could provide transportation to the station. I can pack very lightly and will probably just have a backpack with one pair of clothes in them. Then we will be able to spend the day together and then when the day ends I can ride the train back to Jericho. I look forward!!

Yours,
Brian



From: Judith Bihaly
Date: May 13, 2007 5:43:04 PM EDT
To: BrianC115@aol.com
Subject: Meeting plans

Good! At the End of the day I will get you to Penn Station for your train to Jericho. Do you have a Long Island Railroad link to its schedule?


<![if !supportLineBreakNewLine]>
<![endif]>On May 12, 2007, at 10:16 PM, BrianC115@aol.com wrote:

Hi Mrs. Bihaly,

I just wrote to Mrs. Feldman and asked about taking the 8:38 train from Red Bank to Hoboken so that we will be able to meet there.

Sincerely,
Brian



From: Judith Bihaly
Date: May 18, 2007 12:19:13 AM EDT
To: BrianC115@aol.com
Subject: Meeting plans

Dear Brian, Sorry for not replying sooner. Thank you for the details of your first week's plans. I had been concerned that you were overextended, and you indeed are, but your plans seem under control. Your hosts have planned well to take good care of your transportation and lodging needs, and they have also planned an exciting schedule.

As for June 5, I keep my fingers crossed for good weather and hope the rehearsal begins later rather than earlier in the afternoon, to give us time to roam the World Financial Center area. There is a change in the morning train schedule, however: The 8:38 train doesn't go directly to Hoboken, but rather to New York Penn Station where you would have to transfer to a path train to Hoboken, which is crazy. Instead, take 9:31 train from Red Bank, which gets you directly to Hoboken at 10:44. It gives you almost a full hour of extra sleep. Will you carry a cell phone? My cell number is [ ] just in case something happens Tuesday morning. I will meet you at the end of your train platform at the Hoboken Terminal.

At the end of our day I will accompany you to Penn Station for your return trip to Jericho (I hope you'll have a schedule for the Port Jefferson Branch of the LIRR.). According to the LIRR map, the closest station to Jericho is Hicksville on the Port Jefferson Branch. Will you get a ride to Jericho from Hicksville, or is there a bus connection between Hicksville and Jericho? I may worry too much, but I want to be sure that you get back to the Rubins in one piece.

Fondly,
Judith Bihaly


<![if !supportLineBreakNewLine]>
<![endif]>On May 13, 2007, at 11:32 PM, BrianC115@aol.com wrote:

Mrs. Bihaly,

I reread your email and once again want to thank you. I think I have not yet answered all of your questions and will try to.

On June 1, I will fly into LaGuardia, Mr and Mrs Rubin are going to pick me up and then I will spend the day with them and visit and get to know them

June 2, I am going to services with the Rubins and Mrs. Rubin is going to interview me in front of her congregation. Then after that a lady who is Polish Catholic is going to take me to Pt Washington to the Polish Heritage Museum and then drop me back off at the Rubin household.

June 3-The Rubin's are going to take me into the city and afterwards we are having dinner in Woodbury or Jericho with another lady I have been in contact with Sue Hirsch from Vilna and her husband.

June 4-Taking the train to Red Bank and seeing the Holocaust Center and spending the night with the Feldmans.

June 5- Taking the 8:38 train from Red Bank to Hoboken and we will get to meet!!!! How long will the train be from Red Bank to Hoboken?? The plans and places you mention sound amazing and Winter Park sounds great! I really can't wait. Then we will get to spend the day together in the city and have lunch and dinner and then I will take the train back to Jericho and meet Mrs. Rubin at the station.

June 6- I am meeting Mrs. Rubin's French Group that will meet at her house. Then in the evening there will be a professor who wants to meet me.

I do not have the plans for the second week complete yet. They are so tricky right now and I wish I had about four more days in NY! I hope it will work out in the end!

Yours,
Brian




From: BrianC115@aol.com
Date: May 23, 2007 3:37:25 PM EDT
To: Judith Bihaly
Subject: Re: Meeting plans

PS My cell is [ ].

Sorry so short but I am on my way to work.

Yours,
BC



From: Judith Bihaly
Date: May 24, 2007 7:12:16 PM EDT
To: BrianC115@aol.com
Subject: Changes in Plans

Dear Brian,

I see that your plans are still evolving, and hope it's all good. I will not be able to meet you Monday evening, but if you spend Monday night in Long Island I can still meet you Tuesday morning at Penn Station -- all I need is the time of your arrival. I look forward to our time together. Thanks for your cell number.

Fondly,
Judith Bihaly



On May 23, 2007, at 3:36 PM, BrianC115@aol.com wrote:

Mrs. Bihaly,

On Monday, I will not go to Red Bank like I had planned,, but rather spend the day in the city meeting some people. Maybe we could meet somewhere Monday evening in NYC or in NJ, instead of the next morning?

Yours,
Brian



From: Judith Bihaly
Date: May 28, 2007 2:31:56 PM EDT
To: BrianC115@aol.com
Subject:

Dear Brian,

I see that your plans are still evolving, and hope it's all good. If you spend Monday night in Long Island, I can meet you Tuesday morning at Penn Station -- all I need is the time of your arrival. And I can help you get back to Long Island at the end of the day. Let's hope for good weather. Thanks for your cell number.

By the way, all the commencements around here have reminded me that you are a high school graduate! CONGRATULATIONS! I have your junior prom picture. Is there a senior prom picture? What is your summer job? What college are you headed for?

I look forward to our time together.

Fondly,
Judith Bihaly



On May 27, 2007, at 9:37 PM, BrianC115@aol.com wrote:

Mrs. Bihaly,

Since there was a change in plans where would you want to meet Tuesday morning? Some where in NYC maybe?? Yours, Brian



From: Judith Bihaly
Date: May 29, 2007 1:01:44 AM EDT
To: BrianC115@aol.com
Subject:

Dear Brian, If you have trouble finding a place to stay in the city Monday night, you're welcome to stay at my place. When your daytime plans are over, I can pick you up (really a short trip except during rush hour), and bring you to my apartment. I have a comfortable couch in the living room, and the view is great unless the river is fogged in. I may leave for an hour to attend a Council meeting, but you're a big boy.

Fondly, JB



On May 28, 2007, at 2:43 PM, BrianC115@aol.com wrote:

Hi Mrs. Bihaly,

I am going to try to spend Monday night in the city, I just have to find a place, then we could meet anywhere in the city. If I do not find somewhere, then I will go back to Jericho and then come back in the morning. Thank you for the congratulations, high school has been a bumpy road, but is coming to an end on Wednesday, that is when I graduate.

I did not go to senior prom, this year. I work at a grocery store that is local, not a corporation one and have worked there for almost two years. I am going to a local college for the first year and then after that I am not sure. I will call you when I get to New York on Friday.

Yours, Brian

The HyperTexts