The HyperTexts
A Child at Gunpoint

by Richard Raskin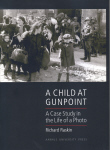 Widely regarded as the most haunting image we have of the Holocaust, the photo of a young boy with his hands up being driven from the Warsaw ghetto has served as a touchstone for everyone from the Nuremberg prosecutors to Elie Wiesel, and from Susan Sontag to revisionist ranters on the web. Yet despite its enduring status in both popular and academic circles, this touchstone of inhumanity has elicited surprisingly little sustained commentary.

In this book, Richard Raskin provides the first extended consideration of this photo by examining it from multiple perspectives. He begins by attempting to describe it objectively as a photographic artifact, carefully detailing its components and composition. He then presents a history of how it came about: to illustrate a report that SS General Jugen Stroop compiled in 1943, documenting for Himmler how he had crushed the ghetto uprising that spring. The next chapter is devoted to the claims made for the identity of the boy with his hands up, as well as for the other captives and the SS man with the machine gun.
The remainder of the book addresses some representative artistic and polemical uses to which the image has been subjected. Raskin analyses its role in a TV series, a film, a poem and a series of paintings, supplemented by interviews with the artists responsible. In the final chapter, which despite its even-handed tone is bound to provoke controversy, he examines how critics of Israeli policy have used the photograph during the past twenty years to suggest Palestinian parallels to the Holocaust.
Clearly and movingly written, A Child at Gunpoint will engage the general reader as well as specialists in photography, Holocaust studies, Judaica and World War II. Highly recommended for libraries.

Readers of The HyperTexts will be interested to know that Yala Korwin, a THT featured poet, has a poem in A Child at Gunpoint. Her poem is entitled "The Little Boy with His Hands Up," and she considers it the most important poem of her career: the poem she wants to be remembered by.

A Child at Gunpoint can be ordered from:

The David Brown Book Company
P.O. Box 511
Oakville, Conn. 06779
USA
Telephone: 1-800-791-9354 (Toll-free)
E-mail: david.brown.bk.co@snet.net
Website: www.davidbrownbookco.com
The David Brown Book Company accepts Discover, VISA, Mastercard and American Express credit cards. If visitors prefer to pay by check (US dollars only), they must remember to add freight costs (and tax if applicable in the State where they live).
Freight costs: USA: $4.00 for first book, and $1.00 for each additional book
The HyperTexts