Multicultural Books and MBooks Publishing Services

Multicultural Books
Suite 307, 6311 Gilbert Road
Richmond, B.C.
Canada V7C 3V7

Contact: Joe Ruggier
Telephone: (604) 600-8819
E-mail: jrmbooks@hotmail.com

MBooks is a small press run by Joe Ruggier, a much-published writer and one of Canada's best-selling poets. During a lifetime that has seen "big name" poets sell mere dozens of "important" books, Joe Ruggier has sold over 20,000 books single-handedly (about half his own books, the rest those of other writers).

MBooks has published the following books by THT poets and writers of similar caliber. Ordering information appears immediately below the descriptions of the books. New books will be added to this page on a fairly regular basis, so please check back often!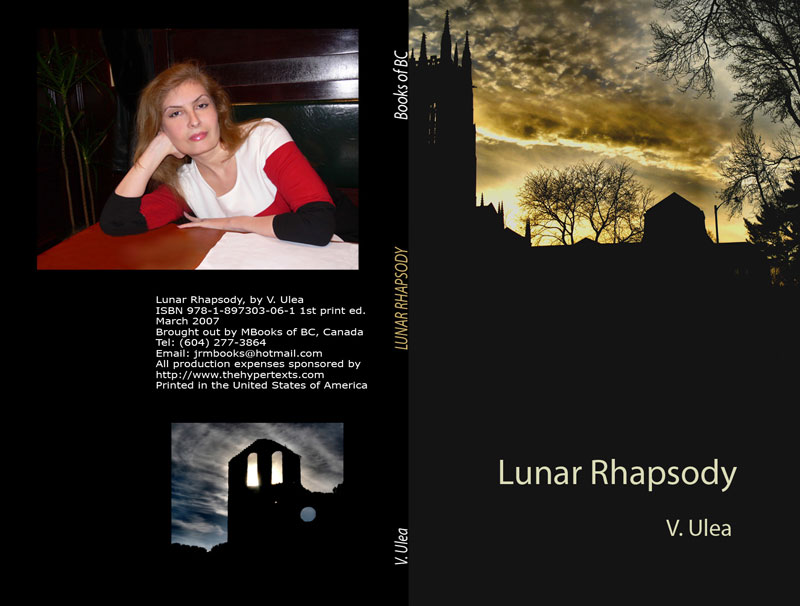 Lunar Rhapsody
by V. Ulea

Sometimes it is difficult to talk about what you have done in your work and why, especially when it concerns such an enigmatic topic as the moon. No matter what astronomers say about it, for poets and artists the moon has always remained a living creature, mysterious and mesmerizing, that watches over their dreams and determines the flux of their inspiration, even as it determines the ebb and flow of the tides. At this point Lunar Rhapsody is not a collection of isolated poems, but rather an uninterrupted myth of the moon, cosmos, and human soul. All parts of the collection – from the cycle of the same name to "Blue Beard" – grow from that myth. To read the myth, however, one should have his own "key" because, like the moon itself, the myth is composed of various "faces" that touch upon different sides of the lunar kingdom, including the dark ones. It is not my intention, though, to define what the myth of the Lunar Rhapsody is, because in each reader the melody of the rhapsody should sound different. After all, everyone has his unique relationship with the universe… V. Ulea
MBooks Poetry Series #27
1st print edition—Spring 2007
ISBN 978-1-897303-06-1
Editor — Michael R. Burch
Publisher — Joe M. Ruggier

Multicultural Books

Tel: (604) 600-8819

E-Mail: jrmbooks@hotmail.com

Book Review of Lunar Rhapsody by Betty Jo Tucker



Take Me Home to Pringus
by Zyskandar A. Jaimot

"She said: I WANT TO TAKE YOU HOME TO PRINGUS / Wherever that is in the galaxy / or perhaps it materializes / only in those possessed / by a symphonic poem of "Homecoming" ... Whereas the speaker of these lines is reported by the poet to be drunk, surely we may read into this drunkenness, aside from an appeal to the realism of modern poetry, a metaphor also for divine intoxication. These highly charged lines in Mr. Jaimot's stupendous title-poem bring to mind the brilliance and beauty of Dante's Inferno when Beatrice makes an apparition to Virgil in Hell. They evoke also something of the profoundly-moving simplicity of the poetry of "homecoming" in Homer's Odyssey. One hundred per cent a modernist in style and temper, Mr. Jaimot, like T. S. Eliot, is keenly aware of roots and likewise embraces traditional values. May his poetry resonate chords in the innermost depths of many a searching spirit! -- Joe Ruggier (editor & publisher)



Outlaw's Retreat
Selected Poems of Tom Merrill (1948- )
ISBN 0-9738392-7-9 1st print ed. October 2005
$US 21.95 (USA) $CDN $26.95 (Canada)
Also available as an e-book (ISBN 0-9738392-8-7) for $US 9.95 ($CDN 11.95)
Brought out by MBOOKS of BC, Canada
Tel: (604) 600-8819
E-Mail: jrmbooks@hotmail.com
Printed in the United States of America

Michael R. Burch: "As the editor of The HyperTexts, it has been my pleasure and good fortune to publish three Pulitzer Prize nominees alongside recent winners of a number of prestigious literary awards. I like to think 'I know whereof I speak,' and in my opinion T. Merrill is an outstanding poet whose poetry is highly original while always respecting and honoring the great and grand traditions of English poetry. I and others have noted that Merrill's poetry calls to mind Housman, and I think the comparison is favorable to Housman as well as to Merrill. Moreover, Merrill writes rhythmic, enchanting, almost mystical poems that are sympathetic to the human condition without being weepily sentimental. That's no small trick, and few poets of any era have pulled it off successfully. Merrill is a true magician of words, not a mere sleight-of-hand artist, and readers would be wise to fall under his spell."

A book review of Outlaw's Retreat, reviewed by Laurel Johnson of Midwest Book Review



Pope Caesar's Wake
Letters exchanged with Pope Woytyla
by Joe M. Ruggier
ISBN 0-9738392-4-4 1st CDN ed., Sept. 2005
$US 36.95 (USA) $CDN $36.95 (Canada)
Also available as an e-book (ISBN 0-9738392-5-2) for $US 11.95 ($CDN 14.95)
Brought out by MBOOKS of BC, Canada
Tel: (604) 600-8819
E-Mail: jrmbooks@hotmail.com
Printed in the United States of America

In this fascinating collection of letters exchanged by Joe M. Ruggier and John Paul II between the Pope's assassination attempt in 1981 and his passing in 2005, Ruggier quips that he often "prefers to say 'I hate you!' … like a little child!" We invite you to explore this Author's unique love-hate relationship with a great Man of such profound honour as John Paul. Enjoy the wit of Ruggier's humourous revenge on the Church which always concludes with a joyous, dignified twinkle however bitter the Author's reasons were for sparring. Enjoy also the brief offerings of real, original poetry with which the Author punctuates these letters—poems which, as it were, 'emerge out of the writing.' Discover how the Author gracefully winds up all contentious topics with the mutual save of face between himself and his distinguished correspondent which brings these letters to their gracious conclusion … Knowledgeable readers of these letters from the Author's own private circle have observed that many of his expressions in this collection are 'so beautiful, they fly'. Rooted in a lifelong neurosis, the author's inspired satire of Church-related issues finds glorious precedent in both Dante's poetry and the mystical theology of John of the Cross. It needs to be emphasized that the Author does not hate Popes, least of all the great John Paul—but loves all genuine artists: this, perhaps, is the only reason he felt justified in releasing this controversial collection, which defends the honour of artists great and small.

A book review of Pope Caesar's Wake, reviewed by Laurel Johnson of Midwest Book Review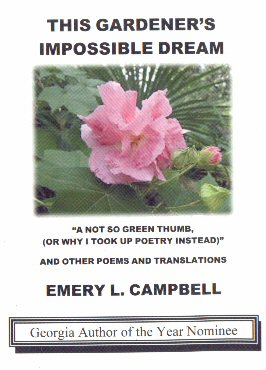 This Gardener's Impossible Dream by Emery L. Campbell 1st print edition—May 2005
ISBN 0-9733301-8-X
Price: $15 plus $1.50 shipping to any U.S. address
Please contact Emery Campbell for shipping outside the U.S.
Payment can be made by cash, check, or PayPal. To contact the author, or when ordering using PayPal, Emery Campbell's e-mail address is elcampbell@prodigy.net. To order or contact Emery Campbell using less newfangledness, here are his particulars:

Emery Campbell
369 Cottage Way
Lawrenceville, GA 30044-4523
Phone: 770-339-8752

Emery L. Campbell is a past vice president of the Georgia Poetry Society and was a nominee for the Georgia Author of the Year. He writes poetry, short fiction and nonfiction, and contributes a regular column on grammar and usage to the newsletter of Georgia Writers, Inc. Here's what "people in the know" are saying about his first poetry book, subtitled "A Not So Green Thumb (Or Why I Took Up Poetry Instead)" ...

Norman Shapiro: "Emery Campbell is an adept practitioner of 'light' verse, that deceptively dubbed genre that demands no less inventive imagination, craftsmanship, and love of language and its resonances that its 'heavy' cousin--which, be it said, he practices with equal skill. A natural wit, he has long delighted those who know his work ..."

William Heyen: "I've enjoyed the wit and concision of Emery Campbell's poetry for years. His rhymed and rhythmic gists and piths remind us that often the best thing we can do is to discover and reveal our stupidities, and to laugh at ourselves. It's a pleasure to have this selection of Campbell's deft poems accompanied by translations that echo and compliment his own sensibility."

Madelyn Eastlund: "Reading this book is to romp through the quirky mind of Emery Campbell, who delights in taking even the most serious subjects and giving them an unexpected spin."

Michael R. Burch: "Emery Campbell knows how to keep readers turning pages: by tickling their funnybones!"

A book review of This Gardener's Impossible Dream, reviewed by Ethelene Dyer Jones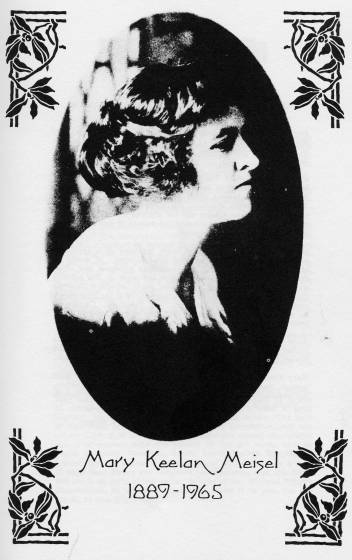 42 Poems in Rhyme & Meter by Mary Keelan Meisel
2nd print edition—May 2005
ISBN 0-9733301-6-3 $US 21.95 (USA) $CDN $26.95 (Canada) Also available as an e-book (ISBN 0-9733301-7-1) for $US 9.95 ($CDN 11.95)
Brought out by MBOOKS of BC, Canada
Tel: (604) 277-3864
E-Mail: jrmbooks@hotmail.com
Printed in the United States of America

Mary Keelan Meisel (1889-1965) was born in St. Louis, Missouri. She was the second child of immigrant Irish parents who settled in the copper mining town of Butte, Montana, at the turn of the Century. Shortly after the birth of a second child, she had a nervous breakdown. Although physically disabled, she spent her waking hours on avid and voluminous reading and the study of rhyme and rhythm. Her illness taught her to observe the beauty of everyday living which most of us take for granted. After a very slow process covering over 20 years, the author recovered her health and continued to study, read and rework her poems over and over ...

Joe Ruggier: "I am positively captivated by her work. I am still as impressed as ever by the pathos and melody of her sensitive and intelligent verse ... Hers was a sensitive soul and rare indeed: she felt love keenly and she knew sorrow, and whatever she felt she felt intensely, and passion did not fail her. Her simple delight in the sheer music of words and the sheer beauty of well-done rhetoric, and her bold experiments with all kinds of metre ... testify to the truth, before which any true artist has always knelt and lit a candle, that human passion is a beautiful thing ... Having lived with Meisel's verse for more than a year, I am in tears over her poetry. In spite of the fact that they are at times uneven, I find these poems as remarkable for their intelligence, clarity and perceptive subtlety as for their passionate, lyrical intensity."

Michael R. Burch: "Meisel's best poems will delight many a reader into saying, along with the poet: " I have run lightly through the asphodel / and danced among the blue bells and the clover." But Meisel does not allow the reader to linger long in any garden of Edenic delights: her poems intently and resolutely explore not only nature, but also the human conundrums of flesh and spirit, of apathy and love, of gravity and levity, of earthly stagnation and heavenward flight. Meisel, who was physically disabled and suffered a nervous breakdown, was able to look both deeply into and wildly beyond her precarious mortal condition; like all good poets, she compels the reader to travel with her, to the point of seeing something in himself of what she saw in herself. Poems like "Consummation," "I Would Go Out" and "Tell Me Spirit" challenge us to consider ourselves as full-fledged spiritual beings, not mere sacks of sagging decaying flesh. If you too "would know / the joy of being unconfined, the peace / of perfect freedom after narrow rooms," then reading Meisel's poetry is an avenue, perhaps even a flight plan, to liberation ..."

A book review of 42 Poems in Rhyme & Meter, reviewed by Laurel Johnson of Midwest Book Review





Pharaoh's Children
by Roy Harrison
3rd Canadian edition—July 2005
ISBN 0-9738392-0-1
$US 24.95 (USA) $CDN $31.25 (Canada)
Also available as an e-book (ISBN 0-9738392-1-X) for $US 11.95 ($CDN 14.95)
Brought out by MBOOKS of BC, Canada
Tel: (604) 277-3864
E-Mail: jrmbooks@hotmail.com
Printed in the United States of America



From Biblical history and legend so dramatic in its impact on Jewish, Christian and Islamic imagination that it remains vivid to the present day, Roy Harrison has fashioned a novel acclaimed by critics on both sides of the Atlantic. His hero, Samlah, a Hebrew soldier in the
service of Pharaoh, is caught up in a fast-moving sequence of events that takes him from obscurity to the courts of kings, and from Nubia to Egypt, to Libya, to Crete, and back to Egypt again. In his wanderings he acquires wisdom and discovers friendship and love, culminating in his marriage to Orah, a beautiful Nubian woman, and the confounding of
his enemies. Painting an unforgettable picture of ancient Egypt in the last days before the Exodus, Pharaoh's Children throws new light on the events it describes and brings to life the many gods and the one God in a vivid and satisfying historical romance.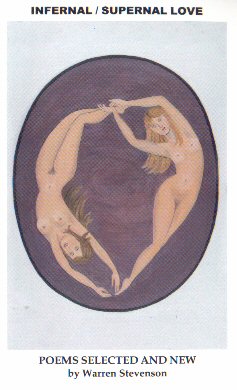 Infernal / Supernal Love
by Warren Stevenson
1st print edition—July 2005
ISBN 0-9738392-2-8
$US 21.95 (USA) $CDN $26.95 (Canada)
Also available as an e-book (ISBN 0-9738392-3-6) for $US 9.95 ($CDN 11.95)
Brought out by MBOOKS of BC, Canada
Tel: (604) 277-3864
E-Mail: jrmbooks@hotmail.com
Printed in the United States of America

"Wit should be Warren Stevenson's middle name." -- John Langford, poet "... [Stevenson] does a rare thing in making the mythic human, and an even rarer thing in making the mundane mythic." -- George Payerle, novelist
"Witty and ironic, Warren Stevenson's poetry reflects his interest in romantic mythopoeia, including the myths of the androgyne and the Golden Age, as well as what Northrop Frye has referred to as 'powerful myths of alienation.'" -- Richard Olafson, publisher and editor
"Serpent Humanized recalls James Reaney or Jay Macpherson in that imagination is its central theme … the book is brilliant at its best." -- Lloyd Abbey, poet



Available Now on Compact Disk — "From Door-to-Door to CD-ROM" ...

MBooks on Compact Disk ... From Door-to-Door to CD-ROM

by Joe M. Ruggier, John Laycock, Philip Higson, Roy Harrison, Mary Meisel, Esther Cameron, Chandra­mapatti & 2 anthologies by various authors. A statement of traditionalism — rhyme- & neo-classicist revival within an eclectic publishing philosophy — this collection comprises 2 anthologies, 13 poetry books, 2 collections of belles-lettres, 1 prose-poem & 1 novel ... 19 outstanding works by critically acclaimed authors from Canada, the US, Britain, Malta & elsewhere — in a convenient package. For info call (604) 277-3864 or E-mail: jrmbooks@hotmail.com. Similar products have been priced as high as $1,000 making our CD a truly compelling value...

ISBN: 0-9733301-0-4. COST TO INSTITUTIONS: $US 150 COST TO INDIVIDUALS: $US 98.95 ..... Available from: Coutts Library Services Ltd., Niagara Falls, ONT. 1-800-263-1686. Fax: (905) 356-5064. Also from: Britnell Book Wholesalers, Toronto, ON, 1-800-387-1417. FAX: (416) 362-9177. Also from: Baker & Taylor. Published as e-books by MBooks of BC, 307 – 6311 Gilbert Road, Richmond, BC, CANADA V7C 3V7.




To inquire about any of the books or CDs above, please write, call or e-mail Joe M. Ruggier at:

Multicultural Books
Suite 307, 6311 Gilbert Road
Richmond, B.C.
Canada V7C 3V7

Contact: Joe M. Ruggier
Telephone: (604) 277-3864
E-mail: jrmbooks@hotmail.com

Please make checks payable to: Joe M. Ruggier.