The HyperTexts

F.F. Teague

F.F. Teague (Fliss) is a copyeditor/copywriter by day and a poet by night. She lives in Pittville, a suburb of Cheltenham (UK), with various characters including a columbine companion. From 2014 to 2016, Fliss was Poet-in-Residence for Happenstance Border Morris; and she has enjoyed some success at The Mighty, an online community for chronically ill persons. Fliss has severe arthritis yet is able to work from home while sporting supportive gloves. To date, her favourite project has been co-creating a children's section for a safari company website. While at work, Fliss listens to a range of music – Franck, Fats, Faithless – and occasionally takes time out to compose lyrics (some featured here).



He dreams of castles

He dreams of castles on a Cornish beach
they visited, when he was eight years old.
For picnic pudding, Mum gives him a peach
and speaks of Roald Dahl. It's all so gold,

the sun, the sand, his mother's voice, the spade
and bucket she has bought him for the trip.
Her fine fair hair is fastened in a braid
one side, descending to her gleaming hip.

She shows him how a little water's good
to hold the castles. Harry makes a ring
around her and she laughs. He finds some wood,
some shells, some slimy seaweed, anything

to keep her safe from pirates; she's Sea-Queen,
so bright and beautiful through all their years
yet fading while he works. A ghostly green
of tide is rising, pounding in his ears.



Waltz of the great crested grebes

It is spring and the fire in their feathers is back
and each head is erect with its crest;
they approach one another with Ca-ca-ca cac!
for it's time to start building the nest.

They dive deep, led by beaks sharp as scissors through weeds,
paddling up to the surface to stand,
with their bright-white breasts brushing, their eyes ruby beads
and their toes trailing Lower Lake sand.

Now they're ready to waltz on the water at last
and they fan their fine flames with Wuh-reee!
Shaking flounces of foliage, they rise-and-fall fast
to their rhythming, grunting with glee.



The first contender

The cygnets sail on Upper Lake today,
an elegant fleet, their flanks just turning white,
but incomplete as five. One child had stayed
with Dad, on Lower Lake, the previous night

or nights; who knew? "Three nights," I later learned
from Pittville's swan-life expert: five had flown
across, soon after George (the dad) seemed stern
and looked as though he'd rather be left alone

with just one daughter. Mother died in June;
"Nature will take its course," my expert said.
The instincts rule. We watch George chase a goose
then surge towards his girl with side-turned head

as she, submissive, gives a little bow,
a subtlety. She's far too young to breed
but drifts upon her father's vigorous swell,
the first contender to receive his seed,

incestuous in human terms. But swans
are not possessed of modern human mind.
We leave them paddling off towards the falls,
the daughter still a little way behind.



The second contender; or, Chasing Maisie

His head is low; his wings are arched again
while, out of sight, his feet propel a path
towards the two arrivals, the latest threat.
They're on his lake and wallowing in his bath –

how dare they?! Vrrrooom! He speeds across the lake;
the chase begins. The cob is quick to flight;
the pen, however, doesn't show such haste.
She slows a little, glances back. Hot-white

and glaring, George approaches, apt to snap;
she turns her neck and bows. At once, he slows.
She's waiting underneath an upright ash;
he paddles, gently flexing sturdy toes

until he's by her side. He bows and turns
but doesn't touch – not yet – the gleaming plumes.
She sails away; he chases, smooth, superb.
The sunlight fades. The ghost of Zelda looms

because the pen is Maisie, one year old,
another daughter, another potential mate.
They're just being swans, the expert says; I nod,
while George gives chase, this time at quite a rate.



Seven Swans (a song)

On the seventh day, dawn brings a gnawing of frost
over feathery chests, backs, and wings,
and the bite of it triggers a sense of what's lost
plucking sharply upon the heart's strings,
but the Lower Lake waters flow silkily smooth
as George leads his six children; he's proud.
Winter sun burns through clouds with a heat fit to soothe
and he snorts as he sails, long and loud:
Come now, Zara and Zander and Ziggy and Zeus,
Zoey, Zorba, quick-smart, if you please!
He is King of the lakes and the falls and the sluice;
Zelda bows as she flits through the trees.



The Penis Tree

One morning, in the month of May,
The nuns of Penham Nunnery
Beheld a glorious display –
A fully blooming Penis Tree!

It just sprang up, at crack of dawn!
One Sister Phyliss, breathless, told.
There came a rumbling in the lawn
And all the garden glimmered gold!

A miracle! The Mother gasped.
This surely is a gift from God!
And, with her right hand, grabbed and grasped
A phallus-fruit to poke and prod.

Yea, it is fresh! She uttered then
And, Alleluia! all replied.
Ah, God is good, she sighed. Amen!
Amen! The Penham sisters cried.

Come, let us gather! Mother spoke.
And each obeyed with muchly cheer,
I've made my robe a carry-cloak!
Said Frances, grinning ear to ear.

Once all the phallus-fruit was picked
They took it to the kitchen hands
Who gladly peeled and pulled and pricked
And cut out all the gristly strands.

Then all was sliced and put to boil
With butter, onions, mushrooms, salt,
Tomatoes too, the cooking oil,
Some peppers and a dash of malt.

At last the sacred stew was served
And Mother led the morning grace;
All proper customs were observed
Then each nun smiled and stuffed her face.



Ode on Bird Island, Seychelles

For Esmeralda, exquisitely named male tortoise of the island

A pocketful of paradise, bird isle,
immersed in cyan seas, beset with shoals
of spot trevally crossing coral pile,
electric-blue carangue on food patrols.
Ashore, brown bar-tailed godwits chirp a'ights,
while speckled plovers skate the slick white sands
and turnstones probe for periwinkle treats;
then ak, ker-ak! a sooty flock alights
on coco-palms within the forest lands
of vines and orchids, moist pink lily streets.

Paean to conservation, ground doves sing
as white-tailed tropicbirds may safely nest
among the roots of she-oak trees or wing
the Seychelles skies in smart tailcoat and vest.
How Esmeralda smiles and nods his head,
approving as his turtle friends are tracked
and granted haven beach to lay their eggs;
for all long winter, in a tunnelled bed
a tiny baby leaps from shell fresh cracked
and scrambles seaward, flapping arms and legs.



Kitty's wheel

Sunday 5th November 1989

a rush of blue and orange flame
a vision comes through dust and dark
they want me for their killing game
a false indictment forms the spark

a vision comes through dust and dark
the charges whirl in scripted red
a false indictment forms the spark
the veins are pounding in my head

the charges whirl in scripted red
the chains await in rusted steel
the veins are pounding in my head
it's time to break me with the wheel

the chains await in rusted steel
they throw me down and screw me tight
it's time to break me with the wheel
can't breathe can't speak can't cry can't fight

they throw me down and screw me tight
they set me rattling over fire
can't breathe can't speak can't cry can't fight
I break and burn upon the pyre

they set me rattling over fire
they want me for their killing game
I break and burn upon the pyre
a rush of blue and orange flame



Meet and greet

In memory of Geronimo the alpaca, 6th February 2013 to 31st August 2021

We smell them first. Ammonia – a rush,
assailing nostrils, clinging in the throat.
And then, the sounds of sweeping, brush brr-ush!
The east wind whips; I'm grateful for my coat.

We're ushered in. We're seven; they are eight
in white and beige and chestnut, grey and black.
They loiter, humming gently, by the gate,
or traipse towards us, turn, and sidle back.

I'm introduced to Otis, gelded male.
Just stroke his neck, says Jo, our barn hostess.
His hair's so soft, it's like a fairy tale,
and very dense. He blinks as I caress.

The humming's reassurance, Jo explains;
a constant checking everyone's alright –
no signs of fear, no nasty aches and pains.
Alpacas shriek, she adds, when they're in fright.

Geronimo, I think, and grit my teeth.
The black alpaca here, though, seems to smile:
her bottom-row incisors long beneath
her upper lip. Aunt Biddy. She has style.

I wonder if they think about Peru;
dismiss this, as, once more, they venture near,
their humming not unlike a wood kazoo
in chirpy tone and mood. They check and cheer.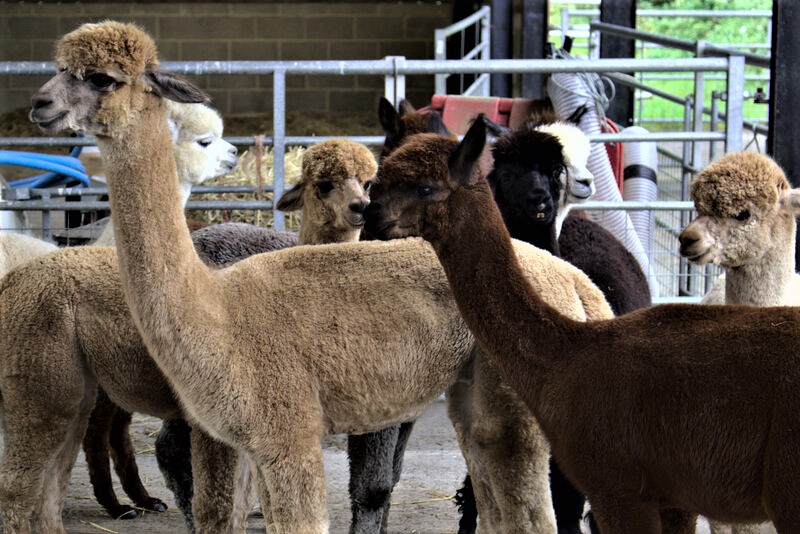 Pic credit: 'Cotswold Alpacas' by A.R. Teague (Aunt Biddy, black, near the back)




Moppet's Meteorite

It was cold. It was dark. We were grateful for hay,
we being Parsnip and Teddy and me.
We were singing and snoozing and feeling quite gay;
we'd had cabbage and carrots for tea.

Teddy said she was thirsty and moved from the bed
to the diner, to have a quick drink;
but she rushed back, her tufts raised. 'What is it?' I said.
'I don't know, Mop! Come, let's sit and think!'

So we all ambled out and sat still for a time,
ears and noses a-twitching a lot.
We heard whistles and rumbles and some sort of chime
and the air felt remarkably hot.

'Something's falling!' breathed Parsnip, her eyes very wide,
and we heard a sharp thud not far off,
then a human, perhaps. Teddy said, 'Time to hide!'
No one came, though; we just heard a cough.

We continued to sing and to snooze through the night
and through dawn, 'til we heard a big noise!
Human voices, so many, they gave us a fright.
Even Parsnip could not keep her poise.

Breakfast came; it was carrots and cabbage again.
We were puzzled; it's normally weeds.
But we ate all our veggies and made a nice den
in our hay, which was sweet, with no seeds.



The African jacana; or, Rhapsody in bluebeak

The thunder stuns the delta
each birdman builds a deck
and lilies swoon and swelter
through serenades of krrrek!

The lady stalks and sails
in robes of rufous hue
to find the fittest males
and form the season's crew.

The decking rocks and settles
as clouds roll full and fast
the air is steeped in petals
around the first-mate's mast.

The nest is ripe for rearing
the black-brown eggs are laid
and skreet! comes spiky cheering
for all the bluechicks made.



King of the Lakes

His children jostle by the banks
of Upper Lake and nod their thanks
for peas and cress, while Father scoots
around the lake and scares off coots
and moorhens, mallards, grown and chick,
with white wings arched; he paddles quick
to reach the centre, stops to rest
to wash his beak and neck and chest –
he plunges low to surface high,
erect of breast and wild of eye;
another pause, to sit and stare
then whoosh! to stretch through sunswept air,
each wing outstretched to feather tip,
the breezes beaten in his grip;
and last he grunts, with final shakes,
"I am the King of Pittville Lakes!"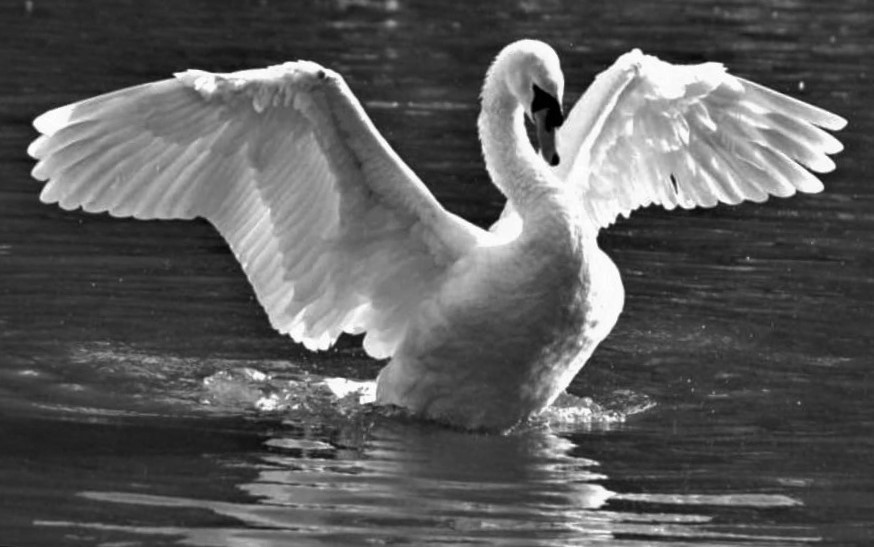 "George Swan" by Carol Lewis of Pittville Swans & Friends



Busy Bumblebee
by F. F. Teague

How doth the little busy bee
Improve each shining hour?
—Isaac Watts (1674–1748)

How do I, little busy bee,
improve each shining hour?
I shall explain in poetry,
my podium a flower.

I fly quite far away from home
on missions for my Queen
to gather nectar: off I roam
for miles, at least. I'm keen!

I creep inside a rambling rose
or dancing daffodil,
my tongue becomes a hair-tipped hose
to drink my fragrant fill.

I hasten home then, all a-buzz
from working in the field,
a ball of black-and-yellow fuzz
transporting that day's yield.

And once I'm back, within the nest,
my Queen is pleased with me
for doing all my busy best
to bring us treats for tea!



Grebe barcarolle

When the row-boats are moored on the café-side deck
and the shutters are closed for the day
and a coot tiptoes under the tables to peck
at some crumbs tumbled off a tea tray,
then the lake stills and settles around the low quay
and the elegant grebes paddle by,
calling, 'Ca-ca-ca-ca-ca!' and whistling, 'Wuh-ree!'
upon shimmering mirrors of sky.

When the children abandon the small wooden swing
hanging down from a brittle-bark plane
by a length of grey rope fraying gently to string
swaying slowly through droplets of rain,
then the lake stills and settles around the old tree
and the elegant grebes paddle by,
calling, 'Ca-ca-ca-ca-ca!' and whistling, 'Wuh-ree!'
upon shimmering mirrors of sky.

When the joggers stop pounding the waterside path
and turn homeward towards the far town
while the dogs cease their splashing in willow-lined bath
once their owners have called with a frown,
then the lake stills and settles around the calm lee
and the elegant grebes paddle by,
calling, 'Ca-ca-ca-ca-ca!' and whistling, 'Wuh-ree!'
upon shimmering mirrors of sky.



Learning Barn

Outside it's hailing fast and thick
on grass and gravel, tarmac, brick;
a whiny windy final fling
before the milder days of Spring.

I shelter from this late-March storm
inside the Learning Barn. It's warm;
my navy raincape's almost dry.
I hold a chick; I'm feeling high.

The chick is yellow, fluffy, sweet;
its orange feet are very neat.
It seems to settle in my palm;
together we are very calm.

''E likes you,' says the farmhand, Stan,
an easy-mannered kind of man.
The chick cheeps softly, beak to cheek;
I smile, too full of love to speak.



About-Face

He's gone; at least I know the pattern now.
A quiet start, just Liking status things.
Day 2, some pics – last time, a 'Sunny spell':
some trees, a brownbird stretching out her wings.

What's on my mind? Let's say, some tricky maths;
the brain ain't good on just three hours' sleep.
He's there, with tips. A book, bananas, bath.
I'm grateful and we chat. It gets quite deep.

Next day, a photo turns up on my page:
e.g., our uni tutor, years ago.
I Liked that, but he loved, has Love today;
a crush or just nostalgia? I don't know.

I disappoint, perhaps. He takes a trip
around the wider, largely quasi, world.
For everything, it seems, he has a fix;
his Comments come like missiles, hot and hurled.

I have to Snooze. My News Feed's too intense.
Then suddenly, he's gone, he's grey and ghost.
I'm just about to email, phone him, when
he's back, Day 1. He Likes my latest post.



Bite too

But I could be a devil to you
I could bite like a tarantula
Right through the skin
And leave my poison dripping
Deliciously unsuspecting
Protecting you from all harm
Except perhaps from these arms
That hold you. (Faithless, 'Tarantula')

So you think you're a devil. You wish. Come, let's level:
your bites leave no poison in me.
You have only saliva, mere man, whereas I've a
true toxin I'll unleash with glee.
You may gnash your incisors and get a few risers
from thoughts that you're causing me pain,
and that I need protecting. As if. Stop projecting.
I don't want to tell you again.
I've a secret. I'm hybrid. I'm woman-arachnid.
Some night I'll go Tara on you.
I'll be huge, hot and hairy. You'll find me quite scary.
You'll find that I like to bite too.



Wheel away

The man begins his pitch with tiny talk –
then BAM! the big idea, the weighty schtick.
'I see you're in a wheelchair, dear, can't walk;
I struggle too' – a gesture at his stick –
'and for a while I felt like you, so sad,
but now I've found the Lord, and life is great.
Look, here's some leaflets, read 'em. I'll be glad
to chat; just call me some time, fix a date.'
'No, thank you,' I reply. 'Come on!' says he,
and tries to put the leaflets in my bag.
A struggle starts. I twist a bit, break free.
He isn't happy. 'Fine, you ghastly hag!'
I laugh at that and gladly wheel away
to birdwatch on a lovely day in May.



kneadin' u

Dream-me
is massaging
the shoulders
of an ex-neighbour
as he leans over the bath.

It's Jack (we'll call him),
but his flesh is pastry;
I am kneading him.

Pastry-Jack turns and smiles,
then starts taking off his boxers
with the confidence of a man
who has something special to reveal.

What emerges?
A green-and-yellow viper
from Snakes & Ladders
and a secondary slow-worm
from behind the shed.

Pastry-Jack and his serpents
are moving towards me,
jaws agape.
I shriek.



Lament of the leaning trees

We were planted to stand, not to sprawl in this way
by the larger of lakes in the park,
to stare straight at the sky through the night and the day,
not to ogle our own shades of bark.

But the lake has swelled swampily over the years,
seizing soil in her cool clammy clench,
with a treasure of twigs-and-grass, sweet chestnut spheres,
and a hoard of hard wood, once a bench.

How we cling to the earth with our tendrilous toes,
while the lake laps in sinister sheen,
rousing daily and nightly our powerless throes
as we lean, and we lean, and we lean.



Happenstance Border Morris performs 'Isbourne'

At Sankey Marine one afternoon
a teeming river whirls around
with waves that shape a turning tune
through mellow flow to rowdy bound.

A teeming river whirls around
tributaries in blue green black
through mellow flow to rowdy bound
from singing streams to lightning crack!

Tributaries in blue green black
the thunder drums for feathered heads
from singing streams to lightning crack!
the banks erupt to eddies' treads.

The thunder drums for feathered heads
the currents churn and roar with glee
the banks erupt to eddies' treads
a splash a dash a whoosh! to sea.

The currents churn and roar with glee
with waves that shape a turning tune
a splash a dash a whoosh! to sea
at Sankey Marine one afternoon.



Ode on the Pittville swans and cygnets

In loving memory of Zelda Swan

Just off the southern curve of Lower Lake
there's a round island ringed by leaning trees –
young ash and willow mingle in the brake
and gold birch catkins ripple in the breeze;
through April, George Swan ferried to this ground
green grass and rushes from the water's edge
and pine sticks gathered from the fragrant grove,
for his mate Zelda to restore their mound
above the spreading shapes of springtime sedge
and then to lay six eggs in silver trove.

Three dozen days or so, the parents sit
upon the nest by turn until one day…
Tap-tap! inside till every shell is split
and six cygnets are born on 1st of May;
exhausted from their journey into light,
the bashing of egg-tooth through wax and lime,
they snuggle up and doze by Mother's breast;
meanwhile with wings upraised and flaxen-white
Dad's sailing over water, weeds, and slime,
a warship now, with bulging berry crest.

The fourth day dawns; arrayed in golds and pinks,
the family waddle from their island home
as breezes waft through birch and little chinks
of sunshine flicker on the rich clay loam.
Big George, who leads, encourages with snorts
and Zelda grunts endearments at the rear –
the fluffy cygnets cheep a charming phrase;
at last all launch from trailing willow ports,
a grand flotilla gliding pier to pier
while in the old horse chestnut, candles blaze.



The Rat King

Looke thee not upon the Rat Kinge centre, lest its straine-tailes tangle thine braine.

It's 2am. We're heading home. It's me and Sam and Greg.
We're full of beer. I'm very drunk. I stumble, bruise a leg.
Sam helps me up, then stops. 'Hear that?' he asks. A scratching sound.
It's coming from the bins behind the Balti, dodgy ground.

'Less go an' see,' I slur. 'Less not,' says Greg; 'it's just a mouse.'
'I wanna see the mouse,' I say. 'The mouse inside 'is 'ouse.'
'Alright,' Greg sighs. We cross the tarmac, walk towards the bins.
'Yuck, smell,' says Sam. 'Iss meat.' I sniff. 'And onon, onion skins.'

The scratching starts again. 'Oh, God,' says Greg. He's looking pale.
'Wassup?' I ask. 'The Rat King, Fran.' 'In't that a children's tale?'
'No, urban myth. I've just remembered. Time for us to go.'
'Okay.' I'm scared. Sam wants to see. Greg tries to stop him: 'NO!'

Too late. He's seen. His eyes are wide. 'A ring of rats!' he shouts.
'It's thirteen tails, all knotted at the centre... whiskers... snouts...
and eyes. They're black. They're watching me. But tails, they're like a brain!
My brain! The Rat King's in my brain!' he shrieks and shrieks again.

'Wass happening to him, Greg?' I ask. Greg's calling 999.
'Get out!' Sam screams. His eyes are bleeding. Greg shouts, 'You'll be fine!'
The scratching stops. Sam collapses on the tarmac. Is he dead?
I rush towards him, grab his hand. And then I see his head.

It's all caved in. I turn away and throw up pizza, beer.
I think I'll faint. Just then Greg shouts, 'The ambulance is here!'
'Too late,' I mutter. Men in green descend. I'm helped away.
I'm blanketed. They ask me things. 'Rat King, Rat King,' I say.

'I tried to stop him,' Greg is saying. Greg sounds small and sad.
A man in green nods, pats his shoulder. 'Yes, you did. Good lad.'
They're lifting Sam. They've covered up his face, his head. He's gone.
Is this a trip? Why won't it stop? My thoughts spin on and on.

Another ambulance arrives. This one's for Greg and me.
They want to take us in. The shock. They say I've sprained my knee.
We're off. I'm shaking, don't feel right. There's cold sweat on my brow.
I didn't see the Rat King, but– I think it knows me now.

The HyperTexts