Jerzy Ficowski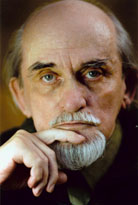 Jerzy Ficowski (1924-2006) was a poet, fiction writer, essayist, and translator, and the world's most renowned expert on Bruno Schulz. It is thanks to his efforts over the course of many years that many of Schulz's drawings, paintings, and manuscripts have been discovered and preserved.

Our thanks to Yala Korwin, a Holocaust poet and artists, for the following introduction to the work of Jerzy Ficowski: Jerzy Ficowski "is a Polish Christian and, in my humble opinion, one of the best Holocaust poets. These poems [published below] are included in his Odczytanie Popiolów (The Reading of Ashes, ed. Wydawnictwo Browarna, 1993). Ficowski's work has been translated into English, French, Hebrew, German, Swedish, and Yiddish. [He is] well known for his essays on the life and work of Bruno Schulz."—Yala Korwin

Regions of the Great Heresy and Environs brings together in a single volume all of Ficowski's most important writings on Bruno Schulz, from his classic and often-republished monograph Regions of the Great Heresy and his subsequent volumes of essays to recent commentaries on the discovery in Drohobycz of murals by Schulz and their illegal removal to the Yad Vashem museum. In this book, not only does Ficowski depict the vicissitudes of Schulz's life, his hometown, and the world in which he grew up with unusual care, but he also provides interpretations of Schulz's work, contests many of the superficial judgments made about him, corrects errors, illuminates misunderstandings and, last but not least, presents new findings in the form of letters, drawings, and paintings, as well as a previously unknown series of illuminated letters by Schulz. The book is truly a goldmine of knowledge about Schulz's life, his work, and his world, and is to date the most complete compendium of information about this remarkable man and artist from Drohobycz.— Jerzy Jarzębski

Regions of the Great Heresy: Sixty years after his death, Bruno Schulz (1892-1942) remains one of the twentieth century's greatest and most enigmatic writers. Here, Polish poet Jerzy Ficowski presents the first biography of the man who, in the words of Isaac Bashevis Singer, "wrote sometimes like Kafka, sometimes like Proust, and at times succeeded in reaching depths that neither of them reached." In his novels and stories—The Street of Crocodiles, Sanatorium Under the Sign of the Hourglass, and his missing masterpiece, The Messiah—Schulz employed a baroque, poetic style with a surrealist edge. The book includes many of Schulz's paintings and personal letters as well as new information on the Mossad's theft of Schulz's murals from Poland in 2001. Published on the 60th anniversary of Schulz's death. 16 pages of color, 16 pages of black-and-white illustrations.

Titles available at www.amazon.com by doing a search for "Jerzy Ficowski" include: Regions of the Great Heresy, Sister of the Birds and Other Gypsy Tales, and The Gypsies in Poland.



A Prayer to the Holy Louse

Spring of 1944 during delousing in the
Gypsy block of Auschwitz — Birkenau.

Skirts shawls
faded in the delousing ward
all in colors of camouflage

in poppies cockscombs scabiosas
for the event of a meadow
that will not happen

in the shower of birkenau
a clench-fisted Gypsy
deprived of all colors
clad in long water-folds

hid in her palm
a small grain of life
a seed of escape
between a life-line
on the crossroads
of palmistry

concealed in her fist
the last louse
that always runs away
at death's approach
in the shower of birkenau
the Gypsy sang

swanta dźuw
na dźa mandyr

holy louse
don't abandon me
I will not let you go
you are all I have
god does not inhabit hell
your sisters are running away
from our dead
stay with me
save me
holy louse

the guard with a whip
approached running
forced her fingers open
thief what do you have here
show me the diamond
the coin gold

and the louse fell
and the star dropped

the empty hand remained
and the empty sky
and up there rose
smoke upon smoke
smoke upon smoke



Jewish Effects

she has a wardrobe from which dresses
still had enough time to get out
but anyway they would have gone out of style

an armchair from which someone once rose
only for a while
but it sufficed for the rest of his life

dishes pots full of hunger
but they will serve more than enough
a portrait of a little girl killed
in lifelike colors

she could have had also a black table
in good condition
but it did not appeal

was somewhat sad



A Girl of Six from the Ghetto
Begging on Smolna Street in 1942

She had nothing
but eyes to grow into
in them quite by chance
two stars of David
perhaps a tear would put them out

so she cried

her speech
was not silver
at least worth
a spit or a head's turning away
her tearful speech
full of humpbacked words

so she fell silent

Her silence
was not golden
worth at most
5 pennies perhaps a carrot
a very well-behaved silence
with a Jewish accent
of hunger

so she died



Lamentation

At times wind from the burning
would drift dark kites along
and riders on the carousel
caught petals in mid-air.
That same hot wind
Blew open the girls' skirts
And the crowds were laughing
On that lovely Warsaw Sunday.

—Czeslaw Milosz ("Campo di Fiori")

There were also tears
the informers wept
the policeman wiped his eyes on his sleeve
the storm trooper buried his head in his hands
and the soot-blackened police dog
mournfully whined

Smoke rose
the enormous shadow of fire
the stinging smoke of Krochmalna
Gęsia Nalewki Zamenhof streets
the red-bearded caftan-clad smoke

the wind blew it to this side
all the way
straight into the eyes



Translator Yala Korwin's introduction to the poem "8-5-1942" — "It is about Janusz Korczak, the famous writer and physician in charge of the Ghetto orphanage. He didn't let the children go alone to their deaths. This translation was published in winter/spring 1997 of Humanistic Judaism." After reading "8-5-1942" please click on the Janusz Korczak link that follows the poem to read more about this extraordinary individual.

8-5-1942

What did the Old Doctor do
in the cattle wagon
bound for Treblinka on the 5th of August
over the few hours of blood flow
over the dirty river of time

I do not know

what did this Charon of his free will
this oarless ferryman do
did he distribute among the children
the remainder of gasping breath
and for himself spare only
a chill down his spine

I do not know

did he lie to them
for instance
in small numbing doses
groom the sweaty little heads
of the scurrying lice of fear

I do not know

but for all that later there
in Treblinka
all their terror all their tears
turned against him

oh there were still only
just a few minutes say a lifetime
was it a little or a lot
I was not there I do not know

suddenly the Old Doctor saw
the children had grown old
as old as himself
older and older
they had to become ash-grey in a hurry

so when the SS man
or the guard struck him
they saw the Doctor become
a child like them
smaller and smaller still
until he became unborn

since then along with the Old Doctor
they fill no space

I know

Please click on this Janusz Korczak link to read more about the good Doctor.