The HyperTexts

Poems for Hebron

This is a page of poems for Hebron and particularly the Palestinian children who live there: small victims of Israel's state-sponsored racism, apartheid, home demolitions and ethnic cleansing. The photographs on this page are by Nayef Hashlamoun, an award-winning Palestinian photographer and journalist who worked for Reuters for 20 years. He is also the founder and CEO of the ALWATAN Center in Hebron, where he specializes in conflict resolution and carries out relief and development projects for the Palestinian people. He graduated from al-Yarmouk University with a Bachelor degree in Journalism. He has given lectures and conducted workshops in the USA, Jordan and Palestine. He is the recipient of several awards and honors, including The Best Photojournalist of 2009 from Arab Youth Media Forum. He first became interested in nonviolent resistance as a child after he met Dr. Mubarak Awad while taking a class on Gandhi and the Martin Luther King Jr.




The children of Hebron light candles in sympathy with the children of Gaza during a peace rally

I lived as best I could, and then I died.
Be careful where you step: the grave is wide.


—

Michael R. Burch, "Epitaph for a Child of Gaza"

Frail Envelope of Flesh
by Michael R. Burch

for the mothers and children of Gaza

Frail envelope of flesh,
lying cold on the surgeon's table
with anguished eyes
like your mother's eyes
and a heartbeat weak, unstable ...

Frail crucible of dust,
brief flower come to this—
your tiny hand
in your mother's hand
for a last bewildered kiss ...

Brief mayfly of a child,
to live two artless years!
Now your mother's lips
seal up your lips
from the Deluge of her tears ...

Something
by Michael R. Burch

for the mothers and children of Palestine

Something inescapable is lost—
lost like a pale vapor curling up into shafts of moonlight,
vanishing in a gust of wind toward an expanse of stars
immeasurable and void.

Something uncapturable is gone—
gone with the spent leaves and illuminations of autumn,
scattered into a haze with the faint rustle of parched grass
and remembrance.

Something unforgettable is past—
blown from a glimmer into nothingness, or less,
and finality has swept into a corner where it lies
in dust and cobwebs and silence.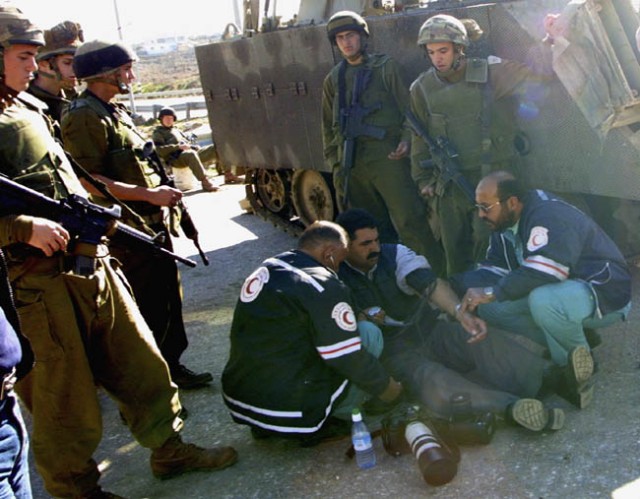 Palestinian photojournalist and peace activist Nayef Hashlamoun injured and surrounded by Israeli soldiers

The oppressed can but pursue suitable tracks
Learning to heed the lessons of awesome war
But will the mighty listen to reason's voice
That justice will accomplish the peace of Rome?
Or will conscience's dictates be inexorably ignored
As war's clouds hover over culture's great cradle?
And yet we do not harbor the odium of hatred
But pray that peace can still be humanity's finest hour
—Palestinian poet Khaled Nusseibeh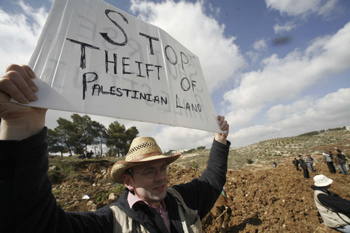 Israel began robbing Palestinians of their land in 1948 with the destruction of hundreds of Palestinian villages (this has been documented by Jewish historians like Ilan Pappé and Benny Morris). Today the theft of Palestinian land and the ethnic cleansing of Palestinians from their native land continues with home demolitions in the West Bank (the Israeli Committee Against Home Demolitions has documented more than 24,000 demolitions of Palestinians homes).—MRB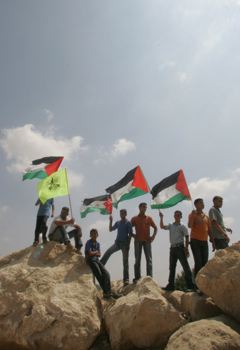 Palestinian demonstrators hold Palestinian and Fatah flags in front of Israeli soldiers to protest the apartheid walls, the theft of their land, and other racist injustices of the Israeli government and military against Palestinians.—MRB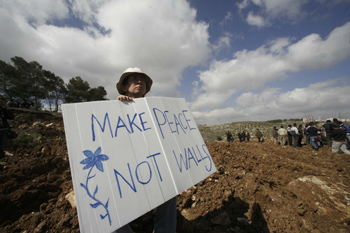 Make PEACE, not apartheid WALLS!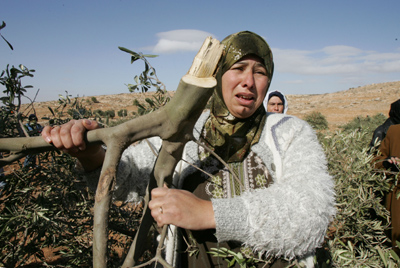 A Palestinian woman weeps because her olive trees were cut down by Jewish "settlers" in Hebron

The Deluge and the Tree
by Fadwa Tuqan

When the hurricane swirled and spread its deluge
of dark evil
onto the good green land
'they' gloated. The western skies
reverberated with joyous accounts:
"The Tree has fallen!
The great trunk is smashed! The hurricane leaves no life in the Tree!"

Had the Tree really fallen?
Never! Not with our red streams flowing forever,
not while the wine of our thorn limbs
fed the thirsty roots,
Arab roots alive
tunneling deep, deep, into the land!

When the Tree rises up, the branches
shall flourish green and fresh in the sun
the laughter of the Tree shall leaf
beneath the sun
and birds shall return
Undoubtedly, the birds shall return.
The birds shall return.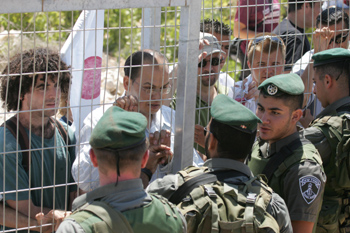 Palestinian demonstrators and Israeli soldiers are separated by an apartheid barrier

We should not justify suicide bombers.
We are against the suicide bombings,
but we must understand what drives these young people to such actions.
They want to liberate themselves from such a dark life.
It is not ideological, it is despair . . .
We have to understand—not justify—what gives rise to this tragedy.
It's not because they're looking for beautiful virgins in heaven, as Orientalists portray it.
Palestinian people are in love with life.
If we give them hope—a political solution—they'll stop killing themselves.
—Palestinian poet Mahmoud Darwish

The HyperTexts