Personal Writing Coach Offers Creative Analysis and Copy Editing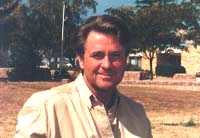 Pulitzer nominee, eight books, sixteen editions, translated into Japanese. Novels with Knopf. Published in The New Yorker, Atlantic, New York Times Book Review. Assistant Dean of College, Director of Creative Writing. Novels, short fiction, poetry, nonfiction. All genres. World's fastest copy editor, impeccable grammar. Willing to communicate by email after initial agreement. Send for information sheet or simply send $7 per page for poetry, $3 per page for prose, to Creative Analysis, 215 Pommel Street, Safford, AZ 85546.
Creative Analysis:
We see it first and think it through faster.
Signed first editions are available at list plus 50%.

As the editor of The HyperTexts, where Jack Butler has twice been a Featured Poet, I would like to offer my resounding endorsement of Jack Butler's talent and passion for writing. I don't know anyone more qualified to be a coach and mentor to writers--whether beginners, intermediate or advanced. You may find other writing coaches and mentors with fine or even impeccable grammar, and good copy editing skills, but you won't find many, if any, who can flat-out write like Jack Butler (as you can see for yourself by clicking here and perusing his THT poetry page). -- Michael R. Burch