The HyperTexts

"Jacob and the Angel" by Sir Jacob Epstein (1880-1959)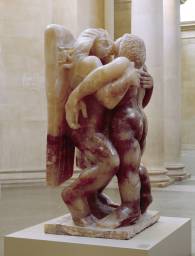 If you're concerned about innocent children being t
errorized by the debilitating fear that th
ey're in danger of an "eternal hell" when they grow up, please read this article
No Hell in the Bible
before continuing.
You can find Epstein's "Jacob and the Angel" at
www.tate.org.uk/modern
under their advanced search (just type in "Epstein Jacob Angel"). It's a shame this view doesn't show the figures' facial expressions clearly
--
the utter calm on the Angel's face, the utter exhaustion on Jacob's. But you can see in Jacob's posture his abandonment of his struggle
--
and that only the Angel is holding him up now.
Ironic, it is, the Angel told Jacob after the match was over, "You have wrestled with God and prevailed," when Jacob clearly lost the grapple. Yet with God, we only "win" by "losing," as we must inevitably in any extended struggle vs. the Almighty. African American preachers love to say, "Your arms' too short to box with God!" They also ain't strong enough to 'rassle Him for long!

-- Anton N. (Tony) Marco, in an e-mail to THT editor Mike Burch


A little East of Jordan by Emily Dickinson

A little East of Jordan,
Evangelists record,
A Gymnast and an Angel
Did wrestle long and hard--

Till morning touching mountain--
And Jacob, waxing strong,
The Angel begged permission
To Breakfast--to return!

Not so, said cunning Jacob!
"I will not let thee go
Except thou bless me"-- Stranger!
The which acceded to--

Light swung the silver fleeces
"Peniel" Hills beyond,
And the bewildered Gymnast
Found he had worsted God!

If you're interested in "things mysterious," you may be interested in these other Mysterious Ways pages:

A Direct Experience with Universal Love
No Hell in the Bible
Two Tales of the Night Sky
Genie-Angels
Darkness
Michael, Wonderful and Glorious
The Poisonous Tomato
Of Mother Teresa, Angels and the Poorest of the Poor
Thy Will Be Done (Iron Lung)
Did Jesus Walk on the Water?
Mysterious Ways Index


The HyperTexts Note: If you like this article, you are free to cut and paste it, to print it out, and to distribute it freely, however you see fit. I do ask that you abide by the following: (1) Please be sure to accredit the authorship of the article correctly and to cite www.thehypertexts.com as the original publisher. (2) Please be sure that this note is attached to the article whenever and wherever the article is printed out, forwarded, re-published, or otherwise distributed. My sincere thanks!

—

Michael R. Burch, editor, The HyperTexts