The HyperTexts

Paul Christian Stevens: Poet, Editor, Philosopher and Humanitarian

compiled by Michael R. Burch, with contributions by Patricia Wallace Jones, Janet Kenny, Philip Quinlan and Peter Wyton.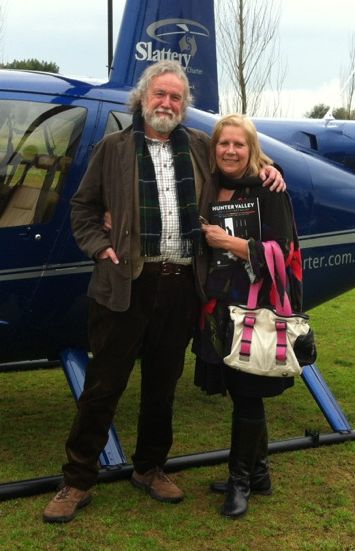 Paul Stevens, the acclaimed and much-admired English/Australian poet, editor, philosopher and humanitarian, passed away on March 22, 2013. He will be greatly missed. This page contains poems written by Paul, alongside tributes written by his friends among the poets. Toward the end of his life, Paul struggled with serious health problems. Here's a poem he wrote about struggling through difficulties on the way to sailing free, "past all memory" that seems, perhaps, prophetic:

Map of Tasmania
by Paul Stevens

From a cloud, drawn
To liquid trickle
To ferned wet gully
And rivulet's fall,

I push through fen-sedge,
And bracken, through rich
Forest-scent of fertility,
Deep moss on bole

And boulder, down roiling
White cataracts,
Wineglass to Cradle,
And all the way home,

And all the way home:
At last to sail free
Between southern capes
Thick with kelp and wild foam,

With wave awash, surging,
Late sun on the headland,
And shadow down valley
Past all memory.



Originally published in

The Road Not Taken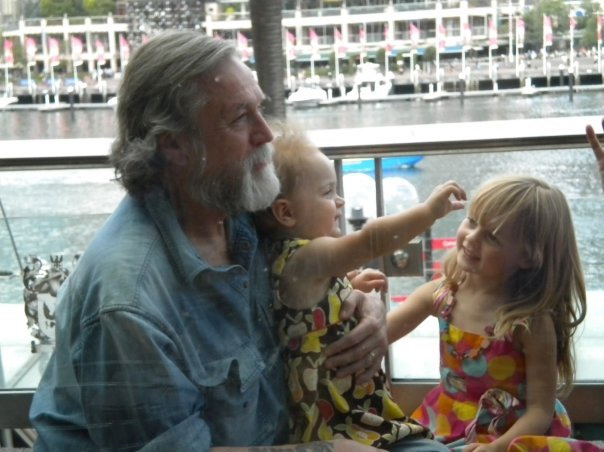 Paul Christian Stevens was born in Sheffield, Yorkshire, but lived in Australia for most of his life. He graduated from the University of Sydney, with an Honours degree in Early English Literature and Language; he did much of his college work on the poetry of John Skelton. He also majored in History and Archaeology, which remained core interests for him. He taught Literature and History in New South Wales, Australia. He also founded and edited three online literary magazines: Shit Creek Review, The Flea and The Chimaera, as well as serving as a selection panelist for the sonnet magazine 14by14, edited by Australian poet and writer Peter Bloxsom. Stevens' own poems have been widely published. Writers whose work he particularly admired include Sappho, John Skelton, Shakespeare, John Donne, Andrew Marvell, John Keats, Emily Dickinson, Thomas Hardy, A.E. Housman, Robert Graves, Laura Riding and John Crowe Ransom; more recently Les Murray, John Whitworth, Stephen Edgar and Rose Kelleher. He firmly believed in the importance of a living Muse to the process of poetic thought. Until his death, he lived on the New South Wales coast with his wife and numerous children, dogs, trees and raucous birds. Now is still with us, in his poems ...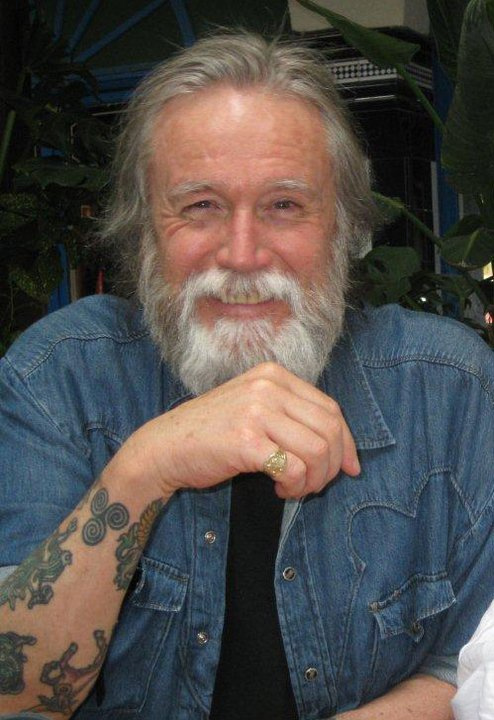 Here is a tribute poem written for Paul Stevens by his friend and fellow poet, Philip Quinlan:

Say, Shantih
by Philip Quinlan

for Paul Christian Stevens

These latitudes are falsified;
wrecked deadening has done for us.

We compass the meridian,
but who will stop the sun for us?

Our sextant-blinded eyes bleed brine;
no times or tides still stay for us.

All sheets, all shrouds are cut and dried;
our cleats cannot belay for us.

In sympathy at distances:
we navigate by hunger, thirst.

Noon shadows say our will be last.
Shall stern or bow go under first?

We cross the line with rituals:
traversal which will be reversed.

We'll Easter home at empty sail,
our mark be missed. We fare the worst.



Good Friday, 2013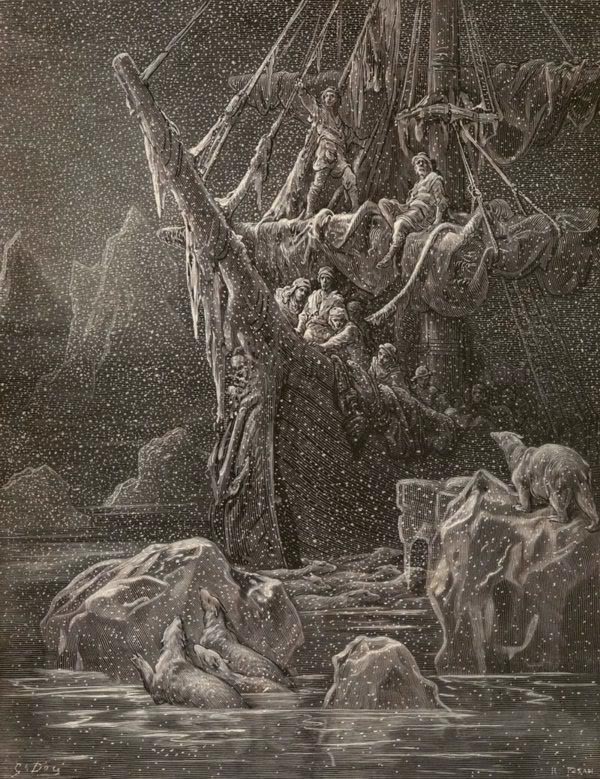 Gustav Dore's "It Was Wondrous Cold" from the original illustrations for Coleridge's "Rime of the Ancient Mariner"



Here's another poem whose "creaking frigate" on a journey "beyond the limits of cartography" makes me think of Paul's adventurous spirit, and of his final days. "Eld" is an ancient English word related an even older Norse word meaning "old" or "old age," while "Cockayne" or "Cockaigne" is a mythical land of plenty, akin to heaven, except that the morals are reversed, so that gluttony and wild sex are rewarded, while piousness is punished.

The Chart
by Paul Stevens

Our chart scaled one to one, locked by its legend
As signifying this and only this,
Writhes with extravagant calligraphy
With convoluted flourishes, resolving
To winking mermaids, boldly beckoning,
And fat-cheeked winds, to puff our creaking frigate
Beyond the limits of cartography,
Towards Cockayne or Eld; such destinations.

Secured by tar, we haul canvas and rigging,
Make passage through the Spice Isles and the weather,
The compass rose still pointing to the centre
To which all voyages must militate:
Where parchment yawns a widening lacuna
Shot through with burning curlicues of light.



Originally published in

The Literary Bohemian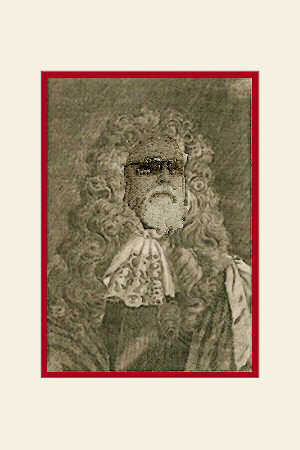 Here's a poem written by Paul's friend and fellow poet Patricia Wallace Jones, who also provided the Flea art above and below, along with her comments: "Mike, from the beginning of my working with Paul, working on his journals, he was fighting a variety of health problems ... heart surgery, other things, but he always got the journals out on time, sometimes working from a hospital bed ... I don't know how many people know that. When I first learned of Paul's last illness, I sent him this poem that I had written for a close friend and for my own son ... I did not intend for it to be a submission but he asked if he could use it in The Flea. I knew him well enough to know he would not have asked if he didn't see some merit in it. He was kind to me, but not that kind. : ) I was so surprised and delighted. I will always consider it my finest "pub". And you know, all those white tulips are up above ground, will be blooming soon. I will remember him fondly with every one."

All Lovers Entitled
by Patricia Wallace Jones

Upon learning of your illness
the sky dimmed.
By morning, fog woman arrived
riding bare, low on the back of a heron.
She was followed by high tide, the sea
fiercely dressed in blue-black moiré,
her best autumn combers.

They are primed, ready to fight
alongside your wife and me
and your muse, since the cradle,
the resolute moon—
with all of us this coming rain.

By early evening I had handpicked
and planted ninety new bulbs,
all of them tulips, Sissinghurst white—
fifty plus eight for your party come May,
the balance for us all to crow on.



Originally published in

The Flea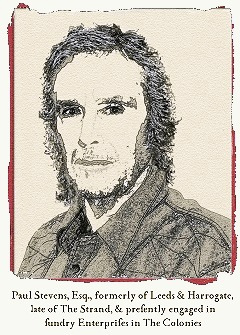 Janet Kenny reminds us that "Paul Stevens as editor was courageous and independent. He had an exceptional gift for recognising the life in a poem and had no conventional inhibitions about form, subject or vocabulary. He was a staunch friend and a fierce defender of principles. I haven't yet managed to convince myself that he is no longer here. His own fine poetry was hidden under his modest generosity as an editor. It is a consolation to read his poems and to know that we were not mistaken when we entrusted our work to an artist who was both mercurial and contemplative." Here's a poem of Janet's that was published by Paul Stevens and Peter Bloxom and nominated by them for the Pushcart Prize:

Articulated
by Janet Kenny

The thought that leapt into my head
when I was told of nuclear war
was: All grasshoppers will be dead.

And then it was as if I saw
their jigsaw, zigzag, tensile limbs
meccano-jointed, ready for

Olympic heights in leafy gyms.
Darwinian prodigies that spring
in arcs as freedom's metonyms

for absolutely anything
unfettered where the will finds ways
to levitate somehow, to cling

on any apex where its gaze
looks further to more distant peaks.
And so the seeker never stays,

but leaves the stage to one who speaks
for those articulations lost
to grounded military cliques

who hate, and hurl their one riposte.
Annihilation, endless night,
to win the fight, despite the cost.

Originally published in The Flea

Paul Stevens had the audacity and courage to print poetic heresies, including those of Janet Kenny and moi (Mike Burch). So I am dedicating our Heresy Hearsay page to Paul's memory and good example; the page contains three poems he originally published: Janet's "Challenge," Peter Wyton's "The Fall Guy" and and my own "In His Kingdom of Corpses." Peter Wyton sent me "The Fall Guy" with this comment: "Paul accepted this poem for The Flea. I leave the decision of whether you think it suitable or not for your purpose. I offer no opinion on whether there is, or is not a hereafter, but just supposing there was, I warm to the notion of Norman and Paul in cahoots, getting up the noses of saints and sinners alike."

The Fall Guy I.M. Norman Wisdom
by Peter Wyton

As sure as eggs are eggs, he lost his way
en route to heaven, ended up in hell.
The devil bellowed, "It's my lucky day.
A comic genius. Get on stage and tell
me the one about the bishop, the whore…"
"I don't do smut" squealed Norman, his jolly
smile fading, as the hot coals on the floor
caused him to trip over Nick's tea-trolley,
impelling, with one wildly waving boot,
Beelzebub, caterwauling in pain,
down the diabolical laundry chute
and out of the iniquitous domain.
From upstairs came the most Almighty cheer,
"For God's sake, Wisdom, get yourself up here."

"Coming, Mr. Grimsdale," called the bloke
in the ill-fitting suit and skew-whiff hat
who spent his life as a national joke
and in death, charged across the welcome mat
of paradise like a primary school
kid released from a monotonous class,
ruffling angels wings, playing the fool
with harps, walking on celestial grass
because the sign said DON'T, elbowing
seraphim and cherubim in the ribs,
hiding behind God's throne, then tiptoeing
out to shout "Boo", until His Holy Nibs
growled, "Peter, if anybody wants me,
I'll be down the pub in Purgatory."

They're both still at the bar, on neutral ground,
Jehovah and Lucifer in dispute
about who's going to get the next round
in and where they might conceivably put
the patron saint of slapstick, who is now
causing chaos throughout the afterlife.
On the one hand there's the infernal row
he's making, in addition to the strife
currently bedevilling both their spheres.
"Dead souls today aren't what they used to be,"
both parties are now mumbling in their beers.
"Old Churchill's telephone operator, he
was," the Deity sobs. Satan says, "Cor!
How did the British ever win the war?"

Originally published in The Flea

Here are other poems written by Paul Stevens:

Duck Lane
by Paul Stevens

Trees were earth nerves fingering numb
Into the cold sky, where ravens glided, swarmed
Around clotted nests, as evening solidified.
Down Duck Lane, we walked between neat blackberry

Hedgerows, butchered square to grid the land,
Loam fields away left and right, spread thick like black
Butter; and running beside the lane, the ditch
Green with rank run-off. Hefty cows

Gazed amiably out from the byres; black-faced lambs
And sheep in the sheep-sheds raised their evensong
Plain to the sky, their voices ascending rich
Through the poignant, heavy incense of manure

To fertilise heaven. In Duck Lane the mallards
Splashed in algae pond and ditch, shook feathers,
Toddled and hopped, wielding awkward wings
Upon the stiff mist, lifted clumsily, were gone

To climb the shivering air to the wooded copse,
Beating on up to the low, frozen clouds.



Originally published in

ShatterColors



The Relics
by Paul Stevens

Archaeologists in Italy have unearthed two skeletons thought to be
5,000 to 6,000 years old, locked in an embrace. Their sex has not yet
been determined. (BBC)

Mother to daughter, softly touching, is it?
Sister to sister's delicate embrace?
Friend to friend, companions past corruption?
Brother to brother, face to well-loved face?

The wheat crop rippled in the heat, the cattle
Grazed sweet grass, milk splashed in bowls of clay;
All fell to dust; from dust these rise, recovered
As brush and trowel lift slow time away.

Lover to lover, holding all that's dear,
They gaze into each other's eyes, long blind,
Stripped back to bony gesture: stubborn relics,
So much of earth, so much of human kind.



Originally published in

Poemeleon

The Big Red Chair
by Paul Stevens

Questions of who and how, of why and where,
Of what's appropriate, of what causes pain,
Of when we might or might not meet again,
Of years, of duty, of propriety, of …

All fade to a gentle sighing of shared air
As you and I slouch in the big red chair
Together, side by side, quiescent, aware,
Hands almost touching, as we shyly stare
Into each other's eyes — charged with love.

The Watching
by Paul Stevens

They are most commonly insensible, and feele neither pin, needle, aule, &c. pryked or thrust through them ... They were watched, only to keepe them waking: for indeed when they be suffered so to couch, immediately comes their Familiars into the room and scareth the watchers, and heartneth on the Witch ...
—Matthew Hopkins, Witch-Finder General, The Discovery of Witches

A flicker of quick shadow in the eye's
Corner speaks more proof to me than volumes
Bound in red leather, set in neat array;
One imp of connotation infallibly
Points where no goodwife, under her husband's hand,
Should be revealed complaisant to the letch:
Points out the third teat luring Vinegar Tom,
Hop and Pyewacket to her secret parts.

Naked, awake, watch through our nights and days
To learn that one true syllable you know
You long to say. My pricking about your body
Scribes thick insensible from bright agony,
Thrills out the sweetest spot, that compact zone
You struck with him you never could deny.



Originally published in

The Barefoot Muse



Track Work
by Paul Stevens

Claw out the old dogs from their yielding timber,
Wield iron tongs to clench and haul the sleeper
Groaning from his ballast-bed of years;
With pick and shovel, clear the narrow plot.

Now four good men to heft and berth the fresh
Recumbent, cauled with sap, gravid with dense
Hardwood grain; to slide him with a sigh
Home; to pack and ram the ballast, force-

Pry the steel to true, hammer down hard
The young dogs, that each jaw can grip the shining
Path from worker to his daily hire;
From scholar's quest to archives; lovers' one-

Way journeys down dead-gauged tracks, from shy
First touch, towards the day's dark terminus.

Beit Hanoun Aftermath, Viewed on YouTube
by Paul Stevens

Despite the buffering, it jerks and freezes,
then starts again: the ululations roughly
severed mid-cry, jump-cutting at random
to howls of impotence, siren symphonies.
A medic's gloved hand tries to wipe death from
an infant's head, as if death were mere spillage
that could be cleansed by earnest application.
Oxygen clamped against a face—the spirit

pumped into matter which declines to matter.
Mis-spelled captions criticise the slaughter,
ignoring Israel's right to self defense.
Massacre? Too emotive. Technical error.
Regrettable. A hundred pays for one.
Despite the suffering, it starts again.

Originally published in Contemporary Sonnet

Rock-a-bye
by Paul Stevens

A time was once, rocked in a matrixed cradle,
slung in a skew-tree, variously branched
through clouds of crow, to skies of fiery opal,
and down its roots gripped, deeper, till they reached

bone, where they grew mouths to sip the gravel's
juice, and therewith wove our grass and vetch.
Then young Clodhopper hopped his merry ramble —
big tooth, all goof, guffaw! His hands might catch

the butterfly of thought-threads through the tangle
of earth and air's laced rivalry, cross-hatched.
But you and I must nuzzle close, and huddle
from time, which sucks our brains (O hungry leech!),

that time which cries a "Happy ever after!"
until all is — and us, forever, fable.

Originally published in 14by14

Huh?
by Paul Stevens

I wrote a letter to my love,
My darling one, my own;
I said to her, "Tongue-click, scat-sing,
Scream, whistle, woof, grunt, moan!"

I hoped that she would see my point,
Would know she was my dear,
And so I added to my note:
"Rah, hum, applause, wail, cheer!"

"My ugh! My psst! My dandy huh!
My la la la la la!
Oh you must realise, my whoop!
How dadada you are!"

It worked! And now we tickle, buzz,
Squelch, whack, and zipple bong,
Slurp, smackoo, burble, ahhhh and ooooh
And mmmm the whole night long!

Originally published in Snakeskin

The Improper Muse
by Paul Stevens

My Muse is inappropriate, improper, bad to know,
The kind of girl with whom I ought not play.
I shouldn't even write to her: the rule books all say so;
Such peccadilloes cause public dismay.

And where does all this scandal leave a poet, vis à vis
His verse, if just to write to her's a crime?
And when she says, 'Fool! Look in thine own heart!', what shall I see
There, but her? — My dangerous Muse! — A bust, arranged in rhyme!

Originally published in Snakeskin

A Birth
by Paul Stevens

From littered fragments—woven—
Such oddments of the dead—
A reconstructed life—of me—
Gestated in his head.

He analysed my hair,
My fingernails—for dust.
Their tale—a second birth for me,
More gentle than the first.

A child—of his laboratory—
Freed from the womb of earth,
I gathered up my errant soul—
And stepped—gravely—forth.

Originally published in Shattercolors

Dante Met Beatrice
by Paul Stevens

...ne l'ultimo di questi die avvenne che questa
mirabile donna apparve a me...
— Dante, La Vita Nuova, III

Dante met Beatrice, just briefly, and just twice,
Yet loved her, utterly, his whole life through:
He'd never seen her clap her hands at some idea, and laugh,
Her eyes alight, and dance for perfect joy—as I have you.

Originally published in The London Poetry Review

The Muse of Fire
by Paul Stevens

Nobis, cum semel occidit brevis lux,
Nox est perpetua una dormienda.
— Catullus, V

As my mind drifts into the surf of sleep
Each night, it is your numinous face I see —
Ethereal, those blue eyes focused deep —
Framed by the jaggèd luff of flame rushed free

From both ends of the fire-poi you're twirling.
You dance entranced, pushing the flame-streak, spinning
Fire to scribe a hot, sharp circle: a whirling
Blade which cuts the fabric of this burning

Instant into a cameo of light
Carved clean away, out from the matrix air,
Out from the relentless black of night,
To rise suspended in a glory, where

Perfect, detached and radiant, you hover
In one pure moment, lifted away from Never.

Originally published in Soundzine

The Green Inn, 5:00 pm
by Paul Stevens



(after Rimbaud's 'Au Cabaret-Vert')



For eight days straight I battered my boots about
On the stony roads. I strolled into Charleroi,
—Into the Green Inn: ordered slices of bread
And butter, with half-cooled ham. Happy, I sprawled

My legs right out, under the green table:
I contemplated the rather naive designs
On the wallpaper—and it was sweet as, when
The girl with enormous titties and lively eyes,

—There's no kiss known could give that one a fright!—
Smiling, served me rounds of buttered bread
And lukewarm ham piled on a coloured plate—

Rosy and white ham, fragrant with garlic—and filled
My huge mug up with beer, whose foamy head
Was shot to gold by a ray of late sunshine.

Originally published in Snakeskin

Beached
by Paul Stevens

He has, by intuition, luck, or timing,
Dodged grape-shot, chain-shot, boarding-axe and cutlass;
Out-gambled pox, Kill-Devil, gallows, women;
Out-lived Teach, Calico, and Kidd. Too fucking

Clapped-out now: too old to bugger prisoners
Pleading in some sperm-splashed bloody shambles;
Even the guileless jape of slicing throats
Has lost its juicy joys. A bony fossil,

Beached upon a bench outside the Benbow,
He sips a gentle posset — no rumbustion
To sear the mouth that once hissed, "Slit their tripes!"
His watery eye winks at the baker's girl;

His claw pats children's curls. The townsfolk cruise,
Fat galleons, past where he sits becalmed—
A gaunt oddness, gossiping with gulls,
Minding his Ps and Qs and, most, his arse.

He spreads out, in his mind, an antique chart,
Its corners calligraphically embellished
With loops and curves fantastically unscrolling,
With seas of spouting whales, and dolphins rolling,

And puff-cheeked tritons blowing small flotillas
Away, across the wave-flecked map of places
Past compass rose, to where a wide lacuna
Is curling back the edges of the parchment.

Deftly wielding his fingers as dividers,
He plots the new course in the air before him,
Close calculating every tack and run
To his next landfall: Terra Incognita.

Originally published in WORM

Down
by Paul Stevens

100 lbs of brute metal, possessed
By compressed air which sets it bucking and kicking,
Jackpicking, blasting, worrying away, peeling
Back layers and chunks of red and buff
Rough Hawkesbury sandstone, to send this trench slicing
Down:
a pathway to below:
work of our days.

Above us: clay, tree-roots, topsoil:
deeper.

We gulp sweet water from the sweat-filmed canvas bag,
Our grins speckled with coarse grains of grit.

Deeper.
They have to shout down to us now:
Bosses' faces from their blue-pencilled line of sky.
Me on the jackpick, rattling my bones in their bone-bag;
John the Greek boodling; him heaving long-handled shovel-
Loads over our heads.
I pause, balancing
The fractious iron against my leather apron.
Through the familiar stench of hot steel and grease
In this ringing racketing air
I can smell the cool tang of zephyr lifting
From stone-buried ocean.

Bushy Tales
by Paul Stevens

Down Hairtown way, they brush their noses,
Coif their toes and ears;
In bars they order hair of dog
Instead of scotch or beers.

They gobble up hair-pie and slurp
Fur ice-cream by the scoop,
But everybody's favorite is
The hair-of-waiter soup.

Served on a downy slice of bread:
A snack that always pleases—
Tomatoes frizzed with fluffy moulds,
And fuzzy, fragrant cheeses.

They measure by the hair's-breadth,
Their boots are woolly uggs,
Their table legs are bristled thick,
And stand on shag-pile rugs.

There, nostril-ringlets, roller-curled,
Are chic; it's never trouble
To sort and braid their armpit locks;
Tongues sport a stylish stubble.

They gel their arse-fluff into spikes,
Dye sideburns ultra-black;
I've seen a rampant Mohawk ridged
Along one hairy back.

The famous annual Hair Fest
In the Hairs-"R"-Us Pavilion
Shows every style, from Dreadlocks
To the rash Extreme Brazilian.

And baldness is an illness,
Trichomania, the norm,
Hairshirts are frightfully pukka, and
Hirsutes show splendid form.

Their hairy palms betoken pride,
Not solitary sin,
And no girl's hot unless she's got
Moustache and goateed chin.

They take their shagging literally:
Plait body hairs together,
Work up a rich shampoo and then
Lather it hell-for-leather.

Emily Hairforthe sunbathed nude —
It set men's minds a-boggle:
Her pubic patch nine inches long —
What could they do but ogle?

The sun's fierce afro tickled pink
Her thighs, and face, and breast:
A magpie swooped and snatched her thatch
To make a fur-lined nest.

Now evening falls: the sun sets, permed
With purple tints and grey,
And sulphur-crested cockatoos
Take wing and fly away.

Hairtown workers brush and comb
The Hairtown streets at night,
As streetlamps sprout fine, whiskery
Filaments of light.



An expurgated version of the poem was published in

Umbrella



After the Vote
by Paul Stevens

The machines have done with voting,
The lotto numbers roll,
The christian gaols the refugee,
The talkback radios drawl —

God's Mercy in the seventh race
A moral for the win or place —
The owners of McMansions
Will not meet your eyes at all.

The tourist flies to Bali
Seeking children to assail,
And crushes with his travellers cheque
The terrorist's bare soul;

The citizens eat gourmet food
And cruise the shopping mall,
Or gather at the bank to pray
That interest rates might fall —

All hankering for that perfect lie
Whose taste does not appall.

The HyperTexts