The HyperTexts

Marco Rubio Nicknames

This page contains the best Marco Rubio nicknames that I have been able to find, and a few that I came up with myself. Nicknames for Rubio have been coined by Donald Trump and other politicos, journalists, late night comedians, and everyday Janes and Joes like union worker Eddie Vale.

Marco Rubio Nicknames




Marco Starko (see the picture immediately above)
Marco "Dough Boy" Rubio (because he's now a bit chubby and rakes in tons of Republican establishment dough)
Marco Roboto (Eddie Vale & friends)
Talking Point 3000 Robot (Eddie Vale & friends)
No-Show Rubio (*)
AWOL (ditto)
Absent and Unaccountable (ditto)
The Absentee Ban-Lord (ditto, and because he wants to ban millions of immigrants, maybe, depending on which way the political winds are shifting)
Rube
Young Rube
Cubics Rube
The Boy in the Bubble (Chris Christie)
Water Boy (Donald Trump)
Lightweight Choker (Donald Trump)
Captain Thirsty and Captain Thirstypants
Big Gulp
Young Marco (Charles P. Pierce)
Little Napoleon (Charles P. Pierce)
Marco Poll-Low (Michael R. Burch)
Broken Record Rubio (Michael R. Burch)
Marco Mussolini
Easy Mark (Donald Trump)

Honorable Mention: Gator (his choice for a Secret Service code name; oddly this is what George W. Bush called Jeb Bush; how unoriginal!), The Cuban Cherub, The Chubby Cherub, Marco "Weak as a Baby" Rubio (Donald Trump), Narko, Snarko, Sharko, Marco Sharknado, Marco "Come On In" Rubio (Donald Trump), The Michael Jordan of Republican Politics (I dunno, this seems like a streeeeetch to me!), Cuban Rube, Rolly-Polly Rube, The Chameleon (because he changes political colors so often), The ConSWERVEative (ditto), Mr. Foamy (because he allegedly attended foam parties at gay bars), Stud Muffin (because he was once studly but put on weight), Mr. Sound Bite, Mr. Talking Point, Robot Rubio, Mr. Roboto, Marco Android, The Fox (because he's shifty like a fox, and Fox News obviously favors him as does the Republican establishment and its money), Rupert's Rube (ditto), Party Boy (ditto), Play Dough Boy (ditto)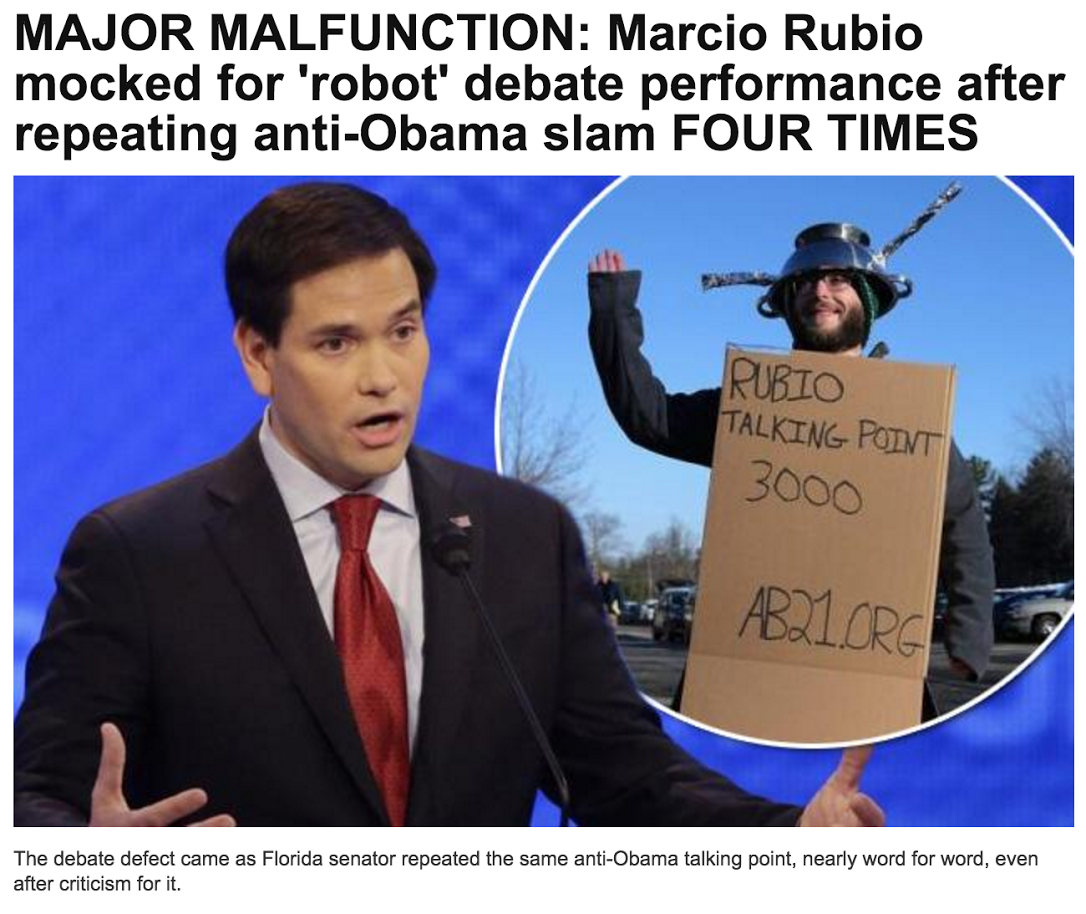 Eddie Vale as the Rubio Talking Point 3000 Robot, which is programmed to repeat the same talking points over and over and over and over again, like a broken record.

(*) On an appearance on the NBC's Today Show, the ever-earnest Marco Rubio said: "No, in fact the majority of the job of being a senator is not walking on to the Senate floor and lifting your finger on a noncontroversial issue and seeing which way you're going to vote…the majority of the work of a senator is the constituent service to committee work, that continues forward unabated." But as The Huffington Post pointed out: "Rubio's point about committee work is a bit odd given his absence from the Senate Foreign Relations full committee and subcommittee on which he serves. According to a Politico review of his record from 2011 to 2014, Rubio missed 52 of 106 hearings on both panels." Or, as Chris Christie pointed out at the debate that may have cost No Show Rubio any chance at the American presidency, constantly missing work and important votes is not "leadership" but "truancy."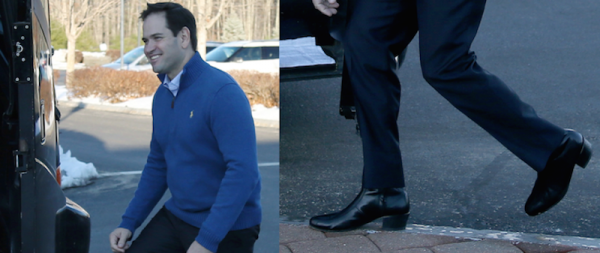 Marco Rubio is not the most conventional conservative alpha male dresser, perhaps. I don't claim to have "gaydar," but really! Do conservative alpha males dress like Marco Rubio? To me the entire metrosexual ensemble screams "gay," from the high-heeled boots to the preppy blue blazer. Not that there's anything wrong with being gay, or being gay and running for president, or even being a snazzy if somewhat effete dresser, but doing "all the above" on an anti-gay platform seems positively weird! Keep the gay wardrobe, Marco Rubio, if it suits you, but please drop the anti-gay agenda! You're not fooling anyone, not even us straight arrows, with that outfit!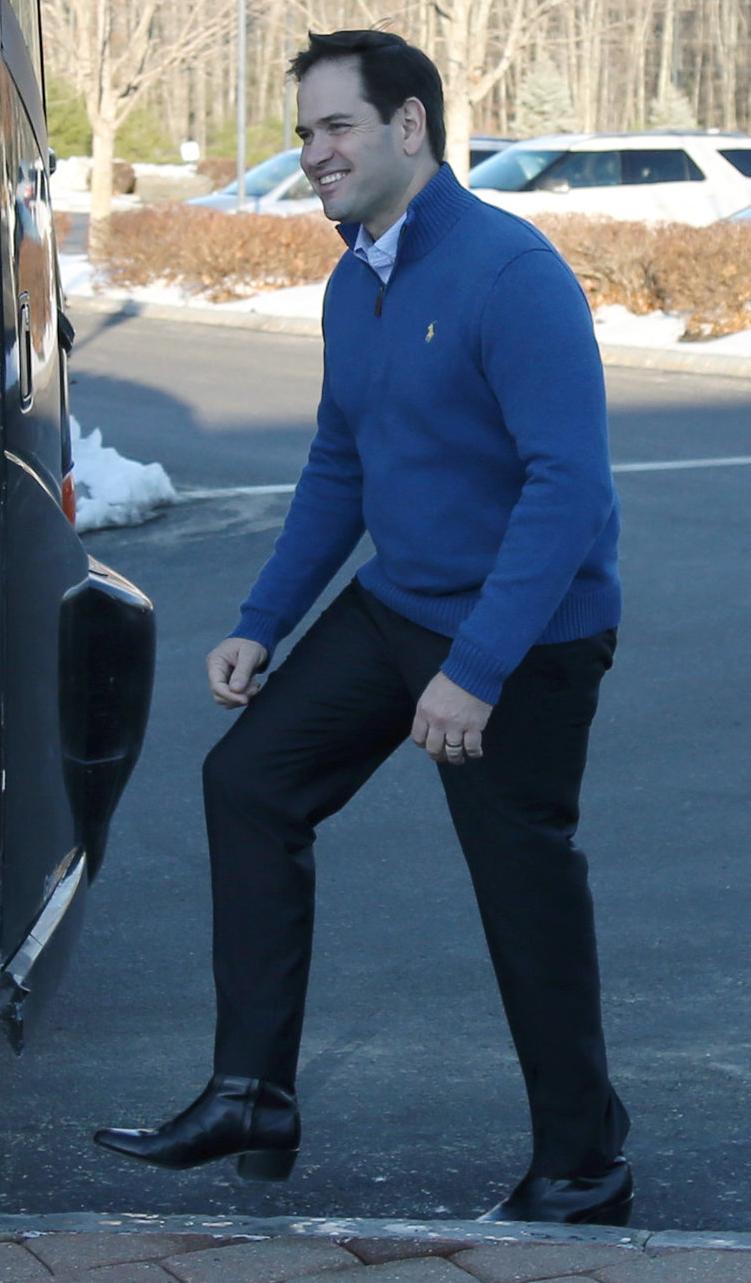 Marco Rubio was arrested in a Miami park know for gay activity, with a roommate who produced gay porn! On Wednesday, May 23, 1990—five days before Rubio's 19th birthday—a police officer was dispatched to Alice C. Wainwright Park, according to a Miami police report. The park was known for prostitution (gay and straight), drugs and drinking. A full account of what led to Rubio's arrest is not available because the court file has been destroyed, according to Miami-Dade County court clerk's records. According to the police report, Rubio and two other teenagers were arrested. One of them, Angel Barrios, owns several coin-operated laundries in the Miami area. The City of Miami later filed to enjoin Angel Barrios from using his residential property to distribute gay porn. In the case of the City of Miami v. Angela Barrios, Regla Barrios and Barrios Investment Group, "Angel Barrios, et al" were instructed to "cease operations" of a business that "produced pornography for distribution over the internet." The case was abated as a result of a federal lawsuit filed by the owner, Barrios, and his tenant, Flava Works. The City prevailed. Angel Barrios has a LinkedIn profile which lists his coin-operated laundries and the Barrios Investment Group enjoined from distributing porn. Flavaworks.com is still operational online and is quite clearly a gay porn website. Rubio dedicated an intimate senior yearbook quote to Mr. Barrios and the two shared a townhouse together after graduating from high school. So, in 1990, Marco Rubio was arrested by the police in a parked car, in a dark and secluded park with a reputation as a gay cruising spot, with a young man whom he lived with after high school, and who went on to be involved with a gay pornography studio. What does it add up to? Perhaps nothing provable. But it certainly raises interesting questions.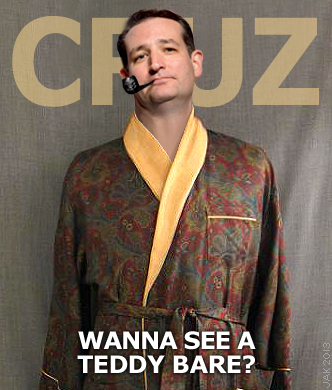 Ted Cruz Nicknames

Teddy Bare (see the picture immediately above)
Felito (his full name is Rafael Edward Cruz and Felito means "little Rafael")
Fidelo (Cruz's father supported Fidel Castro and the communists who took over Cuba)
Little Fidelo (ditto)
Castro's Revenge (ditto)
The Cruz Controller and Mr. Cruz Control
Mr. Cruz Missile (because he promised to carpet bomb the Middle East with nukes to see if the sands will "glow" at night)
Duke Nukem (ditto), Dr. Strangelove (ditto), The Mad Carpet Bomber (ditto) and The Dune-a-Bomber (ditto)
The Fireman (after he told little Julie Trant, a three-year-old, that her world was "on fire")
Mr. Pants-on-Fire (ditto), Mr. Firepants (ditto), The Human Torch (ditto), Calgary Flamepants (after the Calgary Flames hockey team; Cruz was born in Calgary, Canada),

Honorable Mention: Ted Carnival Cruz and the Creep Cruzettes, Calgary Cruz, Wacko Bird (John McCain), Proud Wacko Bird (Ted Cruz), Creature from the Black Lagoon, Pall Bearer (due to his uncanny resemblance to Paul Bearer, the funeral parlor manager of pro wrestling's Undertaker), The Fourth Dorkman of the Apocalypse (after George W. Bush, Sarah Palin and Michelle Bachmann), Revenge of the Nerd, El Presidente, Dirty Syrup Gulper (Jon Stewart), McCarthy Jr. (he even looks like Joe McCarthy), Cohiba (a brand of Cuban cigars was Cruz's choice for his Secret Service code name), Holy Cruzader, Tricky Ted Cruz (after Tricky Dick Nixon), The Cruzinator, Ted "Smug Mug" Cruz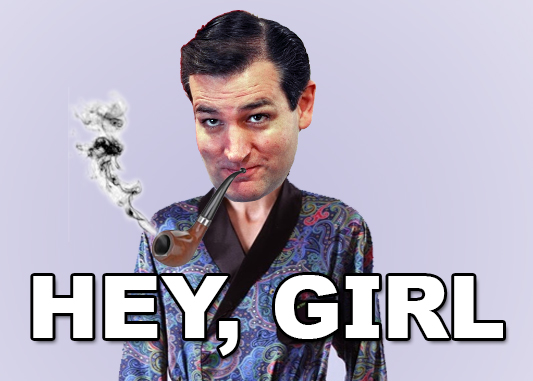 Donald Trump Debate Nicknames

Here are the top ten new nicknames for Donald Trump after he ran home sobbing from the upcoming debate, afraid to answer tough questions by Megyn Kelly:

Prima Donald
The Vet Evictor (for staging a benefit for veterans after trying to sweep disabled vets from New York City streets for more than a decade)
Timid Trumpster and The Dainty Donald
Crybaby Prima Donald
Kelly's Zero (pun on Kelly's Heroes)
Donald deGonad
Master Debater
The Debate Hater
Little Donnie Sissypants
Vanilla Isis and The Tufted Taliban

Dishonorable Mention: Baldfaced Crier, Tepid Trumpeter, Trumpling Dildo

The nicknames above were created and added on 01-27-2016

A complete list of Donald Trump nicknames in alphabetic order appears at the bottom of this page.

Sarah Palin Nicknames: Sarah Barracuda (her high school nickname), Sarahcudda, Caribou Barbie, Half-Baked Alaskan, Moose-o-lini, Weepin' 'n' Wailin' Sarah Palin, The Wasilla Gorilla or Gurlilla or Gurlzilla, The Roughed Rogue, The Original Material Girl (because she provides Stephen Colbert so much comedy materiel), Klondike Kardashian, Klondike Dike, Blunder Woman, Sarah Stoopid, Bible Spice, Whore of Babble-On, Boor of Babble-On, The Wasilla Hillbilly, The Wasillabilly, The Tundra Twit, Sarah Failin', Failin' Palin, Bailin' Palin, Half-Governor, The Moosiah Pit Bull in Lipstick (according to herself), Ramboner, Rambette, Trumpette, Saint Sarah of Wasilla, Sarah Pipeline, Sarah Punchline, Vampy, The Killa from Wasilla, The Quitter from Wasilla, Money Boo-Boo, Sarah Shakes-Spear (because she is so warlike and compared herself to Shakespeare when she coined a new word, "refudiate"), Sarah Crosshairs, Sarah Triggerfinger, Mama Grizzly, Palin-Drone, Chick Cheney, Sarah Stalin, Snark Shark, Moose MILF, The Alaska Disasta, Snowjob Squareglasses, Post Turtle, McCain's Bane, FrankenPalin, Northern Overexposure, Nightmayor, Miss Iquitarod, Irate Ingrate, Miss Wonker Bonker, Sarah Scareya, Lady Gagya, Sarah Sarin, Tri-Sarah-Tops, Sarah Snowgrifter, Sarah Snowjob

Jeb Bush Nicknames: Tortoise (given to him by his brother, George W. Bush), Low Energy (Donald Trump), Everyready (Jeb's retort to Trump when asked to pick his Secret Service code name), Veto Corleone, The Bushmaster, Bush League, Jeb, Jebbie, Gator

Chris Christie Nicknames: Christie Kreme, The Illsbury Dough-Boy, Cookie Monster, Big Boy (George W. Bush), Pork Chop, Pork Dork, Porky Pine, Porko Vallarta, Don Qui-Hefty, Enormes Pantalones, Boca Rotund, Dios Meatball, Cinco De Mayonnaise, Lap-Bandito, Chiportly, Gringo Con Carne, Dos Neckis, The Love Gov, Pufferfish, Trueheart (his choice for a Secret Service code name)

Ben Carson Nicknames: Crazy Ben Carson, Eli (his Secret Service code name), One Nation (his choice for a Secret Service code name), Dummy (his nickname as a child)

Carly Fiorina Nicknames: Chainsaw Carly (for all the jobs she cut at HP and Compaq), Golden Parachutress (she got $21 million after cutting other people's jobs), The Anti-Hillary, Secretariat (her choice for a Secret Service code name)

Mike Huckabee Nicknames: Huckster, Huckleberry Spin, Huckmaster General, Huck Upchuck, Huck Fuckabee, Brother Smother, Tax Hike Mike, Triple Wide, Duck Hunter (his choice for a Secret Service code name)

John Kasich Nicknames: Pope (he wanted to be the pope as a boy), Unit One (his choice for a Secret Service code name), Unit Two (his wife's alternate suggestion!)

Rand Paul Nicknames: Mr. Nerdy Perm, Mr. Poodle-'Do, Justice Never Sleeps (his choice for a Secret Service code name; he later called it "one of those nicknames you try to make happen and miserably fail")

Scott Walker Nicknames: The Desperado (in his high school yearbook), Niedermeyer (after an overly aggressive ROTC leader in the movie Animal House), Scott Balker, Harley (his choice for a Secret Service code name)

All Donald Trump Nicknames in Roughly Alphabetical Order

Art Deal and Mr. "Art of the Deal" — Donald Trump (taken from the title of his 1987 book, which he considers to be second only to the Bible)
Baldfaced Crier
John Baron — Donald Trump (a pseudonym)
Birther Maniac
Blowhard
Bratman — Michael R. Burch
Bribe of Chucky
The Bouffant Buffoon — Michael R. Burch
Bumbledore
Captain Bluster
Captain Chaos — NBC News
The Chaos Candidate — Jeb Bush
Cheez Whiz — John Oliver
Cheeto-Dusted Bloviator — jezebel.com
Chickenhawk — Because he's a coward who portrays himself as a war hawk
Comedy Entrapment — Jon Stewart
Con-Dike Goldrush
Crybaby Prima Donald
The Dainty Donald
DDT
The Debate Hater
Dire Abby (a pun on "Dear Abby" because Trump frequently tweets relationship advice to other people)
DJT
The Don
The Donald — Ivana Trump (she first used the term in a 1989 Spy Magazine cover story)
Donald deGonad
Donald Dipshit
Donald Dementia
The Donaldmeister
Donald Doom
The Donimator
Donald Ducknuke
Dumbelldore
The Dumpster (pun on Trumpster and the "Dump Trump" slogan)
Field Marshall Trump
Fifth Avenue Freeze-Out (for trying to deny disabled vets the right to street vend on Fifth Avenue)
Fuckface von Clownstick — Jon Stewart
The Germinator (Trump hates to shake hands, fearing germs)
Genghis Cant — Because he can't rule the world, making his promises mere cant
The Greatest Charlatan (of them all) — Brent Bozell
God — Jay Leno
The GOP's Unhinged Front-Runner — Robert Schlesinger, managing editor for opinion at U.S. News & World Report
Government Expander — Glen Beck
Great Orange Hairball of Fear — Michael R. Burch
Hair Furor (pun on Herr Fuhrer)
Hair Hitler (pun on Herr Hitler)
Head Twit
Herr Fόhrer Trump — Michael R. Burch
Herr Trump
The Human Amplifier
The Human Combover
The Human Corncob — Erin L. Cody
The Human Bullhorn — Jim Newell, in Slate
Humble — Donald Trump's ironic choice when asked to provide a Secret Service codename
Immigrant-Bashing Carnival Barker — TIME Magazine, quoting presidential candidate Martin O'Malley
In-Vet-Irate Liar (for claiming to "support" vets while trying to sweep them off the streets)
John Baron — Donald Trump (a pseudonym)
John Boehner's Tanning Partner in Crime — Michael R. Burch
Job Security (for Comedians) ― Jimmy Kimmel
Kelly's Zero (pun on [Megyn] Kelly's Heroes)
Killer Klown from Outer Space (the title of a "b" movie)
King of the Oompa Loompas ― Justin Baragona
King of Spin
King of the Whoppers — USA Today, Christmas Day, 2015
King Tut — Because his insults make billions of people go "Tut, tut, tut!"
King Twit
Liberal Lip
Liberal Wannabe Strongman — David McIntosh
Little Donnie Sissypants
Master Debater
The Michelangelo of Ballyhoo — TIME by David Von Drehle in his cover article on Trump
Mogul (his Secret Service code name)
Mr. "Art of the Deal" — Donald Trump (taken from the title of his 1987 book)
Mr. Chickenhawk — Because he's a coward who portrays himself as a war hawk
Mr. Firepants
Mr. Inappropriate
Mr. Boinker Oinker
Mr. Wiggy Piggy (because he's such a male chauvinist pig)
The New Furor (pun on Fόhrer)
New York Dork
New York Pork Dork
Orange Clown
Panda Hair — Elizabeth Harris Burch
Pander Hair — Elizabeth Harris Burch
Peripatetic Political Showman — The Fiscal Times
Poster Child of American Decline — Robert Spencer
Prima Donald
Putin's Pet
Rabble-Rousing Demagogue — John Cassidy in The New Yorker
Ronald McDonald Trump-Bozo — Michael R. Burch
Scrooge Grinch McGrump — Michael R. Burch (first used Christmas Eve, 2015)
Tepid Trumpeter
The Spin King
The Spinster and The Sinister Spinster — Michael R. Burch
The Teflon Don — Michael R. Burch
Tie-Coon (because his menswear line includes ties)
Timid Trumpster
Tricky Trump
Tricky Don Trump (after Tricky Dick Nixon)
Trump Card
Trump of Doom — Michael R. Burch (first used in a Facebook post on September 11, 2015)
Trumpling Dildo
Trumpmeister
Trumpthechumps
Trumpletoes
Trumpster
Trumpinator — Soopermexican
Trumpamaniac
Trumpledore
Trumpenstein
Trumplestiltskin
Trumpalump
Trump the Grump
The Tufted Taliban
Twitter Flitter
Twitter Spitter
The Twitter Terror — Michael R. Burch
Two-Bit Caesar — Bill Kristol
Venom-Drenched Regurgitated Slimy Orange Hairball — Michael R. Burch
The Vet Evictor (for staging a benefit for veterans after trying to sweep disabled vets from New York City streets for more than a decade)
Vanilla Isis
Walking Talking Human Combover — Michael R. Burch
The White Kanye ― Bill Maher
World's Greatest Troll — FiveThirtyEight Politics

The Best Descriptions of Donald Trump (or at Least the Most Colorful)

Fuckface von Clownstick. — Jon Stewart
Venom-drenched regurgitated slimy orange hairball. — Michael R. Burch
The world's greatest troll. — FiveThirtyEight Politics
The Great Orange Hairball of Death and Destruction. — Michael R. Burch
Peripatetic political showman. — The Fiscal Times
Cheeto-dusted bloviator. — jezebel.com
Donald Trump is a walking, talking Human Combover sent to earth to seek revenge by Hitler's Moustache. — Michael R. Burch
I am the most fabulous whiner. I do whine, because I want to win. — Donald Trump describing himself on CNN's "New Day" to host Chris Cuomo
John Boehner's tanning partner. — Michael R. Burch
Trump is "the GOP's unhinged front-runner." — Robert Schlesinger, managing editor for opinion at U.S. News & World Report
Trump "has moved from rabble-rousing to demagoguery, or something even uglier." — U.S. News & World Report, quoting a John Cassidy article in The New Yorker
Trump is an "immigrant-bashing carnival barker." — TIME Magazine, quoting presidential candidate Martin O'Malley
Donald Trump is the Cowardly Lion's enormous Orange Hairball of Fear brought to life by the Wicked With of the West. — Michael R. Burch

Related pages: The Best Donald Trump Puns, The Best Donald Trump Insults, 2016 Republican First Presidential Debate: Winners, Losers and Impressions, Is there a Republican War on Women?, The Donald Trump Bible or The Gospel According to Trump, The Best Ted Cruz Jokes, Conservatives Who Support Gay Marriage, Ten Reasons to "Fire" Donald Trump, Ted Cruz Quotes, Donald Trump: 666 Mark of the Beast

The HyperTexts