The HyperTexts

The Donald Trump Bible, or "The Gospel According to Trump" with Hashtags

Donald Trump claims to "love" God and the Bible, and he insists that the Bible is his favorite book―even better than his own book, The Art of the Deal!

However,

Mr. Trump is a very busy man and simply doesn't have the time to read such an enormous tome! Nor can he be bothered with silly little things like confessing his sins and asking God for forgiveness! So The Donald has decided to publish his own greatly condensed version of the Bible, the Trump Bible, which is also known as The Gospel According to Trump. The hashtags are #TrumpBible #TrumpBibleCode #Trump666 #TrumpMarkOfTheBeast #TrumpAntichrist

Unsurprisingly, the egocentric Trump's favorite Bible verses are the ones that mention The Donald Himself, the fabled TRUMP OF DOOM ...
For instance, the prophecy of Isaiah 27:13 that "It will come to pass in that day that a great TRUMP will be blown."
Another favorite Bible verse of of Mr. Trump's is 1 Corinthians 14:8

―"

For if the TRUMP produces an indistinct sound, who will prepare himself for battle?"
The Trump Bible Code is 666. The first appearance of the number 666 in the Bible is a reference to the weight of gold collected by King Solomon. Trump loves gold so much that he gold-plates his toilets!

Fifth Avenue is a street symbolic of excess, hubris and money (Mammon). Incredibly, the tower at 666 Fifth Avenue South is owned by Jared Kushner, the son-in-law of Donald Trump and the husband of his daughter Ivanka! When the Trump family bought the property at 666 Fifth Avenue, it was the highest price ever paid for an American building: $1.8 billion, which is 3*6=666! The building is unsurprisingly home to a number of ultra-high-priced law firms. The name Kushner means "furrier," or someone who provides luxurious garments to the rich, at the expense of the lives of poor animals. The name Trump means to "pull suit," to "outrank" and to "upstage." While Donald Trump pretends to "care" about American veterans, for more than a decade he has actually tried to prevent d

isabled veterans

from coming anywhere close to his family's ritzy Fifth Avenue properties. Ask any disabled veteran who works as a street vendor about Donald Trump, and the truth will come out: The Donald cares nothing about veterans except keeping them away from his prestigious buildings. The Trumps have the gall to parade the "Mark of the Beast" on their signature property, while making damn sure the homeless and disabled veterans are kept far downwind. But incredibly, that's not the end of the 666 connections. Jared Kushner is in the process of building a $666 million tower at One Journal Square! The height will be 666 feet! Are these coincidences, or is there a message being conveyed? And there many more 666 connections to the Trump family, which you can investigate by clicking here: Donald Trump: 666 Mark of the Beast

The Bible says the anti-Christ will deceive the very elect. Who endorsed Donald Trump for president? Jerry Fallwell Jr., Sarah Palin, and other evangelical heavyweights. Do these heavyweights speak or act like Jesus Christ? No, because they support a man who says and does the opposite of what Jesus said and did.

Donald Trump says the Bible is "really great," like a great movie. Unfortunately, to date he has not managed to name a book or quote a verse correctly. But still, it's the thought that counts!
Donald Trump does not seem to understand the difference between a Bible verse and a chapter, citing as his favorite "Proverbs, the chapter 'never bend to envy.'"
There is not a chapter of Proverbs about envy, nor is there a verse about "never bending to envy." There is a verse in Proverbs about not being envious of evil men: Proverbs 24:1.
Donald Trump says that he doesn't bother to ask God for forgiveness. Rather, he trumpets his own praises to the skies. His idea of Bible study is looking at pictures.
Donald Trump "guesses" that when he drinks his "little wine" and eats his "little cracker," he is somehow forgiven and cleansed, even though he has made light of the body and blood of Jesus Christ!
Donald Trump claims that he "is good" and therefore has a "great relationship" with God, even though the Bible says that no human being is good or righteous by his own works.
Donald Trump did finally name a book, chapter and verse of the Bible, but unfortunately he failed to get it right, citing "Two Corinthians 3:17" rather than "Second Corinthians 3:17"!
Donald Trump's gaffes when he talks about the Bible and his lack of basic knowledge about the meaning of Christianity prove beyond a shadow of a doubt that he is not really a Christian.
Then of course there are Bible verses that tell us we will know a man by the fruit he produces, and that a good tree cannot produce bad fruit. Trump's fruit includes groping women's genitals without their permission, sleeping around, having affairs with porn stars and Playboy bunnies, barging into the dressing rooms of teenage girls to ogle them in the nude, judging girls and women by their looks (including his own daughter), and lying on a daily basis.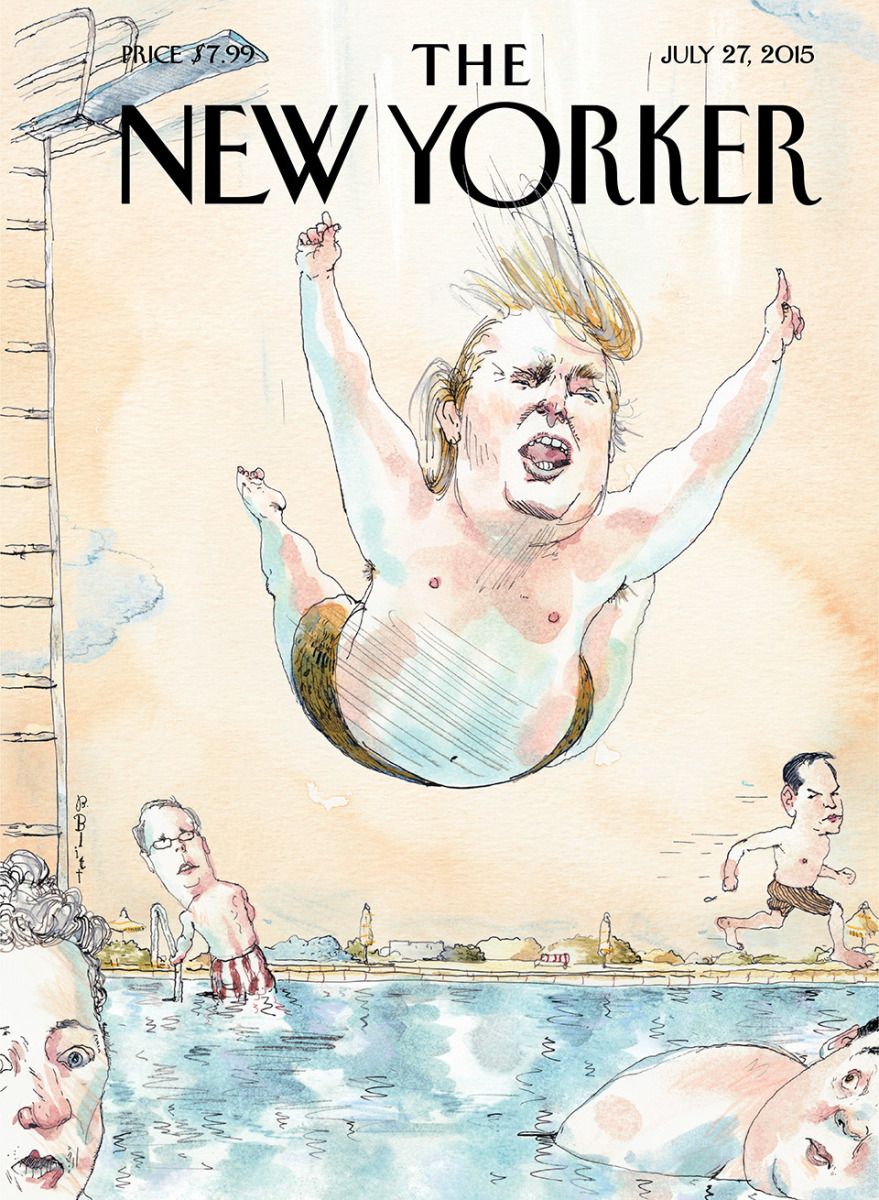 The highly condensed version of the Bible known as The Trump Bible and The Gospel According to Trump reads:

I, Donald Trump, am God.
Mere mortals must praise, worship, and adore Me as I do Myself.
Then all shall be Great, even also as I am Great.
In every way acknowledge Me, and I will direct your paths!
Amen.

The Gospel According to Trump concludes with the Trumpian version of the Beatitudes:

Blessed are the rich, for they will always have young, hot, beautiful pieces of ass.
Blessed are the warmongers, for they will be able to steal Iraqi oil to pay for their military adventurism.
Blessed are the daft dodgers, for they can mock POWs for being captured and tortured.
Blessed are the gunslingers, for everyone knows that Jesus Christ did not command Christians to turn the other cheek, but to stand their ground, shoot first, and ask questions later.
Blessed are the arrogant who do not ask God for forgiveness, for they shall enjoy their little communion crackers and wine without remorse.
Blessed are the carnival barkers and their houses of mirrors, for they shall be elected president by deceiving the very elect.

Is Donald Trump a Christian, as he claims? Have two people ever been less alike than Jesus Christ and Donald Trump? Do they have any values in common?



Comparison of Jesus Christ to Donald Trump



Jesus said to turn the other cheek; Trump responds angrily to every perceived slight and calls himself the "most militaristic person on the planet."
Jesus practiced humility; Trump is insufferably arrogant.
Jesus stressed the need for love and compassion; Trump stresses the need for alpha male aggressiveness, power and domination.
Jesus taught the Lord's Prayer in which forgiveness is both requested and given; Trump never asks God for forgiveness and he never forgives anyone else.
Jesus and the apostles said that Christians should have compassion for prisoners and visit them; Trump says he doesn't like prisoners, even POWs like John McCain.
Jesus said the meek are blessed; Trump claims it is a grievous sin to be meek.
Jesus blessed the poor; Trump praises the rich and successful (i.e., Himself).
Jesus said it is easier for a camel to pass through a needle's eye than for a rich man to enter heaven; Trump evidently thinks that anything bearing his name is heaven.
Jesus advocated faithfulness in marriage; Trump brags about the "beautiful pieces of ass" he has bedded, and how he can grope "pussy" at w

ill

because he's famous.

Trump is putting the X back in Xmas by X-ing out refugee children and their mothers. If baby Jesus and Mary showed up needing shelter, Trump wouldn't provide them with even a lowly manger. Instead, he'd order American soldiers to drive them back into the wilderness at gunpoint. Meanwhile, this is what the satanic festivities at the White House looked like

last year:

Trump Christmas.



The Ten Commandments of Donald Trump



Worship Donald Trump as He worships Himself.
(Repeat ten times.)

Donald Trump is now ahead of Hillary Clinton in the polls. This was reported today in The Washington Post, and 2,000 years ago in the Book of Revelation.―Conan O'Brien

Related pages: 2016 Republican Presidential Debate, Is there a Republican War on Women?, Donald Trump: 666 Mark of the Beast, Donald Trump's War on Women



Donald Trump Religious Jokes



If Donald Trump gets elected, there'll be hell toupée. — Anonymous
In an exclusive interview with the Christian Broadcasting Network Donald Trump said 'I believe in god.' But of course The Donald was talking about himself. ― Jay Leno
Here's the thing about Donald Trump: he never apologizes; he's never wrong no matter what crazy thing he says. He's the white Kanye. ― Bill Maher
Today Donald Trump reaffirmed his stance against gay marriage. Trump said marriage is between a rich guy and his much younger third wife. ― Conan O'Brien
Did evangelical Christians mistake Donald Trump's hairpiece for a halo, while i

gnoring the obvious

signs that he worships Mammon? — Michael R. Burch
Most American politicians believe in God, but Donald Trump believes that he is God. — Michael R. Burch
Trump is never politically correct, but he is always correct (being infallible). — Michael R. Burch

Q: What is Donald Trump's favorite chapter of the Bible?
A: Chapter Eleven.



Reasons that Donald Trump Cannot be a Christian



Trump insulted God and the Christian faith by saying that he never asks God for forgiveness.
Trump then insulted the body and bl

ood of Jesus Christ by saying

: "When I drink my little wine—which is about the only wine I drink—and have my little cracker, I guess that is a form of asking for forgiveness."
If Trump believes in the sanctity of marriage, why does he brag about the "young and beautiful pieces of ass" he can seemingly acquire at will?
Why can't Trump quote a single Bible verse despite being a Christian, just as Sarah Palin couldn't name a single newspaper despite being a journalism major?
Donald Trump is definitely not a racist, bigot or chauvinist: he's just worlds better than everyone else.
For the first time in American history we will have many different beautiful and exotic First Ladies, since Trump frequently updates his "piece of ass" (as he so delicately puts it).



Donald Trump Bible Hashtags



"In the beginning, Trump created propaganda. And he saw that it was good, for the people believed everything he said." #TrumpBible
"In the beginning was the word Trump, and the word was yooge because he said it was yooge!" #TrumpBible
"I love God. He's a great guy. Made the world in 6 days. That's YUUUUUUUGE. I would have used more marble but he did a nice job." #TrumpBible
"Lot's wife? What a loser! I would never look back when leaving a failing property, like my casinos in Atlantic City." #TrumpBible
"Lot was a loser too! He failed to provide entertainment to guests who just wanted to party and have good time." #TrumpBible
"And forgive us our debts, as we rip off out creditors, then make fun of them for being stupid enough to lend to us!" #TrumpBible
"Jesus wept. I like saviors who don't weep." #TrumpBible
"Saint Paul was no hero. I like evangelists who don't get thrown into jail and palace dungeons. I would have had Nero eating out of my hand!" #TrumpBible
"Unfortunately, Mary was not a ten. Joseph should have dumped her for Salome. What a beautiful piece of ass!" #TrumpBible
"Jesus completely blew it when he turned down the Devil's offer. He should have read 'The Art of the Deal.' I would have won so yooge!" #TrumpBible
"Jesus blew it in the desert. I, on the other hand, am absolutely killing it in Vegas!" #TrumpBible
"Jesus was incompetent, blew it by hiring Judas. I would have told him "You're fired!" #TrumpBible
"Turn the other cheek? The only time I turn the other cheek is when a beautiful piece of ass is kissing mine!" #TrumpBible
"Blessed are the poor in spirit? What losers! I am really, really rich!" #TrumpBible
"Joseph and Mary rode a donkey into a foreign town to have a baby in a manger? They sound like illegals to me! #TrumpBible, #AnchorBaby #BuildAWall
"Mary and Joseph were illegal immigrants. Jesus was an anchor baby. Herod was incompetent! I would have built a great, great wall around Bethlehem!" #TrumpBible
"I will do such great things for Israel, there will be no more wailing at the Wailing Wall! It will be a great, great wall when I'm done with it!" #TrumpBible
"Samaria sends us their murderers, their rapists, and some, I assume, are good Samaritans." #TrumpBible
"If I was Jesus, I would have made amazing deals with those moneychangers in the temple. Why waste such a yooge opportunity?" #TrumpBible
"Render unto Ceasar's Palace the things that are Ceasar's, and render unto Trump the things that are Trumped." #TrumpBible
"I would have rebuilt the walls of Jericho and made the Canaanites pay for it!" #TrumpBible
"You've heard it said, 'An eye for an eye and a tooth for a tooth,' but I say unto you, that's lousy negotiating. Why break even?" #TrumpBible
"Great flood, total disaster. Totally mismanaged by Noah, not a smart guy, total loser, couldn't even save the dinosaurs." #TrumpBible
"Blessed are the 'piece' makers (the parents who create 'beautiful pieces of ass' for Trump to bang." #TrumpBible
"This Moses guy wanders 40 years, never even makes it into the land of Canaan. There's a name for guys like that: Loser!" #TrumpBible

Related pages: The Best Donald Trump Puns, The Best Donald Trump Limericks, The Best Donald Trump Jokes, The Donald Trump Bible or The Gospel According to Trump, Is there a Republican War on Women?, 2016 Republican First Presidential Debate: Winners, Losers and Impressions, Donald Trump: 666 Mark of the Beast, Donald Trump's War on Women, Donald Trump Funny Campaign Slogans and Parodies

The HyperTexts