The HyperTexts

The Best Muhammad Ali Poetry, Songs, Epigrams, Quotes and Trivia
Muhammad Ali Nicknames

This is a collection of the best poetry, prose, quotes and epigrams by Muhammad Ali that I have been able to find. I have also included two poems that I wrote as tributes to the great man: "Ali's Song" and "For Ali, Fighting Time." And I have also included a selection of the best Muhammad Ali nicknames and trivia.

Float like a butterfly, sting like a bee.
The hands can't hit what the eyes can't see.
—Muhammad Ali

The two lines above are probably the single most famous Muhammad Ali poem.

I've wrestled with alligators.
I've tussled with a whale.
I done handcuffed lightning.
And throw'd thunder in jail.
—Muhammad Ali

The four lines above comprise my favorite Muhammad Ali poem.

I shook up the world!
—Muhammad Ali, after he defeated the seemingly invincible Sonny Liston

It's just a job.
Grass grows,
birds fly,
waves pound the sand.
I beat people up.
—Muhammad Ali, describing his job as a sort of inevitable natural force

Ali?
Me?
Whee!
—Muhammad Ali, describing himself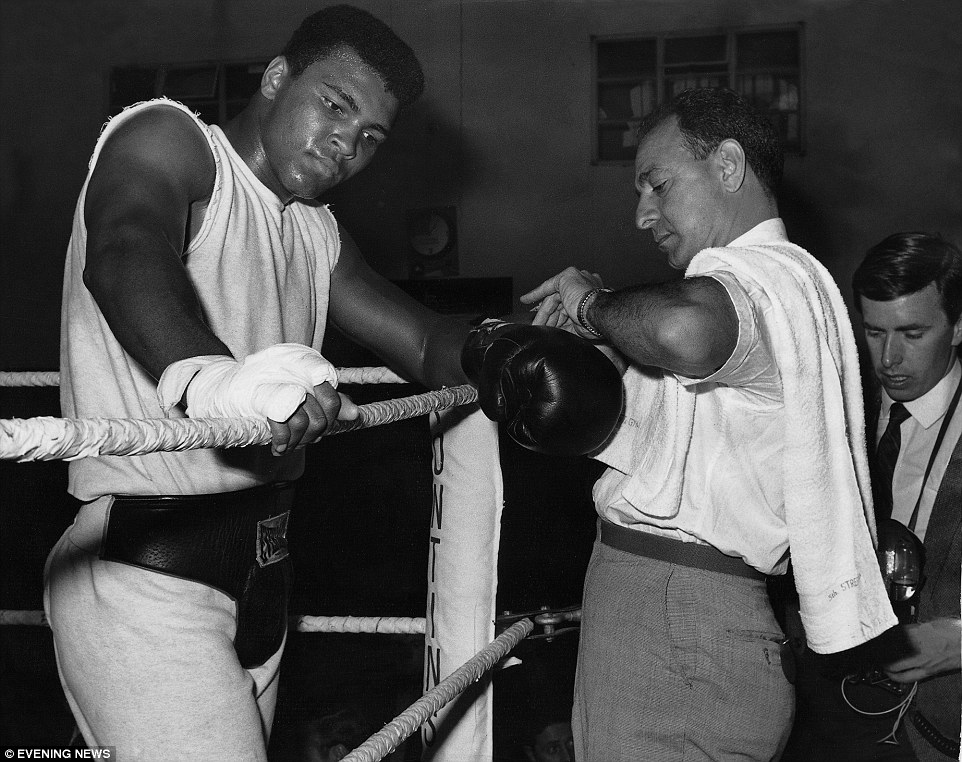 Muhammad Ali was big, black, beautiful, bold, brash and bad (as in "badass"). He was the white supremacists' worst nightmare, being proof positive that they were not "superior" but just whistling Dixie ... way out of time and badly out of tune.

Nicknames

The best Muhammad Ali nicknames: The Greatest (coined by Ali himself), The Champ, The People's Champion, The Louisville Slugger, The Louisville Lip, The Lullable Lip, Gaseous Cassius, Cassius X (his first name change, when he was in contact with Malcolm X), Boxing's Poet Laureate, The Black Superman, The Black Adonis, The Prettiest Man in Sports (Ali describing himself)

Muhammad means "praiseworthy," being derived from the Arabic hamid, "to praise." Ali in Arabic means "lofty," or "sublime." So Ali's chosen name means something like "One Who is Worthy of Sublime Praise!" And he did, indeed, praise himself sublimely, in both his poetry and his prose!

Asked in a 1975 Playboy interview why he chose "The Greatest," Ali replied: "I'm the most talked-about, most publicized, the most famous, and the most colorful fighter in history. And I'm the fastest heavyweight—with feet and hands—who ever lived. Besides that, I'm the onliest poet laureate boxing's ever had. One other thing, too: If you look at pictures of all the former champions you know in a flash that I'm the best-looking champion in history. It all adds up to being The Greatest, don't it?"

Nicknames that Ali gave to other boxers: George Foreman "The Mummy," Joe Frazier "The Gorilla," Sonny Liston "The Big Ugly Bear," Oscar Bonavena "The Beast," Floyd Patterson "The Rabbit" and "The White Man's Champion," Ernie Terrell "The Octopus" (because of his ungainly boxing style), Buster Mathis Sr. "The Dancing Hippo" (ditto), Ernie Shavers "The Acorn" (because of his shaved head), Larry Holmes "The Peanut" (because of the shape of his head), George Chuvalo "The Washer Woman," Henry Cooper "The Tramp," Leon Spinks "Dracula" (because of the gap in his teeth) and Richard Dunn "The Mummy." Ali called several boxers "bums" and "Uncle Toms" for not standing up to white domination and/or not calling him by his chosen name, including Frazier, Patterson and Terrell.

Ali's fights even earned poetic nicknames: "The Thrilla in Manilla" and "The Rumble in the Jungle" are the two most famous and became the stuff of legend, thanks to Ali.

Trivia

Sports figures influenced by Ali's swag include: Mike Tyson, Floyd Mayweather Jr., Sugar Ray Leonard, Arnold Schwarzenegger, Tiger Woods, Michael Jordan, Charles Barkley, Kobe Bryant, LeBron James, Deion Sanders, The Rock, Wayne Gretzky (his nickname "The Great One" was rather obviously derived from Ali's "The Greatest" although, unlike Ali, Gretzky did not coin his own nickname).

Ali actually recorded an album of spoken verse, and was nominated for a Grammy! Thus the loquacious Ali really was boxing's poet laureate. Columbia Records released a 1963 spoken word album titled I Am the Greatest, in which the 21-year-old rising star performed his poetry, backed my musical accompaniment, before an audience. The title track was released as a single. The second track was "I Am the Double Greatest." The album also included two songs by the boxer, including a cover of the Ben E. King hit "Stand by Me." The other song was "a bright, bubblegum pop" rendition of "The Gang's All Here" with Sam Cooke (who rivaled Ali in good lucks, talent and charm). Ali's album peaked at No. 61 on the Top LP's chart in 1963 (which later became known as the Billboard 200). The album was nominated for a Grammy in 1964. The Milwaukee Journal dubbed it the "comedy album of the year."

To this nation, I've made this bequest
So spread the word north and south!
Some folks leave their brains through science
But when I go, I'm leavin' my mouth!
It's the greatest!
—Muhammad Ali, on "Round Seven" of his album

But that wasn't quite it for Ali's musical career. In 1976, Ali teamed with Frank Sinatra, Ossie Davis, Howard Cosell and others to record an album called Ali and His Gang Vs. Mr. Tooth Decay. The cautionary tale against eating too much sugar was nominated for a Grammy for Best Recording for Children in 1977. So Ali was nominated for two Grammy awards!

Ali starred in a Broadway musical, so he was also an actor and singer. During his 43-month forced exile from the ring, Ali took to the stage in the title role of the musical Buck White. The production opened inside New York's George Abbott Theatre on December 2, 1969. However, Ali's stage career would be a brief one. Buck White closed four nights later after just seven performances. In spite of the limited run, Ali, who played a militant black lecturer, received decent reviews. "He sings with a pleasant slightly impersonal voice, acts without embarrassment and moves with innate dignity," wrote a New York Times reviewer. "He does himself proud."

Ali appeared on the cover of Esquire magazine in April 1968, posed by designer George Lois as the Christian martyr Saint Sebastian. So he was also a supermodel!

Other things you may not know about Muhammad Ali: (1) He was an accomplished magician. (2) He became a Sufi like the mystical poets Rumi and Hafiz; the Sufis believe in and practice nonviolence. (3) Ali was a tough guy: he fought his first comeback fight with a broken rib and continued to fight Ken Norton despite having broken his jaw during the match. (4) He had a magnetic personality; Kareem Abdul-Jabbar compared Ali moving through a crowd to a magnet moving through iron filings. (5) People have described Ali as "glowing." Other famous people said to have glowed include Moses and Albert Einstein. (6) Some of Ali's opponents were in awe of him: for instance, George Foreman speaks about him with real reverence. (7) Ali changed his name twice; his first non-slave name was Cassius X, modeled after Malcolm X. (8) Ali never turned down children's requests for autographs because as a boy he was turned down by Sugar Ray Robinson. (9) Ali frequently re-used his favorite rhymes. For instance, there are different versions of the me/whee rhyme:

This poem tells how it feels to be as great as me.
This is it, the greatest short poem of all time: me!
Whee!
—Muhammad Ali

Muhammad Ali: the Beginnings of a Poet

Muhammad Ali (1942–2016) was an American professional boxer widely regarded as one of the greatest and most significant sporting figures in history—if not the greatest, as he claimed himself. He was born Cassius Marcellus Clay, Jr. in Louisville, Kentucky on January 17, 1942. He began training as a boxer at age 12 after his bike was stolen and he wanted to "whup" the thief. At age 18, he won a gold medal at the 1960 Olympic games in Rome, writing a poem about his exploits. I have bolded the rhymes:

To make America the greatest is my goal
So I beat the Russian and I beat the Pole
And for the USA won the medal of gold.
The Greeks said you're better than the Cassius of old.

We like your name, we like your game.
So make Rome your home if you will.
I said I appreciate your kind hospitality,
But the USA is my country still,
'Cause they're waiting to welcome me in Louisville.
—Muhammad Ali

I'm not going to compare the young Cassius Clay to T. S. Eliot, but the poem does have elements of modern free verse; for instance, lines 5-6 introduce internal rhymes, line 7 breaks the pattern of end rhyme, there is an extra line in the second stanza, and the line lengths and number of syllables vary throughout the poem without any glaring metrical glitches. For a humorous poem written by an 18-year-old not known fo

r being a great scholar

, it's actually pretty good. One might say that the gifted young boxer was rapping long before it came into vogue.

Ali later said that he threw his medal into the Ohio river after being denied service due to racism: something I address in my poem "Ali's Song" ...

Ali's Song
by Michael R. Burch

They say that gold don't tarnish. It ain't so.
They say it has a wild, unearthly glow.
A man can be more beautiful, more wild.
I flung their medal to the river, child.
I flung their medal to the river, child.

They hung their coin around my neck; they made
my name a bridle, "called a spade a spade."
They say their gold is pure. I say defiled.
I flung their slave's name to the river, child.
I flung their slave's name to the river, child.

Ain't got no quarrel with no Viet Cong
that never called me nigger, did me wrong.
A man can't be lukewarm, 'cause God hates mild.
I flung their notice to the river, child.
I flung their notice to the river, child.

They said, "Now here's your bullet and your gun,
and there's your cell: we're waiting, you choose one."
At first I groaned aloud, but then I smiled.
I gave their "future" to the river, child.
I gave their "future" to the river, child.

My face reflected up, dark bronze like gold,
a coin God stamped in His own image—Bold.
My blood boiled like that river—strange and wild.
I died to hate in that dark river, child,
Come, be reborn in this bright river, child.

Note: Cassius Clay, who converted to Islam and changed his "slave name" to Muhammad Ali, said that he threw his Olympic boxing gold medal into the Ohio River. Confirming his account, the medal was recovered by Robert Bradbury and his wife Pattie in 2014 during the Annual Ohio River Sweep, and the Ali family paid them $200,000 to regain possession of the medal. When drafted during the Vietnamese War, Ali refused to serve, reputedly saying: "I ain't got no quarrel with those Viet Cong; no Vietnamese ever called me a nigger." The notice mentioned in my poem is Ali's draft notice, which metaphorically gets tossed into the river along with his slave name. I was told through the grapevine that this poem appeared in Farsi in an Iranian publication called Bashgah. The poem was originally published by the literary journal Black Medina.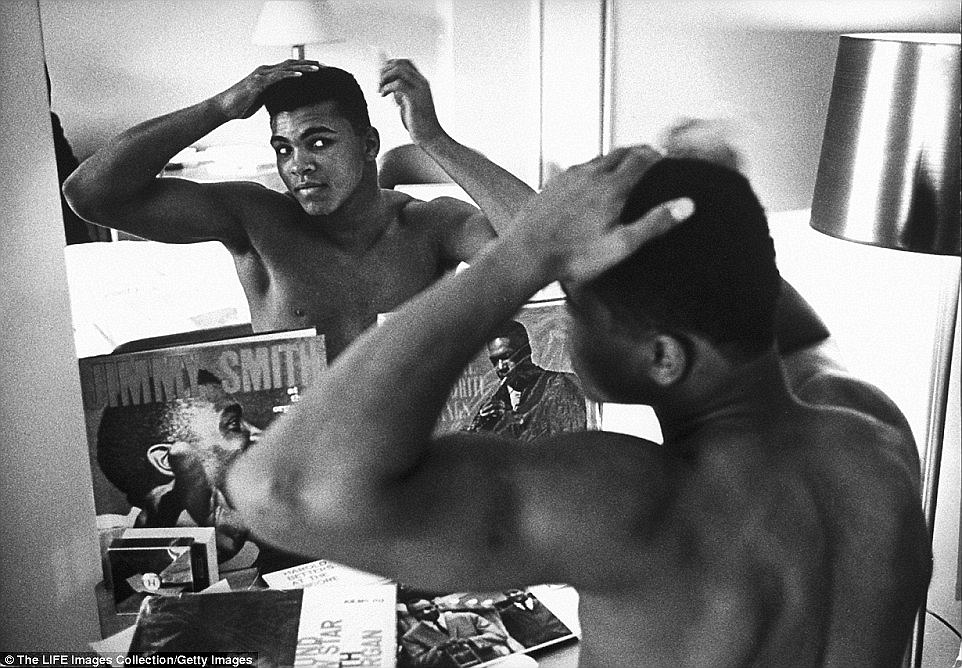 Ali admiring himself in the mirror.

After turning professional, Clay won six fights in six months. Then in 1961, on a Las Vegas radio show to promote his seventh contest, he met the wrestler "Gorgeous" George Wagner, whose promotional skills got audiences excited. As Ali later told his biographer Thomas Hauser: "[George] started shouting: 'If this bum beats me I'll crawl across the ring and cut off my hair, but it's not gonna happen because I'm the greatest fighter in the world.' And all the time, I was saying to myself: 'Man. I want to see this fight' And the whole place was sold out when Gorgeous George wrestled … including me … and that's when I decided if I talked more, there was no telling how much people would pay to see me." Ali, who was also rather gorgeous, became his own promoter:

I've wrestled with alligators.
I've tussled with a whale.
I done handcuffed lightning.
And throwd thunder in jail.
—Muhammad Ali

Those are strong, memorable lines that many modern rappers and performance poets would be very happy with. Clay definitely had a way with words and wasn't shy about using them to increase ticket sales and his earnings. White America had never seen anyone like this cocksure young black man who confidently announced that he was fast, handsome, pretty, dangerous and far too good to be beaten. What Elvis Presley was to popular music, Cassius Clay was to boxing, except that Elvis only sounded black, while Clay was black!

In 1961, Clay explained to reporters how he was different from other boxers: "Cassius Clay is a boxer who can throw the jive better than anybody." He began "calling" the rounds in which he would knock out his opponents, then bragged about his prophetic powers in this 1962 poem:

Everyone knew when I stepped in town,
I was the greatest fighter around.
A lot of people called me a clown,
But I am the one who called the round.
The people came to see a great fight,
But all I did was put out the light.
Never put your money against Cassius Clay,
For you will never have a lucky day.
—Muhammad Ali

Clay took bragging to new, extreme heights (or depths, depending on one's perspective): "I'm not the greatest. I'm the double greatest. Not only do I knock 'em out, I pick the round. I'm the boldest, the prettiest, the most superior, most scientific, most skillfullest fighter in the ring today." When his detractors accused him of arrogance, he had the perfect response:

It ain't bragging if you can back it up.
—Muhammad Ali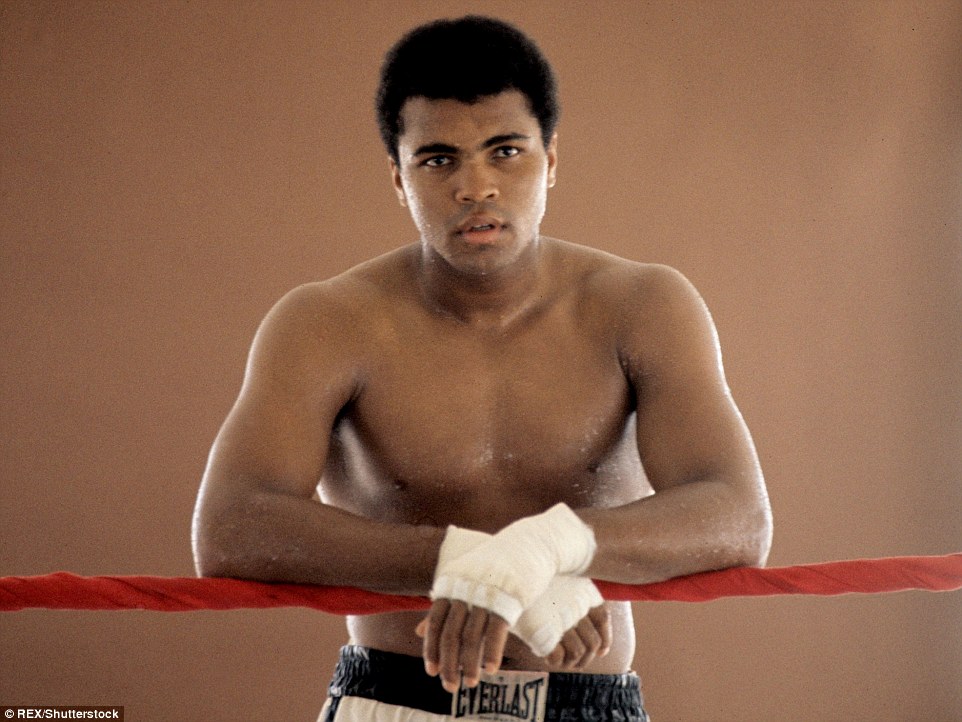 Muhammad Ali in his prime in 1970, waiting for a chance to reclaim his heavyweight title.

In 1964, at age 22, Cassius Clay prepared to meet world heavyweight champion Sonny Liston in a title match. Liston was a 7-1 favorite. Clay was a brash underdog trying to make a name for himself. It was at this time that he produced his most famous rhyme:

Float like a butterfly, sting like a bee.
His hands can't hit what his eyes can't see.
—Muhammad Ali

Clay also had a nice touch with light verse, or rhyming humor:

Now Clay swings with a right, what a beautiful swing!
And the punch raises the Bear clear out of the ring.
Liston is still rising, and the ref wears a frown,
For he can't start counting 'til Sonny comes down.
Now Liston disappears from view.
The crowd is getting frantic,
But our radar stations have picked him up.
He's somewhere over the Atlantic.
Who would have thought when they came to the fight
That they'd witness the launching of a human satellite?
Yes, the crowd did not dream when they lay down their money
That they would see a total eclipse of the Sonny.
I am the greatest!
—Muhammad Ali

Clay won the world heavyweight championship in a major upset, then crowed about it with a line that would be echoed by Leonardo DiCaprio in the movie Titanic:

Eat your words!
I shook up the world!
I'm king of the world!
—Muhammad Ali

Shortly thereafter, the ever-bold Clay converted to Islam, changed his "slave" name to Muhammad Ali, and chose the twin path of pride in his race and resistance to white domination and injustices. He explained his name change in no uncertain terms: "Cassius Clay is a slave name. I didn't choose it and I don't want it. I am Muhammad Ali, a free name. It means "beloved of God," and I insist people use it when people speak to me and of me." When boxer Ernie Terrell refused to refer to him by his new name in a 1967 match, Ali beat him unmercifully, screaming "What's my name?"

I think Terrell
will catch hell
at the sound of the bell ...
Now I'm not sayin' this just to be funny,
but I'm fightin' Ernie because he needs the money.
—Muhammad Ali

Ali's first major a

ct of defiance

would be refusing to fight in Vietnam:

They ain't done me no wrong
So I ain't got no fight
With them Vietcong!
—Muhammad Ali

In 1966, two years after winning the heavyweight title, Ali further antagonized the white establishment by refusing to be conscripted into the U.S. military, citing his religious beliefs and opposition to American involvement in the Vietnam War. He was eventually arrested, found guilty of draft evasion and stripped of his boxing titles. But he remained unbowed: "I am America. I am the part you won't recognize. But get used to me. Black, confident, cocky, my name not yours. My religion, not yours; my goals, my own; get used to me."

Ali successfully appealed in the U.S. Supreme Court, which overturned his conviction in 1971. By that time, he had not fought for nearly four years. His actions as a conscientious objector made Ali an icon of the counterculture generation.

Ali remains the only three-time world heavyweight champion; he won the title in 1964, 1974, and 1978. Nicknamed the "Louisville Lip" and "The Greatest" (the latter a title he gave himself), he was involved in several historic boxing matches: the two Liston fights, three with his arch-rival Joe Frazier including the "Thrilla in Manilla," and the famous "Rumble in the Jungle" in which he used his "rope-a-dope" technique to defeat the heavily favored George Foreman and regain his titles after seven long, frustrating years.

It will be a killer
And a chiller
And a thrilla
When I get the gorilla
In Manila!
—Muhammad Ali

You think the world was shocked when Nixon resigned?
Wait 'til I whup George Foreman's behind.
Float like a butterfly, sting like a bee.
His hand can't hit what his eyes can't see.
Now you see me, now you don't.
George thinks he will, but I know he won't.
I done wrassled with an alligator,
I done tussled with a whale.
Only last week I murdered a rock, injured a stone, hospitalized a brick.
I'm so mean, I make medicine sick.
—Muhammad Ali

John Lennon claimed that the Beatles were more popular than Jesus. Ali said something similar about himself: "I'm the most recognized and loved man that ever lived cuz there weren't no satellites when Jesus and Moses were around, so people far away in the villages didn't know about them."

Time took its toll and Ali retired from boxing in 1981, no longer the king of the ring, but still the king of millions of hearts. Ali was the greatest boxer of his era, if not of all time. He was, by far, boxing's greatest showman and its greatest star. And he was a worldwide voice for equality for people with darker skin. Ali proclaimed himself "The Greatest" at a time when African Americans were expected to ride at the back of the bus meekly and submissively. But Ali did not submit meekly or submissively to anyone. When he was accused of arrogance, he pointed out that "It ain't braggin' if you can back it up." And he did so, splendidly, with charisma, class and a rather brash but engaging charm.

"I shook up the world.
Me!
Whee!
—Muhammad Ali

Of course good health and good times never last forever. The poundings Ali took in the ring, in large part due to his iron chin and ability to absorb punishment, eventually caught up with him ...

Better... in the clutch of some disease,
Wastin' slowly by degrees,
Better than of heart attack...
Let me die by being black.
—Muhammad Ali, from "Freedom"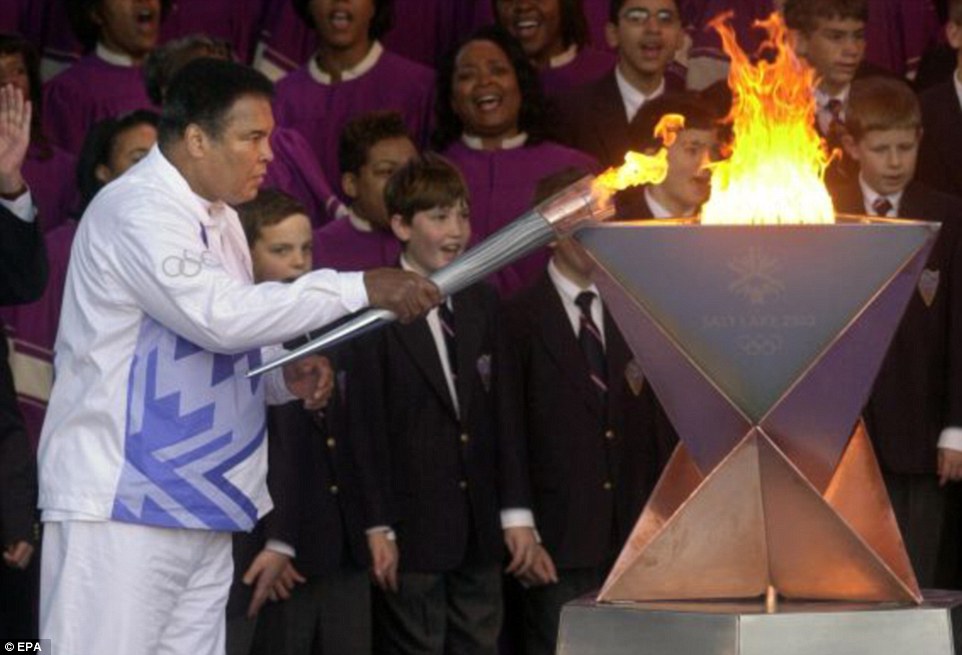 Muhammad Ali lights the Olympic flame at the 1996 Atlanta games.

Muhammad Ali, the self-proclaimed greatest boxer of all time, died on June 3, 2016 after the hardest battle of his life, with Parkinson's disease. Many of us who may have been doubters at one time are now happy to agree with his assessment of himself. For accomplishments in the ring, there may be a few worthy contenders like Rocky Marciano, Joe Louis and Sugar Ray Robinson. But no star ever shone brighter than Ali's, inside the ring and out. No other boxer helped to change his sport and the larger world the way Ali did when he changed his name, refused to serve in what he saw as an unjust war that was none of his business, and stood up to the white establishment. In baseball there was only one Babe Ruth, the Sultan of Swat. In hockey there was only one Wayne Gretzky, the Great One. In soccer there was only one Pele. In rock'n'roll there was only one Elvis Presley, the King. And in boxing there was only one Muhammad Ali, The Greatest. If I was asked to name the greatest sports figure of all time, I would have to tip my cap to Ali and admit that he really was the greatest. Second place is not even close, if we consider Ali's uniqueness as a transformational and transcendent world figure and his ambassadorship.

Note: After I wrote the introduction above, I went for a walk. It was a sunny day, but as I walked I felt a shadow and looked up to see a majestic bald eagle flying immediately overhead. The bald eagle is, of course, a symbol of the United States, and I thought of Ali's influence. Was it a synchronicity, or just a coincidence? I will take it as the former, and salute a great spirit wherever he may be bound. I was reminded of the epitaph Jeff Powell said that Ali chose for himself in their last meeting:

Float like a butterfly
Sting like a bee
If you wanna fly high
Remember me!
—Muhammad Ali

For Ali, Fighting Time
by Michael R. Burch

So now your speech is not as clear . . .
time took its toll each telling year . . .
and O how tragic that your art,
so brutal, broke your savage heart.

But we who cheered each blow that fell
within that ring of torrent hell
never dreamed to see you maimed,
bowed and bloodied, listless, tamed.

For you were not as other men
as we cheered and cursed you then;
no, you commanded dreams and time—
blackgold Adonis, bold, sublime.

And once your glory leapt like fire—
pure and potent. No desire
ever burned as fierce or bright.
Oh Ali, Ali . . . win this fight!

Muhammad Ali Quotes and Epigrams

Ability

Float like a butterfly, sting like a bee.
Man, I'm so fast that when I switch off the light by the door I'm in bed before the room goes dark.
I'm so fast that last night I turned off the light switch in my hotel room and was in bed before the room was dark.
The fight is won or lost far away from witnesses—behind the lines, in the gym, and out there on the road, long before I dance under those lights.

Confidence

A rooster crows only when it sees the light. Put him in the dark and he'll never crow. I have seen the light and I'm crowing.
It's not bragging if you can back it up.
Braggin' is when a person says something and can't do it. I do what I say.
It's hard to be humble when you're as great as I am.
Superman don't need no seat belt.
It's lack of faith that makes people afraid of meeting challenges, and I believed in myself.
I'm young; I'm handsome; I'm fast. I can't possibly be beat.
When you can whip any man in the world, you never know peace.
At home I am a nice guy: but I don't want the world to know. Humble people, I've found, don't get very far.
I'm so mean, I make medicine sick.
I should be a postage stamp. That's the only way I'll ever get licked.
I am the astronaut of boxing. Joe Louis and Dempsey were just jet pilots. I'm in a world of my own.
I never said I was the smartest. I said I was the greatest!

Rhyming Humor

If you like to lose your money, be a fool and bet on Sonny.
Ali fights great, he has speed and endurance. If you decide to fight him, increase your insurance.
I am the man all over the land, And if you don't believe it, just interfere with my plan.

Chiasmus

Don't count the days; make the days count.
There are no pleasures in a fight but some of my fights have been a pleasure to win.
Wars of nations are fought to change maps. But wars of poverty are fought to map change.

Faith

I believe in the religion of Islam. I believe in Allah and peace.
I wish people would love everybody else the way they love me. It would be a better world.
Why is Jesus white ... what happened to all the black angels?
It's the repetition of affirmations that leads to belief. And once that belief becomes a deep conviction, things begin to happen.
Service to others is the rent you pay for your room here on earth.
If my mind can conceive it, and my heart can believe it—then I can achieve it.

Race, Tolerance and Social Justice

Hating people because of their color is wrong. And it doesn't matter which color does the hating. It's just plain wrong.
I know I got it made while the masses of black people are catchin' hell, but as long as they ain't free, I ain't free.

Vision and Imagination

The man who has no imagination has no wings.
A man who views the world the same at fifty as he did at twenty has wasted thirty years of his life.
I know where I'm going and I know the truth, and I don't have to be what you want me to be. I'm free to be what I want.

Other

If they can make penicillin out of moldy bread, they can sure make something out of you.
It isn't the mountains ahead that wear you out; it's the pebble in your shoe.
My toughest fight was with my first wife.
My way of joking is to tell the truth. That's the funniest joke in the world. No one knows what to say in the loser's locker room.
Silence is golden when you can't think of a good answer.

Ranking Ali

My Top Ten Boxers of All Time: Benny Leonard (#10), Jack Dempsey (#9), Julio Cesar Chavez Sr. (#8), Roberto Duran (#7), Floyd Mayweather Jr. (#6), Joe Louis (#5), Sugar Ray Leonard (#4), Rocky Marciano (#3), Sugar Ray Robinson (#2), Muhammad Ali (#1)

Honorable Mention: Henry Armstrong, Ezzard Charles, Joe Gans, George Foreman, Joe Frazier, Harry Greb, Marvin Hagler, Thomas Hearns, Larry Holmes, Jack Johnson, Roy Jones Jr., Sam Langford, Lennox Lewis, Floyd Patterson, Willie Pep, Gene Tunney, Mike Tyson, Pernell Whitaker

According to thetoptens.com, Ali was the number one boxer of all time.
According to Ranker, Ali was the number one boxer of all time.
According to Jeff Powell, writing for the Daily Mail, Ali was the greatest boxer of all time.
According to The Sportster, Ali was the greatest boxer of all time.
According to Box Rec, Ali was the greatest heavyweight of all time.
According to The Telegraph, Ali was the greatest heavyweight of all time.
According to Sporteology, Ali was number two behind Joe Louis.
According to Sports Muntra, Ali was number two behind Sugar Ray Robinson.
According to Ring Magazine, Ali was number three behind Sugar Ray Robinson and Henry Armstrong.
According to ESPN's ratings of the greatest boxers of all time, Ali was number two behind Sugar Ray Robinson.
But Louis, Robinson and Armstrong did not have Ali's star power or impact outside the ring. Here is ESPN's capsule summary of Ali's career ...

Muhammad Ali
Heavyweight
Ring career: 1960-81 Record: 56-5 (37 KOs)
Career notes: First to win heavyweight championship of the world three times. … Was banned from the ring for three years for refusing induction into the armed forces during the Vietnam War. … After ban was lifted, lost to Joe Frazier in "Fight of the Century" in 1971, but stunned George Foreman to regain belt in 1974. … Lost title to, and regained it from, Leon Spinks in 1978. … Three of defeats came in last four bouts, including two in an ill-advised emergence from retirement, against Larry Holmes and Trevor Berbick, at 38. … Transcended the sport unlike any other boxer. … Reinvented the way heavyweights were supposed to fight, deploying a speed and athleticism that was previously unheard of; also alternately bedazzled and appalled America and the world with charisma, showmanship and braggadocio. … Viewed progressively over the years as loudmouth, villain, hero and finally a figure of pathos. … Remains for many the definition of a champion.

Was Muhammad Ali the ultimate GOAT (Greatest Of All Time)? Here is one man's ranking of the greatest athletes of all time considering their accomplishments on and off the field, their charisma, their ambassadorship, and their impact of their sport and the larger world: (#50) Gordie Howe, Arnold Palmer and Roberto Clemente, (#49) Rocky Marciano and Teofilo Stevenson, (#48) Alexander Karelin, Dan Gable, Cael Sanderson [wrestling] and Bruce Lee [martial arts], (#47) Tony Hawk [skateboarding] and Jean-Claude Killy [sking], (#46) Martina Navratilova and Rod Laver, (#45) Mia Hamm and Marta Vieira da Silva, (#44) Harold Worst, Willie Mosconi and Efren Reyes [billiards], (#43) Joe Montana, Jerry Rice, Red Grange, Don Hutson, Gale Sayers, Lawrence Taylor, Reggie White and Dick Butkus, (#42) Julius Erving, Kobe Bryant, LeBron James and Cheryl Miller, (#41) Jackie Joyner-Kersee, (#40) Steffi Graf and Andre Agassi, (#39) Pete Rose and Ty Cobb, (#38) Jerry West and Oscar Robertson, (#37) Willie Mays, Hank Aaron, Mickey Mantle, Lou Gehrig, Stan Musial, Rogers Hornsby, Walter Johnson, Sandy Koufax, Bob Gibson, Satchel Paige, Josh Gibson, Joe DiMaggio and Ted Williams, (#36) Paul Brady [handball], (#35) Wilma Rudolph and Althea Gibson, (#34) Bruce Jenner aka Caitlyn Jenner, (#33) Larry Bird and Magic Johnson, (#32) Daley Thompson and Eric Heiden, (#31) Nancy Lopez, (#30) Floyd Mayweather Jr. and Sugar Ray Robinson, (#29) Carl Lewis and Deion Sanders, (#28) Rafael Nadal, (#27) Michael Johnson, (#26) Mario Andretti, Richard Petty and Michael Schumaker, (#25) Bobby Orr, (#24) Joe Louis, (#23) Sachin Ramesh Tendulkar [cricket], (#22) Roger Federer (#21), Diego Maradonna, (#20) Lance Armstrong, (#19) Margaret Court and Serena Williams, (#18) Peyton Manning and Tom Brady, (#17) Tiger Woods, (#16) Usain Bolt, Michael Phelps and Mark Spitz, (#15) John McEnroe and Jimmy Connors, (#14) Jessie Owens, (#13) Lionel Messi, (#12) Billie Jean King and Chris Evert, (#11) Jim Brown and Wilt Chamberlain, (#10) Jim Thorpe and Paavo Nurmi [distance runner], (#9) Nadia Comăneci and Greg Louganis, (#8) Jackie Robinson, (#7) Jack Nicklaus, (#6) Bo Jackson and Babe Didrikson Zaharias, (#5) Michael Jordan, (#4) Wayne Gretzky, (#3) Babe Ruth, (#2) Pelé, (#1) Muhammad Ali

Of course the list above is very subjective. How can t

hree

of the greatest athletes and ambassadors of their sports be ranked 50th? All I can say is that appearing anywhere on this list means the athlete was an immortal. I will close with a comment by Roberto Clemente, who was not as brash as Muhammad Ali, but was still supremely confident in his abilities. When someone asked Clemente how he compared himself to more famous figures like Willie Mays, Clemente replied "For me, I am the best." Clemente joined baseball's exclusive 3,000 hit club in his last at-bat, then died trying to deliver aid to earthquake victims in Nicaragua. He was a great hitter and a great defender with a cannon-like arm. Why quibble over such greatness? Mickey Mantle once poked fun at Pete Rose for hitting so many singles, but Rose ended up with 1,241 more total bases than the legendary slugger. We should give all these great athletes their due, but in my opinion there was never a great athlete who had more impact on his sport and the larger world than Muhammad Ali, so he gets my vote as the Greatest Of All Time.

Where would Ali rank in a list of the greatest figures of all time (not including religious figures)? Here again is one man's list: Gates, Buffett, Carnegie, Cornelius Vanderbilt and John D. Rockefeller (#50), Pelé, Gretzky and Babe Ruth (#49), Bob Dylan (#48), Disney, Spielberg, Lucas, Hitchcock and Chaplin (#47), Dante, Cervantes, Chaucer, Dickens, Tolstoy, Verne and Tolkien (#46), Whitney, Watt, Fulton, Alexander Graham Bell and the Wright brothers (#45), Bruno, Bohr and Hawking (#44), Henry Ford (#43), Jane Austen (#42), Kepler (#41), Mendel, Watson and Crick (#40), Muhammad Ali (#39), Gutenberg (#38), Descartes, Pascal and Marx (#37), Beatles (#36), Paine (#35), Nelson Mandela (#34), Florence Nightingale and Mother Teresa (#33), Churchill, Roosevelt and Ataturk (#32), Elvis Presley, Little Richard, Michael Jackson, Prince, Madonna and Marilyn Monroe (#31), Marco Polo, Columbus, Magellan, Byrd, Cook, Perry, Hillary, Gagarin and Neil Armstrong (#30), William Blake (#29), Whitman and Dickinson (#28), Lincoln (#27), Goethe (#26), Twain (#25), Joan of Arc (#24), Hippocrates, Fleming, Pasteur and Salk (#23), Alexander the Great, Julius Caesar, Genghis Khan, William the Conqueror, Charlemagne, Saladin and Napoleon (#22), Homer and Sappho (#21), Da Vinci, Van Gogh, Rembrandt and Picasso (#20), Tesla, Turing, Euclid, Archimedes and Pythagoras (#19), Mozart, Beethoven and Bach (#18), Michelangelo (#17), Shakespeare (#16), Confucius (#15), Aristotle (#14), Plato (#13), Socrates (#12), Darwin (#11), Jefferson, F

ranklin and

Washington (#10), Marie Curie (#9), Dr. Martin Luther King Jr. (#8), Darwin and Freud (#7), Voltaire and Rousseau (#6), Copernicus and Galileo (#5), Newton (#4), Edison (#3), Gandhi (#2), Einstein (#1)

Closing Words of Advice

Live everyday as if it were your last because someday you're going to be right.
—Muhammad Ali

Related Pages: Marilyn Monroe Poems, Muhammad Ali Poems, Albert Einstein Poems Abraham Lincoln Poems, Mark Twain Poems, Nelson Mandela Poems, Pope Francis Poems, Ronald Reagan Poems

The HyperTexts