The HyperTexts

The Best Donald Trump Jokes, Puns, Tweets, Quotations, Insults, Campaign Promises, Coinages, Nicknames, Hashtags, Memes, Limericks and Poems

Here are the best Donald Trump jokes by comics and comedians like Samantha Bee, Lewis Black, Andy Borowitz, Albert Brooks, Louis C. K., George Carlin, Johnny Carson, Michael Che, Stephen Colbert, James Corden, Whitney Cummings, Jimmy Fallon, Craig Ferguson, Will Ferrell, Gilbert Godfried, Andy Hamilton, Larry King, Lisa Lampanelli, Jay Leno, David Letterman, Seth MacFarlane, Bill Maher, Seth Meyers, Trevor Noah, Conan O'Brien, John Oliver, Joan Rivers, Chris Rock, Jeffrey Ross, Jerry Seinfeld, Sarah Silverman, Jon Stewart, Cecily Strong and Larry Wilmore. We also have quotes and quips by Glenn Beck, Joe Biden, Cher, Hillary Clinton, Stanley Cohen, Mark Cuban, Snoop Dogg, Van Jones, Garrison Keillor, Bette Midler, Rachel Maddow, Barack Obama, Sean Penn, Dan Rather, Marco Rubio, Mitt Romney, Bernie Shine, Jerry Springer, Howard Stern and other politicians and celebrities. Plus we have a number of "top ten" lists of puns, poems, limericks, tweets, memes, quotations, insults, nicknames, hashtags, campaign slogans, etc.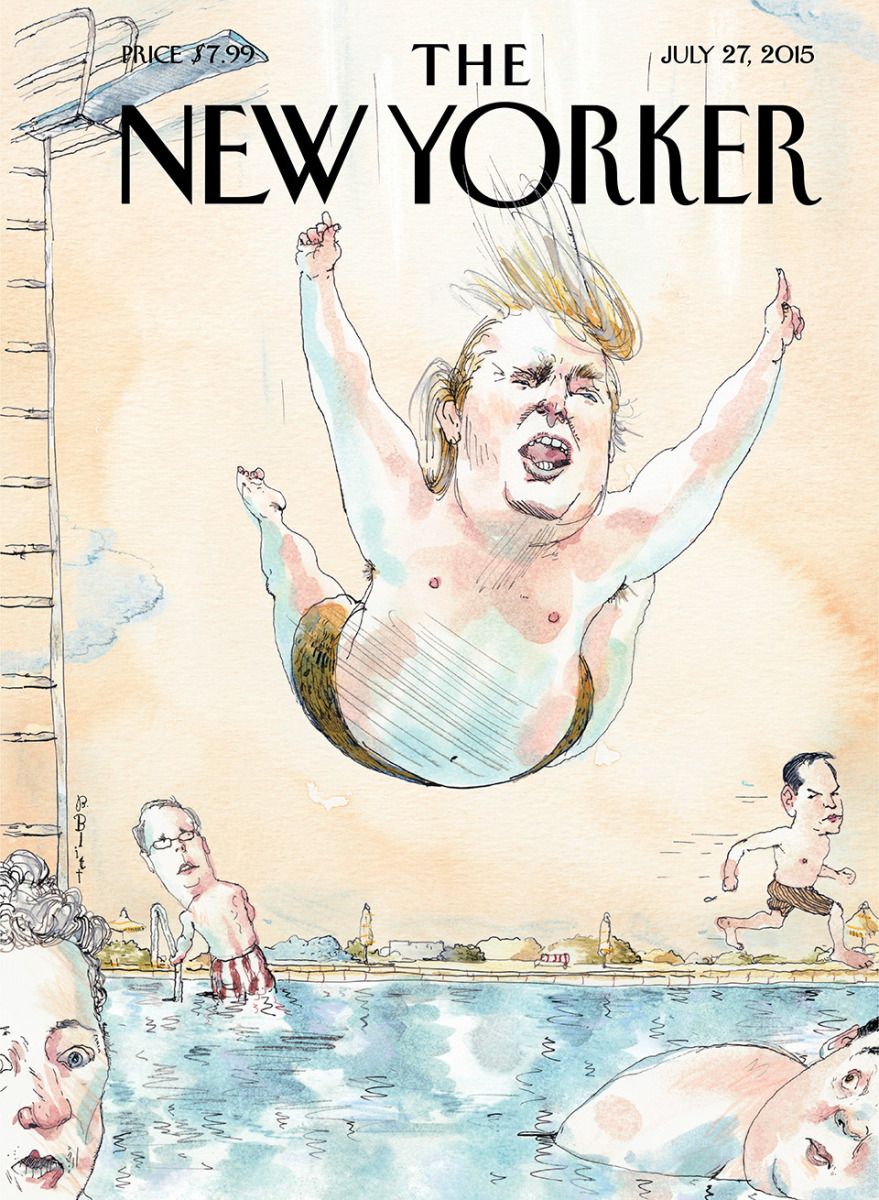 Cannonball! Donald "Trump of Doom" enters the American political waters, causing a mass Exodus ... but can he really walk on water as his fervent and fervid disciples believe?

Related pages: Donald Trump Puns, Donald Trump Insults, Donald Trump Limericks, Donald Trump Nicknames, The Donald Trump Bible, Where Have All the Birthers Gone?, Trump Trivia, Donald Trump: 666 Mark of the Beast, The Best Donald Trump Jokes Part 2, Donald Trump in his Own Words: Fact-Checking Trump, Donald Trump Funny Campaign Slogans and Parodies, The Best and Worst Tweets Ever, Donald Trump Tweets, Donald Trump Nicknames for his Cabinet, Family, Friends, Associates and Supporters

Top Ten Donald Trump Jokes

Donald Trump is giving narcissism a bad name.―Madeline Begun Kane aka Mad Kane
There are schizophrenics with Tourette's who have more control over what comes out of their mouths than Donald Trump.―Bill Maher
Donald Trump is "the kind of person who goes to the Super Bowl and thinks the people in the huddle are talking about him."―Eric Schneiderman
Donald Trump likes to say he's a friend to "the blacks." Unless the Blacks are a family of white people, I'm guessing he's mistaken.―Seth Meyers
This is what I've been waiting for my whole life. A President who's not afraid to tell the truth about being a lying a$$hole!―Lewis Black
In an exclusive interview with the Christian Broadcasting Network, Donald Trump said, "I believe in God." But of course The Donald was talking about HIMSELF.―Jay Leno
Maybe he should ease into this ... by running for a lower office first, like President of the Hair Club for Men.―Jimmy Kimmel
Here's the thing about Donald Trump: he never apologizes; he's never wrong no matter what crazy thing he says. He's the white Kanye.―Bill Maher
Donald Trump showed his birth certificate to reporters. Who cares about his birth certificate? I want to know if that thing on his head has had its vaccinations.―Craig Ferguson
Donald Trump may be running for president. He said he's sick and tired of the rest of the world laughing at the United States. Well, President Trump will certainly put an end to that!―David Letterman

And, indeed, Mr. Letterman, he already has! No one is laughing about Trump now, except the jackals and hyenas lining up to feast on the corpses he leaves in his wake.