The HyperTexts

The Best Books of All Time

Which are the best books ever written, whether poetry, literature, novels, novellas, short stories, verse novels, plays, musicals, drama, mysteries, fantasy, mythology, fairy tales, alternate worlds, fables, folklore, legends, tall tales, ghost stories, horror, supernatural, fiction, nonfiction, potboilers, humor, satire, history, historical fiction, realistic fiction, alternate reality, surrealist, nonsense, philosophy, science, science fiction, essays, memoirs, biography, autobiography, sports, children, young adults, etc.?

These are the best books of all time, in one person's opinion, for whatever that's worth. I have listed my favorite books in each category, starting with my number one book of all time.

A thing of beauty is a joy forever.
Its loveliness increases; it will never
pass into nothingness ...
―John Keats

compiled by Michael R. Burch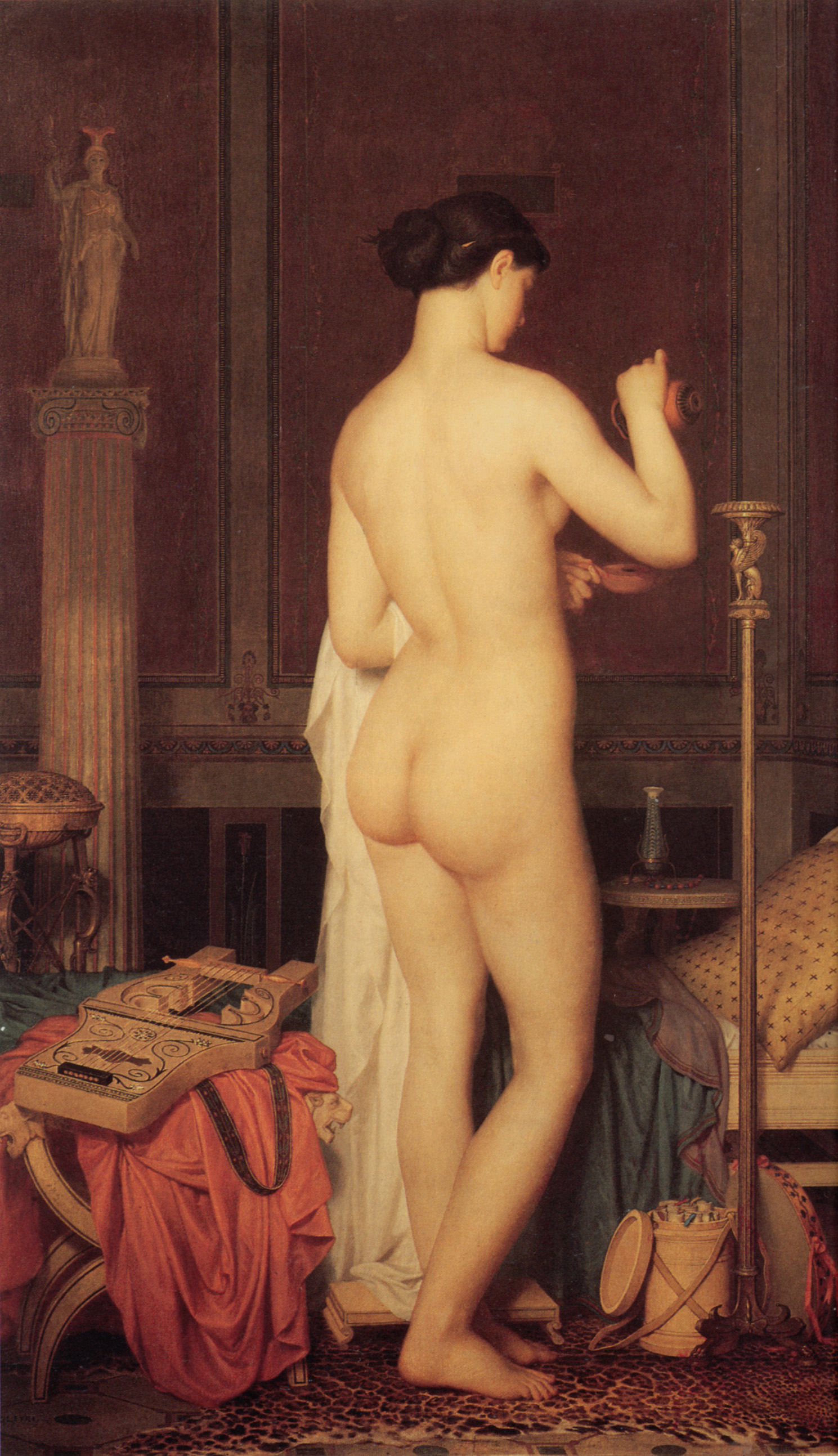 Gleyre Le Coucher de Sappho by Marc-Charles-Gabriel Gleyre

Before I begin, in a time-honored tradition, I wil

l

first invoke the Muse. Sappho of Lesbos was called the Tenth Muse (the other nine were goddesses). Sappho was so revered for her erotic love poetry that we get our terms "sapphic" and "lesbian" from her name and island of residence. Our term "lyric" derives from the lyre she strummed as she sang or chanted her compositions. Millennia later, Sappho remains a timeless treasure, and the mother of all lyric poets and songwriters ...

Sappho, fragment 42
translation by Michael R. Burch

Eros harrows my heart:
wild winds wh

ipping

desolate mountains
uprooting oaks.

Now, without further ado, here are my choices for the best books of all time, listed by category, starting with my landslide winner ...

(#1) The Norton Anthology of Poetry. This is my favorite book of all time. It's the one I would choose if I could take only one book to a deserted island. Why? The Norton Anthology of Poetry allows us to read the best writing in the English language for a fraction of a penny per poem. In my opinion there is no greater bargain on the planet. My copy is literally falling apart because I've read it so many times over the years.

Other outstanding poetry anthologies include The Classic Hundred Poems (edited by William Harmon), The Western Canon (edited by Harold Bloom), The Best Poems of the English Language (edited by Harold Bloom), The Oxford Book of English Verse (edited by Christopher Ricks), and The Norton Anthology of Modern Poetry (edited by Richard Ellman).

My top ten lyric poets: William Blake, Louise Bogan, Hart Crane, T. S. Eliot, Robert Frost, A. E. Housman, Wilfred Owen, Wallace Stevens, Dylan Thomas, William Butler Yeats

(#2) My best novels of all time include:

Don Quixote by Miguel de Cervantes (the first modern novel i

s

still one of the very best)
The Hobbit and the Lord of the Rings trilogy by J. R. R. Tolkien
Tom Sawyer and Huckleberry Finn by Mark Twain
Wuthering Heights by Emily Bronte
Jane Eyre by Charlotte Bronte
A Tale of Two Cities and Bleak House by Charles Dickens
East of Eden and The Grapes of Wrath by John Steinbeck
To Kill a Mockingbird by Harper Lee
Moby Dick by Herman Melville
Anthem and We the Living by Ayn Rand
Mysterious Island by Jules Verne (one of the first science fiction novels remains one of the very best)
Catch-22 by Joseph Heller
Ragtime and Billy Bathgate by E. L. Doctorow
Sophie's Choice by William Styron
Invisible Man by Ralph Ellison
Lolita and Pale Fire by Vladimir Nabokov
As I Lay Dying and The Sound and the Fury by William Faulkner
Anna Karenina and War and Peace by Leo Tolstoy
1984 by George Orwell
The Catcher in the Rye by J. D. Salinger
The Pillars of the Earth by Ken Follett
A Portrait of the Artist as a Young Man and Ulysses by James Joyce
For Whom the Bell Tolls and A Farewell to Arms by Ernest Hemingway
The Great Gatsby and Tender is the Night by F. Scott Fitzgerald
The Odyssey and the Iliad by Homer
Frankenstein by Mary Shelley
Dracula by Bram Stoker

NOTE: While the last two novels above have inspired any number of mediocre movies, the original books qualify as superbly written, highly entertaining literature and are well worth reading. Not to mention being better than all the movies!

My top ten novelists: Charles Dickens, E. L. Doctorow, William Faulkner, Victor Hugo, Vladimir Nabokov, Ayn Rand, John Steinbeck, J. R. R. Tolkien, Leo Tolstoy, Mark Twain

Honorable Mention: Great Expectations by Charles Dickens, Ivanhoe by Sir Walter Scott, Pride and Prejudice by Jane Austen, Silas Marner by George Eliot, The Last Picture Show by Larry McMurtry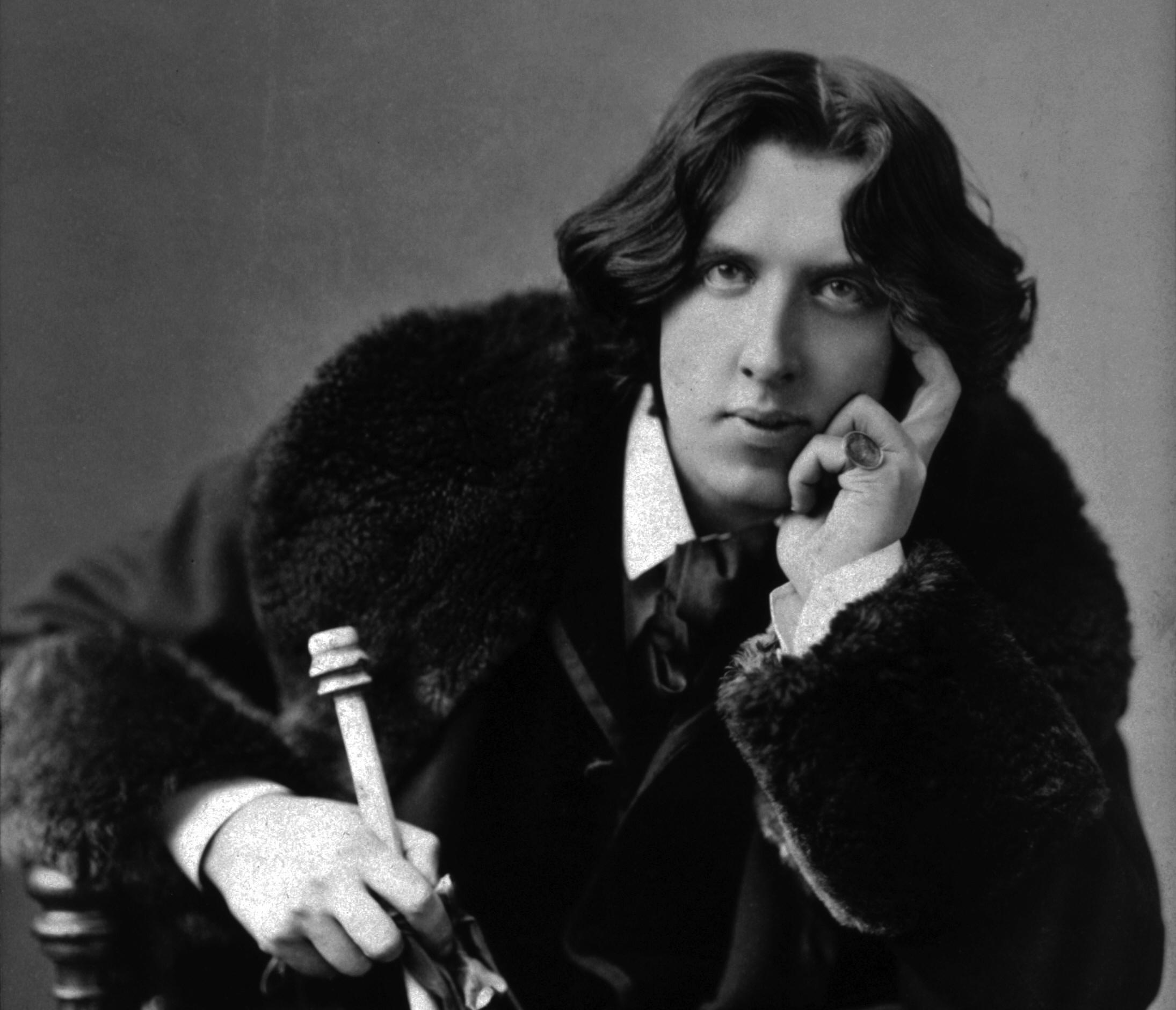 (#2) The Picture of Dorian Gray by Oscar Wilde is my favorite novella, or short novel. Wilde was also a talented playwright, best known today for The Importance of Being Earnest and An Ideal Husband. He may also have been the English language's best epigrammatist. If not, he was certainly one of the wittiest. Wilde was also a talented poet capable of creating timeless art. I especially love the poem he wrote as an elegy for his beloved sister Isola, who died suddenly and unexpectedly at age ten ...

Requiescat
by Oscar Wilde

Tread lightly, she is near
Under the snow,
Speak gently, she can hear
The daisies grow.

All her bright golden hair
Tarnished with rust,
She that was young and fair
Fallen to dust.

Lily-like, white as snow,
She hardly knew
She was a woman, so
Sweetly she grew.

Coffin-board, heavy stone,
Lie on her breast,
I vex my heart alone,
She is at rest.

Peace, Peace, she cannot hear
Lyre or sonnet,
All my life's buried here,
Heap earth upon it.

Other novellas and short stories that rank high on my list include The Stranger by Albert Camus, Candide by Voltaire, Anthem and We the Living by Ayn Rand, The Death of Ivan Ilyich by Leo Tolstoy, The Old Man and the Sea by Ernest Hemingway, Dubliners by James Joyce (esp. "The Dead"), Heart of Darkness by Joseph Conrad, Lord of the Flies by William Golding, A Christmas Carol by Charles Dickens, Animal Farm by George Orwell, The Metamorphosis by Franz Kafka, Flowers for Algernon by Daniel Keyes, Siddhartha by Herman Hesse, The Tell-Tale Heart and The Masque of the Red Death by Edgar Allan Poe, The Call of the Wild by Jack London, Rikki-Tikki-Tavi by Rudyard Kipling, and The Great Gatsby by F. Scott Fitzgerald.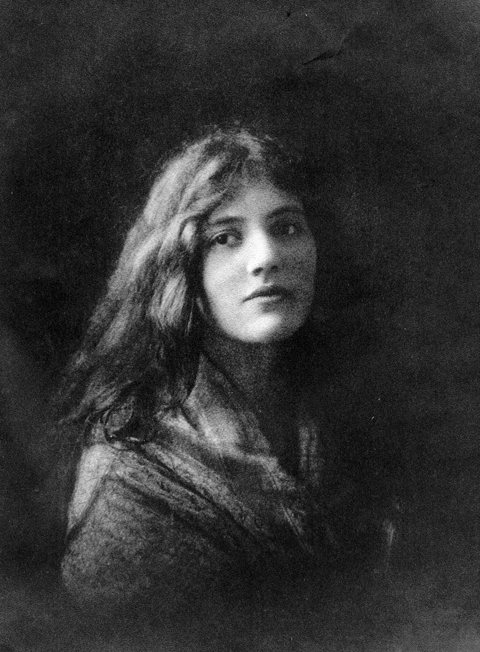 (#3) The Collected Poems of W. B. Yeats. This is my first choice for a collection of poems by a single author.

William Butler Yeats was the most famous Irish poet of all time, and his poems of unrequited love for the beautiful and dangerous revolutionary Maud Gonne (pictured above) are among the best in the English language. The poem below is a loose translation of a Ronsard poem, in which Yeats imagines the love of his life in her later years, tending a fire.

When You Are Old
by William Butler Yeats

When you are old and grey and full of sleep,
And nodding by the fire, take down this book,
And slowly read, and dream of the soft look
Your eyes had once, and of their shadows deep;

How many loved your moments of glad grace,
And loved your beauty with love false or true,
But one man loved the pilgrim soul in you,
And loved the sorrows of your changing face;

And bending down beside the glowing bars,
Murmur, a little sadly, how Love fled
And paced upon the mountains overhead
And hid his face amid a crowd of stars.

Other poetry collections that I rank among the very best include The Poetry of Robert Frost, The Blue Estuaries by Louise Bogan, Seamus Heaney Selected Poems 1966-1987, [John] Keats's Poetry and Prose, Sir Thomas Wyatt: The Complete Poems, E. E. Cummings Selected Poems, The Selected Poems of William Blake, The Poems of Dylan Thomas, The Collected Poems of Hart Crane, Selected Poems of Rainer Maria Rilke and Percy Bysshe Shelley: The Major Works.

(#4) Frankenstein by Mary Wollstonecraft Shelley is my favorite gothic novel, my favorite psychological thriller, and one of my favorite science fiction novels—an interesting combination! (I have a theory that the relationship between the monster and his creator was based on the dark and stormy relationship between Lord Byron and his creator, the bible's Jehovah. Percy Bysshe Shelley and Mary Wollstonecraft Shelley may have been the most notorious married couple of their era. He was a dashing romantic poet and heretic who wrote a tract, "The Necessity of Atheism," that got him expelled from Oxford. She was the daughter of one of the earliest feminist writers of note, Mary Wollstonecraft, and the liberal philosopher William Godwin. The Shelleys spent the summer of 1816 with Lord Byron. It was at this time that Mary conceived the story that became her novel Frankenstein. Six years later, her husband drowned at sea at age thirty. Who knows what he would have accomplished if he had lived longer, but he is still considered to be one of the greatest English poets. Here is one especially lovely example of his wonderful touch with rhythm and rhyme ...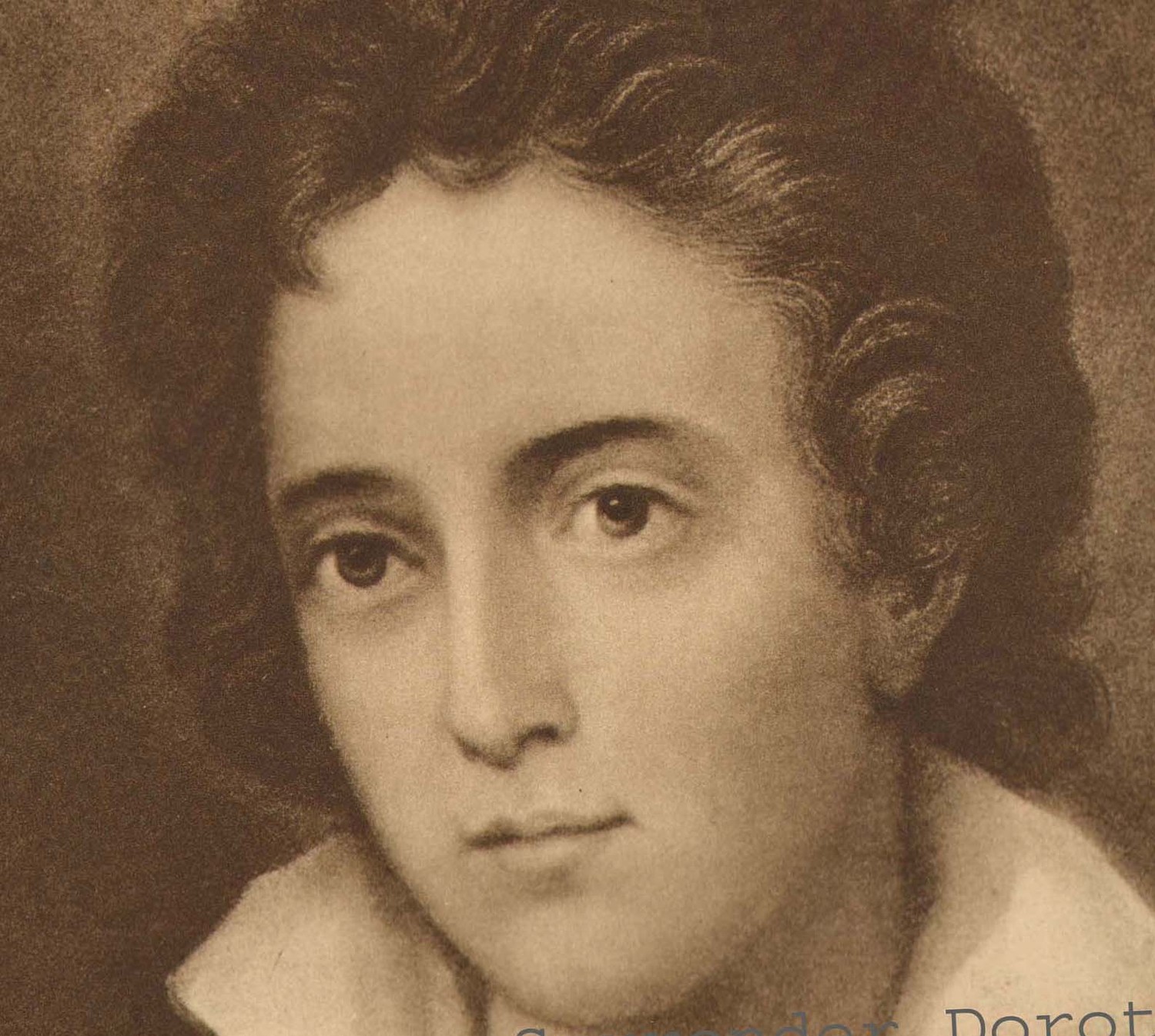 Music When Soft Voices Die (To —)
by Percy Bysshe Shelley

Music, when soft voices die,
Vibrates in the memory—
Odours, when sweet violets sicken,
Live within the sense they quicken.

Rose leaves, when the rose is dead,
Are heaped for the belovèd's bed;
And so thy thoughts, when thou art gone,
Love itself shall slumber on.

Other works of sci-fi that rank high on my list include Mysterious Island by Jules Verne, The Moon is a Harsh Mistress and Stranger in a Strange Land by Robert A. Heinlein, The Handmaid's Tale by Margaret Atwood, Dune by Frank Herbert, Childhood's End and 2001: A Space Odyssey by Arthur C. Clarke, The Foundation Trilogy by Isaac Asimov, Brave New World by Aldous Huxley, 1984 by George Orwell, Solaris by Stanislaw Lem, Ender's Game by Orson Scott Card, The Martian Chronicles by Ray Bradbury, The War of the Worlds and The Time Machine by H. G. Wells, First Contact by Carl Sagan, The Hitchhiker's Guide to the Galaxy by Douglas Adams, A Song of Ice and Fire by George R. R. Martin, and Neuromancer by William Gibson.

Other gothic works of fiction that I especially like include The Picture of Dorian Gray by Oscar Wilde, Wuthering Heights by Emily Bronte, Jane Eyre by Charlotte Bronte, The Hunchback of Notre Dame by Victor Hugo, Dracula by Bram Stoker, Interview with the Vampire and The Vampire Lestat by Anne Rice, The Historian by Elizabeth Kostova, Northanger Abbey by Jane Austen, The Castle of Otranto by Horace Walpole, The Name of the Rose by Umberto Eco, The Hound of the Baskervilles by Sir Arthur Conan Doyle, The Complete Stories and Poems by Edgar Allan Poe, The Count of Monte Cristo by Alexandre Dumas, The House of the Seven Gables by Nathaniel Hawthorne, and The Strange Case of Dr. Jekyll and Mr. Hyde by Robert Louis Stevenson.

Notable psychological thrillers and other works of psychological fiction include Catch-22 by Joseph Heller, Crime and Punishment by Fyodor Dostoevsky, A Devil in Paradise by Henry Miller, Heart of Darkness by Joseph Conrad, Sons and Lovers by D. H. Lawrence, The Bell Jar by Sylvia Plath, The Tell-Tale Heart and The Masque of the Red Death by Edgar Allan Poe, Lord of the Flies by William Golding, The Silence of the Lambs and Red Dragon by Thomas Harris, Mrs. Dalloway by Virginia Woolf, and Rebecca by Daphne du Maurier.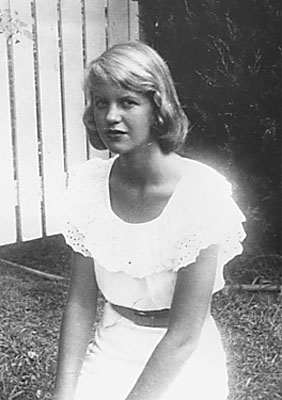 Sylvia Plath

Fact truly can be stranger than fiction. Notable works of psychological nonfiction include In Cold Blood by Truman Capote, The Castle in the Forest and The Executioner's Song by Norman Mailer, The Stranger Beside Me by Ann Rule, The Night Stalker by Philip Carlo, Zodiac by Robert Graysmith, and My Dark Places by James Ellroy.

(#5) Leaves of Grass by Walt Whitman is my favorite collection of modern free verse. Once again the first remains the best.

A Noiseless Patient Spider
by Walt Whitman

A noiseless patient spider,
I mark'd where on a little promontory it stood isolated,
Mark'd how to explore the vacant vast surrounding,
It launch'd forth filament, filament, filament, out of itself,
Ever unreeling them, ever tirelessly speeding them.

And you O my soul where you stand,
Surrounded, detached, in measureless oceans of space,
Ceaselessly musing, venturing, throwing, seeking the spheres to connect them,
Till the bridge you will need be form'd, till the ductile anchor hold,
Till the gossamer thread you fling catch somewhere, O my soul.

Other collections of free verse that I especially like include The Norton Anthology of Modern Poetry, The Blue Estuaries by Louise Bogan, Seamus Heaney Selected Poems 1966-1987, E. E. Cummings Selected Poems, The Selected Poems of William Blake (Blake was one of the first English language poets to employ elements of free verse), and The Collected Poems of Hart Crane.

(#6) The Hustler by Walter Tevis is my favorite sports novel, and I believe the movie starring Paul Newman and Jackie Gleason as Fast Eddie Felson and Minnesota Fats, respectively, does it justice.

Other top-notch books about sports include The Boys of Summer by Roger Kahn, Ball Four by Jim Bouton, Semi-Tough by Dan Jenkins, Paper Lion by George Plimpton, Ali: a Life by Jonathan Eig, The Sweet Science by A. J. Liebling, The Natural by Bernard Malamud, Bang the Drum Slowly by Mark Harris, Only the Ball Was White: A History of Legendary Black Players and All-Black Professional Teams by Robert Peterson, The Illustrated History of Football by David Squires, Raging Bull: My Story by Jake La Motta, and Into Thin Air: A Personal Account of the Mt. Everest Disaster by John Krakauer.

(#7) A Brief History of Time by Stephen Hawking is an excellent introduction to the weirdness of the universe. However, I believe Hawking may have later recanted his theory that it is possible to travel backwards in time, with shattered glasses mending themselves in an instant replay reversed!

Other science books I recommend include Cosmos by Carl Sagan, Silent Spring by Rachel Carson, The Science of Fear by Dan Gardner, The Right Stuff by Tom Wolfe, Man's Search for Meaning by Victor Frankl, What Einstein Told His Barber by Robert L. Wolke, Big Bang: The Origin of the Universe by Simon Singh, The Origin of the Species by Charles Darwin, and In the Shadow of Man by Jane Goodall.

(#8) The Complete Works of William Shakespeare contains all 37 of the bard's plays, including Hamlet, Othello, King Lear, Macbeth, Twelfth Night, A Midsummer Night's Dream, The Tempest, Romeo and Juliet, and all the others.

Other plays of note include The Importance of Being Earnest and An Ideal Husband by Oscar Wilde, Faust by Johann Wolfgang von Goethe, The Misanthrope and Tartuffe by Moliere, Long Day's Journey into Night and The Iceman Cometh by Eugene O'Neill, The Glass Menagerie and A Streetcar Named Desire by Tennessee Williams, Ghosts and A Doll's House by Henrik Ibsen, Uncle Vanya and The Seagull by Anton Chekov, Antigone and Oedipus Rex by Sophocles, The Bacchae and Medea by Euripides, The Oresteia by Aeschylus, Endgame and Waiting for Godot by Samuel Beckett, Who's Afraid of Virginia Woolf by Edward Albee, The Crucible and Death of a Salesman by Arthur Miller, A Raisin in the Sun by Lorraine Hansberry, Mother Courage and Her Children and The Threepenny Opera by Bertolt Brecht, Copenhagen b

y

Michael Frayn, Angels in America by Tony Kushner, A Man for All Seasons by Robert Bolt, Candida and Pygmalion by George Bernard Shaw, Private Lives and The Vortex by Noel Coward, Caligula by Albert Camus, Our Town by Thornton Wilder, She Stoops to Conquer by Oliver Goldsmith, Volpone by Ben Jonson, The Changeling by Thomas Middleton and William Rowley, and Doctor Faustus by Christopher Marlowe.

I have a special "honorable mention" section for musicals, which cannot be translated directly from novels or plays, but can be based on such sources: West Side Story (Shakespeare's Romeo and Juliet), Jesus Christ Superstar (the Bible), Godspell (the Bible), Cats (the poems of T. S. Eliot as interpreted by Andrew Lloyd Webber), Les Miserables (Victor Hugo's novel), Beauty and the Beast (The Brothers Grimm), Wicked (Frank Baum's The Wonderful Wizard of Oz), My Fair Lady (George Bernard Shaw's Pygmalion), Annie (Harold Gray's Little Orphan Annie comic strip), The Phantom of the Opera (Gaston Leroux's novel), Guys and Dolls (two Damon Runyon short stories), Chicago (based on a play by Maurine Dallas Watkins), Rent (Puccini's opera La bohème), A Chorus Line, Cabaret, Hamilton, Grease, Into the Woods, Annie Get Your Gun, Hair, Hairspray, The Sound of Music, Evita, Mary Poppins, Tommy and The Rocky Horror Picture Show.

(#9) The Odyssey and Iliad by Homer top my list of epic poems.

Other epic poems of note include the world's first, The Epic of Gilgamesh, the Aeneid by Virgil, Paradise Lost and Paradise Regained by John Milton, The Faerie Queen by Edmund Spenser, the Mahabharata, the Shahnameh or Persian Book of Kings by Firdawsi, the Ramayana, Metamorphoses by Ovid, Beowulf, The Song of Roland, The Icelandic Eddas (Sagas), Don Juan by Lord Byron, The Cantos by Ezra Pound, and The Divine Comedy by Dante.

(#10) The Grapes of Wrath by John Steinbeck tops my list of historical novels and realist fiction.

Other noteworthy works of historical and/or realistic fiction include The Outsiders by S. E. Hinton, To Kill a Mockingbird by Harper Lee, The Catcher in the Rye by J. D. Salinger, War and Peace by Leo Tolstoy, August 1914 by Aleksandr Solzhenitsyn, Roots by Alex Haley, The Pillars of the Earth by Ken Follett, A Tale of Two Cities by Charles Dickens, The Scarlet Letter by Nathaniel Hawthorne, Waverly by Walter Scott, Gone with the Wind by Margaret Mitchell, Cold Mountain by Charles Frazier, Death Comes for the Archbishop by Willa Cather, One Hundred Years of Solitude by Gabriel Garcia Marquez, The Book Thief by Markus Zusak, The Kite Runner by Khaled Hosseini, The Fault in Our Stars by John Green, Gone Girl by Gillian Flynn, I Claudius by Robert Graves, The Three Musketeers by Alexandre Dumas, The Crucible by Arthur Miller, The Clan of the Cave Bear by Jean M. Auel

(#11) The Maltese Falcon by Dashiell Hammett tops my list of mystery and suspense fiction.

Other favorites in the mystery and suspense category are And Then There Were None and Murder on the Orient Express by Dame Agatha Christie, The Hound of the Baskervilles by Sir Arthur Conan Doyle, The Name of the Rose by Umberto Eco, The Woman in White by Wilkie Collins, The Big Sleep by Raymond Chandler, Eye of the Needle by Ken Follett, Presumed Innocent by Scott Turow, The Murders in the Rue Morgue by Edgar Allan Poe, The Spy Who Came in from the Cold by John Le Carre, The Postman Always Rings Twice by James M. Cain, and The Firm by John Grisham.

Sometimes there is more crime than mystery or suspense. Some favorites in this category include The Godfather by Mario Puzo, The Day of the Jackal by Frederick Forsyth, and In Cold Blood by Truman Capote.

(#12) The Handmaid's Tale by Margaret Atwood tops my list of dystopian fiction.

Other notable works of dystopian fiction include 1984 and Animal Farm by George Orwell, Brave New World by Aldous Huxley, Anthem by Ayn Rand, A Clockwork Orange by Anthony Burgess, On the Beach by Nevil Shute, The Road by Cormac McCarthy, Fahrenheit 451 by Ray Bradbury, Slaughter-House Five by Kurt Vonnegut, Ender's Game by Orson Scott Card, The Stand by Stephen King (my favorite of his novels; I'm not usually a fan), The Hunger Games by Suzanne Collins

(#13) American Holocaust: The Conquest of the New World by David E. Stannard, Witness in Palestine by Anna Baltzer, The Ethnic Cleansing of Palestine by Ilan Pappe, A Study of History by Arnold Toynbee, The Decline and Fall of the Roman Empire by Edward Gibbon,

Our Choice: A Plan to Solve the Climate Crisis by Al Gore

Essays and Sketches of Mark Twain, The Autobiography of Mark Twain edited by Charles Neider

Novellas: The Turn of the Screw by Henry James

Literary Criticism: Coleridge's Writings on Shakespeare edited by Terence Hawkes

History: Lincoln by Gore Vidal, The Human Story by James C. Davis

Biography: Churchill: A Life by Martin Gilbert, Einstein: a life by Dennis Brian, Einstein by Walter Isaacson, Lincoln by David Herbert Donald

Politics: The Prince by Machiavelli translated and edited by Thomas G. Bergin, Man in the Shadows by Efraim Halevy (a former director of the Mossad)

Religion: The Book of J by Harold Bloom

Elizabeth Barrett Browning was an early advocate of women's rights, and a staunch opponent of slavery. When she married Robert Browning, theirs became the most famous coupling in the annals of English poetry.

How Do I Love Thee?
by Elizabeth Barrett Browning

How do I love thee? Let me count the ways.
I love thee to the depth and breadth and height
My soul can reach, when feeling out of sight
For the ends of Being and ideal Grace.
I love thee to the level of every day's
Most quiet need, by sun and candlelight.
I love thee freely, as men strive for Right;
I love thee purely, as they turn from Praise.
I love with a passion put to use
In my old griefs, and with my childhood's faith.
I love thee with a love I seemed to lose
With my lost saints,—I love thee with the breath,
Smiles, tears, of all my life!—and, if God choose,
I shall but love thee better after death.

Dylan Thomas's elegy to his dying father is one of the best villanelles in the English language, and it remains one of the most powerful, haunting poems ever written in any language.

Do Not Go Gentle Into That Good Night
by Dylan Thomas

Do not go gentle into that good night,
Old age should burn and rave at close of day;
Rage, rage against the dying of the light.

Though wise men at their end know dark is right,
Because their words had forked no lightning they
Do not go gentle into that good night.

Good men, the last wave by, crying how bright
Their frail deeds might have danced in a green bay,
Rage, rage against the dying of the light.

Wild men who caught and sang the sun in flight,
And learn, too late, they grieved it on its way,
Do not go gentle into that good night.

Grave men, near death, who see with blinding sight
Blind eyes could blaze like meteors and be gay,
Rage, rage against the dying of the light.

And you, my father, there on the sad height,
Curse, bless, me now with your fierce tears, I pray.
Do not go gentle into that good night.
Rage, rage against the dying of the light.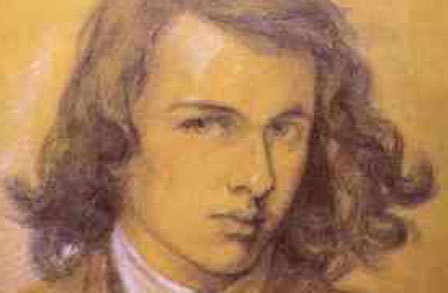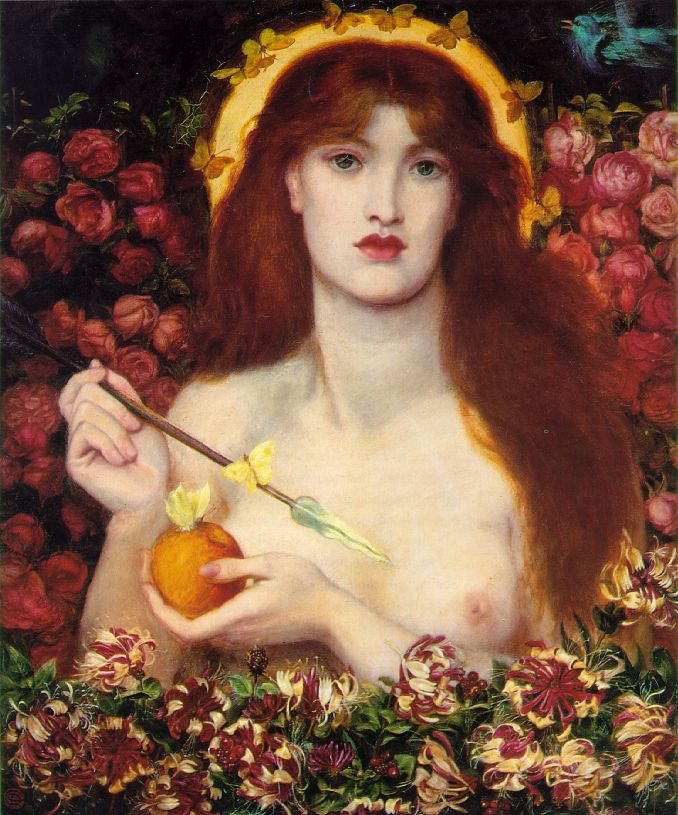 Dante Gabriel Rossetti was an English romantic poet, painter, illustrator and translator. He was also one of the founders of the Pre-Raphaelite Brotherhood. His art was characterized by sensuality and medieval revivalism. In 1850 he met Elizabeth Siddal (pictured above), who became his model, his passion, and eventually in 1860, his wife.

Sudden Light
by Dante Gabriel Rossetti

I have been here before,
But when or how I cannot tell:
I know the grass beyond the door,
The sweet keen smell,
The sighing sound, the lights around the shore.

You have been mine before,—
How long ago I may not know:
But just when at that swallow's soar
Your neck turned so,
Some veil did fall,—I knew it all of yore.

Has this been thus before?
And shall not thus time's eddying flight
Still with our lives our love restore
In death's despite,
And day and night yield one delight once more?

Dante Gabriel Rossetti's sister Christina was also a poet, and perhaps the better of the two.

Song
by Christina Rossetti

When I am dead, my dearest,
Sing no sad songs for me;
Plant thou no roses at my head,
Nor shady cypress tree:
Be the green grass above me
With showers and dewdrops wet;
And if thou wilt, remember,
And if thou wilt, forget.

I shall not see the shadows,
I shall not feel the rain;
I shall not hear the nightingale
Sing on, as if in pain:
And dreaming through the twilight
That doth not rise nor set,
Haply I may remember,
And haply may forget.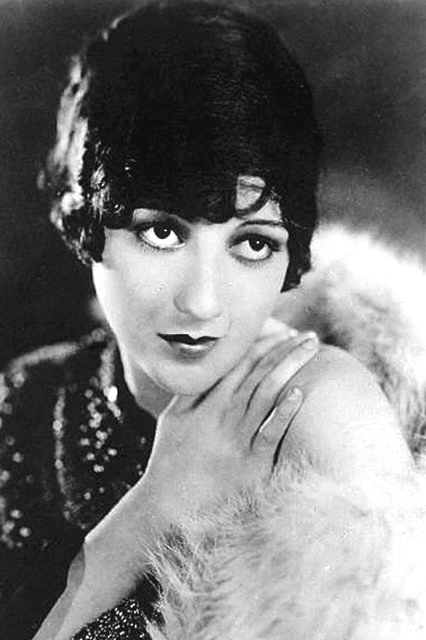 Elinor Wylie "was famous during her life almost as much for her ethereal beauty and personality as for her melodious, sensuous poetry."

Cold-Blooded Creatures
by Elinor Wylie

Man, the egregious egoist
(In mystery the twig is bent)
Imagines, by some mental twist,
That he alone is sentient

Of the intolerable load
That on all living creatures lies,
Nor stoops to pity in the toad
The speechless sorrow of his eyes.

He asks no questions of the snake,
Nor plumbs the phosphorescent gloom
Where lidless fishes, broad awake,
Swim staring at a nightmare doom.

D. H. Lawrence is better known today for his novels, which include the then-infamous Lady Chatterley's Lover, but he was one of the better early modernist poets.

Piano
by D. H. Lawrence

Softly, in the dusk, a woman is singing to me;
Taking me back down the vista of years, till I see
A child sitting under the piano, in the boom of the tingling strings
And pressing the small, poised feet of a mother who smiles as she sings.
In spite of myself, the insidious mastery of song
Betrays me back, till the heart of me weeps to belong
To the old Sunday evenings at home, with winter outside
And hymns in the cozy parlor, the tinkling piano our guide.
So now it is vain for the singer to burst into clamor
With the great black piano appassionato. The glamour
Of childish days is upon me, my manhood is cast
Down in the flood of remembrance, I weep like a child for the past.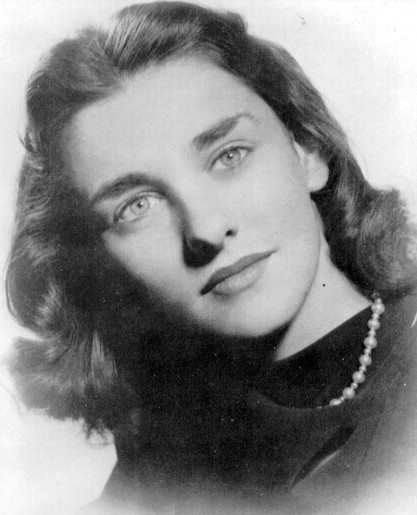 Anne Sexton w

as

a model who became a confessional poet, writing about intimate aspects of her life, after her doctor suggested that she take up poetry as a form of therapy. She studied under Robert Lowell at Boston University, where Sylvia Plath was one of her classmates. Sexton won the Pulitzer Prize for Poetry in 1967, but later committed suicide via carbon monoxide poisoning. Topics she covered in her poems included adultery, masturbation, menstruation, abortion, despair and suicide.

The Truth the Dead Know
by Anne Sexton

For my Mother, born March 1902, died March 1959
and my Father, born February 1900, died June 1959

Gone, I say and walk from church,
refusing the stiff procession to the grave,
letting the dead ride alone in the hearse.
It is June. I am tired of being brave.

We drive to the Cape. I cultivate
myself where the sun gutters from the sky,
where the sea swings in like an iron gate
and we touch. In another country people die.

My darling, the wind falls in like stones
from the whitehearted water and when we touch
we enter touch entirely. No one's alone.
Men kill for this, or for as much.

And what of the dead? They lie without shoes
in the stone boats. They are more like stone
than the sea would be if it stopped. They refuse
to be blessed, throat, eye and knucklebone.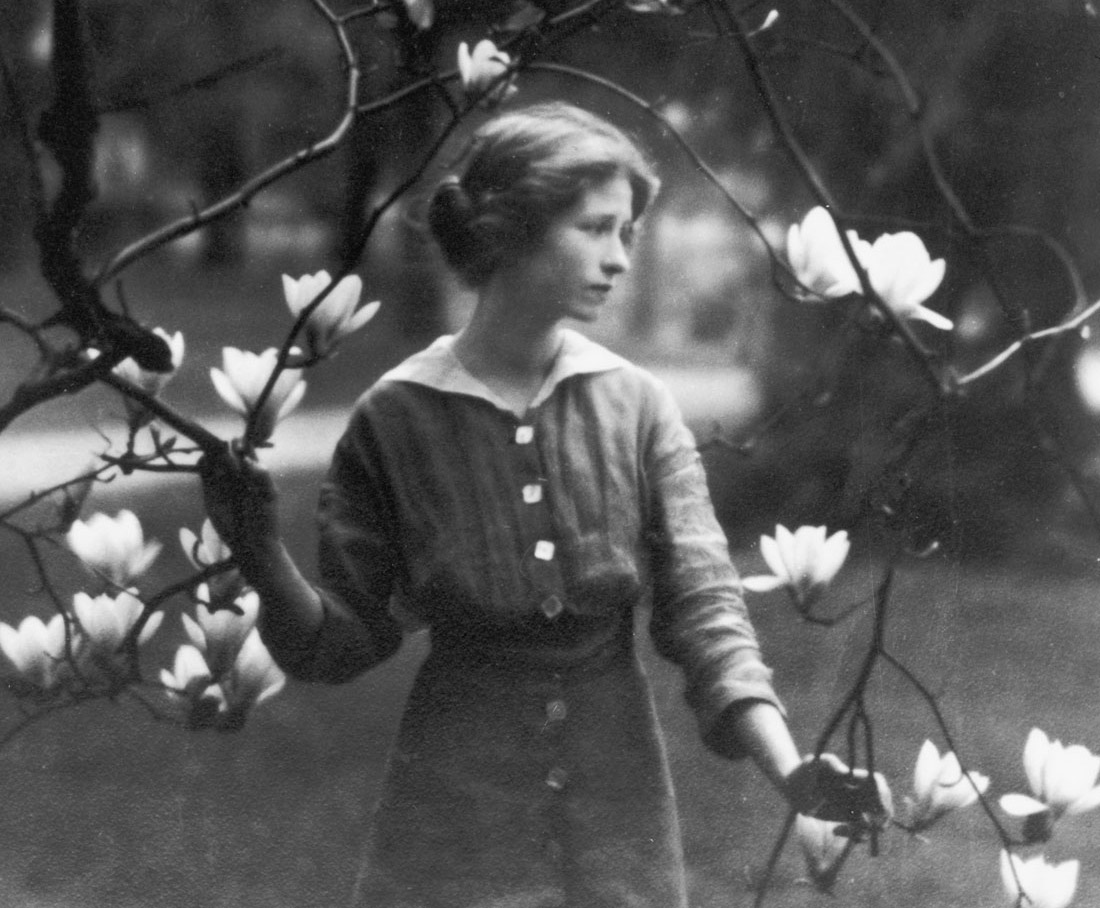 Edna St. Vincent Millay was the first woman to win a Pulitzer Prize for poetry. She was openly bisexual and had affairs with other women and married men. When she finally married, hers was an open marriage. Her 1920 poetry collection A Few Figs From Thistles drew controversy for its novel exploration of female sexuality. She was one of the earliest and strongest voices for what became known as feminism. One of the recurring themes of her poetry was that men might use her body, but not possess her or have any claim over her. (And perhaps that their desire for her body gave her the upper hand in relationships.)

I, Being Born a Woman, and Distressed
by Edna St. Vincent Millay

I, being born a woman, and distressed
By all the needs and notions of my kind,
Am urged by your propinquity to find
Your person fair, and feel a certain zest
To bear your body's weight upon my breast:
So subtly is the fume of life designed,
To clarify the pulse and cloud the mind,
And leave me once again undone, possessed.
Think not for this, however, this poor treason
Of my stout blood against my staggering brain,
I shall remember you with love, or season
My scorn with pity — let me make it plain:
I find this frenzy insufficient reason
For conversation when we meet again.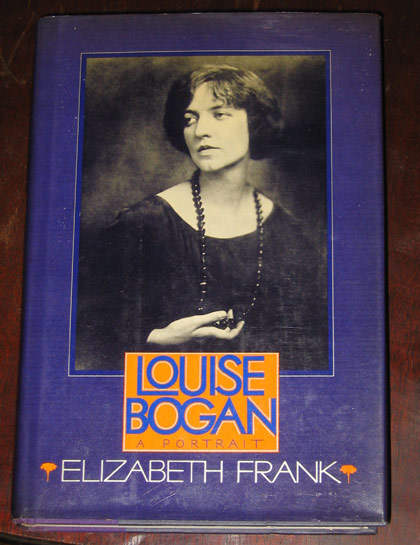 Song for the Last Act
by Louise Bogan

Now that I have your face by heart, I look
Less at its features than its darkening frame
Where quince and melon, yellow as young flame,
Lie with quilled dahlias and the shepherd's crook.
Beyond, a garden. There, in insolent ease
The lead and marble figures watch the show
Of yet another summer loath to go
Although the scythes hang in the apple trees.

Now that I have your face by heart, I look.

Now that I have your voice by heart, I read
In the black chords upon a dulling page
Music that is not meant for music's cage,
Whose emblems mix with words that shake and bleed.
The staves are shuttled over with a stark
Unprinted silence. In a double dream
I must spell out the storm, the running stream.
The beat's too swift. The notes shift in the dark.

Now that I have your voice by heart, I read.

Now that I have your heart by heart, I see
The wharves with their great ships and architraves;
The rigging and the cargo and the slaves
On a strange beach under a broken sky.
O not departure, but a voyage done!
The bales stand on the stone; the anchor weeps
Its red rust downward, and the long vine creeps
Beside the salt herb, in the lengthening sun.

Now that I have your heart by heart, I see.

La Figlia Che Piange (The Weeping Girl)
by T. S. Eliot

Stand on the highest pavement of the stair —
Lean on a garden urn —
Weave, weave the sunlight in your hair —
Clasp your flowers to you with a pained surprise —
Fling them to the ground and turn
With a fugitive resentment in your eyes:
But weave, weave the sunlight in your hair.

So I would have had him leave,
So I would have had her stand and grieve,
So he would have left
As the soul leaves the body torn and bruised,
As the mind deserts the body it has used.
I should find
Some way incomparably light and deft,
Some way we both should understand,
Simple and faithless as a smile and a shake of the hand.

She turned away, but with the autumn weather
Compelled my imagination many days,
Many days and many hours:
Her hair over her arms and her arms full of flowers.
And I wonder how they should have been together!
I should have lost a gesture and a pose.
Sometimes these cogitations still amaze
The troubled midnight, and the noon's repose.

The Garden
by Ezra Pound

Like a skein of loose silk blown against a wall
She walks by the railing of a path in Kensington Gardens,
And she is dying piece-meal
of a sort of emotional anemia.

And round about there is a rabble
Of the filthy, sturdy, unkillable infants of the very poor.
They shall inherit the earth.

In her is the end of breeding.
Her boredom is exquisite and excessive.

She would like some one to speak to her,
And is almost afraid that I
will commit that indiscretion.

Full Fathom Five
by William Shakespeare

Full fathom five thy father lies;
Of his bones are coral made;
Those are pearls that were his eyes:
Nothing of him that doth fade
But doth suffer a sea-change
Into something rich and strange.
Sea-nymphs hourly ring his knell:
Ding-dong.
Hark! now I hear them — ding-dong, bell.

Song of Solomon
attributed to King Solomon

I am the rose of Sharon, and the lily of the valleys.
As the lily among thorns, so is my love among the daughters.
As the apple tree among the trees of the wood, so is my beloved among the sons.
I sat down under his shadow with great delight, and his fruit was sweet to my taste.
He brought me to the banqueting house, and his banner over me was love.
Stay me with flagons, comfort me with apples: for I am sick of love.
His left hand is under my head, and his right hand doth embrace me.
I charge you, O ye daughters of Jerusalem, by the roes,
and by the hinds of the field, that ye stir not up, nor wake my love, till he please.

Ozymandias
by Percy Bysshe Shelley

I met a traveller from an antique land
Who said: Two vast and trunkless legs of stone
Stand in the desert. Near them, on the sand,
Half sunk, a shattered visage lies, whose frown,
And wrinkled lip, and sneer of cold command,
Tell that its sculptor well those passions read
Which yet survive, stamped on these lifeless things,
The hand that mocked them, and the heart that fed;
And on the pedestal these words appear:
"My name is Ozymandias, king of kings:
Look on my works, ye Mighty, and despair!"
Nothing beside remains. Round the decay
Of that colossal wreck, boundless and bare
The lone and level sands stretch far away.

A Red, Red Rose
by Robert Burns

Oh my luve is like a red, red rose,
That's newly sprung in June:
Oh my luve is like the melodie,
That's sweetly play'd in tune.

As fair art thou, my bonie lass,
So deep in luve am I;
And I will luve thee still, my dear,
Till a' the seas gang dry.

Till a' the seas gang dry, my dear,
And the rocks melt wi' the sun;
And I will luve thee still, my dear,
While the sands o' life shall run.

And fare thee weel, my only luve!
And fare thee weel a while!
And I will come again, my luve,
Tho' it were ten thousand mile!

Related pages: Perfect Poems, The Best Sonnets, The Best Villanelles, The Best Ballads, The Best Sestinas, The Best Rondels and Roundels, The Best Kyrielles, The Best Couplets, The Best Quatrains, The Best Haiku, The Best Limericks, The Best Nonsense Verse, The Best Poems for Kids, The Best Light Verse, The Best Poem of All Time, The Best Poems Ever Written, The Best Poets, The Best of the Masters, The Most Popular Poems of All Time, The Best American Poetry, The Best Poetry Translations, The Best Ancient Greek Epigrams and Epitaphs, The Best Anglo-Saxon Riddles and Kennings, The Best Old English Poetry, The Best Lyric Poetry, The Best Free Verse, The Best Story Poems, The Best Narrative Poems, The Best Epic Poems, The Best Epigrams, The Most Beautiful Poems in the English Language, The Most Beautiful Lines in the English Language, The Most Beautiful Sonnets in the English Language, The Best Elegies, Dirges & Laments, The Best Poems about Death and Loss, The Best Holocaust Poetry, The Best Hiroshima Poetry, The Best Anti-War Poetry, The Best Religious Poetry, The Best Spiritual Poetry, The Best Heretical Poetry, The Best Thanksgiving Poems, The Best Autumnal Poems, The Best Fall/Autumn Poetry, The Best Dark Poetry, The Best Halloween Poetry, The Best Supernatural Poetry, The Best Dark Christmas Poems, The Best Vampire Poetry, The Best Love Poems, The Best Urdu Love Poetry, The Best Erotic Poems, The Best Romantic Poetry, The Best Love Songs, The Ten Greatest Poems Ever Written, The Greatest Movies of All Time, England's Greatest Artists, Visions of Beauty, What is Poetry?, The Best Abstract Poetry, The Best Antinatalist Poems and Prose, Early Poems: The Best Juvenilia, Human Perfection: Is It Possible?, The Best Book Titles of All Time, Sentimental Poetry: Is it Wrong to Like It?, The Best Sentimental Poems, What is Poetry?

The HyperTexts