The HyperTexts

The Best Donald Trump Russia Jokes: Russiagate, Kremlingate, Putingate, Comeygate, etc.
The Best Donald Trump Putin Jokes

Q: What do you call it when a Man-Baby takes over the American government?
A: Coup d'Tot.

Here are the best Donald Trump jokes about Russia, Putin, Kremlin-Gate, Moscow-Gate, Comey-Gate, Oligarch-Gate, Hate-Gate, etc., by comedians like Samantha Bee, Lewis Black, Louis C.K., Michael Che, Stephen Colbert, James Corden, Jimmy Fallon, Craig Ferguson, Will Ferrell, Jimmy Kimmel, Jay Leno, David Letterman, Bill Maher, Seth Meyers, Trevor Noah, Conan O'Brien, John Oliver, Chris Rock, Amy Shumer, Sarah Silverman and Jon Stewart. We also have quips, quotes, puns, poems, limericks, tweets, memes, nicknames, hashtags, coinages, campaign slogans, etc.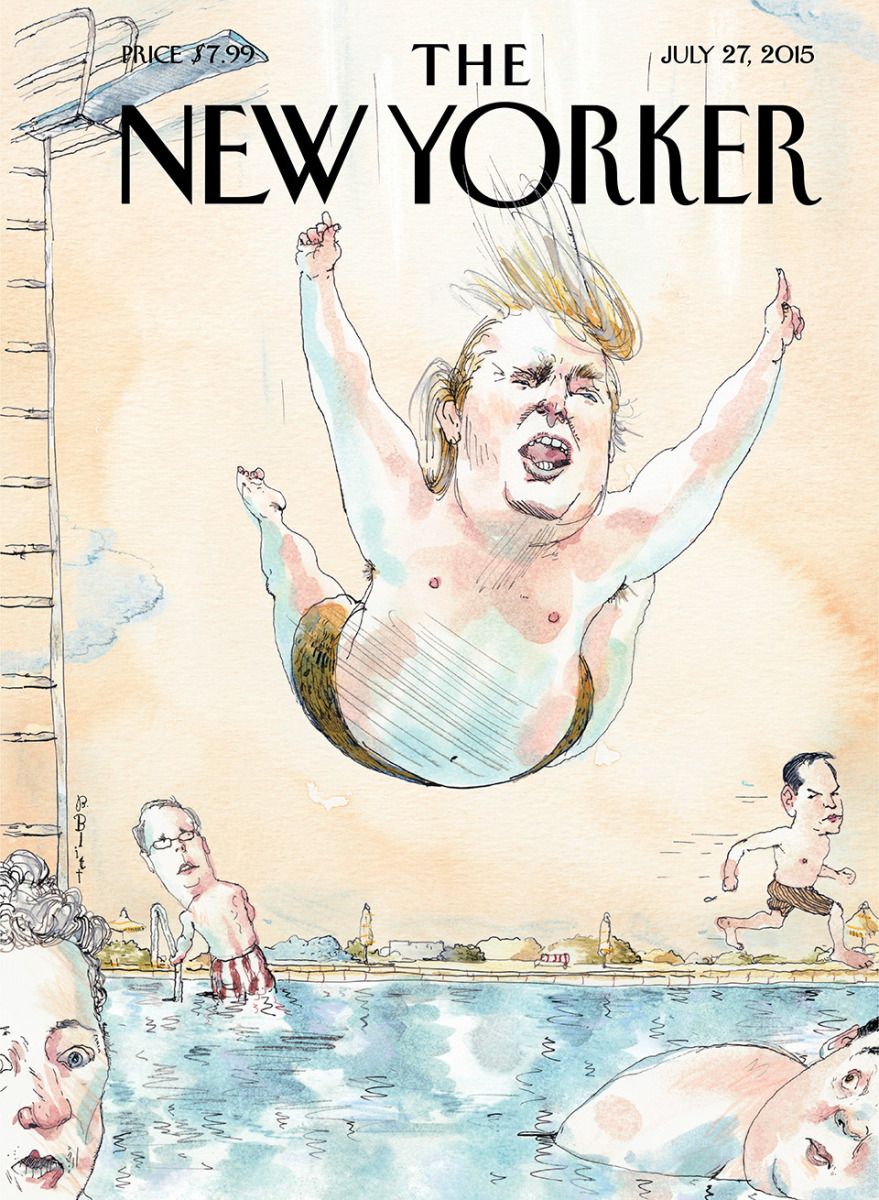 Nuclear cannonball! Donald "Trump of Doom" enters the American political waters ... but can he really walk on water or will he belly-flop the world into oblivion?

Putin' It All Together: the Best Jokes about Trump, Russia, Putin and the Oligarchs

Hillary Clinton pointed out that no living president has endorsed Donald Trump. Nice try, Hillary, but it just so happens that Vladimir Putin is living!―Seth Meyers

Trump is leery of teleprompters because they can be difficult to follow and "I'm sure it's even harder when you're translating from the original Russian."―Hillary Clinton

It is unfair to criticize Trump for massacring the English language! After all, English only his third language. He's fluent in Russian and Bullshit.

A perv, a megalomaniacal fascist, a Russian spy and a con artist enter a bar together. The bartender looks up and asks, "What'll it be, President Trump?"

Trump has "many stats." But the only ones he believes are Putin's.

Putin now has an American president who does back flips on command.—Rachel Maddow

Forget collusion, I want to know if there's penetration!―Bill Maher

Q: What do you call it when the Kremlin, Trump Tower and white nationalists unite?
A: Putin' on the Ritz Cracker.
―Michael R. Burch aka "The Loyal Opposition"

Six Russian diplomats have died recently and they all appeared in Trump's MI6 dossier. While Trump is puttin' on the Ritz, is the KGB Putin on the Hitz?

If so, why? Here are two possible answers ...

The KGB is rolling up its Trump operations cell.―Ammo Hauler

Mr. Putin has decided that there must be no loose ends that might endanger the reign of his puppet, Comrade Trumputin!

Trump was being questioned about collusion with Russia. A reporter asked him point-blank: "Have you or any members of your inner circle ever knowingly communicated with Russian intelligence agents?" Trump's face flushed crimson with rage. It took him nearly a minute to regain enough composure to speak. Then he screamed: "Read my lips ... NYET!"―Michael R. Burch

Donald Trump, Vladimir Putin and Kim Jong-Un start a nuclear war and die at the same time. They are greeted at the gates of hell by the Devil, who explains that they can make one final call, but such calls may be VERY expensive. Since they're rich and can't take it with them, all three agree. Putin calls Russia and talks for five minutes; the charge is one million dollars. Jong-Un calls North Korea and talks for ten minutes; the cost is two million dollars. Trump calls his family and talks bigly for hours, but the cost is only five bucks. A seething Putin demands to know why Trump got off so cheap. The Devil replies: "Since he took over, the US has gone to hell, so it's a local call!"

To see how Trump fulfills Biblical prophecies, please click the hyperlink.

Trump is putting the X back in Xmas by X-ing out refugee children and their mothers. If baby Jesus and Mary showed up needing shelter, Trump wouldn't provide them with even a lowly manger. Instead, he'd order American soldiers to drive them back into the wilderness at gunpoint. Meanwhile, this is what the satanic festivities at the White House looked like last year: Trump Christmas.

It's come out that President Trump asked two intelligence chiefs to push back against the Russia probe. Trump also asked them to make Melania hold his freakin' hand!―Conan O'Brien

Today Trump said he believes in torturing prisoners. Which is bad news for Melania.―Jimmy Kimmel

President Trump today called the appointment of a special counsel to investigate his campaign's ties to Russia "the single greatest witch hunt of a politician in American history." Though it didn't help his case much when he flew away on a broom.―Seth Meyers

Straight from the ass's mouth: Russian politician Vyacheslav Nikonov, a member of the Duma (ruling assembly), said on live TV that U.S. intelligence "missed it when Russian intelligence stole the presidency of the United States."

President Trump said today that he never mentioned the word "Israel" as the source of intelligence about ISIS during a meeting with Russian officials. Dude, nobody said you did. That's like if your wife said, "Are you having an affair?" And you said, "I am not sleeping with Jenna!"―Seth Meyers

"Meanwhile, Trump started tweeting again. Today he criticized the Russia investigation, saying, "This is the single greatest witch hunt of a politician in American history." Then one guy was like, "Do you still want to see my birth certificate?"―Jimmy Fallon

Government officials confirmed this afternoon that a person of interest in the FBI's Russia investigation is Trump's son-in-law, Jared Kushner. This comes at a bad time, because the Trump administration has just released its budget. Now they must be like, "Oh, we forgot to set aside bail money."―James Corden

Today, the former head of the CIA told investigators that the Russians "brazenly interfered" with our election and actively contacted members of the Trump administration. And according to The Washington Post, the president asked two top intelligence officials to publicly deny evidence of collusion, and also asked them to find ways to get FBI Director James Comey to drop his investigation. Just like an innocent person would do.―Jimmy Kimmel

If Trump is going to have any chance of winning in 2020, Russian hackers are going to have to work overtime.—Senator Eric Swalwell

The House Intelligence Committee is reportedly launching an "M.R.I." of the president's Russian financing. It may be more like a colonoscopy.―Vanity Fair

This is what I've been waiting for my whole life. A President who's not afraid to tell the truth about being a lying a$$hole!―Lewis Black

Donald Trump may be running for president. He said he's sick and tired of the rest of the world laughing at the United States. Well, President Trump will certainly put an end to that!―David Letterman

Fact really is stranger than fiction. Morgan, Lewis & Bockius―the law firm advising Trump on handling his business conflicts―was named Russia's Law Firm of the Year in 2016!

If Trump isn't actually a Russian agent, he's doing a pretty good imitation of one.—Max Boot

For Trump, all roads lead to Russia.—Jackie Speier

The White House reported that Trump is the victim of "malicious leaks." Apparently, Russian hookers have been peeing on him again.―Michael R. Burch

Is Trump really Putin's Puppet or is The Donald his own man-baby?―Michael R. Burch

Why is Trump spending so much time on the golf course? It's part of his job. He's practicing to be Mr. Putin's caddy and water boy.

Looking into money laundering around Trump is like investigating moisture in the middle of the ocean. — Mark Sumner

You'd be swamped with generalized wrath, too, if Congress and special counsel Robert Mueller were slithering through your prodigious paper trail as they are Trump's.―Jack Shafer's "Swamp Diary"

"Well, ladies and gentlemen, I've got good news and bad news. First the bad news: The Washington Post reports that Trump revealed highly classified information to the Russian foreign minister and ambassador. Now the good news: Trump found the leaker."―Stephen Colbert

Trump telling the truth under oath would be as improbable as Moses parting the Red Sea, and would also require Divine Intervention.―Michael R. Burch

Widdle Donnie Whinydiaper: the Boychurian Candidate and First Man-Baby President