The HyperTexts

Donald Trump Jr. Nicknames
Vanessa Trump Nicknames

This page contains the best Donald J. Trump Jr. and Vanessa Trump nicknames, quotes, jokes and anecdotes that I have been able to find.

Donald Trump Jr. nicknames have been coined by his classmates, Alec Baldwin, Stephen Colbert, Allan Ishac, Bill Maher, Robert De Niro on SNL, Trevor Noah, People Magazine, Donald Trump Sr., White House insiders, and Michael Wolff.

Related pages: Donald Trump: 666 Mark of the Beast, Is Donald Trump the Antichrist?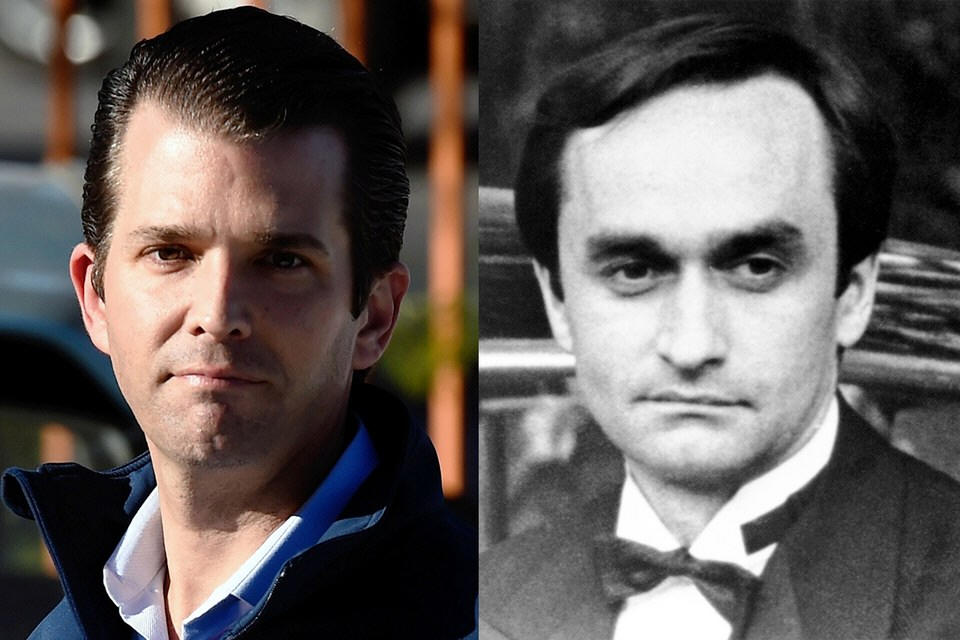 White House insiders call the president Don Corleone and Dumb Corleone due to his mob boss mentality. That means his oldest son Donald Trump Jr. is Fredo (the dumb son who keeps shooting himself in the foot), while Ivanka is Michael (the smart one). Ivanka is obviously the Gaud Father's favorite. But if Donald Dunce Junior is Fredo, where does this name game leave Eric Trump, another Chip Off The Old Blockhead who may be the dumbest of them all? Is Eric too dumb to be promoted to Sonny? They seem both be Fredos, so call them the All Fredos or Alfredos for short! But let's not rush to judgment: Bill Maher has compared the Trump brothers to another ill-begotten duo: Uday and Qusay Hussein. That would make their father So Damn Insane, and it certainly seems to suit him, with more than 150,000 Americans lying dead in their graves and Widdle Donnie Whinydiaper wailing that he is the real victim.

Little Donne Pandemic Jr. seems delighted that his father will pack 50,000 people like sardines into red state arenas and risk their lives in order to further the Trump family's political aims. One of those aims, apparently, is that other Trumps will run for president one day, including Donnie Dunce Junior himself! Will he be America's first Crow-Magnon president, as the picture below suggests? Does he really need all those bullets to murder one defenseless elephant, or is he going to mow down an entire herd?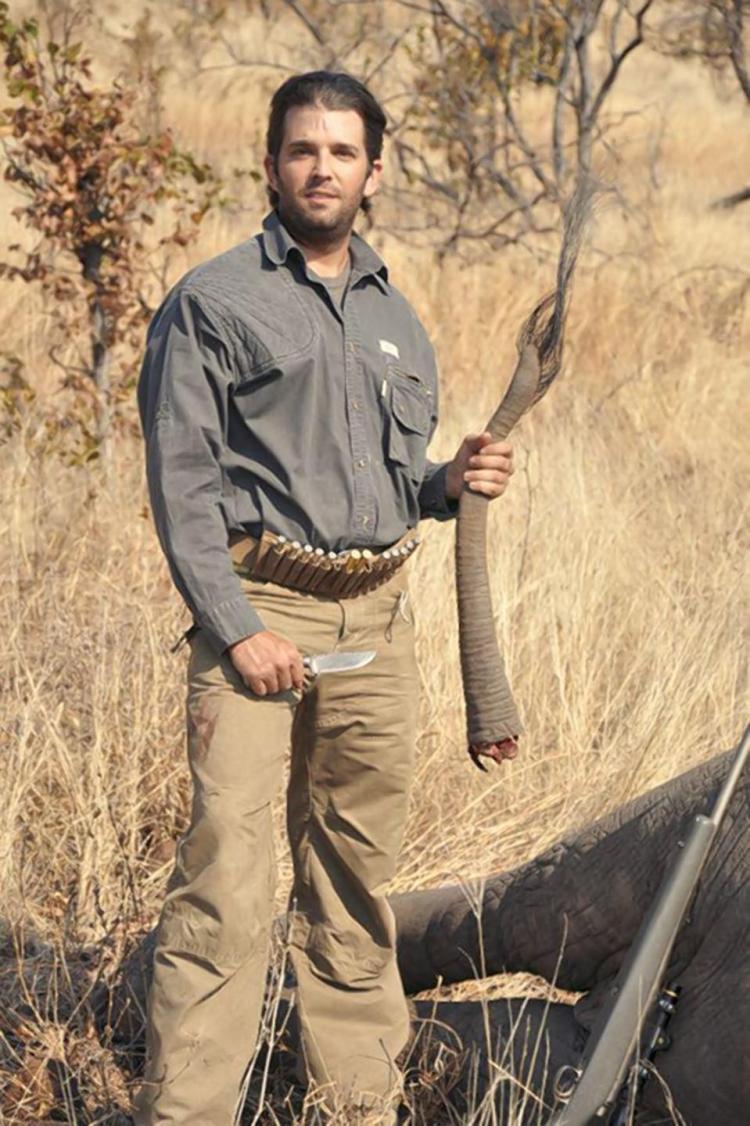 The Great White Hunter poses with his trophy: the severed tail of an innocent elephant he shot to death in cold blood. Elephant Boy is such a hero! The GWH also loves to shoot prairie dogs during breeding season: "What can be more fun than to spend an afternoon shooting cute little rodents, especially nursing mothers and their babies?" American taxpayers recently paid more than $75,000 for the Secret Service to protect the Crow-Magnon during an expedition to hunt an endangered species, Argali sheep. According to reports, Sheep Slaughter Boy shot his victim at night in its sleep. The Donlad looks like a vampire. He is cold-blooded and hunts at night. Did he drain the sheep dry of blood and leave it a dry, empty husk?

Donald Trump Jr. Coronavirus Nicknames

For his multitudinous efforts on its behalf, the coronavirus has granted Donald Trump Jr. the following titles and epaulets:

The Coronavirus's Best Friend
Coronavirus in Semi-Human Form
The Human-COVID Hybrid #1 (his brother Eric is Hybrid #2)
The COVID Hominid
Kid Corona
The Covid Kid
The COVIDiot
Little Donnie Pandemic Jr.
The Hyper Ventilator
The Human Sump Pump (er, better make that the Semi-Human Sump Pump)
Conny Donny

The Top Ten Donald Trump Jr. Nicknames ... Oh Hell, Make it a Baker's Dozen, Plus a Few!

Two-Legged Brain Foreclosure (Trevor Noah)
Junior, Donald Dunce Jr. and Donnie Dunce Jr.
Junior Abuser and Groper Jr. (he came on to women so strong at frat parties "everyone was warned to stay away from Donnie Trump")
The Donlad (pun on "The Donald")
The Good Boy (Donald Trump Sr.)
Donny Douchebag (Bill Maher)
Douchebag von Fuckface (Bill Maher)
Son of Drumpf and Donald Drumpkopf the Lesser
Ponyboy
Chip Off the Old Blockhead
The Bedwetter and Diaper Don (because in college he would get drunk, pass out and wet the bed)
The Cheapest Gazillionaire Heirhead (People Magazine, after Junior proposed to Vanessa Haydon with a free ring)

Uday (Trump insiders, per Michael Wolff)
Fredo Corleone
Frito Corleone
Fraido (because like Fredo he's afraid of his father) and Frayed Dough

Elephant Boy
The Crow-Magnon
The Neanderthal
Sheep Slaughter Boy
Tsarzan (he has Russian connections and Putin's favor)
The Great White Hunter
Wild Bill Hiccup (Michael R. Burch)

Currently Rising and Trending Donald Trump Jr. Nicknames

Junior Kompromat
The Grand Collusionist
Conny Donny
Mr. Transparent

My son is a high-quality person and I applaud his transparency.—Donald Trump Sr.

The Fire (Trevor Noah, as in the fire that created all the smoke)
Donnie's Inferno (pun on Dante's Inferno)

Donald Trump Jr. is the first thing Donald Trump regrets putting his name on.—Trevor Noah

The Snazzy Nazi
Daddy's Human Shield
Mueller's Target
Bull's-Eye
Putin's Puppet
Putin's Proxy
Putin's Protégé
Putin's Puppy
Bozo Boy
Booby
Baby Boy
The Boy Blunder

If Donald Trump Jr. were a wrestler, his nicknames would be: Brutus Beefcake, Rich Rude, Man-un-Kind, Nacho Man Dandy Savage, Sergeant Slaughter, Flex Luger, Roamin' Rains of Bullets, Prick Flare, The Blundertaker, Triple Hate, Andre the Lie-Ant, Rowdy Ruddy White Pride Piper, Fandingo, Hack Swagger, Les Mis (as in Miserable), The Iron Shit, Superfly Puke-a, Hulk Rogaine, Bison Booger, RyeBack, Cornswoggle, The Great Cauliflower, Batshitfeasta

Dishonorable Mention: The Cro-Magnon, The Caveman, Mountaineer (his Secret Service code name), Skittles, Skittish, Grade F T-Rump, Uday Trump, Public Drunk, The Plush Flush Lush, The Airhead, The Bedhead, Mr. Brylcream, Unbonny Donnie, Nondescript Donnie (because Ivanka got all the attention), The Immoderate Don, The Groupless Groupie, Groper Jr., Groper Cleavehand Jr., Beavis Trump, Butthead Trump, The Yawn Spawn (Allan Ishac), Little Donnie Diaperpants, Little Donnie Diaperwetter, Man Who KY's His Scalp (Stephen Colbert "alter ego"), The Yawn Spawn (Allan Ishac), The Cheapskate, The Gushin' Russian (see the quote below)

"Russians make up a pretty disproportionate cross-section of a lot of our assets," Donald "Ponyboy" Trump Jr. told a real estate conference in 2008, "We see a lot of money pouring in from Russia." In 2014, when golf writer James Dodson asked Eric "the Red" Trump how his father could finance golf courses when American banks were declining to lend money against such assets, he answered: "We don't rely on American banks. We have all the funding we need out of Russia." So when Trump Sr. claims to have "no dealings" with Russia, he is obviously lying. And of course Trump Jr. made the purpose of his treasonous Trump Tower meeting with Russian agents perfectly clear when he informed Jared "Jarhead" Kushner and Paul "Mole" Manafort about the covert operation in an email with the subject heading: "Russia – Clinton – private and confidential." Folks, it doesn't take Sherlock Holmes or IBM's Watson to figure this one out!

The Trumps are putting the X back in Xmas by X-ing out refugee children and their mothers. If baby Jesus and Mary showed up needing shelter, Donald Trump (aka Santa Claws) wouldn't provide them with even a lowly manger. Instead, he'd order American soldiers to drive them back into the wilderness at gunpoint. Meanwhile, this is what the satanic festivities at the White House looked like last year: Trump Christmas.

Eric and Donald Trump Jr. Together

Two Fredos (Robert De Niro, on SNL)
Little American Psychos (Alec Baldwin playing Donald Trump on SNL)
Bratman and Sobbin'
Dumb and Dumber
Dumber and Dumbest
Beavis and Butthead

Vanessa Trump Nicknames

Ill Thug (Vanity Fair)
Total Gangster Bitch (Vanity Fair)
Stupor Model
Duper Model
Most Likely to Wind Up on Ricki Lake (her high school classmates)
Page Six Girl
Wonder Woman (Ivanka Trump, for her handling of five children)
The Machine (Ivanka Trump, ditto)

When Vanessa Haydon met her future husband, she was not initially impressed. But the elder Trump did make an impression on her, since she described Donald Trump Jr. to her friends as "the one with the retarded dad."

Ivanka Trump Nicknames

Ivanka Tramp
Ivanka Wanker (I Wanna Wank Her)
Ivanka Spanker (I Wanna Spank Her)
Proxy Wife
Nordic Goddess
The Norwegian Wood Inducer
The First Lady-Daughter
Kushner's Crush
Kushner's Cush Toy
The Smart One and Michael (after Michael Corleone, "the smart one" in the Godfather movies)

Dishonorable Mention: The Real First Lady, The First Shady Lady, Mrs. Kushner

Marco Roboto hugs the First-Lady-Daughter ... talk about uncomfortable!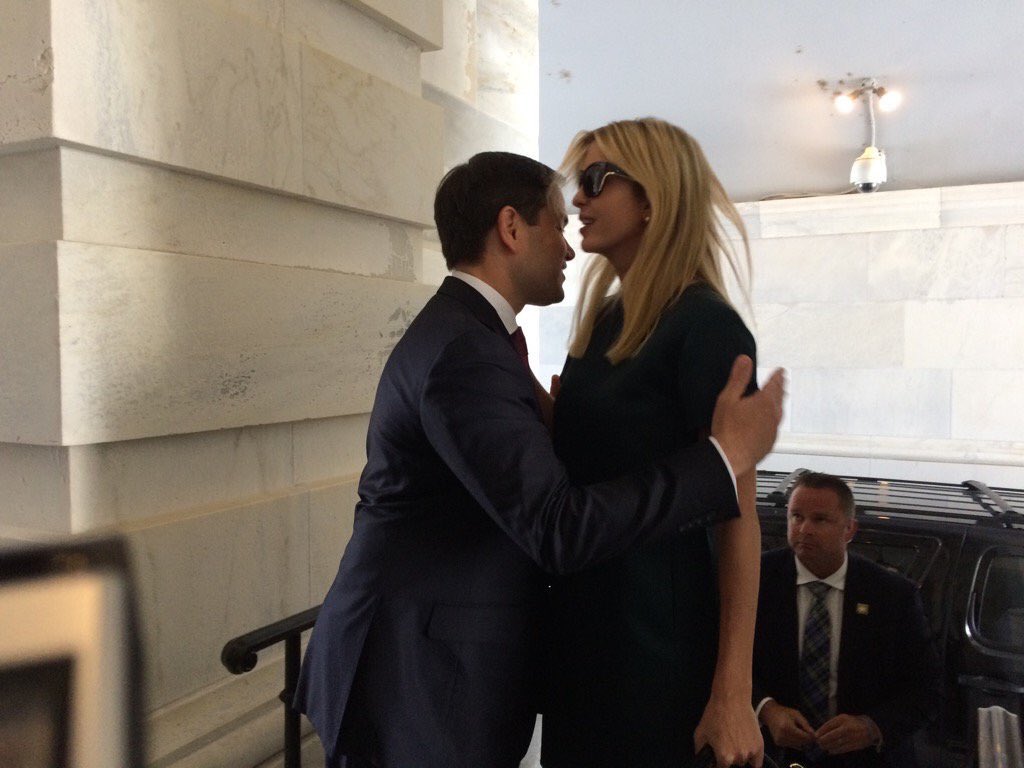 Damien Trump and his Stepford Wives meet Pope Francis, who is obviously uncomfortable in the presence of such Darkness and angles his cross slightly to keep them at bay!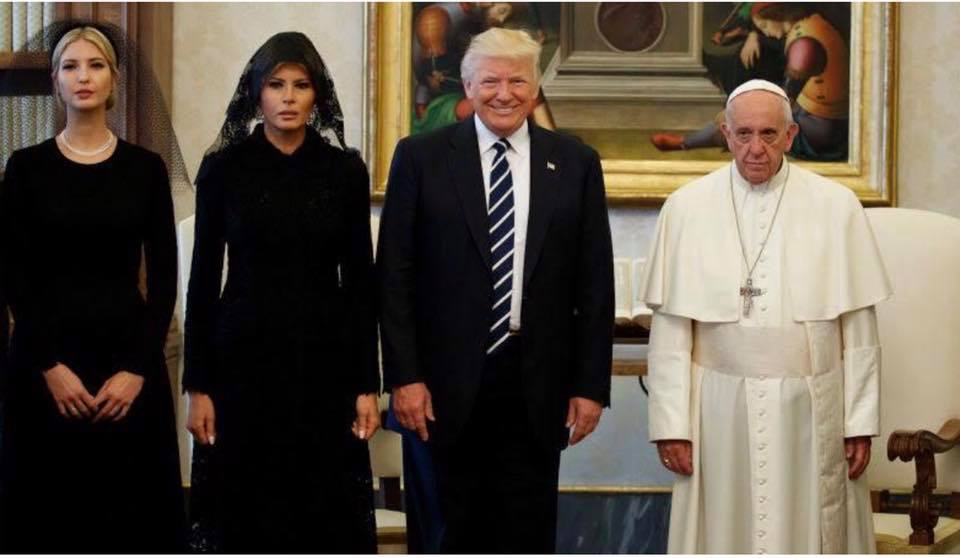 The Top Ten Trump Family Nicknames ...

The Stepfordians
The KKKardashians
The Brooklyn Hillbullies (Michael R. Burch)
Donald Duck Dynasty
The Four Norsemen of the Trumpocalypse (Michael R. Burch)
The Cold Ones
The Children of the Corn
Poor Little Bitch Kids
The Bitches of Eastwick
Apocalypse Now

Have no fear, Acting President Jared Kushner is here! Cushy Kushner makes all the major decisions while Truant Trump tweets, poses for photo-ops, gropes women's genitals, sentences babies and grannies to death, cheats at golf, then brags about his "accomplishments" and campaigns for reelection.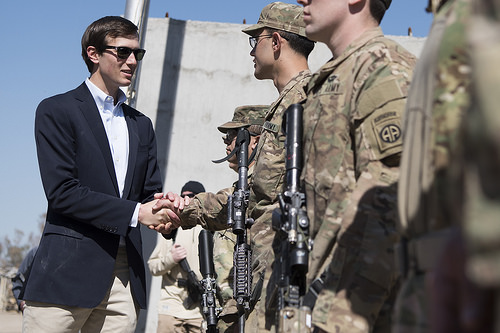 We can all breathe a sigh of relief because Jared "Jarhead" Kushner is at the ISIS front, using his real-estate negotiation skills to counsel our enemies and console our troops! Trump's youthful Aide de Kampf will never rest until WWIII is well underway, and completely irreversible. There will soon be a remake of Full Metal Jacket starring Jarring Kushner in Full Dinner Jacket (and Tie). Little Lord Fauntleroy will also star in Ralph Lauren of Arabia, The Shilling Fields, PeeWee's Big Adventure and Guess Who's Coming to Dinner then Whines about the K-Rations.

The Top Ten Jared Kushner Nicknames (Bolded)

Vanilla ISIS
Ralph Lauren of Arabia (@ChannelTrump)
Aide de Kampf (Michael R. Burch)
Cushy Kushner
Trump's Little Cushball (Alec Baldwin on SNL)
Acting President Kushner
Little Lord Fauntleroy (Duratti on Daily Kos)
Putin's Puppet
Putin's Poppet
Putin's Proxy
Putin's Protégé
Comrade Kushner
Poor Little Rich Bitch
Little Jared (Ana Navarro)
Baby Boy (Ana Navarro)
Nerd Boy
Jarhead
Jughead
Jared "the Red" Kushner
Jarring Kushner
The Boy Blunder
The Preppie Neo-Con
Nimrod (Nimrod, the son of Kush, was the founder of Babylon)
Son of Babylon (the name Jared means "descent" so he is the "Son of Kush," the patriarch of Babylon)
The Crown Prince of Babble-On
Trump's Lawless Son-in-Law
The Neophyte
Jared the Unready
Complete Fucking Idiot (Samantha Bee)
The Neophyte
The Warlock
The Preppy Schlep

Dishonorable Mention: Putin's American Viceroy, Putin's American Vice-Boy, Putin's Cush-Toy, Putin's Putty, The Shadow, Jivanka, Jervanka, Ivanka's KKKrush, Back Door Channel, Cuckoo Channel, Channel Kushner, Channel 666 (Kushner owns the most expensive building in the U.S. at 666 Fifth Avenue, purchased for $1.8 billion or 6+6+6 billion), Lucifer Incarnate

The Top Ten Melania Trump Nicknames ...

The Slovenian Sphinx (Maureen Dowd)
Melania Antoinette
First Babe
Melanoma
The Ice Queen (Gloria Erin Ryan)
The Man-Boy Sitter and The Trump Sitter
The Trump Swatter (after she slapped her husband's hand away on an airport runway in Israel)
The Superglamorous Stepford Wife (André Leon Talley)
The Apprentice Bride
Bride of Trumpenstein

Dishonorable Mention: Sinderella, Tinderella, The Swamp Queen, Mater Harry (pun on Mata Hari and Dirty Harry), Pussy Bow (because she wore a "pussy bow" to the St. Louis debate), Double Agent (Christen Clifford suggested that the "pussy bow" was a feminist rebuke of her husband's pussy groping), TerminEX (because she keeps slapping Trump's hands away, like it's over), The Black Widow, Eye Candy, I Candy, KKK (her bra size?)

Trump Divorce Nicknames ...

Reality Check Mate
Reality Czech Mate
Hair Today, Gone Tomorrow
Toupee or not Toupee Melania Alimony, that is the Question!

The Top Ten Eric Trump Nicknames ...

Eric the Red
Eric the Brain Dead
Eric of Orange
Eric Idle
Mr. Alt-Right and Mr. Alt-Wrong
Draco Malfoy
Sonny Corleone
Sonny-Boy
Chip Off the Old Blockhead II

Dishonorable Mention: Butthead Trump (his older brother is Beavis), Eric the Hysteric, Eric the Cleric, Mr. Roboto, The Self-Dealer, The Charity Defrauder, The Cancer Necromancer (he has been accused of using a children's cancer "charity" to slip money to himself under the table)

Frederick Trump Nicknames ...

Fred
Freddy Freeloader (he overbilled the government on housing projects)
Frederick the Not-So-Great
Father of the Beast
The Kingmaker (Fred Trump said that he raised his son to be a "king")
Woody Guthrie's Bane (the famous folk singer-songwriter wrong angry songs about Fred Trump's racism)

The Top Ten Tiffany Trump Nicknames ...

Tiff
Stiff
Whiff
Wild Card
Miss Invisible
Any Tiff
Tiff Fanny
Fit Fanny
The Other Daughter
The Unknown Trump

Barron Trump Nicknames ...

Mini-Donald
Little Donald
Poor Little Rich Boy
Barron von Trump
Barron von Munchkin

The Top Ten Trump Administration Nicknames (Bolded) ...

Moscow on the Hudson
The Kremlin Gremlins
Trolls Galore (Hillary Clinton)
Amoral Flying Monkeys (Keith Olbermann)
Amateur Hour at the White House
Rank Amateurs (emphasis on "rank")
Alternate Reality TV
Celebrity Presidential Apprentice
KKK: Kooks, Klowns and Kommissars
Den of the Re-Flub-Lycans (Michael R. Burch)
The Ninth Circle of Hell
The Fourth Reich
Combover to the Dark Side
Hair Hitler and the Whigs (Michael R. Burch)
Trump-Pence None the Retcher (Michael R. Burch)
Regressive Reds
The White Supremacist House (Michael R. Burch)
The West Wing Sexual Assault Emporium (Michael R. Burch)
The Oval Ovary Assault Office
The Ovary Inspection Office (Michael R. Burch)
Crack Team of Crackpots (Michael R. Burch)
AmeriKlan Idols
Kakistocracy (Ryan Lizza) ...

The Greeks have a word for the emerging Trump Administration: kakistocracy. The American Heritage Dictionary defines it as a "government by the least qualified or most unprincipled citizens." Webster's is simpler: "government by the worst people."—Ryan Lizza in a New Yorker article

Trump Impeachment Nicknames ...

The Fall of the House of Lusher
The Fall of the House of the Gold Toilet Flusher
Gone with the Hot Air
Hair Today, Gone Tomorrow

The Top Ten Donald Trump Nicknames ... Oh Hell ... So MANY to Choose from ... Better Make it the Top 1,000!

(#1) Number one, with a bullet: THE ANTICHRIST — by God and the Hebrew prophets — when they spoke of "the Trump of Doom" and a "little horn" were they speaking literally? (For a YUGE slew of 666 connections, see Is Donald Trump the Antichrist?)
(#2) Short-Fingered Vulgarian — by Graydon Carter
(#3) Agent Orange — by Anonymous (not sure if it was coined by the hacker group Anonymous, but this is one of my all-time favorites)
(#4) Golden Wrecking Ball — by Sarah Palin (who was not trying to be funny, but ended up being all too accurate ... so sad!)
(#5) Fuckface von Clownstick, Comedy Entrapment and Unrepentant Narcissistic Asshole (the UNAbomber?) — by Jon Stewart
(#6) The White Kanye ― by Bill Maher (or is Trump more accurately the Yellow-ish-Orange Kanye?)
(#7) Lord Voldemort, Orange Anus and Snake Oil Salesman — by Rosie O'Donnell
(#8) The Trump of Doom — by Michael R. Burch (adopted from the Bible and first used in a possibly prophetic Facebook post on September 11, 2015)
(#9) Thurston Shitbag the Third — by Bill Maher
(#10) Man-Baby — by Jon Stewart ... this one inspired a slew of jokes and similar nicknames ...

Q: What do you call it when a Man-Baby takes over the American government?
A: Coup d'Tot!