The HyperTexts

Donald Trump "45" Nicknames

This page has the best Trump nicknames related to "American president number 45" that I have been able to find, and a few that I came up with myself during the search. Many Americans—myself included—refuse to combine the words "President" and "Trump." For me, he is just Trump. But other Americans have gone a step further, and refer to Trump as either "it" or the number 45.

The Top Ten Trump President #45 Nicknames

(#1) Dolt 45 ― a pun on Colt 45 (first he'll drive you to drink, then he'll make you want to shoot yourself!)
(#2) Broken 45 ― Trump is like a broken record that keeps repeating the same weak s**t over and over and over ...
(#3) THE BEAST 45 ― Ivanka Trump said there's a special place in hell for people who prey on children; for example, her father!
(#4) Cuck 45 ― in South Africa, 4-5 is slang for "penis"
(#5) Størmer 45 ― the number 45 is known as a Størmer number, and Trump is very popular with the neo-Nazi Daily Stormer website
(#5) Stormy 45 ― porn star Stormy Daniels claimed that she can describe Trump's "junk" in intimate detail
(#6) It 45 ― think of Cousin It on the Addumbs Family!
(#7) It Hurl 45 ― pun on "It Girl"
(#8) That Thang 45 ― Trump thinks he's "the thing" and he talks about his sex organ a lot, thus "thang"
(#9) The 45 ― as if Trump is the only thing that matters
(#10) '45 ― 1945 was the end of Nazi Germany and Adolf Hitler

Dishonorable Mention: #trump45, #45, Drumpf 45, Dump 45, MAGA 45 (Make America Grate Again), 45 MPH (Mistruths Per Hour), Trump 45, 45 Swastika, Cold 45, The 45% Solution, 45 Degree Wrong Angle, Hyper Extension, 45 Shades of Shit, The '45 Villains (The Joker, Dr. Evil, Regina George, The Wicked Witch of the West, The Red Queen, Hitler, et al)

He Who Must Not Be Named ― What can you call Trump when you no longer wish to utter his name? Here are some short but not-so-sweet suggestions: 45, it, thang, Tweety, Twitler, T-Rump, Drumpf, Drumpfkopf, Man-Baby (Jon Stewart), Big Baby and Fat Blabby (Lewis Black), Genghis Can't and Genghis Cant (Michael R. Burch), Moron/Idiot (Steve Bannon, Rex Tillerson, Rupert Murdoch and others, per Michael Wolff), Kook (Lindsey Graham), Crazy (Jared Kushner, James Comey), Dinky Donny (Cher), Voldemort (Rosie O'Donnell)

People who have avoided using Trump's name with the word "president" include Oprah Winfrey, Whoopi Goldberg, Meryl Streep, John Lewis, Bernice King (the daughter of Martin Luther King Jr.), Jerry Brown, Barack Obama, Michelle Obama and Hillary Clinton. The widespread usage of "45" as a pejorative nickname for Trump was first introduced by actor Laurence Fishburne during his guest appearance on Comedy Central's The Daily Show with Trevor Noah on January 26th, 2017 ...

Fishburne: We don't need to spend any more time worrying about what 45 is doing, or what 45 and his administration are doing.
Noah: Wait, that's hilarious, you don't call him by his name?
Fishburne: 45.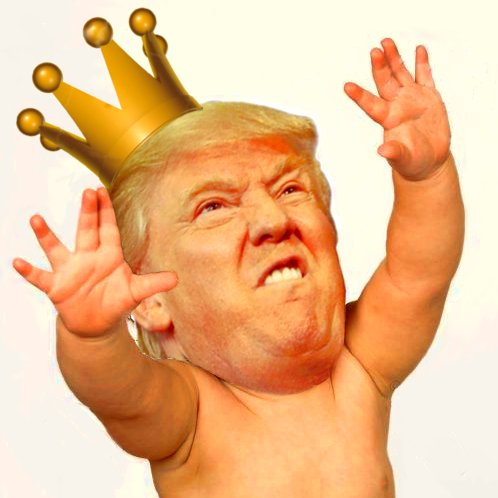 The picture above―the earliest known image of The Donald―is evidence that he was suckled in Emperor Palpatine's romper room.

He is a Man-Baby. He has the physical countenance of a man, and a baby's temperament and tiny hands.―Jon Stewart

The Top Ten Donald Trump Nicknames

(#1) THE ANTICHRIST — when the prophets spoke of the "Trump of Doom" and a "little horn" were they speaking literally? (For a YUGE slew of 666 connections, see Is Donald Trump the Antichrist?)
(#2) Short-Fingered Vulgarian — by Graydon Carter (a nickname Trump hates because he thinks it implies that he is under-endowed "down there")
(#3) Agent Orange — by Anonymous (a lethal product of deMonsanto and DonSatan)
(#4) Golden Wrecking Ball — by Sarah Palin (who was not trying to be funny, but ended up being all too accurate ... so sad!)
(#5) Fuckface von Clownstick, Comedy Entrapment and Unrepentant Narcissistic Asshole (the UNAbomber?) — by Jon Stewart
(#6) The White Kanye ― by Bill Maher (or is Trump more accurately the Yellow-ish-Orange Kanye?)
(#7) Lord Voldemort, Orange Anus and Snake Oil Salesman — by Rosie O'Donnell
(#8) The Trump of Doom — by Michael R. Burch (adopted from the Bible and first used in a possibly prophetic Facebook post on September 11, 2015)
(#9) The White Pride Piper — Trump is the poster boy for the "Make AmeriKKKa Grate Again" movement of white supremacists, neo-nazis and skinheads
(#10) Man-Baby — by Jon Stewart (this one inspired an avalanche of jokes and similar nicknames)

Welcome to the largest online collection of Trump-related nicknames, puns and jokes—all completely free and without annoying ads (we too loathe pop-ups). Now you can astound your friends and confound your political foes with the perfect nicknames for every occasion! Trump nicknames range from A to Z, from Agent Orange to the Zodiac Biller. My favorites include Putin's Puppet, Hair Hitler, Hair Fuhrer, The New Furor, Adolph Twitler, Tweety, Tsarzan, King Gorge, Conigula, Gingervitis and Dire Abby. Then there are "superhero" nicknames like Bratman, Stuporman and The Super Duper. But perhaps no nickname captures the "real Donald Trump" better than his real name, Donald Drumpf, and the inspired variation Donald Drumpfkopf. You can employ your browser's search feature or use CTRL-F to find nicknames for Trump's family, friends and lapdogs. My favorites include Melanoma (Melania Trump), Proxy Wife (Ivanka Trump), Aide de Kampf (Jared Kushner), Wrongway Conway (Kellyanne Conway), Koch Addict (Mitch McConnell), Cruella DeVile (Betsy DeVos), Paul Ruin (Paul Ryan), Detourney General (Jeff Sessions) and HUD Ornament (Ben Carson). We also have Trump family nicknames like The Brooklyn Hillbullies and Trump administration nicknames like Moscow on the Hudson, the Ogle Office and The White Supremacist House, so please prepare to be entertained!

If you want to keep up with Santa Claws on his Slay Ride, please check out Trump Christmas (but please be advised that some of the images are very dark and scary, and may not be appropriate for children!).

NOTE: After our captioned pictures of Widdle Donnie Whinydiaper, there are literally thousands of Donald Trump nicknames sorted into categories like Senile Trump Nicknames, Trump Sexual Assault Nicknames, Trump Unusual Coloration Nicknames, Trump Hairdo (and Hair-don't) Nicknames, etc. If you're looking for something in particular, just keep scrolling down and you're sure to find it (and a lot more)!

Q: What do you call it when a Man-Baby takes over the American government?
A: Coup d'Tot!