The HyperTexts

Rand Paul Nicknames
Rand Paul Jokes
Rand Paul Quotes

This page contains the best Rand Paul nicknames that I have been able to find, plus a few that I came up with myself.

Rand Paul nicknames have been coined by Donald Trump, Stephen Colbert and Rand Paul himself!

Related pages: Donald Trump: 666 Mark of the Beast, Is Donald Trump the Antichrist?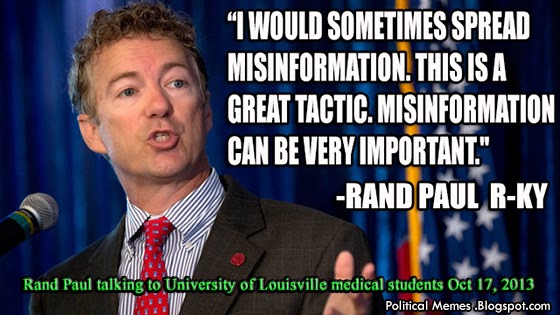 Rand Paul has the worst perm in American politics, and yet that is by far his best feature.

My favorite Rand Paul joke: Rand Paul, Paul Ryan and Any Rand walk into a bar together and order drinks. The bartender serves them tainted alcohol because they have gotten rid of all regulations. They die. Good riddance. Now there is hope of decent governance again.

Top Ten Rand Paul Nicknames

Mr. Misinformation
Mr. Nerdy Perm
Mr. Poodle-'Do
The Aquah Budha
Schrödinger's Cat-a-Tonic Candidate (he's "a man on all sides of all issues all at once")
Truly Weird Rand Paul (Donald Trump)
Justice Never Sleeps (his own choice for a Secret Service code name; he later called it "one of those nicknames you try to make happen and miserably fail")
Ru Paul (Stephen Colbert)

Stephen Colbert came up with "Ru Paul" for the "power couple pairing" of Rupert Murdoch with the pixie-like Rand Paul, after their "date" at the Kentucky Derby. Colbert came up with a perfect Brangelina-style joint name for what he called the "hot new celebrity power couple." The New York Times described the mating ritual thusly: "Mr. Murdoch, no novice when it comes to matters of political imagery, allowed himself to be paraded for six hours around the boisterous and bourbon-drenched grounds like a prize horse behind a proud jockey."

Paulie
Pixie Paul
The Political Pixie
Pious Paul
Paul Ruin
Paul Pot (pun on Pol Pot)

Petty Paul, Petite Paul, Puny Paul, Pitiful Paul, Paul Pottymouth

The Nana Killer, The Granny Killer, Dr. Death, Mr. Death Spiral, Mr. Just-Kill-Them-All!

Enabling Weasel, The Fiscal Weasel, Trump's Lap Weasel, Weasel Boy, Human Vermin

The Aryan Ayn Rand, Aryan Rand, The Randroid

Rising and Trending Rand Paul Nicknames

"Stonewall" Paul (because he never gets anything done while stonewalling progress)
Ryan's Nope (like Paul Ryan, his hero, Rand Paul says "nope" to decency, equality, tolerance and justice)

Dishonorable Mention: The Trump Enabler, The Trump Whisperer, Mr. 1%, Piddles, Puddles, Paul Putz, The Third Stooge

Rand Paul Quotes

If you think you have the right to health care, you are saying basically that I am your slave.

The president [Barack Obama] recently weighed in on marriage, and you know he said his views were evolving on marriage. Call me cynical, but I wasn't sure his views on marriage could get any gayer.

Rand Paul Jokes

See the Rand Paul quotes above.

Related pages: Famous Nicknames, Donald Trump Nicknames, Melania Trump Nicknames, Jared Kushner Nicknames, Ivanka Trump Nicknames, Donald Trump Jr. Nicknames, Eric Trump Nicknames, Anthony Scaramucci Nicknames, Mitch McConnell Nicknames, Jeff Sessions Nicknames, Steve Bannon Nicknames, Sarah Huckabee Sanders Nicknames, Judge Roy Moore Nicknames, Kellyanne Conway Nicknames, Joe Arpaio Nicknames, Donald Trump Cabinet Nicknames, Marco Rubio Nicknames, Ted Cruz Nicknames, Mitt Romney Nicknames, Donald Trump: 666 Mark of the Beast, Is Donald Trump the Antichrist?, The Donald Trump Bible, The Best Donald Trump Puns, The Best Donald Trump Insults, Fact-Checking Trump, Donald Trump Funny Campaign Slogans and Parodies, Donald Trump Halloween Ideas, Donald Trump Poetry, Donald Trump Inauguration Poetry, Donald Trump Curtsy or Bow?, Ten Reasons to "Fire" Donald Trump, Donald Trump Violence Quotes, Trump Trivia, Is there a Republican War on Women?, Conservatives Who Support Gay Marriage, 2016 Republican Debate, Ted Cruz Quotes, The Best Ted Cruz Jokes

The HyperTexts