The HyperTexts

Jeff Sessions Nicknames: Granny, Shocked Grandma, Evil Snoats, Buford T. Injustice, Gollum, The Hobbit, The Keebler Elf, Detourney General ...

This page contains the best Jeff Sessions nicknames that I have been able to find and some that I came up with myself, plus some illuminating Jeff Sessions quotes and anecdotes ...

Related pages: Donald Trump: 666 Mark of the Beast, Is Donald Trump the Antichrist?

Squirrels love nuts and Squirrely Sessions is as nutty as they come. Rather than telling the truth about the coronavirus pandemic—that Trump was warned about the danger of a pandemic by American medical experts and failed to act, claiming repeatedly there was no risk to Americans, that 15 cases would be the highwater mark, and that he had the problem "totally under control"—Sessions has once again gone into "rabid squirrel mode" by puffing up his cheeks and blowing out gusts of hot air. In return for his helpful propaganda on its behalf, the Coronavirus has awarded Session the honorary title Human-Squirrel-COVID Hybrid #666.

Former U.S. Attorney General Jeff Sessions has been accused of racism, of calling the KKK "okay," of voting to allow torture, of denying the impact of carbon dioxide on the earth's climate (it's just "plant food"), of saying that Trump grabbing women's genitals was not sexual assault, etc. Where did Squirrely Sessions' nutty ideas originate? Well, this Wall Nut didn't fall far from the family tree. Jefferson Beauregard Sessions III (such a big name for such a small-minded man!) is named after Confederate president Jefferson Davis on his father's side, and on his mother's side after P. G. T. Beauregard, the general who commanded the bombardment of Fort Sumter that started the Civil War! Possum Boy wants to continue their destruction of the United States, and has done a bang-up job so far, according to the real expert, Boss Hogg Trump!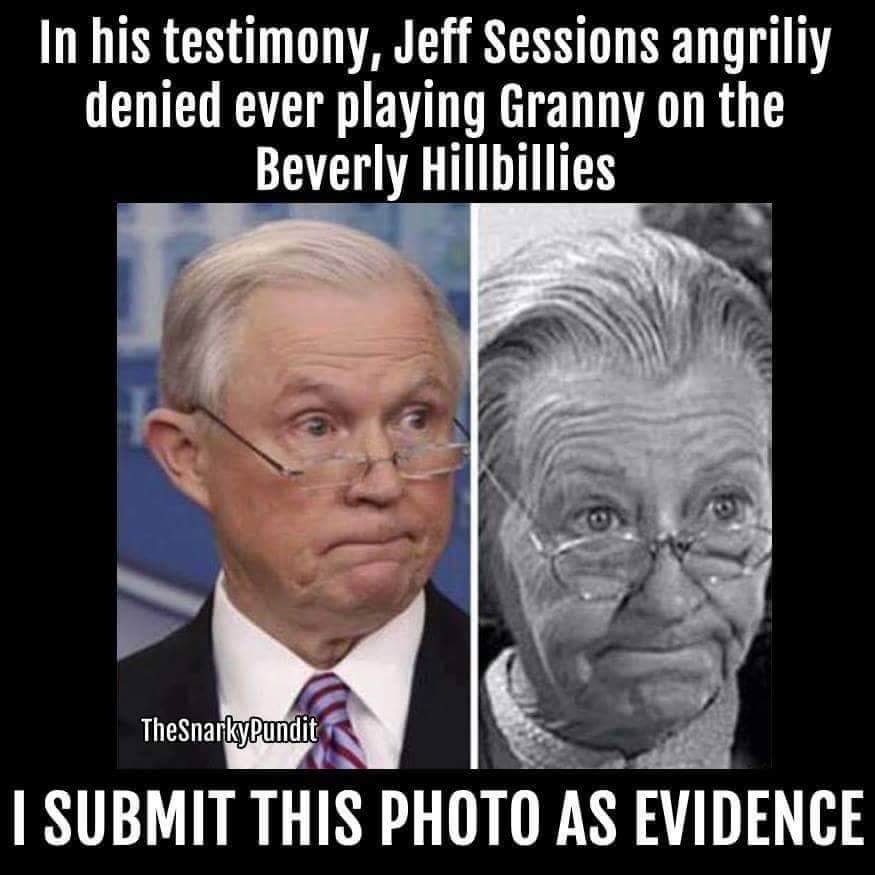 Separated at birth? The picture above is incontrovertible evidence that Jeff "Granny" Sessions is the identical twin of another notorious scold ... Granny Clampett!

Trump, who claims to be an infallible prophet who only hires the best people, later called Jeff Sessions a "disaster" and not "mentally qualified" to be U.S. Attorney General. Trump is now backing former football coach Tommy Tuberville against Sessions in the campaign for the Alabama senate seat held currently held by Doug Jones.

When Trump fired his favorite Whipping Boy, he accused Sessions of being a Non-Attorney-General and an Unprofitable Prophet because Sessions was unable to accurately predict that he would recuse himself!

We called Jeff Sessions' replacement, Matt Whitaker, Shit-Taker and Welcome Matt because we knew Trump would walk all over him. As we predicted, Witless Whitaker didn't last long at the Department of Injustice. He was replaced by William Barr, who became Trump's third Detourney General. Trump's favorite Barr Tender served him rounds of chilled Mueller Lite.

The Top Ten Jeff Sessions Nicknames

Granny
Granny Clampett
The Scold
Shocked Grandma (Stephen Colbert "alter ego")
The Washington Hillbully
Possum Boy and Half-Possum (SNL's Kate McKinnon)
Benjamin Button (Donald Trump, per Omarosa Manigault Newman)
Buford T. Injustice
Evil Snoats
The Blight Supremacist




Gollum
The Hobbit (Trevor Noah)
Racist Dobby (Stephen Colbert "alter ego")
Mr. Magoo (Donald Trump)
Dildo Baggins
Bill Dough Baggins (Michael R. Burch)
Shill Dough Baggins (Michael R. Burch)
Shrill Bro' Baggins (Michael R. Burch)
The Forest Gnome (Stephen Colbert)
The Keebler Elf and The Feebler Elf
The Gerber Gerbil Boy-Elf
Darth Leprechaun (Michael R. Burch)
Darth Yoda
Cloverleaf Pixie watching people have sex (Stephen Colbert "alter ego")
Albino Smurf (Stephen Colbert "alter ego")
Cabbage Patch American (Stephen Colbert)
Naptime Sessions
Napoleon Blownapart

Detour-ney General
Round-a-Bout Bubba
Shirknado (Michael R. Burch)

The Orphan Maker
Zero Tolerance Sessions
Zero Humanity Sessions

Kangaroo Court Sessions
Hessian Sessions
Secessionist Sessions
Stressin' Sessions (Elizabeth Harris Burch)
Stonewall Sessions
Jefferson "No Regard" Sessions (his full name is Jefferson Beauregard Sessions)
Bo Retard
Jeff "The Truth is in Recession" Sessions

Nervous Tick (Conan O'Brien)
Nervous Nellie
Panicky Pete (Trump attorney John Dowd claimed that Sessions "panicked" when he recused himself)

Nuts (Donald Trump)
The Wall Nut (this nut didn't fall too far from the racist family tree)
Nutty McFruitcake
The Squirrel
Squirrely Sessions
The Little Mouse (Vicente Fox)
Sneaky Little Liar (SNL)
Double Donged Piggy (SNL)

Dishonorable Mention: BuyFocal (he buys all sides of Trump's lies), Amnesty's Nastiest Enemy (Michael R. Burch), The eRacist (Sessions would apparently be happy to "erase" people of other races), Trump's Dog Whistle, Mutt and Jeff, Nutt and Jeff, Snappy, Snappy the Rat Terrier, Pavlov's Dog, Putin's Dog, Putin's Lapdog, Putin's Poodle, Nutty, Nutjob, Nut Boy, Snappy McSquirrely, Snappy McRacistPants, The Shrew, Trump's Attack Hamster of Death, General Disaster, General Nincompoop , The Demotee , Soon-to-be Private Sessions, Trump's Whipping Boy, Flighty Mouse, Smitey Mouse, Russian Red Sessions, Rushin' Sessions, Retard Sessions, Recess Sessions, Disjointed Sessions, Show No Regard Sessions, Shirknerddough, The Mal-Lingerer, Alabama Roadkill, Death Warmed Over, reSessional, Taps, Elfin Punching Bag, The Boss Baby, The Bossed Baby, Mr. Potato Head, The D.C. Hobbit, Disgraceful (Donald Trump), The Un-Civil Warrior, Forest Grump, The KKKeebler Elf, Little Napoleon, The Little Degenerate, Sissy Sessions, The Feral Ferret, Trump's Stink Ferret, The Wonky Weasel, Willy Wonket, Sgt. Schultz ("I know nutthink!"), Perjurer General, General Beau-Beau (rhymes with "Dodo" like the bird), Sourpuss Sessions

Department of Injustice Nicknames

Trump called Jeff Sessions "Mr. Magoo" and Rod Rosenstein "Mr. Peepers" because they were too shortsighted to see their way to actual justice, which would of course have meant prosecuting their boss for high crimes and treason. But that would make Matt Whitaker "Homer" for being totally blind and creating myths.

Jeff Sessions Nicknames: Mr. Magoo, Detourney General, Roundabout Bubba
Rod Rosenstein Nicknames: Mr. Peepers, Rushin' Rod (Michael R. Burch), Hosenstein (Michael R. Burch)
Dana J. Boente: Deputy Dawg, Trump's Lapdog, Barney Fife, Goober, The Decoy
Matt Whitaker Nicknames: The Tool, The Suck-Up, (DOJ attorneys), The Succubus, F*cking Fool (DOJ attorneys), Homer Wimpson (Michael R. Burch), Gomer Pile-On, Shit Taker (Michael R. Burch), Welcome Matt (Michael R. Burch), Matt Overwhelmed (pun on Matt Helm), The Unvetted Attorney General, The Pits Bull, Deputy Dawg, Trump's Lapdog

Related pages: Famous Nicknames, Donald Trump Nicknames, Melania Trump Nicknames, Jared Kushner Nicknames, Ivanka Trump Nicknames, Donald Trump Jr. Nicknames, Eric Trump Nicknames, Mark Meadows Nicknames, Anthony Scaramucci Nicknames, Mitch McConnell Nicknames, Jeff Sessions Nicknames, Steve Bannon Nicknames, Sarah Huckabee Sanders Nicknames, Judge Roy Moore Nicknames, Kellyanne Conway Nicknames, Joe Arpaio Nicknames, Stephen Miller Nicknames, Sean Spicer Nicknames, Devin Nunes Nicknames, Michael Cohen Nicknames, Sam Nunberg Nicknames, Mike Pompeo Nicknames, Mike Pence Nicknames, Brett Kavanaugh Nicknames, Marsha Blackburn Nicknames, Diane Black Nicknames, Matt Whitaker Nicknames, Donald Trump Cabinet Nicknames, Marco Rubio Nicknames, Donald Trump: 666 Mark of the Beast, Is Donald Trump the Antichrist?, The Donald Trump Bible, The Best Donald Trump Puns, The Best Donald Trump Insults, Fact-Checking Trump, Donald Trump Funny Campaign Slogans and Parodies, Donald Trump Halloween Ideas, Donald Trump Poetry, Donald Trump Inauguration Poetry Donald Trump Curtsy or Bow?, Ten Reasons to "Fire" Donald Trump, Donald Trump Violence Quotes, Trump Trivia, Is there a Republican War on Women?, Conservatives Who Support Gay Marriage, 2016 Republican Debate, Ted Cruz Quotes, The Best Ted Cruz Jokes

The HyperTexts