The HyperTexts

Donald Trump Nicknames: Cronies and Lapdogs
Donald Trump Russian Collusion Nicknames
Donald Trump Hashtags

This page contains nicknames for Donald Trump and his cronies, lapdogs, family, friends, cabinet, associates, partners in crime, accomplices, inner circle, surrogates, benefactors, donors and fawners. My personal favorite comes from the Bible, the ominous TRUMP OF DOOM. When God and the Hebrew prophets spoke of the "Trump of Doom" and a "little horn" were they speaking literally? (For a YUGE slew of 666 connections, see Is Donald Trump the Antichrist?)

Trump Coronavirus nicknames: Human-COVID Hybrid #666, Typhoid Don, Little Donnie Pandemic, Bunker Boy, Bunker Baby

Personal favorites for Trump family, friends and lapdogs include Melanoma (Melania Trump), Proxy Wife (Ivanka Trump), Aide de Kampf (Jared Kushner), Ghouliani (Rudy Giuliani), Wrongway Conway (Kellyanne Conway), Koch Addict (Mitch McConnell), Young Gargamel and Sméagol (Stephen Miller), Cruella DeVile (Betsy DeVos), Scary Poppins (Mick Mulvaney, the previous White House nanny), Shreddy Roosevelt (Ryan Zinke), Paul Ruin (Paul Ryan), Buford T. Injustice (Jeff Sessions), Count Drekula (Paul Manafort), Loose Cannon Bannon (Steve Bannon), Hick Morticia (Sarah Huckabee Sanders), Deputy Dip-Pity-'Do (Anthony Scaramucci), Sludge Roy Moore and HUD Ornament (Ben Carson)! We also have Trump family nicknames like The Brooklyn Hillbullies and Trump administration nicknames like Moscow on the Hudson and The White Supremacist House.

The Hell's Belles are collectively Kellyanne Conway, Sarah Huckabee Sanders, Betsy DeVos and Kirstjen Nielsen. The Three Amigos at the heart of the Ukraine scandal are Rick Perry, Gordon Sondland and Kurt Volker.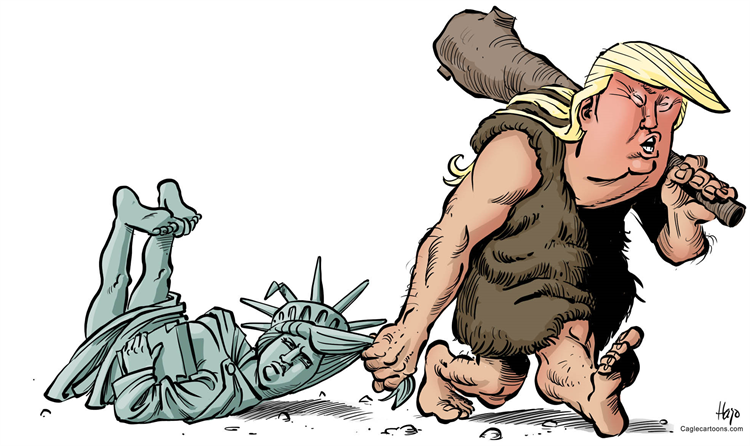 Trump Shutdown Nicknames: Cave Man (New York Daily News), The Wallflower, The Wall Nut, Blarney Rubble, Incurious Gorge (Captain Sully Sullenberger), Where's Wall Dough?, Custard's Last Stand, Trump's Concession Stand

Related pages: Donald Trump: 666 Mark of the Beast, Is Donald Trump the Antichrist?

Heroes of the Pandumbic: Trump Coronavirus Nicknames

Donald Trump: Tokyo Rose Trump, Typhoid Don, President Pandemonium, DEAF CON 1, The Lyin' King, PINO (Jimmy Kimmel, President in Name Only)
Ivanka Trump: Princess Covidia, Ivanka Tramp, Proxy Wife, Nordic Goddess, I Candy, Trophy Daughter, The First-Lady-Daughter
Jared Kushner: The Covid Kid, Aide de Kampf, Donald Trump's Junior Partner in Grime, Jarring Jared, Muscle-less Jethro
Donald Trump Jr.: Kid Corona, Junior, Dunce Jr., Ponyboy, Chip Off the Old Blockhead, Fredo Corleone, Frito, Fraido
Eric Trump: The Covidiot, Eric the Red, Eric the Brain Dead, Eric of Orange, Eric Idle, Draco Malfoy, Sonny Corleone, Sonny-Boy
Melania Trump: The Slovenian Sphinx (Maureen Dowd), First Babe, Melania Antoinette (Michael R. Burch), Melanoma, The Cold One
Karen Pence: The Lying Nun, Creepy Karen (Donald Trump), Mother (Mike Pence), Miss Vice Antichrist
Mike Pence: The Coronavirus Czar, Dense Pence, Senseless Pence, Mike Pounce (Donald Trump), Miami Vice
Matt Gaetz: Jail Bait Gaetz, Hell's Gaetz, Young Nixon, Tricky Dick II, Trump's Door Mat, Matt the Mat
Ron DeSantis: DeSatan, DeSatanist, Death-Dealer DeSantis, Rosie Ronny, Conny Ronny
Rick Scott: Scrooge (for making it impossible for Floridians to get unemployment relief)
Tom Cotton: Cottonmouth, The Slaughter Moccasin, Viper, Cotton-Eyed Moe, High Cotton, The White Cotton King, Uncle Tom
Mark Green: The Uberhawk
Mark Esper: Troop, The Battle Space Bimbo, The Secretary of De-Sense, The Secretary of Nonsense, The Acolyte, The Trump Hisser
Mark Milley: Milley Cyrus, Milling Milley, Willy Nilly Milley
Mike Pompeo: Pompey the Grate, The China Sin-Drone (Michael R. Burch), The Wuhan Conman, Miss America
Mark Meadows: Scary Poppins, Nanny McFee, White House Chief of Graft
Mitch McConnell: Fuckface McTurtlebitch, The Turtle, Mitch the Snitch-Bitch, Koch Addict (Michael R. Burch), Mitch McConHell
Kellyanne Conway: Miss Coronavirus 2020, The Human-COVID Hybrid, Kellyanne Con-Artist (Randy Rainbow)
Larry Kudlow: Spudlow, Scudlow, Cudlow, Go Low Kudlow, Low Ball Kudlow, Chewer of Trump's Cud Low
Peter Navarro: The EEKonomist, China Sin-Drone 2 (Michael R. Burch), Bullshitter in the China Shop
Rudy Giuliani: Trudy, Rudy Ghouliani, Rudy the Red-Nosed Panderer, Drooliani, Fooliani
Stephen Miller: Young Gargamel (Stephen Colbert), Sméagol (Trevor Noah), Basic Henchman (Trevor Noah)
Katie Miller: Ms. Gargamel, Ms. Sméagol, Domino, Bar-the-Door Katie, The Silver Lining
Hope Hicks: Hopeless Hicks, The Stupor Model, Tricky Hicky, Hopester and Hopie (Donald Trump)
Ben Sasse: Sassy Sasse, Sashay Sasse, Keynote Bleeper
Lindsey Graham: Graham Cracker, Crackers, Nutjob (Donald Trump), Disgrace (Trump), Crazy (Trump), Flimsy Lindsey, Lindsey Gomez, Stinkball
Joseph Grogan: Bulk Grogan, Bulk Hooligan, Grogan's Zeroes
Dr. Moncef Slaoui: Mon Chef, Eyechart, Mr. Warp Speed
General Gustave F. Perna: Gus, Gusty,
Richard Epstein: No Einstein (he predicted 500 coronavirus deaths, then 5,000, then 50,000 ...)
Erin Perrine: Erin Urine, Miss Piss, The Trump Hisser, The Trump Pisser, Lyin' Erin
Aaron Ginn: Slow Ginn Fizz (Michael R. Burch), Ginn Rummy, The Growth Hacker (Ginn himself)
William Barr: Ironslide, Raymond Barr, Detourney General, Human Hefty Bag, Slobber Baron, Enabler General, Trump's Barr Tender
Kayleigh McEnany: Fact-Free Kayleigh, McEnemy, McInaney, McIninny, Miss Misinformation, Miss Truthless, The Trump-et, Miss Trumpet
Hogan Gidley: Giddy Gidley, The Gadfly, Hogan's Non-Hero, Sulk Hogan
Steve Mnuchin: Hedge Hog, PAC-man, No-Chin Mnuchin, The Foreclosure King, The Forecloser
Chad Wolf: Dangling Chad, Wolf in Sheep's Clothing, Wolfie, The Wolfman, Secretary of Insecurity
Brett Giroir: Hot Air Giroir, Bad Bet Brett
Brad Parscale: Truth and Honor For Sale Parscale, Sliding Scale Parscale, Amazon (Donald Trump)
Dr. Ben Carson: HUD Ornament (Michael R. Burch), Psychopath (Donald Trump), Crazy Ben Carson, Dummy (his childhood nickname)
Dr. Deborah Birx: Miss Misinformation, Miss Leading, Trump's Echo, The Truth Trumper, Birx of Pray, Smirks Birx
Dr. Stephen Hahn: Hands-Off Hahn (he has quarantined himself at the White House)
Dr. Robert Redfield: Red Rover, Robert Redress, AWOL, Renfield, Deadfield, Doctor Doomed #1
Dr. Anthony Fauci: The Voice of Reason, The Truth Teller, Trump's Next Firee, Doctor Doomed #2
Dr. Mark Mulligan: No Mulligan Mark (he says, contra Trump, that a vaccine will not be ready for public use this year)
Dr. Jerome Adams: The Invisible Man, The Sturgeon General, The Sleepy Anesthesiologist, Snoozy
Dr. Nancy Messonnier: Messenger Angel, The Shot-Down Messenger
Dr. Anne Schuchat: Snapchat Schuchat
Seema Verma: Seem a One-Term-a (another likely Trump firee)
Alex Azar: Alex Afar (Michael R. Burch), The ex-Coronavirus Czar, The First Firee
Michael Caputo: Capo Caputo, Kaputo, Kaput, Kaputz, Mafioso Mike
Brian Kemp: Lyin' Brian, Verklempt Kemp, Kemp the Temp, Clueless Kemp, The April Fool, The Impeachable Peach
Kellyanne Conway: Con-Way Twit said, "It is being contained; do you not see it being contained?"
Fox News: the Hyperventilators of Faux News all agree: the coronavirus is "fake news" and a "liberal hoax"
Sean Hannity: Scammity said the coronavirus pandemic was the fake news of the "media mob"
Rush Limbaugh: The Rushian aka Rusty Dim Bulb said the coronavirus "is the common cold, folks"
Lou Dobbs: Loop-de-Lou aka Screwloose Lou blames the real media for "playing up fears" of the virus
Laura Ingraham: Ingrasham said "the facts are actually pretty reassuring" and blamed the real media
Tomi Lahren: Brain Drain Lahren aka White Power Barbie is more concerned about used needles
Geraldo Rivera: Jerry Rivers said the "ordinary old flu" is more dangerous than the coronavirus
Peter Hegseth: Megadeath Hegseth said "the more I learn about the coronavirus the less concerned I am"
Jeanine Pirro: Blearo said talk about the coronavirus being more deadly than the flu "doesn't reflect reality"
Jesse Watters: High Watters Murk said he and his pompadour are "not afraid of the coronavirus"
Donald Trump: Don the Con said "This is the flu, it's going to disappear one day ... like a miracle!"
Devin Nunes: Numbnuts Nunes said "it's a great time to go out" with the family to a local restaurant
Matt Schlapp: Schlapp Me Silly said "it is very, very difficult to contract this virus"
Mercedes Schlapp: Mercy Less Schlapp did not contradict her ill-informed hubby
Ainsley Earhardt: Dearheart Earhard said "it is actually the safest time to fly"
Ed Rensi: Truth Rinser Rensi said "there's a lot of hyperbole and noise" about the coronavirus
Dr. Marc Siegel: Trump Beagle Siegel said the "worst case scenario" is that "it could be the flu"
Dr. Drew Pinsky: Hinky Pinsky said "it's milder than we thought, the tally rate is going to drop"
Ed Henry: Featherhead Ed said that if we understand the "context" the virus is "not as scary"
Sean Hannity: Scammity later said, "This program has always taken the coronavirus seriously!"

Donald Trump Hashtags

#DumpTrump
#NeverTrump
#BunkerBoy
#BunkerBaby
#NotMyPresident
#Resist
#Impeach
#ImpeachTrump
#Impeachment
#PantsOnFire
#DirtyDonald
#KingOfCorruption

Trump "Healthcare" Hashtags

#WealthCare
#TrumpCare
#TrumpCareless
#TrumpedUpCare
#MedicRaid
#Painman
#Drainman
#BabykillerTrump
#GrannykillerTrump
#BlingTheMerciless
#LyinRyanDyinCare

More Nicknames

Nicknames for Trump and his allies have been coined by Glenn Beck, Samantha Bee, Joe Biden, Charles M. Blow, Steve Bannon, Dana Carvey, Graydon Carter, Michael Che, Hillary Clinton, Stephen Colbert, Garrison Keillor, Jimmy Kimmel, Bill Kristol, David Letterman, Bill Maher, John McCain, Michael Moore, Seth Myers, NBC, Trevor Noah, Conan O'Brien, John Oliver, Lawrence O'Donnell, Rosie O'Donnell, Martin O'Malley, Sarah Palin, Dan Rather, Marco Rubio, Nate Silver, SNL, Jon Stewart, USA Today ... and even by The Donald and his first wife, the former Ivana Trump!

Trump family nicknames: The Brooklyn Hillbullies, Donald Duck Dynasty, Beavis and the Buttheads, Bereave US and the Buttheads (Michael R. Burch), Children of the Corn, The Stepfordians, The KKKardashians, Poor Little Bitch Kids, The Four Norsemen of the Trumpocalypse, The Cold Ones, Fifth Avenue Freeze-Out, Donald and the Douchebags, Hitler's Revenge on the United States

Republican Party nicknames: G.O.P. now stands for Government of Putin and it is clearly of Putin, by Putin and for Putin. Just follow the funny money, er rubles.

Trump impeachment nicknames: Fall of the House of Lusher, Fall of the House of the Gold Toilet Flusher, Gone with the Hot Air, Hair Today Gone Tomorrow

Trump divorce nicknames: Reality Check Mate, Reality Czech Mate, You're Fired!

Fox News Nicknames: Faux News, Foxy News, Foxes'R US, Shifty Fox News, The Virtual Reality News Network, Fox in the Henhouse News, Toolbox, Foolbox, AmeriKKKan Tass, AmeriKLAN Tass

Trump Russia Connection Nicknames

Vladimir Putin nicknames: Vova, Abaddon (the Angel of Death), Vlad the Impaler, Vlad the Terrible, Vladula, Pale Moth (his KGB code name), Darth Vladimir, The Kremlin's Grey Cardinal, The Blonde Bond, The Barechested Cossack, Tsarzan, The Puppet Master, Trump's Controller, Pootie-Poot (George W. Bush), Ostrich Legs, Volodya, Khuilo, Huilo, VVP, Platov, Mr. Putin, The BEAST

Straight from the jackass's mouth: Russian politician Vyacheslav Alekseyevich Nikonov, a member of the Duma (ruling assembly), said on live TV that U.S. intelligence "missed it when Russian intelligence stole the presidency of the United States."

"Russians make up a pretty disproportionate cross-section of a lot of our assets," Donald Trump Jr. told a real estate conference in 2008, "We see a lot of money pouring in from Russia." In 2014, when golf writer James Dodson asked Eric Trump how his father could finance golf courses when American banks were declining to lend money against such assets, he answered: "We don't rely on American banks. We have all the funding we need out of Russia." So when Trump Sr. claims to have "no dealings" with Russia, he is obviously lying. And Trump Jr. made the purpose of his treasonous Trump Tower meeting with Russian agents crystal-clear when he informed Jared Kushner and Paul Manafort about the covert operation in an email with the subject heading: "Russia – Clinton – private and confidential." Folks, it doesn't take Sherlock Holmes or IBM's Watson to figure this one out!

Kirill Dmitriev: Killer Kirill, Mr. Back Channel, The Go-Between

Sebastian Gorka nicknames: Gorky Park, Dorky Park, Borat, The Irregular, The Mad Hungarian, The Hun, The Incredible Shrinking "Expert" Witness, The Trump Hisser, Snake in the A$$, Sayonara Gorka, The Lockout (Gorka was reportedly locked out of the White House), DNA (Do Not Admit), The Pariah, The Fringe

Felix Sater nicknames: The Satyr, The Margarita Assassin, Felix Satyr, Red Felix, The Hudson on Moscow (Sater worked on plans to build a Trump Tower in Moscow), The Red Turk, Switchblade, The Knife Fighter, The Bar Fighter, (Sater went to prison for stabbing a man in a bar fight), The Boy Scouter, The Trump Manager

Felix Sater wrote in an email to Trump attorney Michael Cohen: "Our boy can become president of the USA and we can engineer it. I will get all of Putin's team to buy in on this, I will manage this process."

Trump donor Sylvain Mirochnikoff nicknames: The Trader, The Director, The Exotic Equity Derivatives Trader

Seema Verma nicknames: The Verminator

Inauguration donor Imaad Zuberi nicknames: Mr. Moneybags, The Venture Crapitalist, The Hillblazer, The Shill Blazer

Sylvain Mirochnikoff nicknames: Sylvain the Brain Drain

Maria Butina nicknames: Red Sparrow, Backchannel Babe, The Siberian Sphinx, The Siberian Minx, The Siberian Lynx (pun on "links"), Siberian Princess, Bargain Basement Agent (Brian Williams), Agent 69, The Spy Who Came in from the Cold War, The Intelligence Subcontractor, Full Immersion Bimbo

Vyacheslav Alekseyevich Nikonov nicknames: Eyechart, The Man Who Never Needs to Buy a Vowel, Heel of Misfortune, The Schoolmarm

Sergey Zheleznyak nicknames: Trump's Biggest Booster, The Civilizer of Americans, The Lecturer

Vladimir Zhirinovsky nicknames: The Russian Donald Trump, Count Vladula

Vyacheslav Volodin nicknames: Voodoo, Triple-V, V-Man

Sergey Kislyak nicknames: The Recruiter, The Mole Man, Russia's Top Spy, Trump's Handler, The Impresario, Jabba the Gut, The Pillsbury Diplomat (Stephen Colbert "alter ego"), Man Whose Chin Has Its Own Smile (Stephen Colbert "alter ego")

Sergei Gorkov nicknames: Kushner's Controller, Jared's Russian Sugar Daddy, The Insider, The Financer, Putin's Piggy Banker, Putin's Slush Fund Manager, Putin's Kitty Stroker, Mr. Rublebags, The Kremlin's Crown Prince of Profit, Mr. Vnesheconombank, The VEB of Deceit, The Black Widow

Natalia Veselnitskaya nicknames: Natashe Fatale, Natalia Romanova, Zora the Geek, Octohussy, Hussy Galore, Dishonor Blackman, Shill Masters Son, So Long Dimwit Adios, Bonita Booby Trap, Rink-a-Dink Fink, Blog Cabin Girl, High Jinx, Vesper Sinned, Triple X, Trip Lex, Strawberry Yields, Severance, Domino Downfall, Fredo's Downfall, The Knock-Off, Yet Another Loose End, Blunderball 007, Miss Russian Collusion Fusion, Trump Tower's Favored Immigrant (she is on parole with American Immigration), The Prosecutor's Bride (her nickname in Russia during her marriage to Alexander Mitusov), Miss FSB, Agent 55002 (she worked for FSB Military Unit 55002)

Rinat Akhmetshin nicknames: Boris Badenov, Mr. Con-Fusion, The GRUsome Spook, The Mole, Mr. Counter Intelligence, The Propagandist, Putin's Shadow Lobbyist, The Man in the Shadows, The Shadowist, Trump's Controller, AK-47, The Mercenary, Russia's Gun-for-Hire, The Hacker, The Spy Who Came in from the Cold War, The Double-Speak Agent, The Lobbyist, Rinat of the Oligarchs

Aras Agalarov nicknames: The Mogul, The Oligarch, The Donald Trump of Russia, Azerbijani Aras

Emin Agalarov nicknames: Mogul Lite, Little Mogul, The Azerbijani Eminem

Yury Yakovlevich Chaika nicknames: The Crown Prosecutor, Trump's Elector

Rob Goldstone nicknames: The Gold Digger, The Name Dropper, The Pawn Broker, The Bet-Hedger (he posted a selfie of himself in a pro-Russia shirt hours after Trump was elected president), Nebbish Nero, Chubby Caligula, The Oligarch's Intimate, The Weak Link, Cold Stone Robber

Ivan Timofeev nicknames: Ivan the Terrible, Ivan the Shareable, The Director, Director of Russian Internal Affairs

Irakly Kaveladze nicknames: Ike, Putin's Launderer, The Whitewasher, Mr. Magnitsky, The Magnet, The Invisible Man, Comrade Croak US, Hocus Crocus, The Wallflower, The Analyst, The Pawn Broker, Putin's Mike, The Eighth Wheel

Denis Katsyv nicknames: The Launderer, Mr. Moneybags

Anatoli Samochornov nicknames: The Interpreter, The Deep State Contractor

Boris Epshteyn nicknames: Bore Us (his high school nickname), Boris Badenov, Putin's Proxy, The Russian Surrogate, The Rat, The Mole, Moscow's Investment Guru, Frankenstein Epshteyn, Delirious Boris, Boris the Loris

Yuri Dubinin nicknames: Trump's Recruiter, Trump's Controller

Natalia Dubinina nicknames: Jail Bait, The Lure, Honey to the Bee

Tevfik Arif nicknames: The Bayrock Schlock Jock

Alan S. Futerfas nicknames: Flutter-Fast, Scumsaver, The Mob's Legal Beagle, Mr. Mob, Mr. Mafia, Russian Red Futerfas, The Pork Avenue Trombonist

Nicknames Coined by Trump and/or his Family

Donald Drumpf — his German family name is Drumpf, which definitely suits him better!
The Donald — Ivana Trump (she first used the term in a 1989 Spy Magazine cover story)
The Most Fabulous Whiner — after Donald Trump described himself to CNN's Chris Cuomo as the "most fabulous whiner" who keeps "winning by whining"
Mr. "Art of the Deal" — Donald Trump (taken from the title of his 1987 book, which he considers to be second only to the Bible)
John Baron and John Barron — pseudonyms created by Donald Trump, apparently so that he could pose as his own publicist and brag about his sexual exploits to reporters
Humble — Donald Trump's ironic choice when asked to provide a Secret Service codename
Humble Trump — a nickname given to Donald Trump by his son Eric Trump aka "Eric the Red" and "Eric the Brain Dead"

Nicknames of Trump's Opponents, Critics and Victims

Robert Mueller nicknames: The Clean Marine (Maureen Dowd), The Patriot (he was awarded a Bronze Star for heroism and a Purple Heart for service in Vietnam), The Straight Shooter (who doesn't miss), The Sharp Shooter, The Investigator, Sherlock Holmes's Smarter Brother, Donald Trump's Worst Nightmare, Trump's Doom (a pun on "the Trump of Doom"), Bobby Three Sticks (his full name is Robert Swan Mueller III), Bobby Cricket, Cricket the Wicket (the III looks like a cricket wicket, and in English slang "cricket" means fair play), The Gold Medalist (he was awarded a gold medal in 1962 for being his school's best athlete), The Martinet, Swan Song (his middle name is Swan and he will hopefully be Trump's "swan song"), Trump's Shadow, My Friend Flipper

John McCain nicknames: Hogan (George W. Bush), The Maverick (Sarah Palin), Crusty McCain (Donald Trump), The Great American Zero (ditto), Trump's McBane, The Passionate POW, Die Hard with a Vengeance (after he rose from his hospital bed to vote down Obamacare repeal), McNasty (his political opponents), McLame (ditto), Punk (ditto), Grandpa Walnuts, The White Tornado, Wacko Bird (Ted Cruz), The Maniac, The McCainiac (after he broke ranks with Trump and the GOP to shoot down the "skinny repeal" of Obamacare), The Skinny Repealer, McShane (after McCain won the shootout with Trump), Songbird

Nancy Pelosi nicknames: Petunia, Nails (apparently, she can be soft and hard, as Trump is finding out), Madame Speaker, Trump's Worst Nightmare (an intelligent woman who's not afraid of him and keeps out-maneuvering him), Shady Lady, The Shade Queen, The Queen of Condescending Applause (after her "seal of disapproval" jeer-clap during Trump's State of the Disunion Address)

Hillary Clinton nicknames: Hill, HRC, The Anti-Trump, #NastyWoman
Bill Clinton nicknames: Slick Willie, Bubba, The Big Dog
Adam Schiff nicknames: Shifty (he said Trump has no ideology other than himself, but Democrats can work with him when their interests align)
Tim Kaine nicknames: The Human Sweater Vest (because he's so warm and fuzzy)
James Comey nicknames: Homey Comey, Show Me Comey, EZ-Comey-EZ-Goey
Stormy Daniels nicknames: The Perfect Storm, Stormy Whether, The Storm Trooper, The Renaissance Porn Star (Ron Jeremy), The Boss (Nina Hartley)
Mira Ricardel nicknames: Trump's Bane, Melania's Burden, Tricky Ricardel
Barack Obama nicknames: Barry, No Drama Obama
George H. W. Bush nicknames: Poppy, Shrub Senior
George W. Bush nicknames: Dubya, Shrub Junior
Jimmy Carter nicknames: Jimmy (he was the first American president to officially go by his nickname), The Peanut Farmer
Jeff Flake nicknames: Snow Flake (he was actually born in Snowflake, AZ), Flake The Flake (Donald Trump), Jeff Flakey (Trump)
John Kasich nicknames: Pope (he wanted to be the pope as a boy), Unit One (his choice for a Secret Service code name), Unit Two (his wife's alternate suggestion!)
Angela Merkel nicknames: Kasi, Frau Nein, Frau Europa, Mutti ("Mommy"), Mein Madchen (Helmut Kohl), The Iron Chancellor
John McCain nicknames: Hogan (George W. Bush), The Maverick (Sarah Palin), Crusty McCain (Donald Trump), McNasty (his political opponents)
Jason Miller nicknames: The Great Communicator, The Strategist, The Genius, The Smart One
Dick Durbin nicknames: Dick Turban (Rush Limbaugh)
Rosie O'Donnell nicknames: Loser (Donald Trump), Slob (Donald Trump), Fat Pig (Donald Trump), My Nice Fat Little Rosie (Donald Trump), Trainwreck (Donald Trump)
Marco Rubio nicknames: The Water Boy, Lightweight Choker (Donald Trump), Little Marco (Donald Trump), Marco "Weak as a Baby" Rubio (Donald Trump), Easy Mark (Donald Trump)
Bob Corker nicknames: Liddle Bob Corker (Donald Trump)
Andrew McCabe nicknames: The Scapegoat, The Sacrificial Lamb
Jon Tester nicknames: High Test
Senator Amy Klobuchar nicknames: Minnesota Nice
Alexandria Ocasio-Cortez nicknames: AOC, Sandy, The Happy Warrior (Kerry Eleved), True Grit (Steve Bannon), Sharpie, The Tack, The Phenom (TIME), America's Lightning Rod
Michael Bennet nicknames: Mr. Bennet goes to Washington
Senator Richard Blumenthal nicknames: Dick, Da Nang Dick (Donald Trump)
Cliff Sims nicknames: Low Level Staffer (Donald Trump)
Michael Cohen nicknames: Dean Cohen (his middle name is Dean)
Lanny Davis nicknames: Classic Lanny Davis, The Orchestrator
Preet Bharara nicknames: The Sheriff of Wall Street, The Man Who Put Albany on Trial, The Barrister
Acting Defense Secretary Patrick Shanahan nicknames: Mr. Fix-It, Missile Man
Ruth Bader Ginsberg nicknames: The Notorious RBG

The seemingly frail Supreme Court Justice didn't miss a day on the bench while undergoing chemotherapy and radiation treatment for colon cancer. Instead, she hired a personal trainer and was soon able to do 20 full pushups at age 80! Later, when Ginsberg had surgery for pancreatic cancer, she still didn't miss any bench time. At age 85 she broke three ribs and had part of her lung removed surgically, but once again she didn't miss any work. The Notorious RBG is one badass Supreme Court Justice!

Ted Cruz nicknames: Felito, Fidelo, Little Fidelo, Castro's Revenge (for the Bay of Pigs), Cohiba (a brand of Cuban cigars), "The Face of God" (Heidi Cruz), "The Second Coming" (Heidi Cruz), Ted Scruz (after allegations that the "devout Christian family man" had affairs with five women, including a prostitute), El Presidente, Terrible Ted Cruz, Wacko Bird (John McCain), Proud Wacko Bird (Ted Cruz himself), Holy Cruzader (Michael R. Burch), The Cruz Controller (Michael R. Burch), Lyin' Ted (Donald Trump), Texas Ted (Donald Trump), The Zodiac Killer (Donald Trump), Beautiful Ted (Donald Trump)

Please click here for all Ted Cruz Nicknames

Nicknames for Trump's "Movement"

Bowel Movement
Twilight Zone — Dan Rather
Trump's Trolls
Trump's Troll Army — Bryan Menegus
Trumpolytes
Donald Duck Dynasty
The Den of the Re-flub-Lycans
The Trump of Doom Preaching to His Demented Choir
Fifty Shades of Orange
Fifty Shades of Orange Lipstick on a Pig
Grope-a-Dopes
The Mad Groper and His Goons
Prick Worshippers
Ass Grubbers
Trump Dump (#2)
Thurston Howell Bowel Movement
Hair Hitler and the Aryan Stupormen
Republican Rapture
Stockholm Syndrome
Trump Slump
Red-to-Blue Dawn
Trumpocalypse

Trump Shutdown Nicknames

Wilbur Ross de là Antoinette said of the victims of the Trump Shutdown: "Let them eat cake—borrowed cake!"
Wilbur "Gloss" Ross said: "800,000 workers is a third of a percent of the GDP, so it's not like it's a gigantic number."
"Wall Nut" Donald Trump: "Many of these people who are not getting paid are totally in favor of what we're doing."
Trump, who has never bought groceries in his life, theorized that grocers would hand out free food. Ever try that at Kroger?
"Tone-Deaf" Donald Trump: "The people on the receiving end will make adjustments. They always do."
Lara "Tiara" Trump: "It's a little bit of pain. We're behind you." (The filthy rich Trumps make the Shutdown sound like a reaming, which of course it was.)
Sebastian Gorka called Trump's shutdown performance a "master stroke." (Gorka failed to mention where the "stroke" was being delivered by the master.)
Smirking Kevin Hassett: "They're better off." (According to Hassett, the shutdown was better than a paid vacation!)
Larry "New Low" Kudlow: "This is just a glitch. Thanks to the volunteers!" (People forced to work without pay are not "volunteers" but virtual slaves.)
Republican Senator Ron Johnson: "This is your fault, Mitch Muck-Con-Hell!"

After Proud Shutdown Man and the Wearer of the Shutdown Mantle finally admitted defeat after holding 800,000 federal workers and more than a million subcontractors hostage for over a month, for no purpose or gain whatsoever, the New York Daily News called him Cave Man. Mike Cernovich demoted Trump to Broken Man. Lindsey Graham predicted that caving would be the end of the Truthless Trump presidency. Acting President Ann Coulter called Trump the Biggest Wimp in the history of the presidency and said she needed veto power to keep the Shrinking Violet from failing to fulfill a promise he had made every day for 18 months: to build a 2,000-mile-long border wall and force Mexico to pay for it. Breitbart's unhappy headline read "No Wall, Still No SOTU." Coulter opined that the once formidable Trump wall had become "a gentle little garden trellis." Sean Hannity aka Scammity called Trump's cave-in a "garbage compromise." Nancy Pelosi observed that Tweety Trump had held Americans hostage for a "campaign applause line."

However, Trump described himself as the Shutdown Table-Setter, explaining: "By having the shutdown, we've set the table for where we are now. If I didn't do the shutdown, people wouldn't know anything about the subject. Now they understand the subject." Trump sounds like a hostage-taker making sure the family knows they have to fork over YUGE sums of money if they want to ever see their kids again.

Supreme Court Nominee Neil Gorsuch Nicknames

Darth Evader
Goldman Sachs' Rubber Stamp
The Unjust Justice
The Grinder (for grinding ordinary Janes and Joes under the crushing wheels of corporations)
The Greek Geek, Fratboy, FIJI-Boy, Animal House Boy and the Fraternizer (for defending his college frat against charges of date rape)
A$$hole
The Privileged Depriver

Nicknames Given by Donald Trump to Other People

Donald Trump claims that he has an "instinct" for nicknames, but the list below shows a decided lack of wit, intelligence and originality. Trump may be a master of the low-brow insult, but anyone can find a cheap insult and fling it around. Trump's nicknames are as bankrupt as his casinos and his many other failed businesses like Trump University, Trump Vodka, Trump Ice, Trump Steaks, Trump Airlines, Trump Magazine, Trump Mortgage, Trump Network, Trumped!, Trump New Media, Trump on the Ocean, Tour de Trump, the New Jersey Generals and Trump: The Game.

"Gold Diggers" (women in general; on the day of Trump's wedding to Marla Maples, he told Howard Stern that "vagina is expensive" and they laughed about it later on Stern's radio show)
"Real Killers" (smart women in general; according to Trump the smart ones put on an act, pretending to be "feminine and needy," but are in reality "real killers")
"Beautiful Pieces of Ass" (Trump's dates and presumably his wives)
"Nice Tits, No Brains" (Marla Maples, Trump's second wife)
"Grotesque" (Bette Midler)
"Loser" (Cher)
"Bimbo" and "Crazy Megyn" (Megyn Kelly)
"Cunt" and "Shit for Brains" (Jennifer Lin)
"Slob," "Big Fat Pig," "Disgusting Animal," "The Beast," "Disgusting both Inside and Out," "Real Loser," "Dumb," and "My Nice Fat Little Rosie "(Rosie O'Donnell)
"Disgusting" (Elizabeth Beck, after she requested a time-out to pump breast milk for her baby)
"Disgusting" (Hillary Clinton, for taking a "potty break" during a debate)
"Schlonged" (Hillary Clinton, for losing the Democratic presidential election nomination to Barack Obama)
"Dog" and "Unattractive Inside and Out" (Arianna Huffington)
"Face of a Dog" (Gail Collins)
"That Face" (Carly Fiorina, whom Trump said could not be considered for the presidency because of her looks; but what about his, then?)
"Miss Piggy" and "Miss Eating Machine" (Alicia Machado, for gaining weight after winning the Miss Universe contest in 1996; she was a teenager at the time and Trump body-shamed her)
"Miss Housecleaning" (Alicia Machado, presumably because she is Latina and housecleaning is what Latinas are good for, according to The Donald)

If this concerns you, there is more information at Donald Trump's War on Women.

Nicknames Given by Donald Trump to Other People (Continued)

Rapists (Mexican immigrants)
Low Energy Jeb (Jeb Bush)
Lyin' Ted (Ted Cruz)
Little Marco (Marco Rubio) ... later clarified by Trump as "Liddle Marco"
Lightweight Choker and Choke Artist (Marco Rubio)
Psychopath (Ben Carson)
1 for 38 Kasich (John Kasich won 1 of 38 states in the Republican presidential primaries)
Crooked Hillary, Lyin' Hillary and Rotten Hillary (Hillary Clinton)
Crazy Bernie (Bernie Sanders)
Goofy, Goofus and Pocahontas (Elizabeth Warren)
Corrupt Kaine (Tim Kaine)
Neurotic Dope, Wacky and Crazy (Maureen Dowd)
Highly Neurotic (Debbie Wasserman Schultz)
Mentally Abused (John Kerry)
Baby (Barack Obama)
Mr. Tough Guy (Joe Biden, after Trump said that he would "love" to fight the 74-year-old vice president)

Top Ten Presidential Nicknames

The Great Emancipator, The Liberator, Abe, Honest Abe, Father Abraham, The Rail-Splitter, The Ancient One (Abraham Lincoln)
The Great Communicator, Dutch, The Gipper, The Ripper, The Lifeguard, Ronnie, Saint Ronnie, The Teflon President, Rawhide (Ronald Reagan)
The King of Camelot, Jack, JFK (John F. Kennedy)
The Father of His Country, The American Cincinnatus, The American Fabius (George Washington)
The Sage of Monticello, The Apostle of Democracy, Long Tom (Thomas Jefferson)
Give 'Em Hell Harry (Harry S. Truman)
The Colossus of Independence, Old Sink or Swim (John Adams)
Unconditional Surrender Grant (U. S. Grant)
No Drama Obama, Barry, Bam-Bam (Barack Obama)
The Boss, King Franklin, The Sphinx, The Squire of Hyde Park (Franklin D. Roosevelt)

Less Flattering Presidential Nicknames

Tricky Dick, Richard the Chicken-Hearted, Gloomy Gus (Richard M. Nixon)
Tricky Trump, Agent Orange, Hair Hitler, Der Gropenfuhrer, The Trump of Doom, The Trumpster, The Donald (Donald John Trump)
Slick Willy, Slick Willie, Bubba, The Big Dob, The Comeback Kid, The First Black President (Bill Clinton)
Dubya, Shrub, Bush Baby, Bush League, Bush Junior, Bush 43, "The Decider" (George W. Bush)
His Fraudulency, Rutherfraud, The De Facto President, The Usurper, Granny, Old 8 to7 (Rutherford B. Hayes)
His Accidency (John Tyler)
His Rotundity, The Monarch (John Adams)
His Obstinacy (Grover Cleveland)
Martin Van Ruin, Machiavellian Belshazzar (Martin Van Buren)
His Little Majesty, Dolly's Husband (James Madison)
The Stuffed Prophet, Old Veto, The Beast of Buffalo, The Hangman of Buffalo (Grover Cleveland, who allegedly fathered an illegitimate child when he was mayor of Buffalo)
The Human Iceberg, Kid Gloves Harrison (Benjamin Harrison)
Wobbly Warren, President Hardly (Warren G. Harding)
The Plodder, Polk the Mendacious (James K. Polk)
Ten Cent Jimmy, The Grand Turk, Old Buck, The Do-Nothing President (James Buchanan)
Uncle Cornpone, Rufus Cornpone, Uncle Rufus, Bullshit, Bull (Lyndon Baines Johnson, because of his lying)
Useless Grant (U. S. Grant)
Peanut, The Peanut Farmer, Jimmy, President Malaise (Jimmy Carter)
Sleeping Beauty, Big Lub, Big Chief, Mr. Malaprop, Taft the Blunderer (William Howard Taft)
The Drunkard (Franklin Pierce)
The Accidental President, The American Louis Philippe (Millard Fillmore)
The Accidental President (Gerald R. Ford)
Old Foot in the Mouth, The Jelly Bean President (Ronald Reagan)
Sir Veto (Andrew Johnson)
The Madman of Massachusets (John Quincy Adams)
Old Mutton Head, His Pomposity (George Washington)
Mad Tom (Thomas Jefferson)

Presidential Nicknames: The Strong and/or Silent or Talkative Types

Old Rough and Ready (Zachary Taylor)
The Rough Rider, The Bull Moose, The Lion, The Hero of San Juan Hill, The Trust Buster (Teddy Roosevelt)
Old Hickory, The Hero of New Orleans, King Mob, Caesar (Andrew Jackson)
Young Hickory (James K. Polk, a protégé of "Old Hickory" Andrew Jackson)
Tippecanoe, General Mum (William Henry Harrison)
Boatman Jim (James A. Garfield)
The Kansas Cyclone, Ike, General Ike (Dwight D. Eisenhower, known for his campaign slogan "We like Ike")
Silent Cal, Cool Cal, Cautious Cal, The Sphinx of the Potomac (Calvin Coolidge)
The Houdini of the White House, That Man (Franklin Delano Roosevelt)
The Schoolmaster, The Professor (Woodrow Wilson)
The Great Engineer, The Great Humanitarian, The Grand Old Man, The Chief, Bert (Herbert Hoover)
Old Man Eloquent (John Quincy Adams)
Read My Lips (George H. W. Bush, who vowed never to raise taxes, but did)

Soft and Fluffy Presidential Nicknames

Teddy (Theodore Roosevelt; the "teddy bear" was named after him)
Poppy, Old Pop, Papa Bush, Bush 41 (George H. W. Bush, to differentiate him from his son President George W. Bush)
Uncle Jumbo, Grover Good (Grover Cleveland)
Winnie, Sonny (William B. Harding)
Junie, Junior (Gerald R. Ford Jr.)
Little Jemmy, Short Stack (James Madison, who stood only 5'4")
The Little Magician, The Enchanter, Little Matt, Pet of the Petticoats, The Mistletoe Politician (Martin Van Buren, who stood 5'6")
Little Ben, Grandfather's Hat (Benjamin Harrison, who stood 5'6" and was also the grandson of former President William Henry Harrison)
The Era of Good Feelings President, The Last Cocked Hat (James Monroe)
Mr. Nice Guy, Jerry (Gerald Ford)
Prince Arthur, The Dude President, Gentleman Boss, The Walrus, Chet (Chester A. Arthur)
Elegant Arthur (James A. Garfield)
Handsome Frank (Franklin Pierce)
The Tennessee Tailor (Andrew Johnson)
Light Bulb Lyndon (Lyndon Baines Johnson)

Presidential Nicknames: Short and Sweet Initials Only

JQA (John Quincy Adams)
JFK (John F. Kennedy)
FDR (Franklin D. Roosevelt)
TR (Teddy Roosevelt; he didn't have a middle name)
LBJ (Lyndon Baines Johnson)

Other Political Nicknames

The All-Time Best Political Nicknames: Alexander the Great, William the Conqueror, Richard the Lionheart, The Great Emancipator (Abraham Lincoln), The Great Communicator (Ronald Reagan), The Iron Lady (Margaret Thatcher), Slick Willie (Bill Clinton), Richard Nixon (Tricky Dick), Tricky Trump (Donald Trump), Pale Moth (Vladimir Putin, his KGB nickname), The Father of His Country (George Washington), JFK (John F. Kennedy), The British Bulldog (Winston Churchill), Ike (Dwight D. Eisenhower), The Governator (Arnold Schwarzenegger), The Body (Jesse Ventura), The Virgin Queen (Elizabeth I of England), The Sun King (Louis XIV of France), The Winter King (Frederick V of Bohemia), Bloody Mary (Mary I of England), Ivan the Terrible (Ivan IV of Russia), Augustus the Strong (Augustus II of Poland), Farmer George (George III of England), The Merry Monarch (Charles II of England), Bonnie Prince Charlie (Charles III of England although he never ruled), Teflon Tony (Tony Blair), McNasty (John McCain), Snarlin' Arlen (Arlen Specter), Rhambo (Rham Emmanuel), Governor Moonbeam (Jerry Brown), Lyric (Caroline Kennedy), Rosebud (Laura Bush), Denali (Jenna Bush), Mahogany (Teresa Heinz Kerry), Timberwolf (Walter Mondale), Celtic (Ted Kennedy), Dutch and Driller (Ronald Reagan), Rainbow (Nancy Reagan), Renegade (Megan McCain), Evergreen (Al Gore)

William Jennings Bryan may require his own special category of political nicknames: The First Celebrity Politician, The Great Commoner, The Silver Knight of the West, The Boy Orator of the Platte, The Fundamentalist Pope (H. L. Menken), Adam-and-Eve Bryan (F. Scott Fitzgerald, because Bryan argued in favor of the Bible during the Scopes Monkey Trial), The Fool (uttered by Clarence Darrow during his examination of Bryan during the famous trial), The Peerless Leader of the Democratic Party, The Cowardly Lion (it has been suggested that the lion in The Wonderful Wizard of Oz was based on Bryan)

Related pages: Famous Nicknames, Donald Trump Nicknames, Melania Trump Nicknames, Jared Kushner Nicknames, Ivanka Trump Nicknames, Donald Trump Jr. Nicknames, Eric Trump Nicknames, Mark Meadows Nicknames, Anthony Scaramucci Nicknames, Mitch McConnell Nicknames, Steve Bannon Nicknames, Kellyanne Conway Nicknames, Mike Pence Nicknames, Mike Pompeo Nicknames, Brett Kavanaugh Nicknames, Donald Trump Cabinet Nicknames, Ted Cruz Nicknames, Marco Rubio Nicknames, Mitt Romney Nicknames, Matt Whitaker Nicknames, James Mattis Nicknames, Ann Coulter Nicknames, Rudy Giuliani Nicknames, Roger Stone Nicknames, William Barr Nicknames, Mark Meadows Nicknames, Kayleigh McEnany Nicknames, Tom Cotton Nicknames, Matt Gaetz Nicknames, Donald Trump: 666 Mark of the Beast, Is Donald Trump the Antichrist?, Donald Trump Russia Gog Magog, The Donald Trump Bible, The Best Donald Trump Puns, The Best Donald Trump Insults, Fact-Checking Trump, Donald Trump Funny Campaign Slogans and Parodies, Donald Trump Halloween Ideas, Donald Trump Poetry, Donald Trump Inauguration Poetry Donald Trump Curtsy or Bow?, Ten Reasons to "Fire" Donald Trump, Donald Trump Violence Quotes, Trump Trivia, Is there a Republican War on Women?, Conservatives Who Support Gay Marriage, 2016 Republican Debate, Ted Cruz Quotes, The Best Ted Cruz Jokes

The HyperTexts